JOIN OUR LEARNING HUB
One-stop solution for all your homework needs. Get the job done.

✅ AI Essay Writer ✅ AI Detector ✅ Plagiarism checker ✅ Paraphraser
According to Barrons, Microsoft (ticker: MSFT) continues to be favored by Citi analysts, despite a slight shift in their level of enthusiasm. The tech giant's stock has seen notable growth following robust fiscal first-quarter earnings and innovative product announcements, yet Citi analyst Tyler Radke has tempered his bullish stance somewhat.
Radke recently ended his positive catalyst watch for Microsoft, while still maintaining a 'Buy' rating and a price target of $432 for the stock. This adjustment comes after acknowledging Microsoft's significant strides in product innovation, particularly in generative artificial intelligence. However, Radke notes that many of the previously anticipated positive catalysts for Microsoft's stock have already been realized, leading to a "little less vigor" in his support.
Microsoft's fiscal first-quarter earnings exceeded expectations, further buoyed by significant growth in its Azure cloud business. Wall Street has also shown excitement over Microsoft's new launches, including Copilot, an AI-based tool enhancing applications like PowerPoint and Excel. Wedbush analyst Dan Ives, echoing this optimism, raised his price target on Microsoft shares to $425, maintaining an 'Outperform' rating.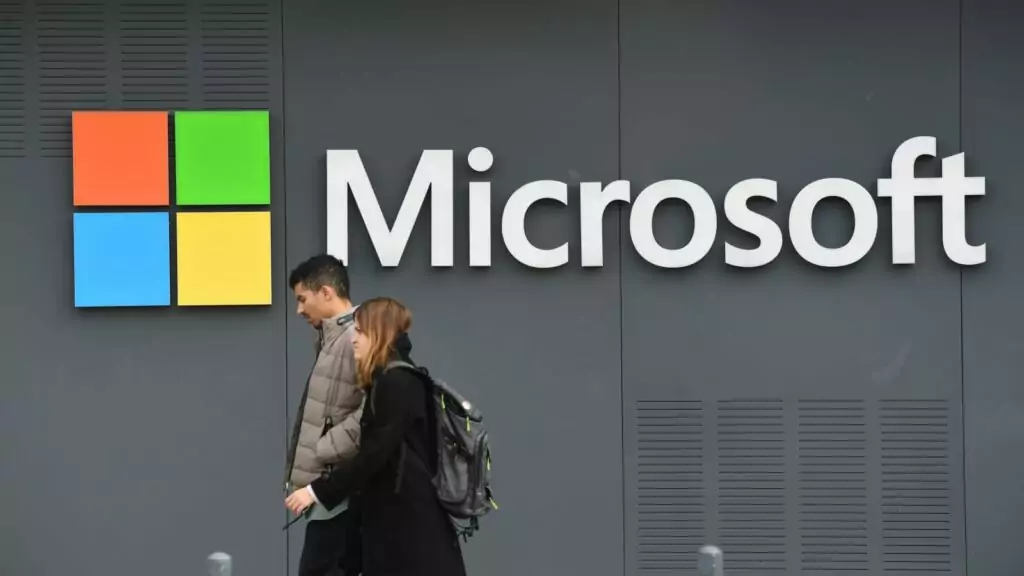 Additionally, Microsoft's introduction of the Azure Maia AI Accelerator, a new AI chip, has garnered attention, indicating the company's ongoing commitment to innovation in AI technology.
Despite this slight pullback in enthusiasm, Radke reaffirms that Microsoft remains Citi's top pick among megacap companies. The firm continues to see Microsoft as a driving force for sustained double-digit growth in both revenue and profits.
As of Friday, Microsoft shares were trading at $371.03, down 1.4%, but the stock has still experienced a 55% surge this year. In comparison, the Dow Jones Industrial Average, S&P 500, and Nasdaq each saw a decline of about 0.1%.
Discussing Finance and Big Corporations
Following the news about Microsoft's stock from Barrons, there's a lot more to explore about what's happening in the world of tech and finance. These essay topics give you a chance to dive deeper into the story. You can learn about how big tech companies like Microsoft grow, how their products change the game, and what all this means for the stock market. Whether you're into technology, love following the stock market, or just want to know more about how big companies make moves, these essays are a great way to get a better understanding of the business world. Let's unpack the fascinating world of tech and finance together!
| Essay Focus | Essay Topics |
| --- | --- |
| Analyzing Microsoft's Growth | The Role of Artificial Intelligence in Microsoft's Recent Success |
| | A Comparative Analysis of Microsoft's Fiscal Performance Over the Past Decade |
| | The Impact of Cloud Computing on Microsoft's Market Position |
| | Evaluating the Long-term Growth Potential of Microsoft in the Tech Industry |
| Stock Market Analysis | Understanding Analyst Ratings and Their Impact on Stock Prices |
| | The Influence of Quarterly Earnings Reports on Market Behavior |
| | Tech Stocks in the Current Economic Climate: A Sector Analysis |
| | Exploring the Relationship Between Product Innovation and Stock Performance |
| Financial Reporting and Journalism | The Role of Financial Journalism in Shaping Investor Perceptions |
| | Ethical Considerations in Financial Reporting and Analysis |
| | Challenges in Reporting on the Technology Sector's Financial Health |
| | How Financial News Influences Market Trends and Investor Behavior |
| Future Trends in Technology and Finance | Predicting the Next Big Innovations in Technology and Their Market Impact |
| | The Future of AI in Business and Its Effect on the Stock Market |
| | Emerging Trends in the Financial Technology (FinTech) Sector |
| | Investment Strategies for Technology Stocks in an Ever-Evolving Market |
Related
Follow us on Reddit for more insights and updates.