JOIN OUR LEARNING HUB
One-stop solution for all your homework needs. Get the job done.

✅ AI Essay Writer ✅ AI Detector ✅ Plagiarism checker ✅ Paraphraser
As reported by NFL, the Pittsburgh Steelers have made a significant coaching change, dismissing Matt Canada as their offensive coordinator. This decision comes in the midst of Canada's fourth season with the team, following persistent issues with the team's offense.
Head Coach Mike Tomlin announced the decision on Tuesday, expressing appreciation for Canada's dedication and hard work but emphasizing the need for a change. In response to Canada's departure, Steelers QB coach Mike Sullivan and RB coach Eddie Faulkner will assume shared coordinator responsibilities. Faulkner is expected to take on the role of interim OC, with Sullivan, who has previous experience as a coordinator with the New York Giants and Tampa Bay Buccaneers, handling play-calling duties.
Canada joined the Steelers in 2020 as quarterbacks coach and was promoted to offensive coordinator in 2021. His tenure, however, did not bring the expected modernization to Pittsburgh's offense. The team struggled with cohesion, rarely challenged defenses with deep plays, and suffered from inconsistency. Under Canada's direction, the Steelers never ranked higher than 23rd in yards and 21st in points over 44 games.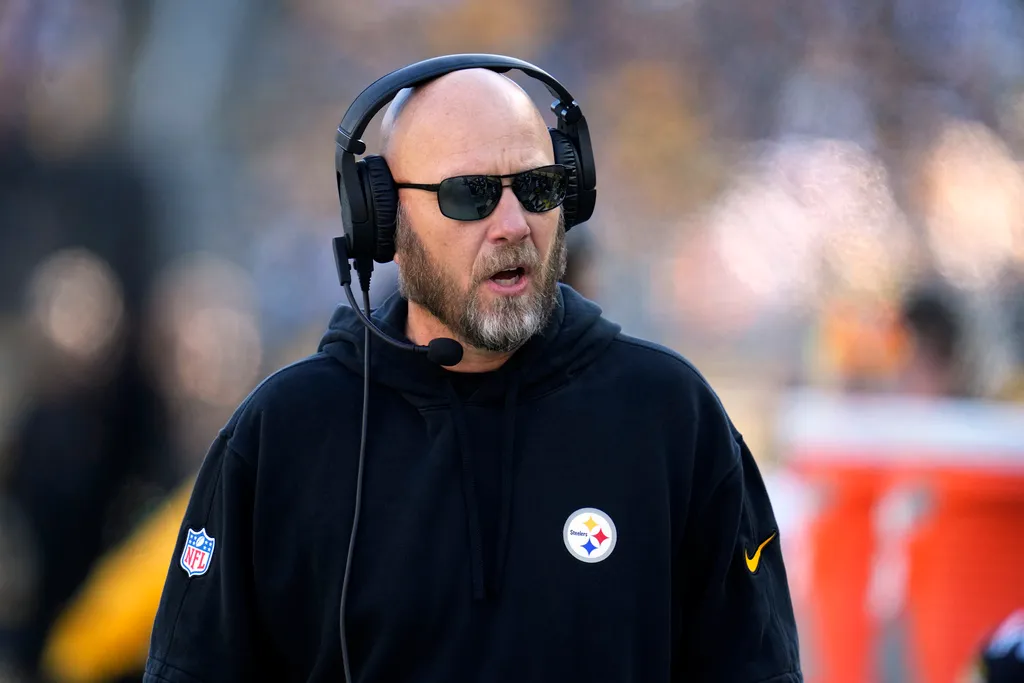 The 2023 season has been particularly challenging for Pittsburgh, ranking 28th in both yards and points. The passing game, led by quarterback Kenny Pickett, has been notably weak, placing 31st in yards and touchdowns. The team's offensive struggles were highlighted in their recent 13-10 loss to the Cleveland Browns, where they managed only 77 net passing yards.
Despite these challenges, the Steelers had previously opted to retain Canada, hoping for improved continuity for the development of Pickett. However, the young quarterback's struggles, coupled with the team's overall offensive performance, forced a reevaluation.
Steelers fans had been advocating for Canada's firing for over a year. Tomlin had consistently supported Canada, but the stagnant offense and the risk of missing a potential playoff season prompted this decisive action.
Despite their challenges, the Steelers currently hold a 6-4 record, placing them 7th in the AFC. They join the Seattle Seahawks as the only two teams in 2023 with winning records but a negative point differential through Week 11. This coaching change marks a pivotal moment for the team as they aim to improve their offensive performance and secure their place in the playoffs.
Discussing The Notion of Coaching in Professional Sports
The Steelers' big move to fire offensive coordinator Matt Canada, as reported by NFL, isn't just big news for the team — it's a chance for all of us to dive into the world of sports coaching. These essay topics are your ticket to understanding what really happens when a team decides to change coaches.
How does it affect the players? What does it mean for the team's future? Whether you're a die-hard Steelers fan, someone who loves sports, or just curious about the decisions that shape a team, these topics will give you a closer look at the game behind the game. Let's explore what makes a sports team tick and how coaching changes can turn everything upside down!
| Main Theme: Coaching Changes in Professional Sports | Essay Topics |
| --- | --- |
| Impact of Coaching Changes on Team Performance: A Case Study of the Pittsburgh Steelers | Analyzing the Role of Offensive Coordinators in NFL Teams |
| Evaluating the Decision-Making Process in Coaching Changes | Effects of Mid-Season Coaching Changes on Player Morale and Team Dynamics |
| Broader Discussions in Sports Management | Essay Topics |
| --- | --- |
| The Role of Leadership in Professional Sports Teams | Strategies for Overcoming Performance Slumps in Professional Teams |
| How Coaching Philosophies Influence Team Success | Challenge of Balancing Innovation and Tradition in Sports Coaching |
| Player and Team Development | Essay Topics |
| --- | --- |
| The Role of Coaches in Developing Young Talent in the NFL | Impact of Coaching Styles on Player Performance and Development |
| Team Building and the Importance of Coaching in Professional Sports | Assessing the Long-term Effects of Coaching Changes on Team Culture |
| Trends and Future of Sports Coaching | Essay Topics |
| --- | --- |
| Emerging Trends in Coaching Strategies in the NFL | The Future of Offensive Play in Professional Football |
| Innovative Approaches to Coaching in the Digital Age | Predicting the Evolution of Coaching Roles in Professional Sports |
Related
Follow us on Reddit for more insights and updates.