Audioread is an AI-powered app, provides a solution to modern information consumption. The app leverages artificial intelligence to convert a wide array of written content – be it articles, PDFs, emails, or YouTube text – into audio files. Users can then listen to this content in their preferred podcast apps, bridging the gap between text-based information and on-the-go audio learning.
AcademicHelp Learning Hub
Use the most powerful academic tools to write better with AI, check for plagiarism and detect AI content!
How Audioread Benefits Students
Audioread, with its unique features, plays a significant role in assisting students. Here's a look at how it's making a difference.
Seamless Integration into Modern Lifestyles
With an intuitive interface, Audioread caters to the evolving needs of today's students. Audioread allows them to incorporate learning into their dynamic schedules. The app acts as a companion, enabling students to convert academic articles, important emails, study materials, and other text-based content into audio formats.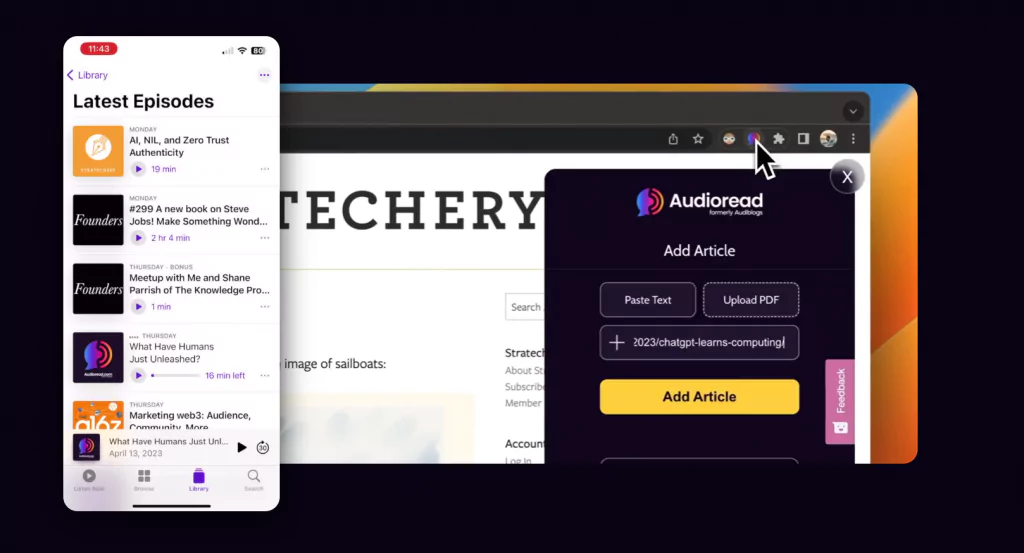 This text-to-audio conversion allows students to engage with their learning materials during commutes, while multitasking, or during their leisure time. It removes the necessity of dedicated reading time, thus making learning more flexible and adaptable to individual lifestyles.
Enhanced Productivity and Focus
Audioread plays a vital role in promoting effective time management and concentration among students. With the ability to listen to lessons during various activities – such as during chores or exercise – Audioread assists students in effectively utilizing their time and enhancing their productivity.
Moreover, Audioread offers a solution to the challenge of maintaining focus while reading lengthy or complex materials. As some users have shared, Audioread's unique feature of combining reading with the audio version of the text can significantly enhance their concentration levels and absorption of information, leading to a more effective and engaging learning experience.
Key Features and Compatibility
Audioread brings a suite of features designed for ease and accessibility. With a two-click conversion process, it allows users to convert text into audio on any device through its web app, browser extension, iOS Shortcut, or Android app.

The app supports a wide array of podcast platforms including Apple Podcasts, Google Podcasts, Spotify, Overcast, Pocket Casts, and more. This compatibility ensures that students can conveniently listen to their learning materials in the podcast app of their choice. Moreover, those who prefer not to use a podcast app can still convert and listen to content directly in the browser, ensuring accessibility for all users.

Audioread Pricing
Recognizing the need for affordability for its users, especially students, Audioread offers a free trial. This feature allows users to explore its features. Following the free trial, the company offers paid plans starting from a cost-effective price of $9.99 per month, making it an affordable option for students looking for flexible learning tools.
Audioread presents a novel approach to learning by transforming written content into audio formats. With its intuitive features and affordability, it's quickly becoming an indispensable tool for students. The increasing number of positive user reviews suggests that Audioread is a revolutionary app set to transform the educational technology sphere and the way students engage with learning materials.
Discover more exciting projects – AI in Education: Promising Startups and Services
Related
Follow us on Reddit for more insights and updates.