Caktus.ai has unveiled its much-awaited "AI for Schools" edition, promising to revolutionize the educational sector. The advanced LLM Eguana, backed by a comprehensive training on over 260 million exclusive licensed research papers, positions Caktus AI to set new standards in academic excellence.
AcademicHelp Learning Hub
Use the most powerful academic tools to write better with AI, check for plagiarism and detect AI content!
Key Takeaways
Caktus.ai has introduced the "AI for Schools" edition, using advanced LLM Eguana trained on over 260 million research papers to enhance academic experiences.
Features include 24/7 student support through Caktus TA, enabling personalized teaching, and a platform for educators to manage course content efficiently.
The platform prioritizes data security, complying with top industry standards, and offers custom integrations for school systems.
By harnessing the power of generative AI, the platform is set to enhance the educational experience, fostering better connections between educators and their students. This groundbraking innovation includes the following key features.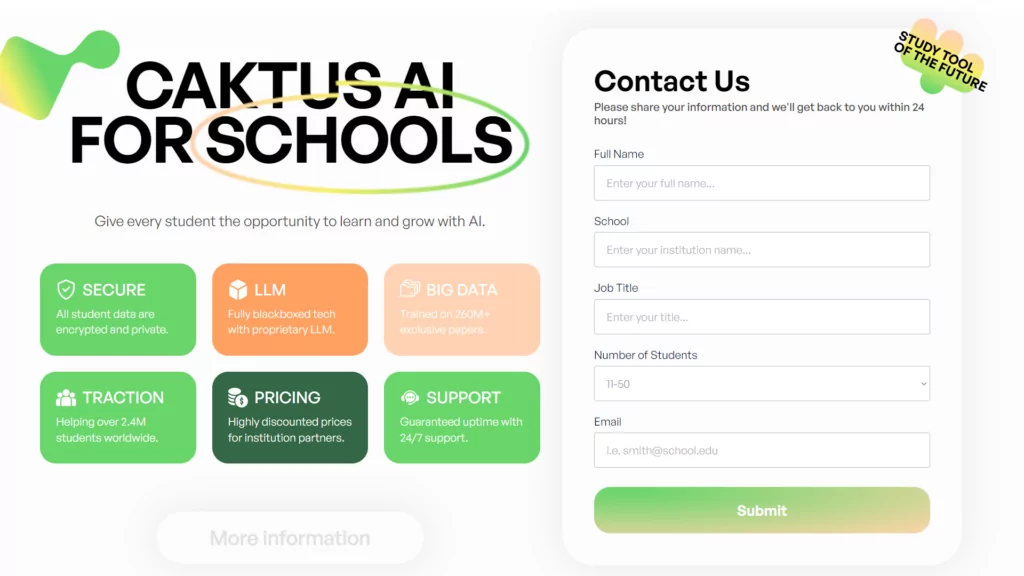 Round-the-Clock Learning Support
Students now have the privilege of a 24/7 teaching assistant through Caktus TA. This assistant, fully equipped with course-specific knowledge as designed by their educators, provides precise and timely responses to student queries.
Interactive and Customized Teaching
The platform empowers educators to effortlessly design lectures, upload course materials, and oversee their students. By doing so, Caktus AI becomes attuned to individual teaching styles, ensuring tailored responses for students. It even provides insights into recurrent student questions, enabling teachers to offer a more personalized learning experience.
Uncompromised Security and Seamless Integration
Data security remains a top priority for Caktus.ai. Assurances are in place to ensure that no data or conversations from affiliated schools are used in model training. The platform boasts of SOC 2 Type II standard security and adheres to GDPR regulations concerning data processing. Proactive measures, including collaboration with Cloudflare, are undertaken to avert DDoS attacks. Comprehensive safety checks, such as automated vulnerability and penetration testing, are performed. Additionally, the platform facilitates custom integrations with a school's LMS and SSO providers, granting exclusive API access.
The Main Point
The introduction of this state-of-the-art AI solution by Caktus.ai promises a transformative journey for the educational realm, championing a balance between personalized learning and rigorous academic standards.
Related
Follow us on Reddit for more insights and updates.