JOIN OUR LEARNING HUB
One-stop solution for all your homework needs. Get the job done.

✅ AI Essay Writer ✅ AI Detector ✅ Plagiarism checker ✅ Paraphraser
Are you looking for ways to mekr your lessons more interactive? Do you need a tool that can help boost your students' attention? Look no further than Curipod AI. This services makes lessons interactive and exciting. It's a much-needed tool in our schools.
| | | | |
| --- | --- | --- | --- |
| 💡 Idea | 🖥️ User experience | 📚 Value for money | 🌟Score |
| 23/25 | 23/25 | 36/50 | 82/100 |
Curipod is an interactive learning tool that's unique and user-friendly. It lets teachers build interactive lessons using ready-to-use templates or create their own. Students can access these lessons at curi.live using a QR code or a join code. Curipod's dashboard lets teachers see how many times students played the lessons and their results.
Curipod for students
Curipod is great for students. It makes learning engaging. Students can interact with lessons, share their thoughts through polls, and draw. They get to have a say in their learning, making them more involved and interested.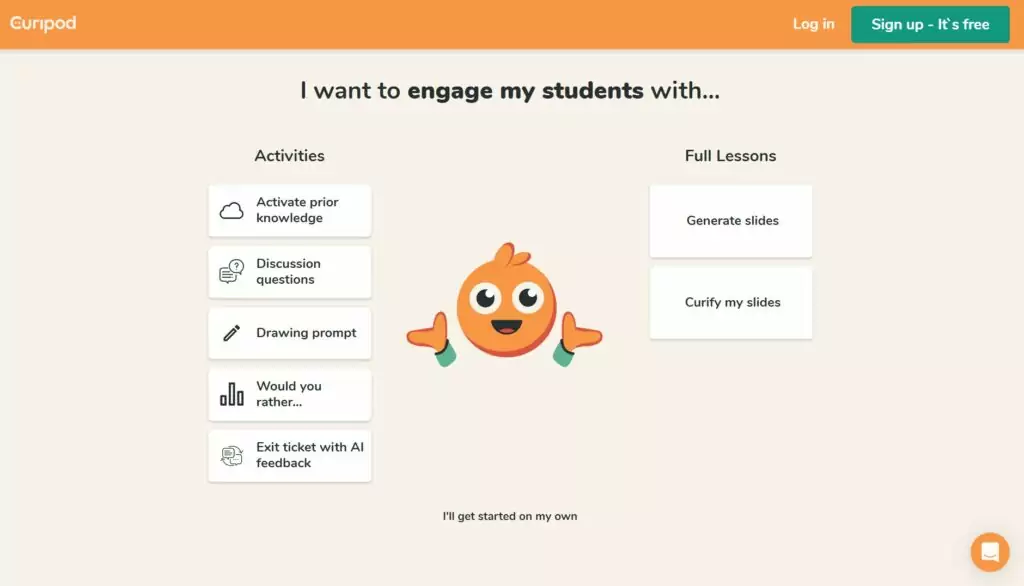 Teachers can adjust the lessons to meet different needs. Students learn better this way. The "Discover" library in Curipod is a treasure trove of lessons on various topics, created by educators and the Curipod team. It means more learning options for students. Reflection is key in learning, and Curipod encourages students to reflect on what they learn, understand their struggles, and see the connections between new ideas and their lives.
Curipod's benefits
Curipod is beneficial because it's interactive. Interactive lessons mean more fun and more learning. It's not just about listening to the teacher talk. It's about being a part of the lesson, sharing opinions, and learning by doing. Curipod's flexibility lets students learn at their own pace. They can review the slides and interactive presentations as many times as they need.
Curipod isn't just smart; it's also safe. Teachers can moderate what gets displayed on the screen. They see students' submissions and choose what to show. This keeps the learning space safe and respectful.
Curipod is not only about innovation; it's also about convenience. The app has different plans, including a free one, making it accessible to many. The premium plans offer more features and support, making the learning experience even richer.
The AI tool in Curipod is a game-changer for lesson planning. It makes the process quick and creative, letting educators focus more on student engagement and learning.
Curipod is reshaping education. It blends the old with the new, making learning a joyful journey. It's a tool where every student gets a chance to learn in a way that suits them best. Curipod ensures that learning is a collective experience, connecting teachers and students in an interactive learning adventure. Simple and revolutionary, Curipod is a beacon of transformative education, fostering an environment where everyone's voice is heard, and every lesson is a step towards more inclusive and interactive learning.
Discover more exciting projects – AI in Education: Promising Startups and Services
Related
Follow us on Reddit for more insights and updates.