JOIN OUR LEARNING HUB
One-stop solution for all your homework needs. Get the job done.

✅ AI Essay Writer ✅ AI Detector ✅ Plagiarism checker ✅ Paraphraser
Having a trusted tool for educators can make lessons more productive. Now, more and more tools are emerging in the academic field, and Eduaide AI is one of them. Wondering how it can increase productivity? Keep reading the AcademicHelp review.
| | | | |
| --- | --- | --- | --- |
| 💡 Idea | 🖥️ User experience | 📚 Value for money | 🌟Score |
| 23/25 | 23/25 | 36/50 | 82/100 |
What is Eduaide AI?
Eduaide is a platform in the education sector. Its primary function is to provide educators with resources that can be integrated and adapted into different teaching programs. The platform caters to those looking for an array of tools and features in one place.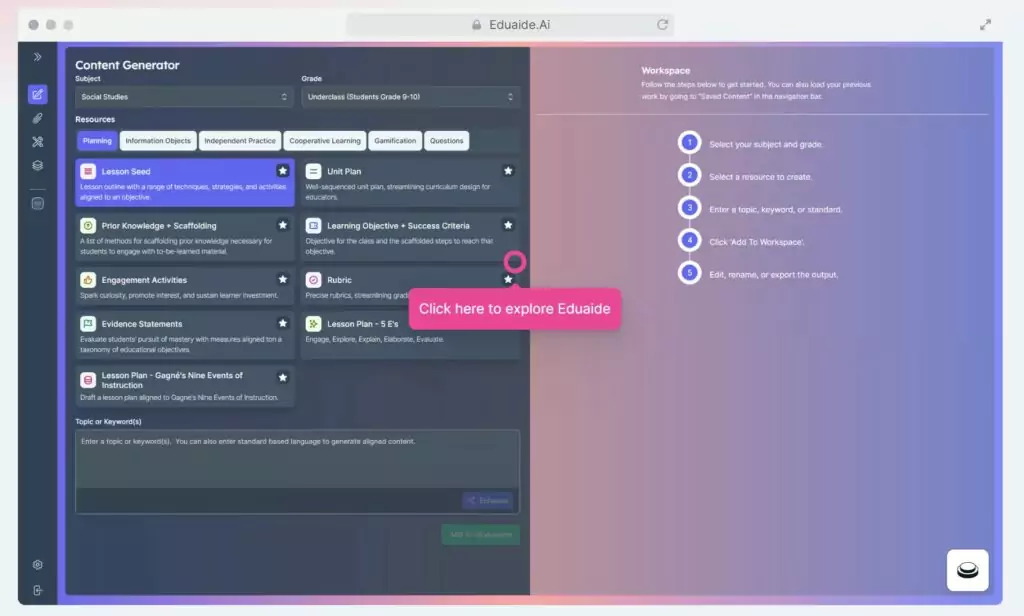 Eduaide's range of features primarily targets the educational process for students. For example, through the Essay Review, students have access to sample essays. This is a straightforward approach to give students a clearer perspective on their assignments. The platform's features, such as Primary Sources and Source Analysis Questions, provide students with structured interactions with historical data and texts.
The co-founder of Eduaide, Thomas Thompson, clarified the intentions behind the creation of such a versatile tool:
"Eduaide.Ai was created to address a few challenges my co-founder and I faced in the classroom–limited planning time, expanding administrative responsibilities, and a desire to better differentiate instruction."

Thomas Thompson, Co-Founder & Chief Executive Officer at Eduaide.Ai
The Team Based Activity and Discussion Prompts are part of the platform's interactive learning resources. The intention behind such features is to foster communication and analytical thinking among students.
The Lesson Seed feature provides an outline, which educators might find useful for aligning their lessons according to specific curriculum guidelines. And through the AI chat teachers can ask any sorts of questions regarding lesson plans, or interaction activities.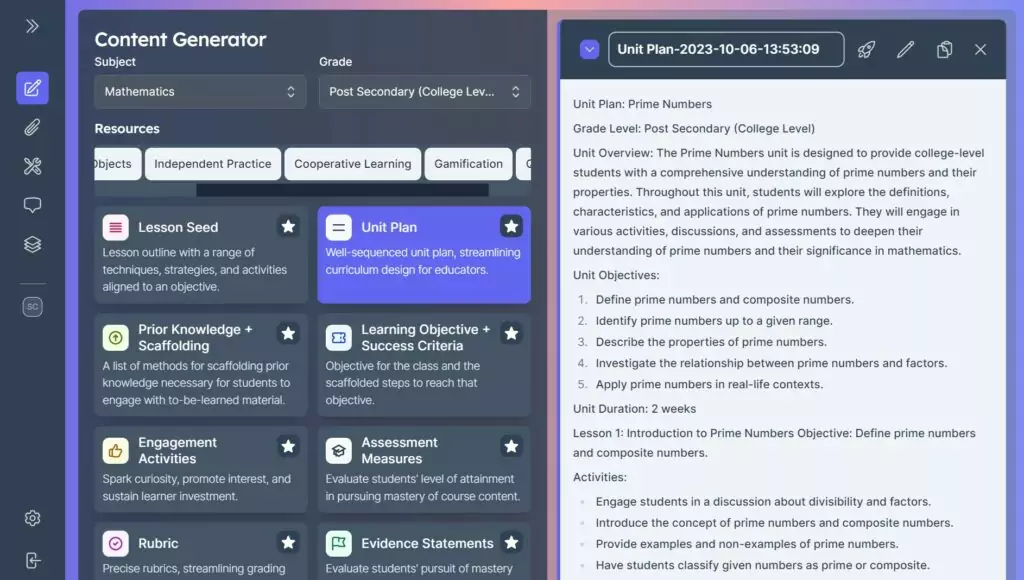 A variety of learning styles is often a challenge in traditional classroom settings. With its AI-driven functionalities, Eduaide presents options that educators might consider to address this diversity.
With tools like the Multiple Choice Questions and Essay Outline, there's a possibility for different methods of content delivery and interaction. Additionally, the platform's focus on historical sources and role-playing offers varied content engagement methods for students.
Eduaide extends its features beyond just the student-teacher interaction. With features like the Class Announcement, there's a streamlined communication process in place, potentially keeping students, educators, and parents updated. The platform's LMS email outlines might be seen as a structured method of communication between educators and parents.
In conclusion, Eduaide stands as an example of how technology is being considered in the educational sector, providing tools and resources that educators might find relevant in their teaching processes.
"Generative AI can be a useful tool to assist in meeting these challenges as it reduces the cost of exploration by reshaping the planning process to one of refinement and iteration. This allows the teacher to grapple with questions about what resources will be most effective in their unique instructional context instead of how they can adapt standardized canned content to the students in front of them."

Thomas Thompson, Co-Founder & Chief Executive Officer at Eduaide.Ai
Discover more exciting projects – AI in Education: Promising Startups and Services
Related
Follow us on Reddit for more insights and updates.