JOIN OUR LEARNING HUB
One-stop solution for all your homework needs. Get the job done.

✅ AI Essay Writer ✅ AI Detector ✅ Plagiarism checker ✅ Paraphraser
Do you want to create your own quiz to get ready for a test but don't know where to start? Good news! You can now make a fun and interactive quiz in just a few seconds using AI. With the Fillout quiz generator, you even have the freedom to customize the look and feel of your quiz. Read on to find out how to revolutionize the way you engage with your audience.
| | | | |
| --- | --- | --- | --- |
| 💡 Idea | 🖥️ User experience | 📚 Value for money | 🌟Score |
| 22/25 | 24/25 | 35/50 | 81/100 |
In an educational landscape increasingly defined by digital transformation, Fillout emerges as a solution. This innovative company specializes in leveraging the power of artificial intelligence to make learning interactive and engaging. Its core offering, a free-to-use AI Quiz Maker, enables users to create dynamic quizzes from a single text input in just 60 seconds.
Making Learning Interactive
So, what does this mean for students who are always looking for more efficient ways to study? Fillout's AI-powered quiz tool breathes new life into static learning materials. Students can now take a text excerpt—be it a scholarly article, a textbook chapter, or even a Wikipedia page—and transform it into an interactive quiz. The technology does not merely spit out multiple-choice questions; it generates a full-fledged quiz that gauges understanding, all while making learning fun and interactive.
But the appeal of Fillout doesn't stop at its automated capabilities. Students can customize these quizzes to meet their specific learning needs. They have the option to add more questions, set the difficulty level, and even tweak the quiz's appearance. In essence, Fillout gives students the tools to turn passive reading into an active learning experience.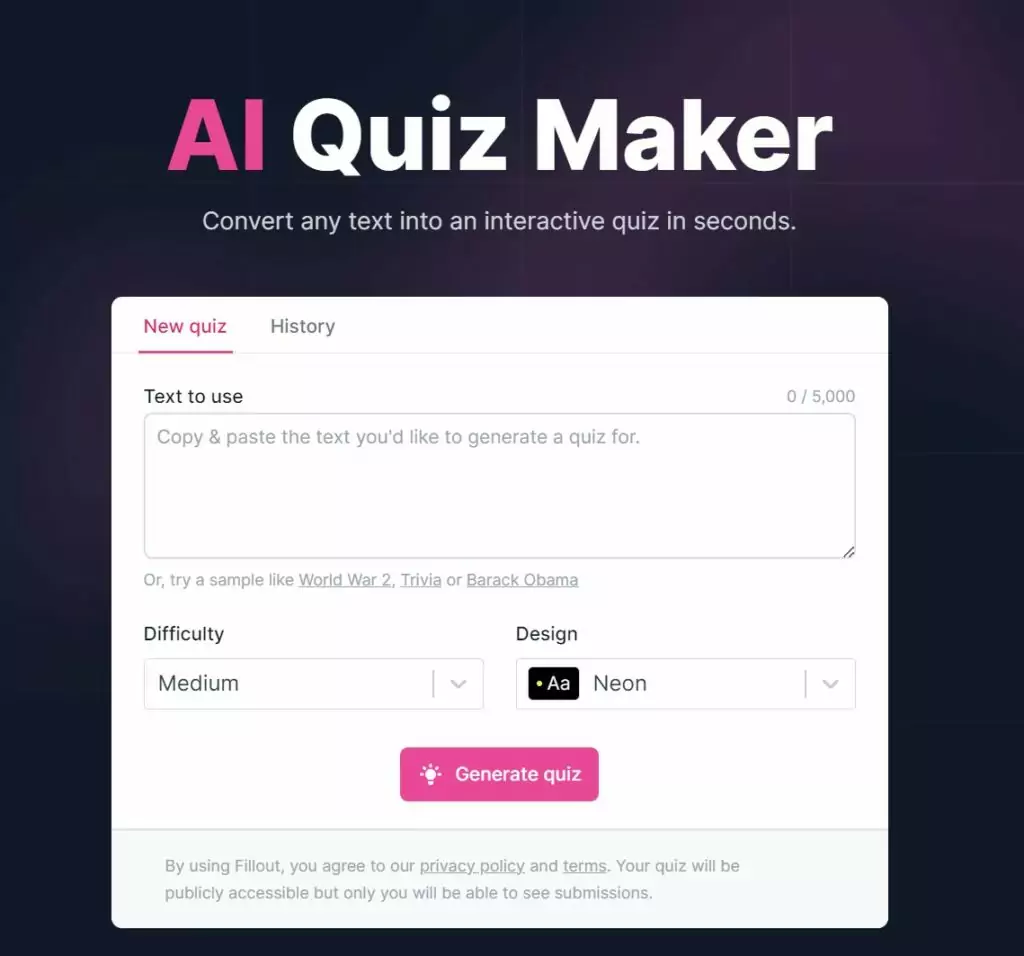 Other Necessary Information
For users who want more out of their Fillout experience, there is the Quiz Maker Pro. This premium version offers features like 50,000+ character input, unlimited quizzes, faster processing speeds, and API access. Essentially, Quiz Maker Pro is for those who wish to dive deeper into personalized learning or educational content creation.
The customization doesn't end with the quiz content. Fillout's dynamic quiz builder also offers branding options, allowing users to add their own logo and font styles. This is particularly useful for educational institutions and tutors who want their quizzes to align with their brand identity.
Fillout even allows team leaders and educators to include a scoring system, which could serve as a motivating factor for students or participants, making the quiz not just a study tool but also an engaging assessment mechanism.
In sum, Fillout is not just another ed-tech platform; it's a revolutionary tool that empowers users to take control of their learning experience. Whether you're a student looking to master new material or an educator aiming to engage your audience, Fillout offers a versatile, easy-to-use, and most importantly, effective solution.
Do Quizzes Improve Student Learning?
The question of whether quizzes help students learn has been a topic of debate. A bunch of studies have been done, and the answer isn't simple. Overall, the studies lean toward the idea that quizzes are helpful. Students say that when there are quizzes, they read and study more. They also feel more motivated to come to class prepared. Quizzes have other benefits too. They make students participate more, help them get better grades, and even make them do better on other exams. So far, it sounds like quizzes are a good idea, right?
But hold on, it's not that straightforward. A lot depends on how the quizzes are set up. For instance, is the quiz a surprise or is it mentioned in the course plan? What kind of questions are asked—multiple choice or short answers? And how closely do these quiz questions match the questions on the main exam? Even the timing matters. Is the quiz given before teaching new topics or after? All these details can change how effective a quiz is.
There's more. The subject being taught, how it's being taught, and even the students themselves can affect the results. So, if you're a teacher thinking about adding quizzes, you've got to pay attention to these factors. The research shows that quizzes can help, but they're not a one-size-fits-all solution. You can't just add quizzes and assume everything will get better. If you want to make sure your quizzes are doing their job, you might have to run your own tests.
In a nutshell, quizzes can be a good tool for learning, but the devil is in the details. Teachers need to think carefully about how they use quizzes. And remember, just because a study says quizzes work, that doesn't mean they'll work in every situation. You have to consider your specific class and maybe even do your own study to make sure.
Final Thoughts
In a world where digital learning is fast becoming the norm, Fillout stands out for its innovative use of artificial intelligence and its unwavering commitment to making education both customizable and interactive. With its range of features from automated quiz generation to full-on customization, Fillout is setting a new standard in educational technology. Its primary version is free to use, making it accessible for anyone looking to enhance their educational experience. With Fillout, the future of personalized, engaging learning is not just possible; it's already here.
Discover more exciting projects – AI in Education: Promising Startups and Services
Related
Follow us on Reddit for more insights and updates.