How do I plan an engaging lesson? Where to look for productive activities to do in the classroom? How can I make my classroom less stressful? These are just some of the questions that teachers ask themselves every semester. The school season should be productive not only for students but for educators as well. This can be achieved with the help of Magicschool.ai.
AcademicHelp Learning Hub
Use the most powerful academic tools to write better with AI, check for plagiarism and detect AI content!
The review has an updated information from MagicSchool on their new features
In an education sector MagicSchool.ai stands out as a revolutionary platform designed with the unique contexts of teachers in mind. Recognizing that each educator brings a wealth of specialized knowledge to their classrooms, MagicSchool.ai offers fully customizable tools. These tools are geared towards relieving teachers from the burden of tedious tasks, allowing them to focus on what they do best—educating. Teachers can easily adapt these tools to align with their specific objectives, teaching philosophies, and the unique needs of their students. The platform even allows for transformations of existing lesson material, providing a truly tailored educational experience.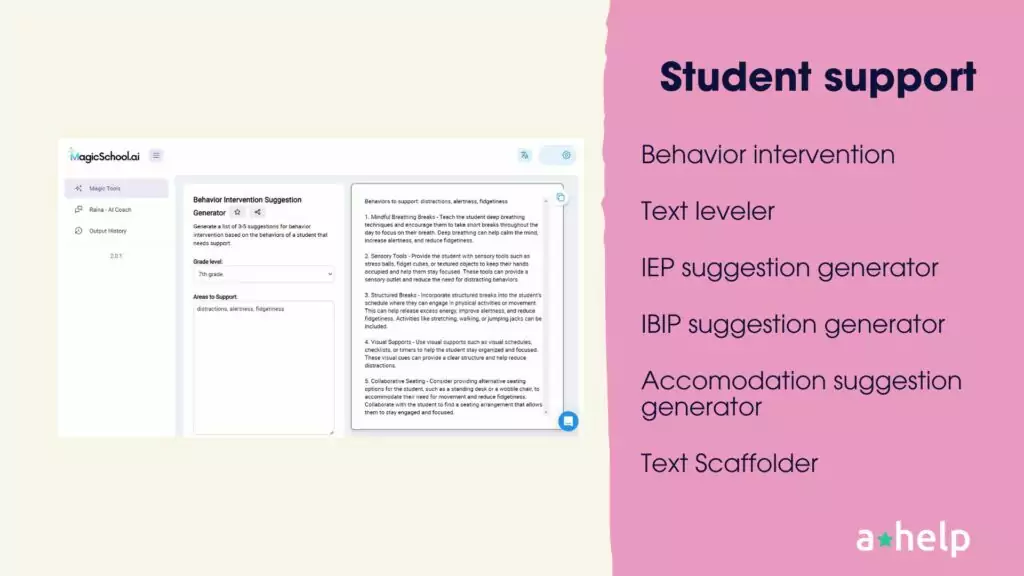 Effortless Features
MagicSchool.ai is committed to empowering educators through its versatile features. From adapting texts for different grade levels to proofreading and creating concise summaries; from creating team-building exercises to reading quizzes — these tools handle a multitude of tasks.
They offer immediate translations into multiple languages and also allow for content scaffolding to aid students who require additional support. All these functionalities are aimed at making educators' lives simpler and more efficient.
The Planning Tools offered by MagicSchool.ai are a significant leap towards effortless educational planning. Teachers can generate both exemplar and non-exemplar responses to guide students, create custom math problems, and even craft text-dependent questions with ease. These tools ensure that planning is not just efficient but also tailored to the unique needs and interests of each student.
Communication Made Easy
The platform brings educators, families, and students closer through its communication tools. From automated emails that can be translated into multiple languages to personalized letters of recommendation and engaging class newsletters, MagicSchool.ai makes communication seamless and effective.
Inclusive Education
MagicSchool.ai is not just about mainstream education; it also focuses on special education needs. The platform provides specialized tools for students with Individualized Education Programs (IEPs) and Behavior Intervention Plans (BIPs), offering strategies and suggestions that make the learning experience more inclusive and personalized.
More Than Just Basic Features
Unlike many edtech tools that focus only on general aspects of education, MagicSchool.ai has tapped into what teachers really need. Built on research-based best practices and valuable feedback from educators, the platform offers features in planning, student support, communication, productivity, and community tools. These address specific, often tedious tasks that educators face, freeing them up to focus on the creative aspects of teaching.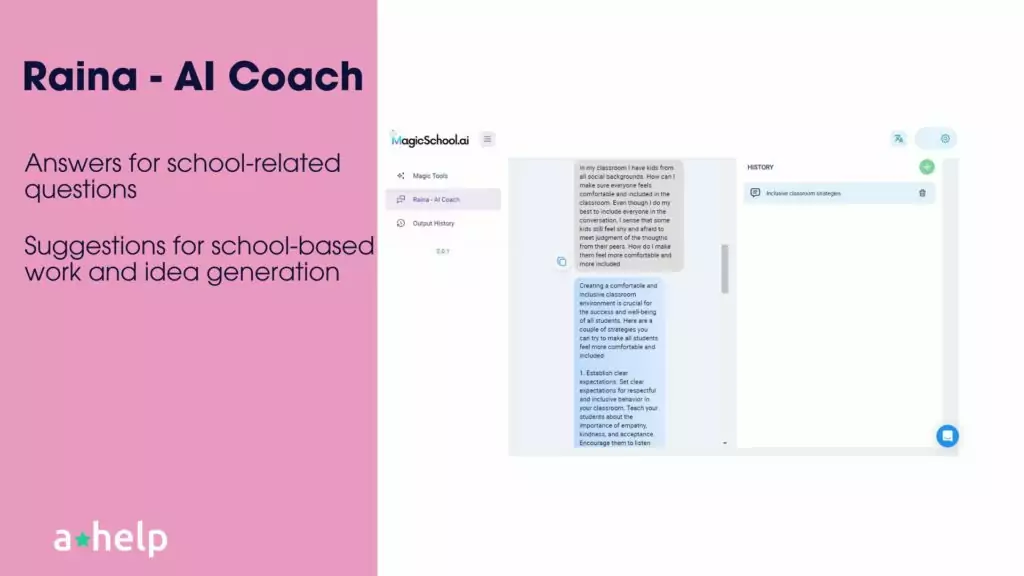 New Features
MagicSchool has recently rolled out some exciting new features that are designed to make teachers' lives easier and learning more fun for students.
First up is the "YouTube Video Question Generator." This tool helps teachers create thoughtful questions related to educational YouTube videos, making it simpler to engage students during remote or in-person lessons.
Then we have not one, but two "Science Lab Generators," perfect for any science teacher. These generate hands-on lab experiments tailored to specific topics and educational standards, saving teachers hours of planning time.
Another awesome addition is the "Student Work Feedback Tool." This helps teachers give detailed and customized feedback on student work based on specific criteria, making assessment more effective and targeted.
And let's not forget about the "Teacher Joke Generator," which lets teachers crack funny yet educational jokes, making them the coolest educators in school. These features are not just time-savers but also excellent ways to make learning more interactive and enjoyable.
Sign Up for Free
One of the most compelling aspects of MagicSchool.ai is that teachers and schools can sign up for free. This opens doors for educators from various backgrounds to access world-class tools that can transform the way they teach and the way students learn.
MagicSchool.ai is redefining the boundaries of what is possible in education by offering a comprehensive, customizable, and user-friendly platform. It understands the diverse challenges and needs of today's educators, offering a suite of tools that address everything from planning and communication to special education support. In doing so, it has become an indispensable asset for educators looking for innovative ways to streamline their workload, effectively communicate, and provide inclusive education. With MagicSchool.ai, the future of education looks not just promising but downright magical.
Discover more exciting projects – AI in Education: Promising Startups and Services
Related
Follow us on Reddit for more insights and updates.