Quizgecko is an AI-driven platform that allows users, including educators, students, and trainers, to generate and share quizzes, flashcards, and notes. Utilizing its text-to-question generation abilities, Quizgecko offers a method of content creation that could potentially save users a considerable amount of time. Its capabilities include the generation of multiple-choice, true or false, short answer, and fill-in-the-blank style questions, along with the provision of AI-suggested answers.
AcademicHelp Learning Hub
Use the most powerful academic tools to write better with AI, check for plagiarism and detect AI content!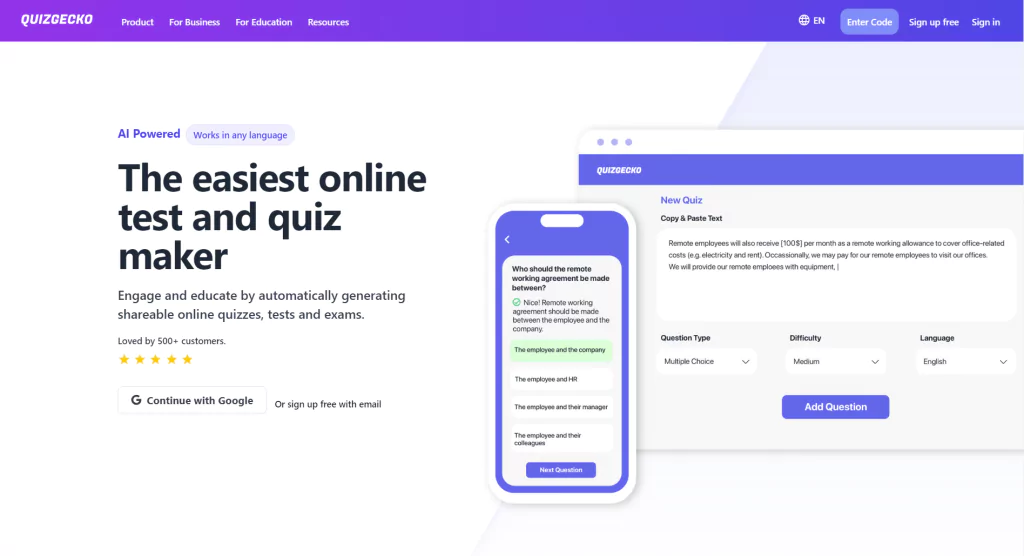 Quizgecko for students
For students, Quizgecko offers a tool for generating quizzes, flashcards, and notes from various forms of text, including books, articles, documents, websites, and technical documentation. By implementing AI technology, Quizgecko aims to adapt the generated content to each individual's learning requirements. This could potentially lead to enhanced content retention and improved effectiveness of study sessions.
Let's hear it from James Blackwell at Quizgecko about the benefits of the service for students:
"Quizgecko is an invaluable tool for today's students. Its ability to instantly turn any text or video into customised quizzes saves time and helps students truly master the material. By leveraging Quizgecko's AI-powered question generation, students can create comprehensive study guides on any topic or class material, in a way that is personalised for them"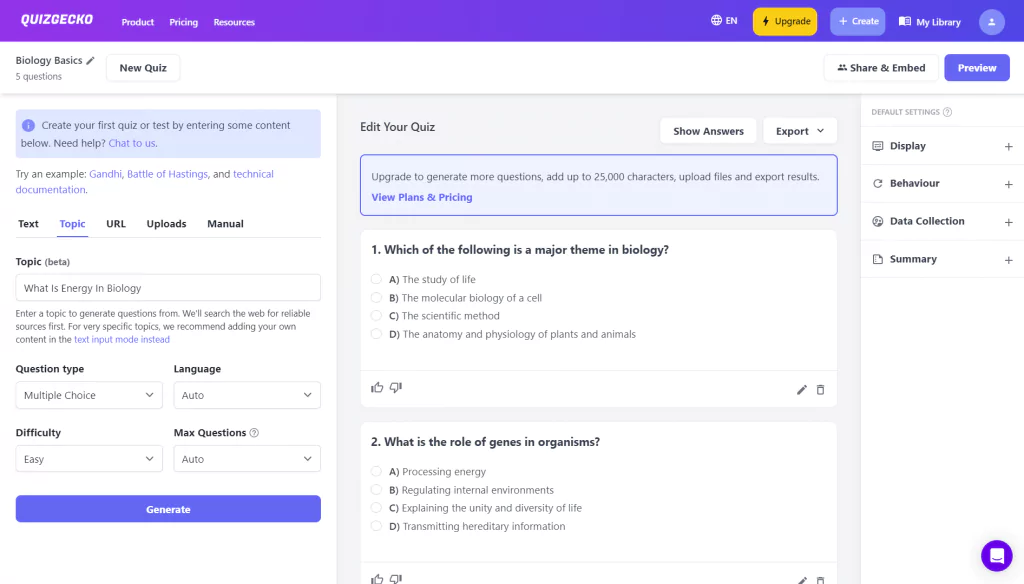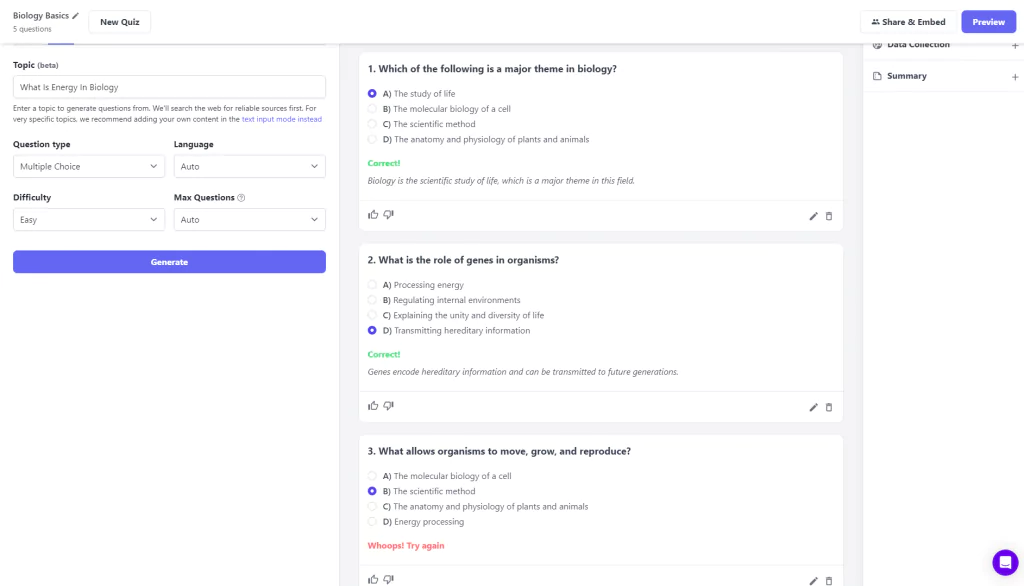 Quizgecko aims to empower students in their learning process by providing a platform for creating customized quizzes, flashcards, and notes. It has been designed with the intention of enhancing student engagement and improving the retention of course material. Furthermore, by providing tools to create custom study material, it may ease the process of exam preparation.
Price and Offers from Quizgecko
Quizgecko has a tiered pricing structure to cater to different user needs. It provides a free plan that allows the generation of up to 3 quizzes per month. This could be a feasible starting point for users who want to test the platform's utility. For users requiring additional features, paid plans are available starting from $12 per month. These paid plans offer advanced features, including the ability to generate up to 10 quiz questions at a time, increasing the character count and question limits, and file uploading capabilities.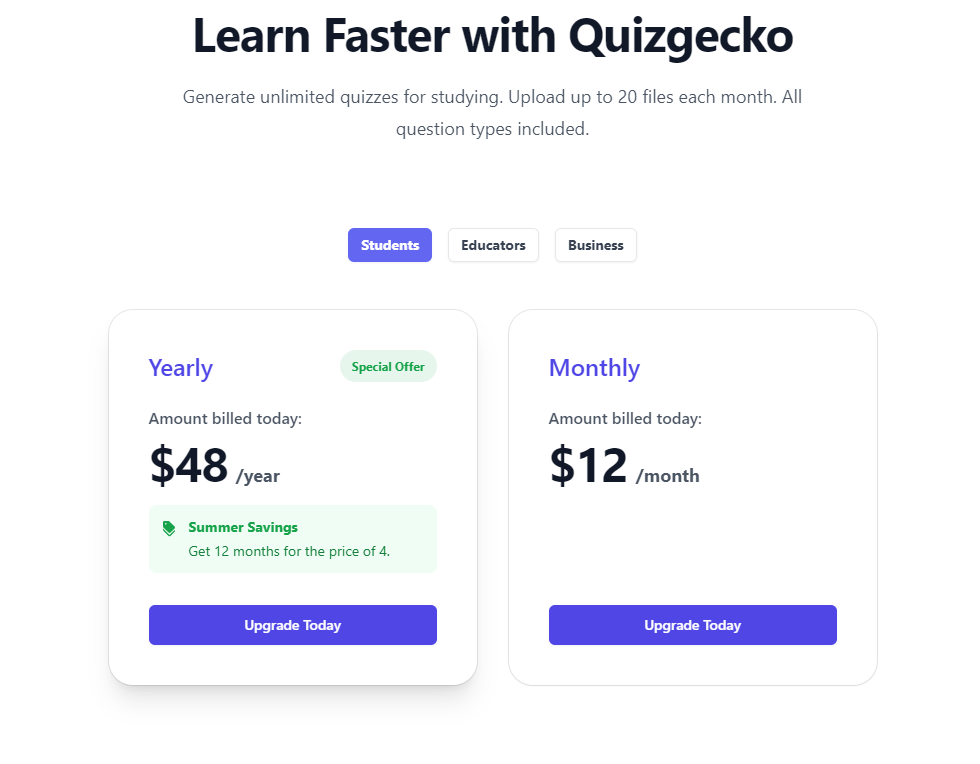 Quizgecko represents an attempt to harness AI's capabilities to provide a potentially time-saving and customizable tool for students, educators, and business professionals. As the field of education continues to evolve, the impact of tools like Quizgecko on teaching and learning processes remains to be seen.
Discover more exciting projects – AI in Education: Promising Startups and Services
Related
Follow us on Reddit for more insights and updates.