Tests, essays, midterms, and research papers are an integral part of any education experience. But so are presentations and group projects. As practice shows, learners feel intimidates by the latter assignment. Why so? Because they do not know how to engage the audience. The solution is – Sendsteps.
AcademicHelp Learning Hub
Use the most powerful academic tools to write better with AI, check for plagiarism and detect AI content!
In the fast-paced digital world where time is a luxury, Sendsteps offers a solution that elevates the process of presentation-making to a new level. Utilizing the sophisticated GPT-3 model, Sendsteps is an AI-based presentation generator designed to make the life of the presenter simpler, more efficient, and remarkably interactive. With a user-friendly platform, it allows individuals to generate slides, populate them with content, and incorporate interactive elements, all through a seamless automated process.
The Value Sendsteps Brings to Students
The classroom has evolved, and so has the process of learning. Students, often juggling multiple responsibilities, find it challenging to allocate adequate time to make compelling presentations. Sendsteps emerges as a game-changer in this context. Within a matter of minutes, students can produce professional-grade presentations that not only carry their message but do so in a way that is engaging and interactive for their audience.

The value does not just stop at efficiency. It extends to the realm of quality and engagement. Utilizing Sendsteps, students can focus on refining their ideas rather than getting bogged down by the technicalities of slide creation and design. Furthermore, the platform's real-time audience engagement tools, such as live polls, quizzes, and surveys, offer the presenter the ability to adapt the discourse according to the real-time feedback, thereby facilitating a more interactive learning environment.
How Sendsteps Boosts Professional Presentations
Sendsteps does not only cater to students. Whether you are a business professional, an academic, or even a casual user looking to make your point, the platform's versatility allows for a wide range of applications. From summarizing academic papers to transforming product brochures into interactive slides, Sendsteps provides a one-stop solution.
One of the key features is the 'Document Upload' option, which allows the AI to generate a full-fledged interactive presentation based on the uploaded document. This function expands the scope and utility of the service, allowing users to turn existing written content into dynamic presentations, thereby multiplying its impact.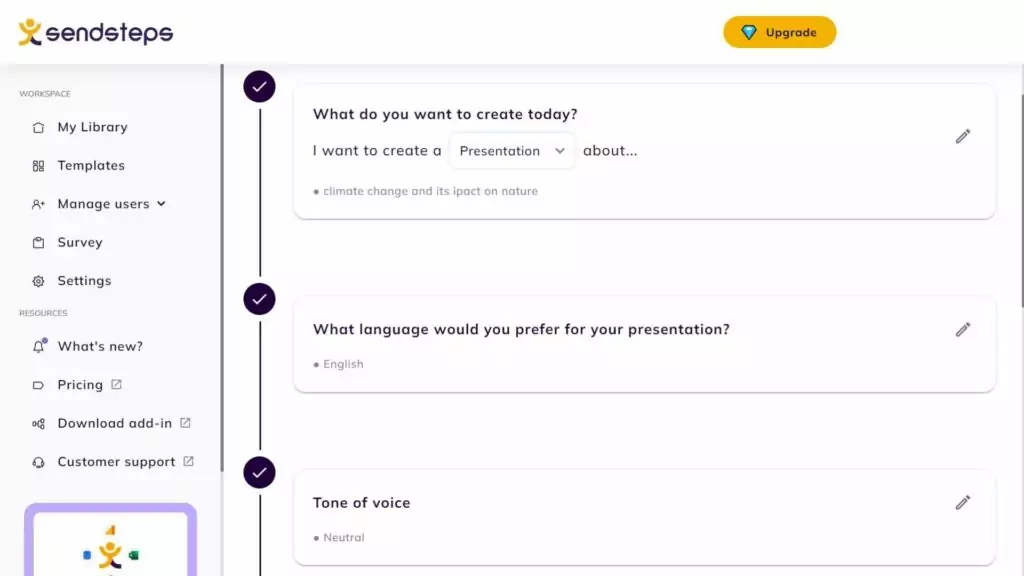 Other Necessary Information
Sendsteps offers multiple ways to get started. You can utilize the AI presentation maker to get an interactive presentation made for you, begin from scratch and customize as you go, or simply upload an existing PowerPoint or document to be transformed. All of this is carried out by the platform's AI, ensuring that the end product is plagiarism-free, thus maintaining the integrity of the content.
The company believes in the transformative power of AI to make lives more efficient. By harnessing the capabilities of GPT-3, Sendsteps not only simplifies the process of presentation creation but also raises the bar for what can be achieved in terms of design and interactive audience engagement.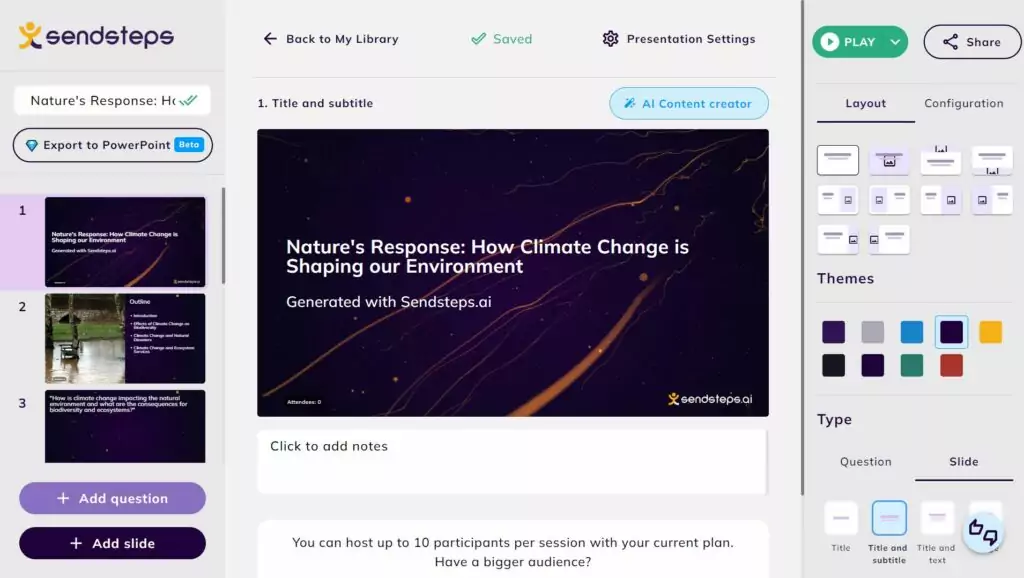 3 Reasons Why Presentations Must Be in Classroom
In an age where communication and creativity are paramount, the importance of presentations in a school's curriculum cannot be overstated. They serve as more than just a way to display information. Alos, they're a platform for students to develop essential life skills.
Boosts Confidence and Communication Skills
When a student takes the stage to present, they're not just sharing information. They're building self-confidence. Public speaking can be intimidating, but the classroom provides a safe space for practice. Presenting also polishes communication skills, teaching students how to effectively convey their ideas, just like how Mamaearth successfully communicated its unique brand message.
Fosters Creativity and Research Skills
Creating a presentation requires a blend of creativity and diligent research. Students get the freedom to experiment with colors, fonts, and layout, triggering their creative thinking. At the same time, they need to delve into topics, surf the web, and gather facts, honing their research skills. These are foundational competencies that have lifelong utility, much like how companies invest heavily in research and development.
Prepares for Future Leadership Roles
Every great leader started as a learner. Making presentations teaches students the art of persuasion and the value of organized thought—skills essential for future leaders. When students are given responsibilities like hosting events or running campaigns, they get a firsthand experience of what it takes to lead.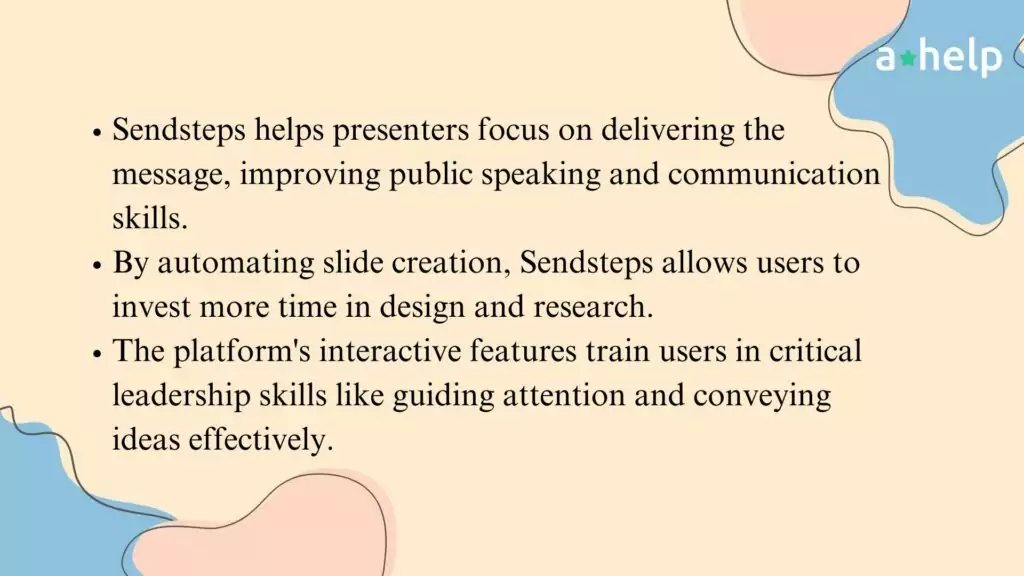 The verdict: Sendsteps is not just another tool for making slides; it is an advanced AI-based system designed to revolutionize the way presentations are made and experienced. With its focus on efficiency, quality, and interactive engagement, Sendsteps offers a new paradigm for how we share information, whether it's in the classroom, the boardroom, or any platform in between.
Discover more exciting projects – AI in Education: Promising Startups and Services
Related
Follow us on Reddit for more insights and updates.