PlagiarismCheck, which has been helping students and educators to make written text plagiarism-free since 2015, announced that their AI detection service TraceGPT is now available as a browser extension and can be downloaded in the Chrome Web Store.
AcademicHelp Learning Hub
Use the most powerful academic tools to write better with AI, check for plagiarism and detect AI content!
Now, learners, professors, content makers, and copywriters can check written papers, content, websites, and emails for AI presence with an accurate TraceGPT AI Detector to make sure the content is authentic and human-written. To top it all, the extension is free to use.
Trace GPT AI Detector can catch popular AI generators, including Google Bard and ChatGPT. Users can rely on the real 97% accuracy with extremely low false-positives.
This move signifies that more and more companies are trying to solve the problem of AI detection. Not to mention that it is becoming acutely important in the academic field with students actively using all available AI-writers to facilitate their studies.
Garrett form PlagiarismCheck.org, a plagiarism checker service, shares the following about TraceGPT:
"Checking texts for AI became a daily need in many cases. Either you want to make sure an email you have to respond to was written by a person, instead of being generated by a soulless bot. Or you need to check a web page or an assignment from someone who was supposed to write it. Chrome Extension provides a convenient way to check if you read a human-written text."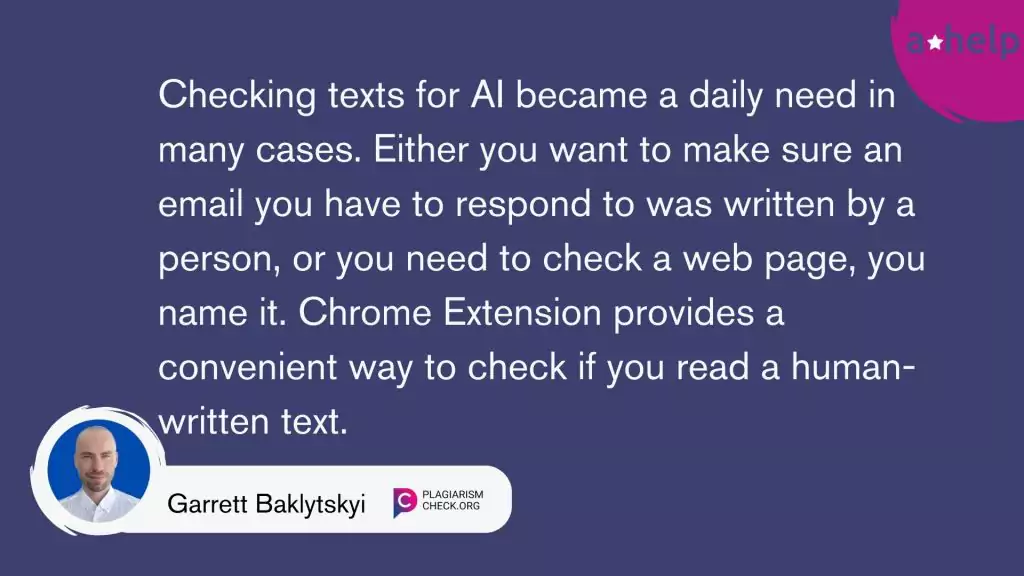 TraceGPT Chrome Extension is available for free access for everyone. Users can launch it on any webpage, or paste their text in the Extension window to get an accurate, reliable AI detection result in no time. If you want to add it in your browser, just follow this link. 
About PlagiarismCheck
PlagiarismCheck has been helping students and educators since 2015. And up to this day, their goal has been to check text originality, verify authorship, and improve writing.
Related
Follow us on Reddit for more insights and updates.