As the summer rolls in, students are increasingly faced with the grim reality. More soon-to-be university students need to be "quick off the mark" to get the best courses from universities. Tougher competition means lower exam grades can cost students their top university choice.
AcademicHelp Learning Hub
Use the most powerful academic tools to write better with AI, check for plagiarism and detect AI content!
Key Takeaways:
The rising competition for university courses means students might miss out on top university choices with even a slight dip in grades.
Recent trends show a 33% increase in applications for computing courses among UK 18-year-olds.
There's an emerging trend challenging the importance of "prestigious" universities, pushing students to consider alternative educational paths.
Be Quick on A-levels results day if they want to study at a top university
The situation has been particularly tense a week before A-levels results are to be released in England, Wales, and Northern Ireland. According to reports, several in-demand universities have already filled their capacity. The head of the Ucas admissions service has warned:
"Applicants who fail to meet their grade offers will need to act quickly to secure a place elsewhere."
More people leaving school this year and a rise in overseas students wanting to study in the UK has made things tougher. Clare Marchant, the chief executive of Ucas, stressed the gravity of the situation:
"When it comes to results day on 17 August, a lot of those highly selective courses at highly selective institutions will go quite quickly."
The data seems to echo this concern. Ucas's clearing service recently recorded 22,410 courses available at 130 universities, a decline from 23,280 from the same period the previous year. Especially at Russell Group universities, which are known for their stringent entry requirements, vacancies have become even scarcer. Compared to the previous year, when 17 Russell Group universities had 2,358 places left before A-levels results were disclosed, this year only 15 of them have just above 2,000 places combined.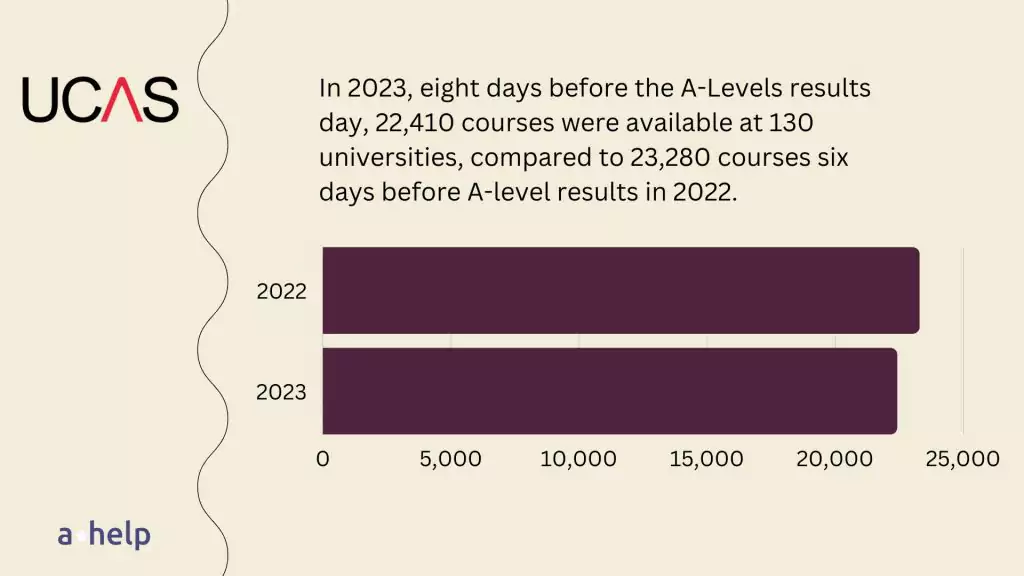 Every year the numbers are going to change and competition is going to rise. The change in inevitable. Simple, it's because the demographics of 18-year-olds are increasing year on year.
But not only that shifts, but trends too. Recent ones suggest a growing inclination towards computing courses, especially among 18-year-olds in the UK. A staggering 95,000 applications have been recorded, marking a 33% increase from the 71,000 applications in 2021. Marchant noted the growing competitiveness, emphasizing, "Every year it's going to become slightly more competitive, simply because the demographics of 18-year-olds are increasing year on year and we're still very internationally attractive."
Exploring Alternative Paths
The fierce competition and limited vacancies are pushing many to question the long-held beliefs regarding prestigious universities. Does attending a top-tier institution guarantee success, or is it time to explore alternative educational paths?
Take Germany, for instance. Their dual vocational training system combines both theoretical instruction and practical experience, offering a viable alternative to university education. According to a 2019 report by the Federal Institute for Vocational Education and Training, nearly 52% of all young people in Germany undergo vocational training. This system has proven its worth, with Germany boasting one of the lowest youth unemployment rates in Europe.
In Finland, there's a significant emphasis on vocational education and training (VET). Almost 40% of Finnish youths choose VET over traditional academic routes, which focuses on hands-on skills and often leads directly to employment opportunities, reducing the graduate unemployment rate.
Australia offers another model, emphasizing TAFE (Technical and Further Education) institutions. These organizations provide practical training and education in various fields, from business to arts to trades. Over 1.2 million Australians enroll in TAFE courses annually, recognizing the value of skill-based learning.
Moreover, consider the growing popularity of online courses, certifications, and bootcamps in sectors like technology, which may provide direct skills without the traditional university journey. With the changing landscape of education, it's crucial to keep an open mind and explore all avenues available.
The scarcity in university course availability this year has heightened the competition among students, especially with the rise in school leavers and international applicants. While traditional prestigious institutions remain in high demand, it might be time for students to consider alternative educational paths.
Related
Follow us on Reddit for more insights and updates.