For students, most times, splurging isn't an option. That's why it's helpful to get a headstart on budgeting funds so that you can hop on the deals while they are hot. And if your list of everyday items is long, then Black Friday will benefit you greatly. We've rounded up some tips below, to help students budget if they are planning to indulge in Black Friday sales.
JOIN OUR LEARNING HUB
One-stop solution for all your homework needs. Get the job done.

✅ AI Essay Writer ✅ AI Detector ✅ Plagiarism checker ✅ Paraphraser
Key Takeaways
To budget spendings properly, start by creating a wishlist of essential items to prevent impulse buys, and set a realistic budget that includes potential additional expenses like food or unplanned purchases.
The 'Buy Now, Pay Later' system allows for flexibility in payments, but students must use it responsibly. Alternatively, think about purchasing refurbished items to save money while still getting functional products.
Waiting until Cyber Monday or January White Sales for specific items can result in better deals. Always weigh the convenience against the potential savings to make informed decisions.
As the holidays are just weeks away, now is a great time to start planning how to spend your money for the gift-giving season. The first step is to find out where the best deals are happening, especially for Black Friday. And if you're a college student, you'll want to get in on these discounts. However, before blindly going to the most popular websites, consider some of the steps below to not end up broke right before the winter.
Create a Wishlist
When shopping around, you'll want to start off with your mind made up on everyday items that you wish to have. That's why making a wishlist is essential to follow, as it will help you to stay on task with what you're spending money on. Whether it be the latest tech gadget or furniture piece, it's critical that you know exactly what to expect before swiping your card, otherwise, you may regret it. And sometimes during Black Friday, the discounted items are final sale, which could result in no refunds.
It's no secret that retailers use tactics that get consumers to spend more money than they planned. "These guys (retailers) have had not one year, not two years but 100 years to figure out how to separate you from your money," Howard Dvorkin, chairman of Debt.com said, per AARP. "They are very good at it. They want it to be perceived that you are getting a deal, and sometimes that deal is not a real one." But if you go to the store with a shopping list, your chances of overspending can be slim to none. If you're planning to shop online, you can create a wishlist or shopping cart to narrow down your purchases.
Set your spending budget
How much do you have to spend on Black Friday? And if you were to go over the budget, how much extra cushion do you have for splurging? The reason these questions are important is because, as a college student you're going to want to factor in extra money for food and hanging out.
Being as realistic about your spending habits as possible is vital. If you know that your shopping day is going to consist of, say grabbing breakfast/coffee, lunch, and dinner then it's important that you also include those expenses within your budget. While these may be small expenses they add up and eventually chip away at what you have to spend in total.
One way to get ahead on saving before Black Friday could simply be to cut back on any unnecessary weekly spending. This could include buying new clothes, eating off campus, ordering food (Doordash, Grubhub, Uber Eats, etc.), hanging out off campus on the weekends, and anything else that requires you to spend extra money for non-essentials. Even with doorbuster sales, tech devices can still run you a pretty penny. For example: Apple Watches will be discounted up to 50% off. According to Men's Health, the Apple Watch Series 8 will be sold on Amazon and Walmart for 20% off.
'Buy Now, Pay Later'
If you're a student who has been saving but maybe you don't want to spend all of your money on Black Friday, another alternative could be to use a payment plan system. This is a great way to get the products you need for the upcoming semester, while still having a nice chunk of money in your bank account. The 'buy now, pay later' method is a helpful tool that allows you to purchase items and split the amount into four smaller payments. It's extremely helpful as long as it is not abused and it can be even more valuable if every payment is made earlier or on time.
"While a pay-in-four plan doesn't usually charge interest, longer-term BNPL plans, which are becoming more common, may charge an annual percentage rate up to 36%. Fees, like for late or rescheduled payments, range from $1 to $15 and are sometimes capped at 25% of the purchase value, depending on the BNPL provider,"

Nerd Wallet
Consider starting an account with Klarna, Afterpay, or Zip, as these systems do not affect your credit. As a college student, it's important that you stay on top of your credit because once graduating you will find that good credit is essential in the United States. In other words, don't allow one weekend of shopping to turn into a future of financial headaches. Quick money isn't always good especially if you're a student with an unsteady income. Some banks will encourage students to get a credit card, but unless you have a full understanding of credit card usage and have consistent funds to stay up to date with your monthly bills, it may be best to hold off for the time being.
Consider Buying Used or Refurbished Items
One man's trash is another man's treasure. And when it comes to refurbished items, it's not trash at all, it's just a product that's been reconditioned and can still be put to good use. PC Mag shares 10 things to know before buying refurbished electronics and notes,
"a simple reason to buy refurbished tech instead of a brand-new device—to save money"
While refurbished gadgets may not be in perfect condition, a lot of times they are labeled, "like new." This means they could have a cracked screen replaced, a few scratches, or something minor that wouldn't stop the functionality of the device.
Just think, once you buy any tech device whether it be a laptop, cell phone, or watch, the value of it normally depreciates. Therefore, saving a few hundred bucks on a refurbished item could be a nice benefit to help you save money while also buying everyday items that you need. Black Friday is also the best time to buy certified used and refurbished TVs at a low price. Visit Walmart or Amazon to find deals on refurbished electronics.
Wait Until Cyber Monday
While it may be exciting to be a part of the traditional and chaotic Black Friday shopping for some people, if you know you're on a tight budget, then it's only right that you stick to your plan. And if sticking to your plan means waiting until Cyber Monday to do your shopping, then that's OK.
"Some items are better to buy later. Beauty and footwear is best to buy on Cyber Monday."

finance expert, Andrea Woroch, for Her Money.
A part of best budgeting practices is waiting until items are marked all the way down, mainly because you should want to save as much as possible. If waiting a little while to buy an item will become more of an inconvenience, then by all means pay the higher price for more convenience. For example, some Cyber Monday items may not ship out right away but you may need the item before your new semester or class begins, then in that case you may just want to grab the item on or before Black Friday — but if not, then save what you can.
Aside from electronics, if you're purchasing household items for your dorm room or apartment, such as linens and furniture it wouldn't hurt to also wait on buying those essential things. "If you're eyeing bedding and linens, hold off for the best prices during January's white sales," Woroch added.
Never heard of January White Sales? According to Deanne Revel at HGTV:
"Back in 1878, department store owner John Wanamaker had a surplus of bed sheets in his inventory. So, he slashed prices in the hopes that it would draw customers inside his store during a slow shopping period."
He dubbed the doorbusters as a "white sale" because there were only white sheets available. It's always refreshing to start your semester with new bedding, especially if your dorm room is being upgraded or you're moving back on campus from your winter break.
The Key Point
All in all, budgeting during the holiday season doesn't have to be as difficult as it may sound, as long as you plan for it. You can make a Black Friday shopping list as long as you'd like, but if you don't strategize how you should spend your money then it could become more of a financial hassle than it has to be.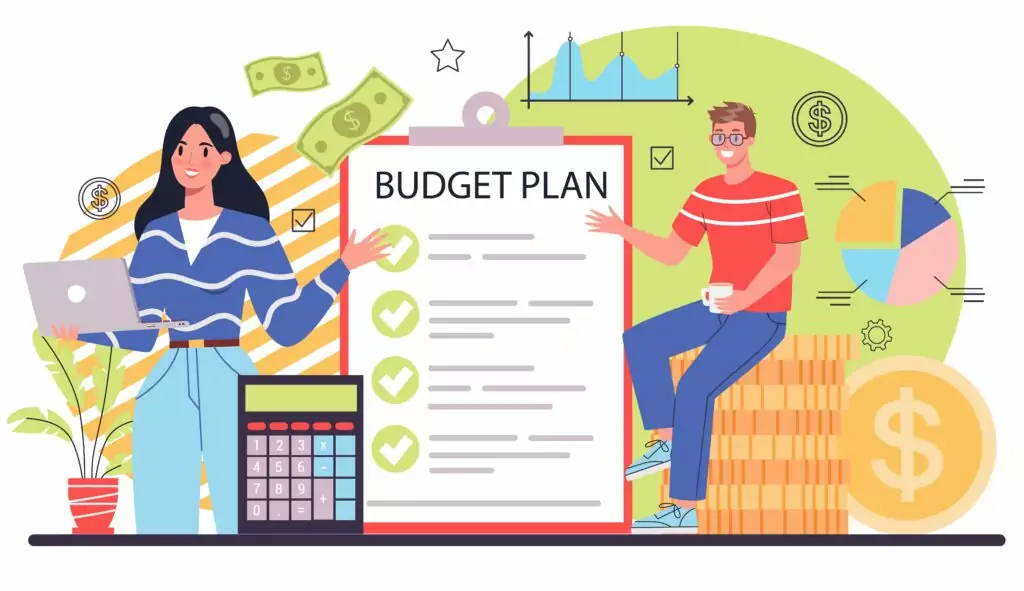 Start thinking about your next semester, look into the classes that you are planning to take and what tools you may need in order to excel in that course whether it be the latest Apple MacBook with the updated editing software or any other laptops, printers, or tech gadgets. For more information on what to buy for your next college course visit BestColleges.com, for 33 School Supplies Every College Student Needs.
Useful sources:
Related
Follow us on Reddit for more insights and updates.