Do you smell pumpkin spiced latte in the air? Can you hear loud laughter on the soccer field? Do you spot a group of students with backpacks on the way to the library? Bingo, it's back-to-school season across the country.
AcademicHelp Learning Hub
Use the most powerful academic tools to write better with AI, check for plagiarism and detect AI content!
Experienced sophomores, seasoned juniors, and seniors know that everything you see in movies about starting college or getting into university is far from reality. But freshmen are just about to have their first wake-up moment. Leaving home to fly across the country to spend 4 years in an unfamiliar city without any friends is a harsh reality. With each day school graduates cross off on their calendar, the stress levels are rising and the focus is getting hazy. In the end, excitement overlaps with Disturbia, and it is not a pretty picture. What if we told you that the countdown can be productive and effective?
AcademicHelp asked Nick Yasynsky, founder of Textero.ai, an up-and-coming sensation in the field of AI writing, to share his experience of starting the first week in college. We have compiled a valuable and practical step-by-step guide to help you start the fall semester in high spirits and with clear goals.
Step 1. Set up your college life
Starting college without a solid plan is a recipe for disaster. Summer break after graduation screams fun and carefree days, no homework, and staying up late. The first fall college semester, on the other hand, is like opening a can of worms.
You need to take things under control. This helps with faster accommodation. Always take small steps. For instance, you can start by organizing your dorm room. It is where you study, grab a snack, and relax. If your thoughts are about a cozy blanket, hot chocolate, and warm candles, then this cinematic setup can play tricks on your effectiveness. In college, you feel like the main character only when you are the most productive. Let's hear from Nick:
"Well, college wasn't a long time ago, so all images are still fresh in my memory. But I agree that organizing your place is essential. I spent most of my time on campus freshman year. So, the dorm room was my go-to place to study and finish homework. I was not a fan of libraries. However, I knew some of my peers even organized study groups there and motivated each other to study. As for me, I created different zones in the dorm room. The sleeping zone was in the quiet corner. Facing a window, I organized a study space. It was a well-lit portion of the room, next to a table there was a shelf with all the books I had to read each semester. This helped me to draw lines between relaxing and learning and keep my focus."
But do not pressure yourself to be goody-goody about structure. After all, college is not always about following the guidelines. Have some fun! Watch videos about organizing your space on TikTok or YouTube. Find inspiration online. Buy room decor, books that you want to read, or create something handmade. Plus, the next time you go shopping, check out articles with dorm essentials recommendations. They will help you to decide which bed sheets, organizers, and stationery to buy.
In the process, do not forget about general things. Call it Survival Guide 101. It must cover stuff like, how to do your laundry, how to navigate on campus and outside of it, and more. Take advantage of the orientation week to do all of these things.
Step 2. Figure out how to use the cafeteria
Feed body and soul, the proverb goes. Excellent marks and a picture-perfect routine cannot take you far unless you nourish yourself. And a healthy diet can benefit freshmen.
To save time, consider the school cafeteria as the place where you can grab a bite. Go for balanced meals that are packed with protein, fiber, and just some carbs. Healthy options will get you through the day of long lectures. Sometimes you can spice up your days by packing lunch for college. And if cooking is not your strong side, you can find recipe inspiration online. Or you can experiment with eating out in cafes outside your campus a couple of times per month.
Tip: Try to find convenience stores in the close vicinity of your campus in case you need that late-night snack.
Step 3. Find the location of your classes
Be your own compass. Again, you can explore your college or university during the orientation week. Walk around campus and find all of your classrooms. Nick has a story to share:
"Such a great idea. Yes, knowing where your classroom or lecture hall is located is a must. My university was a maze. I did not know what building I needed to go to, not to mention what floor. Here's the picture. In my schedule, it said: lecture in room 302. One would go straight to the third floor, logically. So did I [chuckles], only to find that there are rooms starting only with 100 on the third floor. Apparently, my lecture took place on the first floor."
You cannot be a Bugs Bunny from Looney Tunes and jump from one room to another in seconds. To save yourself from getting in trouble, do not skip this step.
Tip: on Google maps you can make a list of saved places. This will save you time when navigating your way on campus in search for the right classroom.
Step 4. Prepare in advance
You were burning the midnight oil the other night, cramming important information as hard as you could. The next morning you are jolted awake by the alarm clock. You rush to the bathroom to freshen up and hastily make an instant coffee that is supposed to wake you up. The moment you are ready to storm out of the room and race in the direction of college you see that you are unpacked.
The moral of the story would be to go to bed at reasonable hours. But we know that in colleges and universities, it is nearly impossible. However, there is something that can be done. Prepare for classes the night before. Pack your backpack, pick an outfit, prepare lunch, and all your knick-knacks. This way you will always be ready for all unscripted scenarios the college life brings you.
"Could not agree more. I started doing so when I was a sophomore in high school. Football practice and other extracurricular activities took a lot of time in the evening and I was drained. But this organizational habit got me through early morning smoothly and without panic. Highly recommend it!"
Step 5. Get familiar with your professor's teaching style
Usually, during the orientation week, you would receive your semester's syllabus and get to know your professors. Commit to this week fully and take notes on what your professor shares with you.
For instance, if your teacher asks you to print out the articles and carry books to the class, do it. You can always shop on Amazon, go to the college library, or a local bookstore. Do not be shy about buying secondhand books. They would definitely be cheaper. And who knows, maybe a "half-blood prince" left some useful notes in your book too? If your professor is fine with digital, download PDFs on your tablet or laptop and have them always ready in the classroom.
Take notes on what your teacher expects from students. For instance, if they demand to learn the footnotes from every lecture, do not discard the suggestion. If they give an extra score for participation, go for it. When you know your professors' style of teaching, learning gets less stressful.
Step 6. Get ready to study
When you have to sit through a boring lecture and choose between dozing off or taking notes, no matter how hard you try, you'll choose the first option. There is a way out. You can motivate yourself by taking beautifully colorful notes. This trend has been in for a while and does not seem to stop. You can either take notes the traditional way on a notebook with bright pens and highlighters. Or if you're a kid of the digital world, download some cool note-taking apps on your tablet.
To spice things up, you can boost your studying process with flashcards. A little gamification while studying hasn't killed anybody. Again, if you're a conservative student, handmade flashcards would be your calling. Or you can create them online on your phone or laptop. Always check out what your library has to offer. In some colleges, you can get access to certain apps on libraries' computers and boost your studying routine.
But if these nifty tricks are not working, and you are falling behind, consider heading to the Office Hours. They can help you solve the issue. Most importantly, when studying, make sure that there are no distractions around you. But it is tricky in college.
"I know the temptation of checking your phone or computer every single minute when you sit down to study. You always want to know what your pals are doing and other things. The only way that proved to be effective, and I am pretty sure will work for everyone else, was to snooze notifications on the phone. I used it both ways, when I was studying alone and during lectures."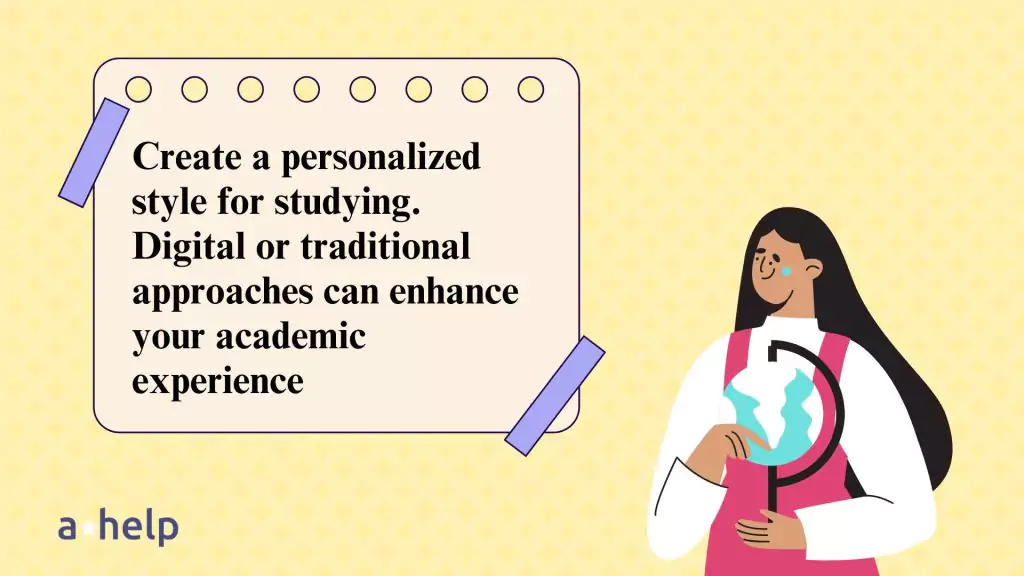 Step 7. Social life
The good news is that the Internet is filled with college hacks. If you are lacking motivation there's a guide for that. If you are behind your reading schedule, watch a YouTube tutorial on how to become a productive reader and stay on track. But you cannot find step-by-step instructions on how to socialize with peers. Though, some tips can help you.
We cannot stress this enough, but taking everything from the orientation week is a must. In the breaks between getting to know your professors, try to break the ice with your classmates. Join team-building workshops or drop by student fairs. There are endless ideas on how to establish new connections in fun and exciting ways. But be careful when following a tempting sign to go and paint the town red till you see the sunlight. College studying and partying lives are about balance, note that.
"Right in the bull's eye, I know it's hard, but it will be worth getting the taste of studying and socializing. Because if you only focus on one aspect, it will not be a true college experience. Plus, consider socializing as a nice way to try networking. It'll be necessary in your post-university life."
You can interact with peers not only at parties and after-class activities. Find time to build rapport when you are doing a group assignment or participating in class discussions. This way there are high chances to find like-minded people.
Also, you can try to leave your comfort zone. For instance, talk to your peers more during the break and on campus. Or invite someone to grab a bite together. Simplicity is the key. 
Tip: Do not stress out too much about making friends during your freshman years. Remember, everyone is new to the college experience and they are trying to navigate it themselves just like you. 
Step 8. Keep in touch with your loved ones
Feeling homesick is natural. For some students, it can be painful to the point when they feel down in the dumps and even depressed. Thankfully, the digital age can offer quick solutions. When reminiscing about "home sweet home", drop your loved ones a few lines in a family chat, or send them a smiley selfie from your first day of classes, or FaceTime them.
Technology is fun and games, but there is always room for an unconventional approach – real mail. You can send long letters written by hand, enclose postcards, and many other little things that can boost your mood.
If circumstances allow it, try to organize a little trip together during your school break. There is no need to make it fancy. Use this opportunity to meet up and spend some quality time together.
"Right, I did not go to college too far from my hometown, but I still missed home. Facetiming with my folks once a week was a blessing for all of us. I shared about my accommodating period in college and they told me their latest news. That really meant a lot to me when I was a freshman."
Step 9. Plan ahead
Life does not always go according to plan. Sometimes you need to take a shortcut or make an expected turn. But without a clear destination, you are doomed. The same applies to your plan in college.
Start with a plan for your day. Routine and healthy habits can secure you. Dr. Stephen Whiteside, a Mayo Clinic child psychologist, states that morning and evening routines can make school smooth and less stressful. As Dr.Whiteside underscores:
"Routines are a natural part of life and just very straightforward, provide structure, help kids predict and expect what's going to happen."
It is always better to kick off early. One or two weeks before the classes, start imitating your perfect fall semester routine. For instance, create a schedule that specifies your waking and sleeping hours. Or jot down ideas for after-school activities. They can vary from walking in a local park to joining the school debate team, enrolling in a cheerleading squad, or doing yoga and meditating. Choose what moves you and can make use of your time.
Tip: Do not worry if you are taking the first step in your fall semester. You must start and stick to the routine no matter the weather through the window.
"I underestimated the beauty of the routine my freshman fall semester. I was stuck for a while without one. After the winter break, I decided to specify sleeping hours for myself and little by little got the hang of it. By the spring break, I felt more productive and under control. It did good for my grades too."
Another component of the plan is the syllabus. It will help to organize your studying routine so that you do not miss any deadlines, assignments for extra credit, and much more.
Step 10. Use apps to study
It's official: You can up your college game with handy apps and services.
"I am sure that modern-day education can be more productive if both students and teachers are introduced to useful services. Here are some great apps that will change your college years for the better."
Final Words
Navigating college is complicated. But with proper routine and approach it can be less stressful. Plan your studying and find some free time for friends and family. Spice up your days with exciting activities and set yourself up for success. With time, all your doubts and fears will fade away. Remember to have fun along the way.
Related
Follow us on Reddit for more insights and updates.