Ever considered why NASA's spacecrafts have dramatic names like "Spirit," "Challenger," "Opportunity," "Curiosity," and "Perseverance"? These names, laden with symbolism, reflect our exploratory spirit and thirst for knowledge. Behind these revolutionary missions lies intricate computer programming. Its role was pivotal even in the mid-20th century, influencing space exploration and predetermining the era we live in today.
Can you envision computer science's impact now, in the 21st century, when it's deeply intertwined with our daily lives, from smartphones to AI technologies? No wonder programming is a favored college major worldwide. The skills acquired in these courses don't just promise a rewarding career; they potentially pave the way for future discoveries and explorations, helping students contribute to the next chapters of human advancement.
And even though working toward a degree in programming isn't as demanding as launching another shuttle from Cape Canaveral, it does present students with tough coding riddles they may need help with. And the good news is that modern students have a lot more helpful resources than their peers from the early computer science era. DoMyCoding, an expert programming help provider, is among them and is ready to take your skills to a new level.
In this review, we'll take a close look at the service and its practical capabilities to help students advance in their expertise. See How We Test Programming Homework Help Websites for more details about our testing approach.
Quick overview
DoMyCoding stands out as a remarkable service brimming with potential. The superior work quality, attention to detail by experts, and supportive customer service overshadow minor shortcomings.
Experience review: DoMyCoding Mystery Shopping
In the early 60s, NASA could employ any professional for rocket development. Still, they recruited Wernher von Braun because he had already proven his talent, and NASA wanted the best. Similarly, as a 21st-century student seeking top-notch coding assistance, you likely want to explore the finest choices from the multitude available, reducing the risk of making a poor decision. At A*Help, we prefer to become test pilots sparing our readers from time-consuming investigation and unnecessary trials and helping them get the statistics homework help they deserve.
Keeping this in mind, we employ the mystery shopping strategy whenever we need to assess the quality of a product or service. It's a well-established technique providing unique, trustworthy, and occasionally surprising insights, attainable only by adopting the role of a regular customer.
For coding assistance websites, we also have a specific approach. We request a moderately complex Python assignment with a three-day turnaround. Our evaluation encompasses a range of aspects, such as genuine user experience, quality of support, website interface, and customer service, which we gauge through our interactions with the services under review. Finally, upon task completion, our partner and professional software engineer, Logan Romford, provides his expert analysis on the assignment quality, underscoring both its advantages and shortcomings.
Our experience with the service and Logan's expert commentary furnish sufficient relevant data for the A*Help score – our measure of a website's brilliance.
Logan, by the way, approved the choice of Python as the programming language for our task.
"Absolutely, Python is a great pick! Let me tell you, if I could zip back to the start of my coding adventure, Python would have been my go-to as my first programming language. It just wasn't such a big deal back then. Now it's perfect for anyone dipping their toes into the software development world. It's a pretty high-level language with neat and user-friendly syntax that not only makes it easier to grasp but it also promotes solid coding practices. Python's simplicity allows beginners to put their energy into understanding the core of programming instead of wrestling with a trickier language. Plus, its syntax has much in common with the plain English language compared to other programming languages, which makes it even more beginner-friendly. So, yeah, Python's definitely a smart place to start!"
As we have already covered our testing approach and the reasons for choosing Python, let's now take a look at what we learned from the experience of our mystery shopping at DoMyCoding.
DoMyCoding's Value Review: Value for Money — 17/25
Success in space exploration hinged not only on the talents of pioneering engineers like Wernher von Braun and Sergey Korolev but also on the financial and resource commitments that the competing nations were prepared to make. The notion of balancing costs against benefits was barely a consideration back then.
Unfortunately, the resources of today's students are not unlimited, so when it comes to picking a computer programming homework help service, we strive for the most effective cost-benefit equilibrium. In response, companies, recognizing these needs, compete to provide the most attractive offer.
DoMyCoding makes its pricing system very simple to understand. The price depends on the complexity of a given assignment and the time a performer needs to complete it. For example, small coding problems can be solved for $63 if you allow two weeks for work, while large projects may cost $240. The shortest available deadline for all types of tasks (XS, S, M, L) is eight hours, and the longest is 14 days.
The breadth of tasks the service caters to is wide-ranging and suitable for students with any programming requirements. All well-known and widely used languages, like Java, JavaScript, Python, and the like, are covered. Additionally, students seeking assistance with more technically challenging languages such as C, C++, and C# can also find support here. Considering that tasks of varying levels of complexity can be chosen for each of these languages, DoMyCoding surely earns a high mark in the "order category" criterion.
The company, while showing promise in several areas, unfortunately, falls short when it comes to validating the credentials and qualifications of its experts. On one side, they offer you the flexibility to order assignments spanning a wide range of complexities in an array of coding languages. However, the flip side paints a less assuring picture. You're left in the dark, uninformed about the experience or proficiency level of the individual tasked with your assignment. This lack of transparency can be unsettling, as you're entrusting your work to a person whose capabilities remain unverified.
The price tag is what often makes you agree to a deal or break it. For our medium-complexity task, we paid $151.20, the average rate for similar assignments in the service market. A 10% newbie discount will be a nice bonus, but unfortunately, it's a one-time honeymoon offer – no benefits for returning customers. However, there is a way to receive a $10 discount for each friend who becomes a client using your referral link. It's a good deal if your social circle is full of coding enthusiasts eager for some expert help.
In conclusion, DoMyCoding offers average value for money, with a score of 17 out of 25. The service is especially praiseworthy for its extensive range of order categories and the simplicity of its ordering process, securing full marks in those areas. However, the pricing system could use a more substantial rewards scheme for returning customers to enhance customer loyalty. Additionally, introducing a transparent system that allows customers to validate the credentials and expertise of the appointed experts would undoubtedly boost overall confidence in the service.

Using the Platform: DoMyCoding's Overall Experience — 22/25
Houston, we've had a problem.
Can you imagine what could have happened had Mission Control Center in Houston left Jim Lovell's famous call for help unanswered? It never did, and the crew knew they had Mission Control Center ready to help overcome any arising issues.
Navigating the vast expanse of outer space or delving into intricate programming tasks, both voyages demand the crucial elements of security, assistance, and constructive feedback. These vital components form the backbone of success, whether the quest is celestial or code-based.
The process of placing an order is simple and intuitive. The service smartly navigates users through each step, prompting them to input appropriate task details, the desired programming language, and any other special requisites. A handy guide detailing tasks based on complexity levels is available, allowing clients to match their assignments with the appropriate description, select the most suitable size, and view the corresponding price. One helpful thing is missing, however – an order-tracking mechanism is unavailable.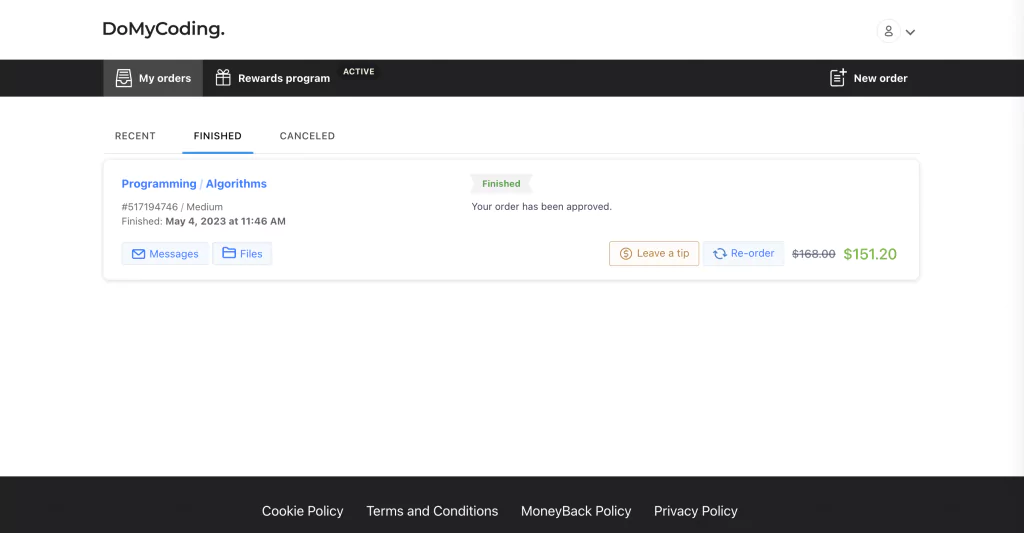 Customer support service at DoMyCoding is like the reassuring voice of Houston, a constant guide through the complexities of programming assignments. They maintain a 24/7 communication channel on the phone or through their website, answering queries and clarifying doubts at any given moment. The support crew display stellar efficiency in swiftly calculating the cost for our project, a stark contrast to the time taken to secure a performer, which hovered around two hours — however, the possibility of receiving an additional discount adds a pleasant twist to the delay.
Our interaction with the expert paralleled the exceptional efficiency exhibited by the support team. The performer showcased painstaking attention to detail, initiated clarifying questions, and maintained constant communication. This level of commitment, combined with their proven skill set, likely paved the way for our outstanding result. Furthermore, they went above and beyond, offering code verification and supplemental written clarification for some of their strategies and solutions. It would be difficult to find faults in the service of this level.
The security measures implemented by DoMyCoding are commendable. The only piece of personal information users need to part with is their email address. Consequently, this practice significantly diminishes any potential intrusion threats or personal data breaches.
The company could benefit from expanding its payment method selection. Currently, the only available option is through credit cards (Visa, MasterCard, Discover, and American. Express). While not necessarily a drawback, it's worth noting that many users find digital wallets like PayPal, ApplePay, and GooglePay more efficient and convenient.
All in all, DoMyCoding demonstrates a powerful gravitational pull toward solid customer satisfaction, scoring a respectable 22 out of 25 for overall experience. We found the order process user-friendly, although missing a tracking feature. Customer support can be a bit slow in finding a performer, but generally, it offers great assistance. Working with the expert is a seamless experience, demonstrating their commitment to detail and quality. Overall, DoMyCoding is a reliable platform with some room for improvement.
DoMyCoding's Task Quality — 50/50
Just as the historical race led by America's space programs wasn't built on successful launches alone, the journey to mastering coding assignments isn't free of missteps, trial runs, and failures. Similarly, the educational journey to a Computer Science degree is full of the risk of errors and poor outcomes. However, unlike space pioneers, students today prefer not to gamble with their grades. A*Help wants to ensure that their coding endeavors with DoMy Coding will be more "Apollo 11" and less "Apollo 13", which is why we take a meticulous approach to assessing the quality of completed coding assignments and let Logan Romford take the lead.
Here is the Python task that we asked to complete:
Here is a preview of the completed task that we received from DoMyCoding: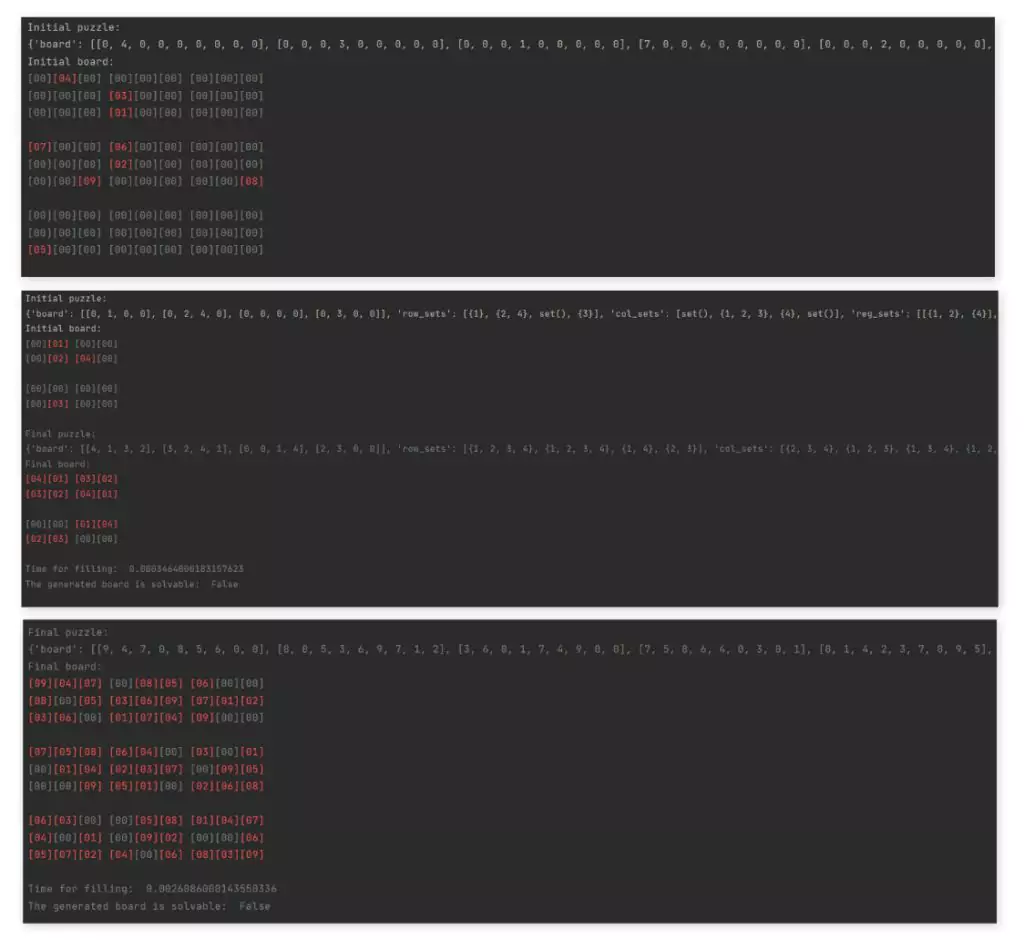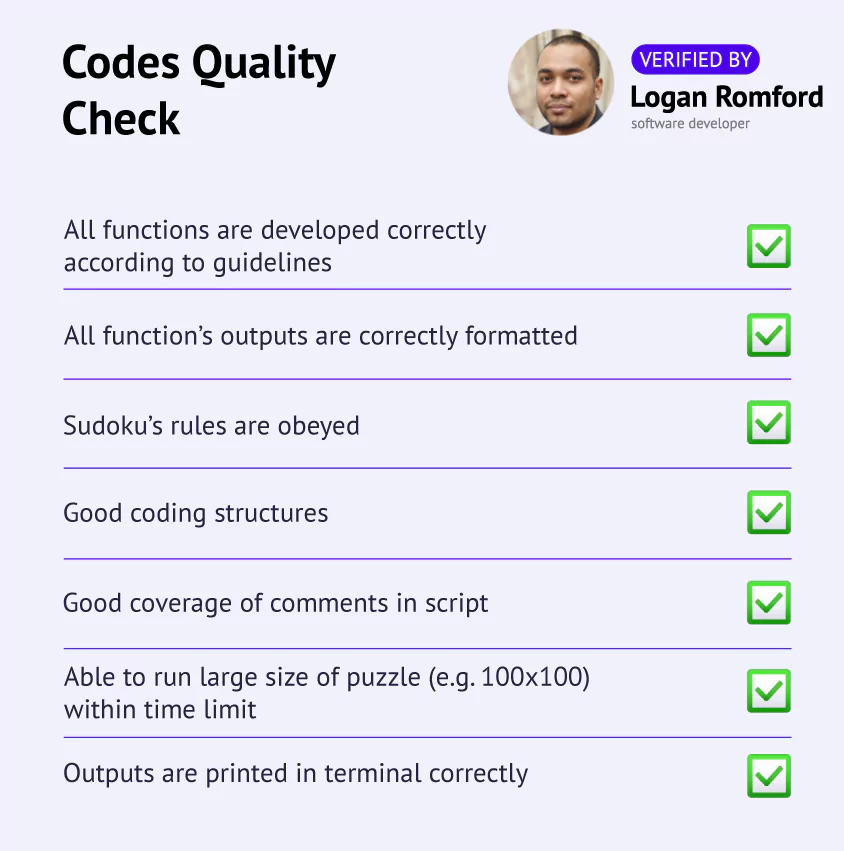 The specialist at DoMyCoding demonstrated impeccable expertise with our Python task. Our previous concerns about the transparency of their coder's qualifications were assuaged by a perfect score of 100%, a clear testament to their professionalism. A thorough examination of the code confirmed its excellence across multiple parameters, meeting every single expectation.
Our enthusiasm, of course, is based on Logan's feedback:
"All functions have been developed accurately following the guideline, with outputs formatted correctly. Importantly, the codes maintain adherence to Sudoku's rules. The coding structures are commendable and well-covered, with insightful comments throughout the script. Furthermore, the script demonstrates impressive efficiency, capable of running a large puzzle size (e.g., 100×100) within the prescribed time limit, and accurately displays outputs on the terminal. The script meets all the required instructions and is also thoughtfully commented on, helping guide the user through the process. The output mirrors the example output provided in the instruction, and it stands out for its ability to complete a sizable puzzle within the given timeframe. However, there is a minor suggestion for improvement: I'd recommend using the simpler Python package "time" instead of "timeit." Maintaining simplicity without compromising quality is always preferable. Other than that, it's fantastic work."
Task score: 100%
| | |
| --- | --- |
| ⭐ Parameter | ✅ Python sudoku task |
| Task score | 100% |
| Task price | $151.20 |
| Completion time | 1 day |
The bottom line
Is DoMyCoding the best programming assignment help website? Not exactly, but honestly, it could be. If we had to liken this service to a famed NASA mission, it would likely be "Opportunity." Our entire experience with DoMyCoding speaks volumes about its potential. To students, it presents an opportunity to rely on top-tier services, while for the company, our review serves as an insight into areas of improvement. By addressing these, they could elevate their standing within the orbit of programming services. So, onward and upward, DoMyCoding!

Why academichelp.net is a credible source of information:
Stay curious with us. Academichelp.net has been a reliable educational resource since 2011, providing students with the latest news, assignment samples, and other valuable materials. Even with the extensive information we process, our quality remains consistent. Each team member has experience in education, allowing us to evaluate new sector offerings critically. Our reviews are up-to-date and relevant, with impartiality ensured by the A*Help score methodology from mystery shopping. We aren't affiliated with any listed service providers. Our focus remains on providing our audience with reliable and unbiased data.
DoMyCoding Specs
Minimum deadline
8 hours
Maximum deadline
14 days
Min price per order
$30
Order Types
XS, S, M, L, XL
Performers' expertise:
The list of known languages/field of expertise
No
Comments reviews from previous works
No
Education level
No
Order categories (e.g. Java, Python, C++):
Java, Javascript
Yes
Python
Yes
C, C#, C++
Yes
SQL, HTML
Yes
MatLab
Yes
R/R Studio, Excel
Yes
Discount:
Coupons (15-35%)
10% first order discount
Loyalty Program
No
General retention program
Refer a friend and
both of you will get
$10 off your next order.
Order Flow:
File upload (supports various types)
Yes
Сan give files to support
Yes
Order progress tracking
No
Easy to fill-in order form
Yes
Includes language, discipline, environment
Yes
Has explanations/examples of task sizes
Yes
Customer-expert communication:
Сan explain how the task was done/how the code works
Yes
Keeps the client posted
Yes
Proof of the working task (screenshot, video, check progr.)
Yes
Can be asked questions about the order
Yes
Support:
Helpfulness of support
Medium
Quick price estimation
Yes
Quick search of performers
Yes
Availability to get extra discount via support
No
Security&Privacy:
Need a phone number to register
No
Need an email to register
Yes
Security payment, SSL
Yes
Payments:
Paypal
No
Google Pay
No
Apple Pay
No
Visa
Yes
Mastercard
Yes
American Express
Yes
Discover
Yes
Crypto
No
FAQ
DoMyCoding Reviews
At A*Help, we make sure to thoroughly check every company. Part of this process involves always looking into, gathering, and studying feedback from users of DoMyCoding. We use reliable information from secret shopping activities and pair this with extra customer reviews we find on different sites like Reddit, Sitejabber, Reviews.io, and Trustpilot. By adding these reviews to our shopping data, we can be sure our final results about DoMyCoding are as trustworthy as possible.
Is DoMyCoding a Scam?
DoMyCoding successfully executed a moderately challenging Python programming assignment within the allocated time and following our specific instructions. Thus, there's no sign of any fraudulent activities from this service provider. Therefore, DoMyCoding isn't a scam.
Is DoMyCoding Legit?
DoMyCoding is an entirely legitimate organization, just like any other business entity that undergoes a review process on academichelp.net. As such, DoMyCoding operates within the boundaries of the law and adheres to recognized ethical standards.
Is DoMyCoding Safe?
The complete record of our collaboration with the company can be followed in this article. We confirm the safety of its services and the methods it uses to handle its customers' financial transactions. The privacy policies of the website are readily available for all users and are clearly outlined in the appropriate section of the site.
Is DoMyCoding Trustworthy?
The company adhered to all its commitments and ensured that no activities exceeded the parameters defined by the website's terms and conditions. Our interaction with the company substantiates that customers can place their trust in DoMyCoding and expect a high standard of work.
Is DoMyCoding a Good Service?
The AHelp rating is an evaluation of a service provider's level of professionalism. This is calculated by scrutinizing aspects such as cost-effectiveness, the quality of user experience, and the caliber of assignment execution. With a score of 89 out of 100, DoMyCoding has demonstrated itself to be among the top choices for individuals seeking expert assistance with coding tasks.
Follow us on Reddit for more insights and updates.