It may look bizarre that a review of a thesis writing company starts by mentioning Roger Waters, a co-founder and one of the leaders of the legendary "Pink Floyd." He was hardly a fan of schooling and never hesitated to declare his views in the band's songs. The famous line "We don't need no education" highlights the frontman's criticism of rigid, conformist educational systems that suppress individuality and creativity.
Despite the defiant lyrics of Pink Floyd's philosophy, the stark reality of today's competitive professional landscape paints a different picture. Although the "thought control" that the band stands against so boldly may have become less evident since the 70s, education is now more important than ever in our interconnected, rapidly evolving world, often serving as the cornerstone of a successful career.
In our contemporary setting, completing academic milestones like writing dissertations is encouraged and required to become "another brick in the wall" of today's competitive society. Far from the anarchic classrooms of Pink Floyd's imagination, we find ourselves amidst a generation of students for whom penning theses is an essential, often anxiety-inducing, step towards building a promising professional future.
With this backdrop in mind, we set out to review CopyCrafter, another dissertation-writing company designed to assist in navigating these academic hurdles.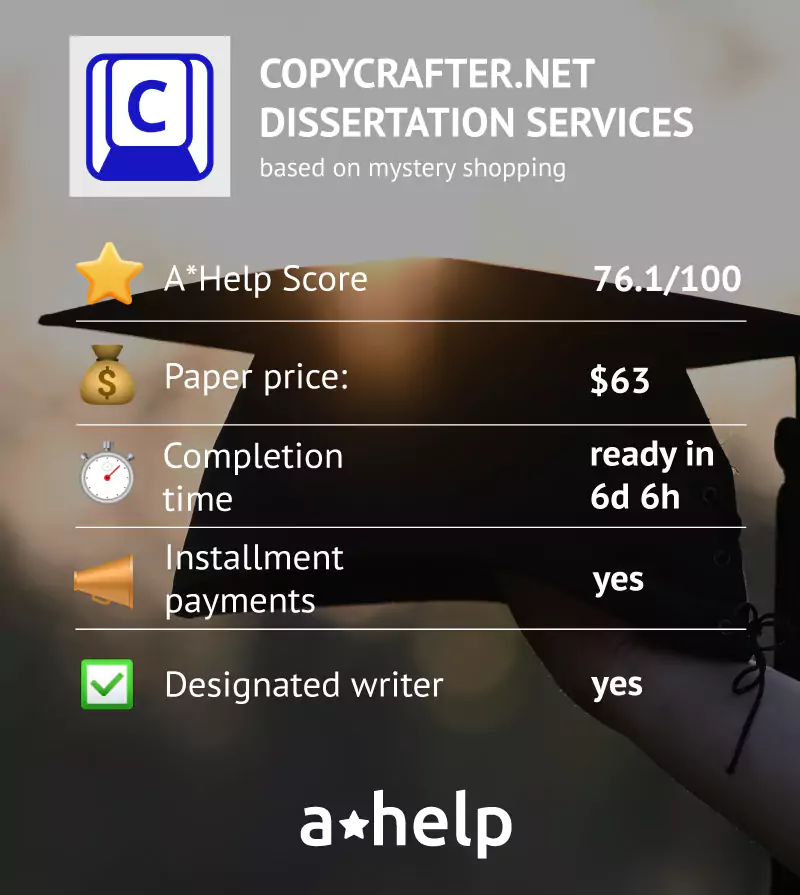 Quick Overview
CopyCrafter places great emphasis on maintaining an open dialogue with clients about their orders and offers highly competitive pricing. Nevertheless, there's room for improvement regarding the quality of their writing services.
Experience review: CopyCrafter mystery shopping
This assessment of CopyCrafter encompassed multiple aspects of their service. We examined the company's discount policy, the impact of their customer support, and the coherence of their dissertation flow. We also delved into UI/UX, the level of communication with writers, and other factors that contribute to customers' overall experience. Read How We Test Custom Dissertation Writing Services for more information about our testing approach.
Here is our testing and research scenario:
| | |
| --- | --- |
| ✍ Paper | ⭐ Research Proposal "The impact of social media presence for companies" |
| 🎓 Academic level | Undergraduate |
| ✅ Paper format | APA |
| ⏰ Deadline | 10 days |
| 👉 Paper instructions | Discuss and evaluate how the social media altered and influenced the traditional way of conducting business in the last 10-15 years. 1. What's the origin of the issue, its background? 2. What are the purpose and objectives of the research? 3. What type of evaluation methodology and the objectives or outcomes to be evaluated? 4. What's the source of data and evidence used. |
Our paper choice for this experiment was a 5-page research proposal with a 10-day deadline, a genre that effectively measures a company's expertise in the art of thesis writing. It can test everything from the research depth to the argument presentation's effectiveness.
As the final note in our mystery shopping, we forwarded the completed proposal to Professor Sybil Low. Like a seasoned music critic judging a rock anthem, she reviewed and commented on the proposal's quality using American standards for college paper assessment. With Dr. Sybil Low's expert review and our first-hand user insights, we compiled the A*Help score – an authentic and holistic measure of a dissertation writing company's proficiency.
Professor Low, echoing the precision and insight of a music maestro, remarked:
A well-constructed research proposal, much like a well-composed song, not only resonates with its audience but also demonstrates an in-depth understanding of its subject. The writer needs to strike a chord with the existing knowledge and offer fresh insights. Honestly, it's more difficult even for professionals than one may think. Even the brightest talents in literature, poetry, or music often struggle with how to create another masterpiece.

Let's find out if a proposal from CopyCrafter hits all the right notes, resulting in a compelling composition of the research topic.
CopyCrafter's Value for Money — 22/25
In the world of academic assistance, the balance between quality service and affordability becomes a key factor, especially when a crucial document like a dissertation is in play. This evaluation category assesses the harmony between the range of services and the cost-effectiveness for the customer.
CopyCrafter is highly conscious of the financial considerations that students may have when they place a large order. It offers a number of additional services, both free and paid, and some discount opportunities that could make the total cost more appealing.
The base price per dissertation page begins at $15. However, in our case, the discount allowed us to pay very affordable $63 for five pages, remarkably lower than many competitors in the market. You shouldn't hesitate to ask customer support about discount offers. None may be specified on the company's website, but it shouldn't stop you from asking if there is some special deal of the day.
As for the free extras, CopyCrafter follows the industry standards, including a title page, bibliography, and formatting of your choice at no extra cost. For an extra fee, you can also avail of additional services like "Smart Paper" (+20%), where the writer points out key aspects of the paper, "Copy of Sources" ($14.95) for references to books and journals cited, and selection of an "Advanced Writer" (+25%) for a superior writing experience.
On the discount front, unfortunately, CopyCrafter doesn't impress with anything special. We managed to get a one-page worth discount by reaching out to their customer support. But with a very competitive approach to pricing, the lack of discount offers should only become a minor issue rather than a deal-breaker. The service currently lacks a loyalty or referral program, which could have added more value for regular users.
Nevertheless, with a user-friendly pricing model for all budgets and needs, CopyCrafter is a viable choice for those pursuing a committed and affordable dissertation writing service. Still, a more multifaceted loyalty reward program and transparent discount strategy could amplify its value offering, attracting more customers over time.

User Experience & CopyCrafter: Overall Experience — 23/25
The overall user experience with a dissertation writing website is an essential factor contributing much to customer satisfaction. While the quality of the paper is undoubtedly the most important thing, the journey to its completion can make or break the overall impression and determine whether the user would return or recommend the service to others.
CopyCrafter provides flawless, timely, and insightful customer service, swiftly addressing queries and concerns. The support team is accessible round-the-clock via multiple channels, such as live chat, email, or phone, ensuring clients can connect conveniently. Customers who plan lengthy projects like dissertations will find value in having a dedicated manager, a point person to resolve various issues and act as the crucial bridge between the client and the writer, ensuring smooth operation. With its stellar customer support, this platform cultivates trust and loyalty among its clientele and carves out a distinctive niche against its rivals.
CopyCrafter breaks down the monumental task of thesis writing into manageable chunks that one can handle, ensuring that the writing process doesn't become overwhelming. One of its standout features is the facility to pay in installments, offering customers more financial flexibility. Clients can negotiate a submission schedule for their work's chapters and revisions with their writer or manager. This strategic planning ensures adherence to timelines and allows timely feedback and necessary corrections.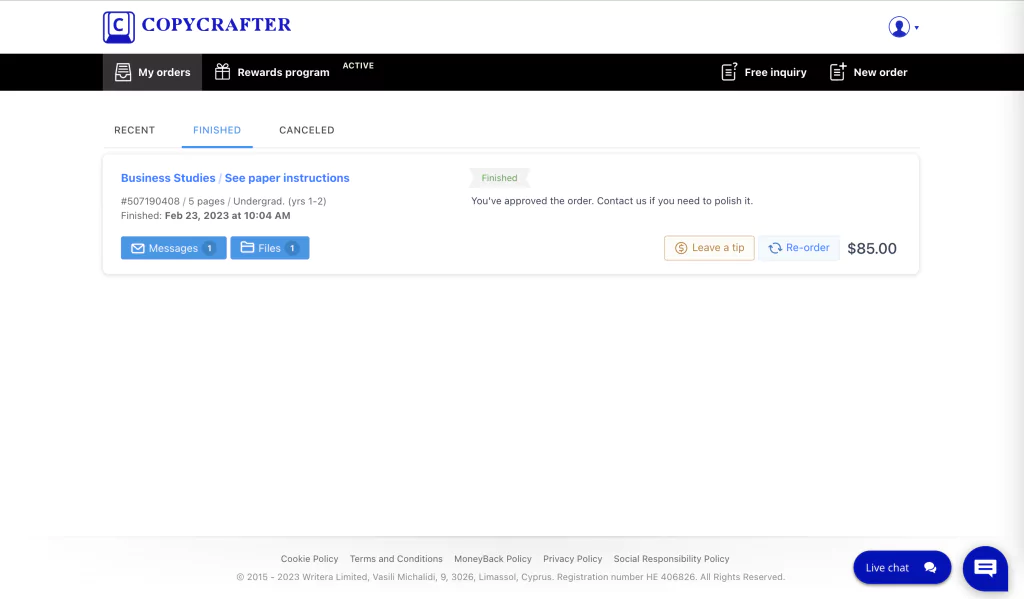 Many similar services lack the ability to maintain a harmonious relationship between the writer and the client, but CopyCrafter creates no obstacles to that. Open communication is the heartbeat of this process, facilitating accurate comprehension of requirements. Regular interaction also enables timely feedback and revisions, reducing the risk of miscommunication. Our personal experience with the service's writer proves their willingness to engage in productive discussions and value constructive feedback.
Overall, CopyCrafter has crafted a seamless journey towards a successful dissertation through its 24/7 excellent customer service, efficient dissertation fulfillment process, and robust client-writer communication. The only noticeable hiccup in this otherwise perfect symphony is the absence of a few popular payment options like PayPal and Google Pay, but that's nothing more than missing a few notes in an otherwise stellar performance.
Is CopyCrafter Reliable? Paper Quality — 31.1/50
The paper quality that CopyCrafter's writers deliver is paramount and should be of great interest to customers. It's no exaggeration to state that the effectiveness and value of a dissertation writing service primarily hinge on the caliber of the dissertations they produce. This is why this component accounts for 50% of the A*Help score. With such a significant proportion, the Paper Quality evaluation thoroughly examines the end product and underscores the criticality of delivering superior dissertations in securing high ratings.
CopyCrafter's author managed to deliver the order within a time frame of a little over six days. The writer's achievement in terms of paper quality was graded at 62.33 out of 100. The opening section skillfully sets the stage with an overview of social media's role in business dynamics, and the literature review delves into the pros and cons of incorporating social media into business operations. Although the research design is laid out, there is a lack of clarity surrounding the data collection methods employed. The proposal effectively frames the historical context of the research. The writer does a good job of introducing the problem and articulating the aim of the project. Despite these strengths, there are a few shortcomings, namely the limited number of studies analyzed in the literature review, even though they are recent, and the vagueness of the data collection procedures.
While the completed document impresses with its completeness and length (scoring a complete 100%), it does stumble on some formatting aspects like vertical spacing, the main text body, and page headers. The reasoning and coherence of the paper are notably sound and objective (scoring 97%), and the mechanics are nearly flawless (98%). But citation formatting is the Achilles' heel for the writer. The references section seems to be a consistent source of errors, with frequent misitalizations and missing or incorrectly formatted elements.
Additionally, Professor Low pointed out that a piece like a research proposal should ideally rely on higher-quality scholarly references.
I commend the writer for the length and completeness of the proposal, but I encourage them to incorporate more scholarly references in their work. It's not merely about quantity but about the quality of sources. Academic writing requires engagement with high-quality scholarly material. This will not only improve the credibility of their proposal but also deepen their understanding of the topic.

In conclusion, while CopyCrafter showcases some impressive strengths in terms of paper completeness, coherent reasoning, and nearly perfect mechanics, it could improve in areas such as formatting, particularly citation formatting, and providing precise details on data collection methods. In addition, the breadth and quality of sources used could be enhanced to elevate the paper's academic standing further. Although the paper quality score of 62.33 out of 100 signifies room for improvement, it's clear that CopyCrafter is a service committed to the cause of delivering value. They can certainly rise higher in the dissertation writing service arena with some refinement. After all, the critique of a paper is a melody of progress, not a requiem for failure.
Paper score: 62.33
| | |
| --- | --- |
| ⭐ Parameter | ✅ Research proposal (5 pages) |
| Paper score | 62.33 |
| Paper price | $63 |
| Completion time | 6 d 6 hr |
Conclusion
CopyCrafter presents a mixed bag of compelling positives and potential improvement areas. The service shines with its open communication policy, stellar customer support, affordable pricing, and user-friendly platform that takes the edge off the daunting task of writing a dissertation. However, there are undeniable areas where the service could refine its performance. Nevertheless, the commitment of CopyCrafter to deliver value to its customers is unquestionable. All said and done, CopyCrafter is well-poised to be a reliable ally for students navigating the vital academic milestone of dissertation writing.

Negativity rank – n/a
We stand by the idea that negative feedback can highlight the common issues that dissertation writing services face, helping customers become more knowledgeable about the service. It takes time and effort in our research to separate genuine reviews from counterfeit ones to genuinely understand the underlying concerns. Our analysis includes a rigorous examination of the severity and plausibility of each complaint, which can be instrumental for companies striving to enhance their customer satisfaction and overall rating.
In the case of CopyCrafter, we thoroughly searched for any negative feedback across various platforms, like TrustPilot, Sitejabber, and Reddit. Surprisingly, we found just a single complaint, a number insufficient to compute a reliable negativity rank. While this scarcity of criticism might speak volumes about CopyCrafter's consistent quality and dedication to customer satisfaction, we couldn't accurately calculate a negative score. This isolated comment hinted at late paper submission and its poor overall quality, but it alone doesn't represent a comprehensive view of customer dissatisfaction.
Thus, while we can't provide a numerical negativity rank for CopyCrafter, our findings suggest a generally positive customer experience with the service, signifying its commitment to maintaining a high level of service.
Why academichelp.net is a credible source of information:
Stay curious with us. Academichelp.net has been a reliable educational resource since 2011, providing students with the latest news, assignment samples, and other valuable materials. Even with the extensive information we process, our quality remains consistent. Each team member has experience in education, allowing us to evaluate new sector offerings critically. Our reviews are up-to-date and relevant, with impartiality ensured by the A*Help score methodology from mystery shopping. We aren't affiliated with any listed service providers. Our focus remains on providing our audience with reliable and unbiased data.
Main Specs
Order details, pricing
Min price per page
$20.00
Standard Page
275 words
Writer categories
Bachelor's
Master's
PhD
Academic Levels
n/a
Paper price
(based on our mystery shopping)
$63
Free services
Revisions
Title page
Bibliography
Formatting
Paid services
Smart paper (a writer explains key points about
the paper)
+20%
Copy of sources (links to the books and journals
cited in your paper)
$14.95
Advanced writer
+25%
Discounts, Pay by chapters
Coupons
Support can provide a discount
worth of 1 page of your paper
Installment payments
Yes
Loyalty
No
Referral
No
Dissertation Fulfillment Process
Designated writer for the whole project
Yes
Personal manager
Yes
Submit by chapters
Yes
FAQ
CopyCrafter reviews
We've diligently scanned platforms like Reddit, Sitejabber, Trustpilot, and others to gather negative feedback about our services. To learn more about this, look at our negativity assessment.
Is CopyCrafter a Scam?
Our rigorous evaluation of this service resulted in receiving a completed research proposal. CopyCrafter is a genuine business and a good choice for anyone seeking expert academic help.
Is CopyCrafter Legit?
CopyCrafter is an authentic business with an established track record in the industry. The website's high rating and the number of fulfilled orders reflect its legitimacy, and we recommend it as an exceptional choice for students seeking reliable thesis writing services.
Is CopyCrafter Safe?
The company clearly outlines its policies concerning security and privacy protection. CopyCrafter doesn't demand its users submit phone details during registration, although an email address is necessary. The site employs secure payment methods.
Is CopyCrafter Trustworthy?
When we made a purchase at the company's website, our order was delivered ahead of time and precisely as per our guidelines. Detailed information about the paper we requested and all related business procedures is available in this review. Hence, we regard CopyCrafter as a reliable platform.
Is CopyCrafter a Good Service?
We are satisfied with the quality this company delivers. We gave the company a score of 76.1 out of 100 based on the A*Help rating system, which leads us to affirm that CopyCrafter is a decent service.
Follow us on Reddit for more insights and updates.