Are you looking for a service to help you with the burden of academic tasks hanging over your shoulders? Are you not sure whether you can actually afford that kind of assistance? Well, that's why looking for discount offers is a great idea. The more coupons you can find on the platform, the higher your chances to not just get over with those essays but also save a coin.

Essaypro Bonuses Available for Students
EssayPro, with its 10+ years of experience in the field, has prompted students to ask, "Is Essaypro reliable" as it has established itself as an academic help provider. It promises to deliver work fast, with the highest quality, and at an affordable price rate, reinforcing its reputation among users.
Nonetheless, EssayPro doesn't offer too many discounts on its platform. When we placed our orders for an essay and a memo, we noticed they offered individual coupons but only after registration. We also subscribed to receive special seasonal offers via email. Those, even though they don't come in that often, let you save up to 15% on your paper.
Here's what discounts Essaypro offers:
| | |
| --- | --- |
| Coupons | ✅ 5% first-order discount, 15% on second order |
| Loyalty Program | ❌ |
| Referral Program | ❌ |
| Seasonal Offers | ✅ |
Despite the limited amount of EssayPro coupons, we still got an opportunity to reduce the price of our orders. In total, we saved $8.55 when working with EssayPro. A pleasant sum considering that each paper cost us less than $40.
| | | | |
| --- | --- | --- | --- |
| Type of Order | Original Price | Actual Payment | Amount Saved |
| Essay | $34,2 | $32.49 | $1.71 |
| Memo to the CEO | $45.6 | $38.76 | $6.84 |
We did thorough research on EssayPro's offers during our mystery shopping experience. If you are eager to learn more, head straight to our review.
Where to Put the Discount on Essaypro
EssayPro's website is rather simple and it doesn't take too much time to place an order here. Mind that, however, the platform requires you to register before filling out the order form.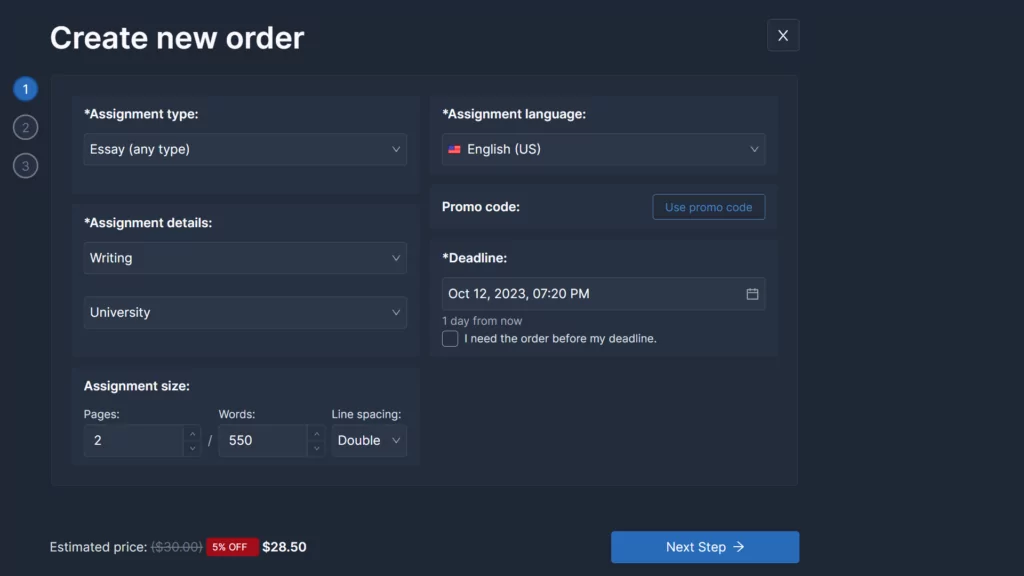 After that everything is simple. The process is organized into 3 steps. Coupons and promo codes, though, can be applied right during the first stage of the order process. The individual discounts provided by EssayPro are applied automatically as you fill out the details of your order like a deadline, number of pages, and type of work.
The platform makes sure that you receive a well-written task at an affordable price. That's why you are most likely to find a writer suitable for your budget here.
Why academichelp.net is a credible source of information:
Stay curious with us. Academichelp.net has been a reliable educational resource since 2011, providing students with the latest news, assignment samples, and other valuable materials. Even with the extensive information we process, our quality remains consistent. Each team member has experience in education, allowing us to evaluate new sector offerings critically. Our reviews are up-to-date and relevant, with impartiality ensured by the A*Help score methodology from mystery shopping. We aren't affiliated with any listed service providers. Our focus remains on providing our audience with reliable and unbiased data.
FAQ
What is the biggest discount on Essaypro I can get?
According to our experience, the biggest discount that EssayPro can offer is 15% off your order. Considering that the prices here are lower than average, this is usually a pleasant offer.
Where can I find Essaypro coupon?
Usually, Essaypro applies coupons automatically when you fill out the order form. However, you can also receive some seasonal discounts that come into your inbox. Then you can apply them in the specified field in the order form.
How much can you save on Essaypro using promo codes?
EssayPro allows you to save up to 15% of your order total thanks to its individual discounts. Yet, as the prices on the platform are relatively lower than on other websites, you are likely to save even more than that when dealing with your tasks here.
Follow us on Reddit for more insights and updates.