Quick Overview
PaySomeonetoDoMyHomework is an academic help platform that is said to save students from homework that they don't have time for. All you need to do to easen your life is to chat with their support team and they will find a solution for your task in no time.
Value for Money — 9/25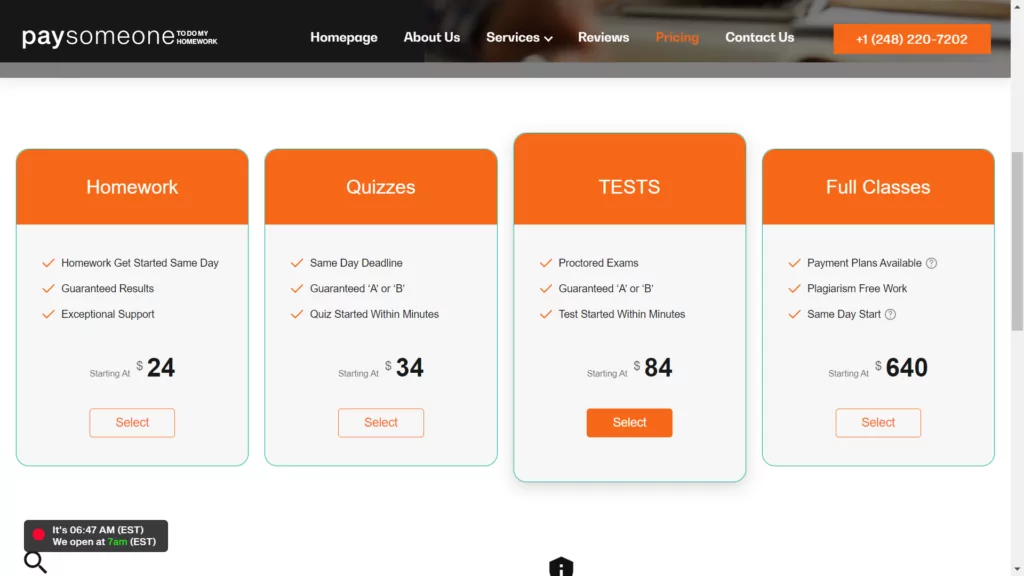 Overall experience – 14/25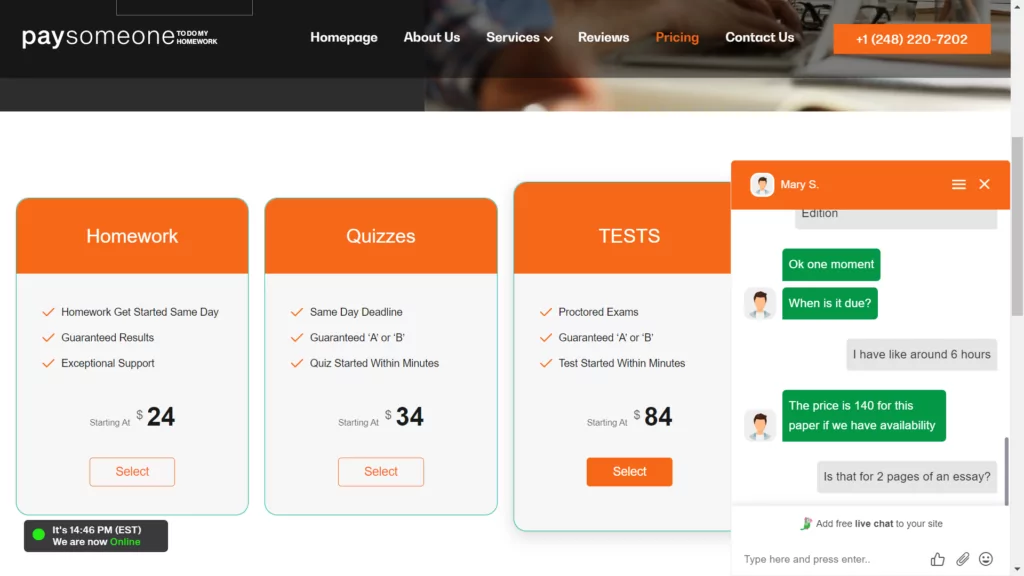 Why academichelp.net is a credible source of information:
Stay curious with us. Academichelp.net has been a reliable educational resource since 2011, providing students with the latest news, assignment samples, and other valuable materials. Even with the extensive information we process, our quality remains consistent. Each team member has experience in education, allowing us to evaluate new sector offerings critically. Our reviews are up-to-date and relevant, with impartiality ensured by the A*Help score methodology from mystery shopping. We aren't affiliated with any listed service providers. Our focus remains on providing our audience with reliable and unbiased data.
Main Specs
Minimum deadline
n/a
Maximum deadline
n/a
Min price per page
n/a
Standard Page
275 words
AVERAGE paper price (acc. to our mystery shopping)
$150
Pay in Installment
❌
> Free services
Revisions
Title Page
References
> Additional services
n/a
> Payment Methods
Paypal
❌
ApplePay
❌
GooglePay
❌
Visa
✅
MasterCard
✅
AmericanExpress
✅
Discover
✅
Crypto
❌
> Discounts
Coupons
✅
$40 discount on both orders
Loyalty Program
❌
Refferal program
❌
> Security & Privacy
Need a phone number to register
❌
Need an email to register
✅
Security payment SSL
✅
> Customer Support
Support availability 24/7
❌
Support on-site messenger
✅
Support on Facebook/Whatsapp/etc
❌
Support via phone calls
✅
Helpfulness of support
High
FAQ
PaySomeonetoDoMyHomework Reviews
As we took the liberty to dig into PaySomeonetoDoMyHomework, we looked at chatter from places like Reddit, Trustpilot, Sitejabber, and Reviews.io searching for negative feedback. We did that so you would know what you were signing up for. You can always read through these findings in the Negativity Rank section of each review.
Is PaySomeonetoDoMyHomework a Scam?
To check whether PaySomeonetoDoMyHomework had genuine intentions, we set up an account and tossed them an assignment. The outcome? They offered the service as promised, suggesting they're not a scam but a real provider in the academic help field.
Is PaySomeonetoDoMyHomework Legit?
We went through a fair share of user feedback and the service's track record of successfully completed orders. PaySomeonetoDoMyHomework has established a name and, by the looks of it, they're in good standing with their users. To us it seems they're legit.
Is PaySomeonetoDoMyHomework Safe?
All you need to provide to work on the PaySomeonetoDoMyHomework's platform is give your email and name. Other personal details are not required to place orders. The purchases are also safe, since the website utilizes a secure payment processing system.
Is PaySomeonetoDoMyHomework Trustworthy?
Balancing our firsthand experience with the general feedback out there, PaySomeonetoDoMyHomework seems to honor its commitments. It's shaping up as a platform that aligns its words with actions, suggesting reliability and trustworthiness.
Is PaySomeonetoDoMyHomework a Good Service?
From what we heard about the platform online, we would say that the general consensus is that PaySomeonetoDoMyHomework can be helpful when it comes to homework assistance. Our A*Help team will continue to keep an eye on this provider and will add our own rating in the future.
Follow us on Reddit for more insights and updates.