Admit it, Excel homework can make you cry sometimes. Even some of us have shed a tear or two trying to make sense of its formulas and spreadsheets. So if you are feeling hopeless and like a total dumbass, get on board. There are probably hundreds of students in the same boat as you.
What may come as a surprise to you is that Excel tasks don't have to make you feel like a lost cause. You can actually handle these assignments pretty well if you just have a little more support and assistance. And we know exactly the place to find that. Not just one though. It took us a not-so-small research to discover that there are quite a few Excel homework help services that can turn your experience with this spreadsheet editor from a nightmare to a daydream.
To make it easier for you to find good options, we reviewed them ourselves during the process of the mystery shopping experience. We compiled this top 10 list of the best platforms for Excel assignment help. Let's wipe away our tears and look at which services can make Excel much less daunting. 112028
Reviewing Excel Assignment Help Websites
We are not here to fool you. That's why, in our dedication to bringing you the facts, we organize mystery shopping and try out each service ourselves.
We then evaluate our experience and performance of reviewed platforms according to the carefully curated checklist. It consists of 3 main criteria: Value for Money, Overall Experience, and Task Quality. The first aspect is evaluated according to the variety of available features, discounts, and prices. The overall experience criteria are dedicated to measuring the convenience of the platform and our experience as users. It includes communication both with support and experts, order process, and registration.
The last index, Task Quality, measures how well the service does its job and whether it can provide you with quality assistance and answer your question. To check this part we place an order of our assignment with a deadline of 3 days. After that, it gets assessed by a professional in the field.
We count every point and in the end, receive a full A*Help score which reflects the quality and efficiency of the reviewed platforms. This top list was compiled according to this final result and so can be used to guide you through the search for the most helpful Excel homework services.
The Number 1 Among Do My Excel Homework Platforms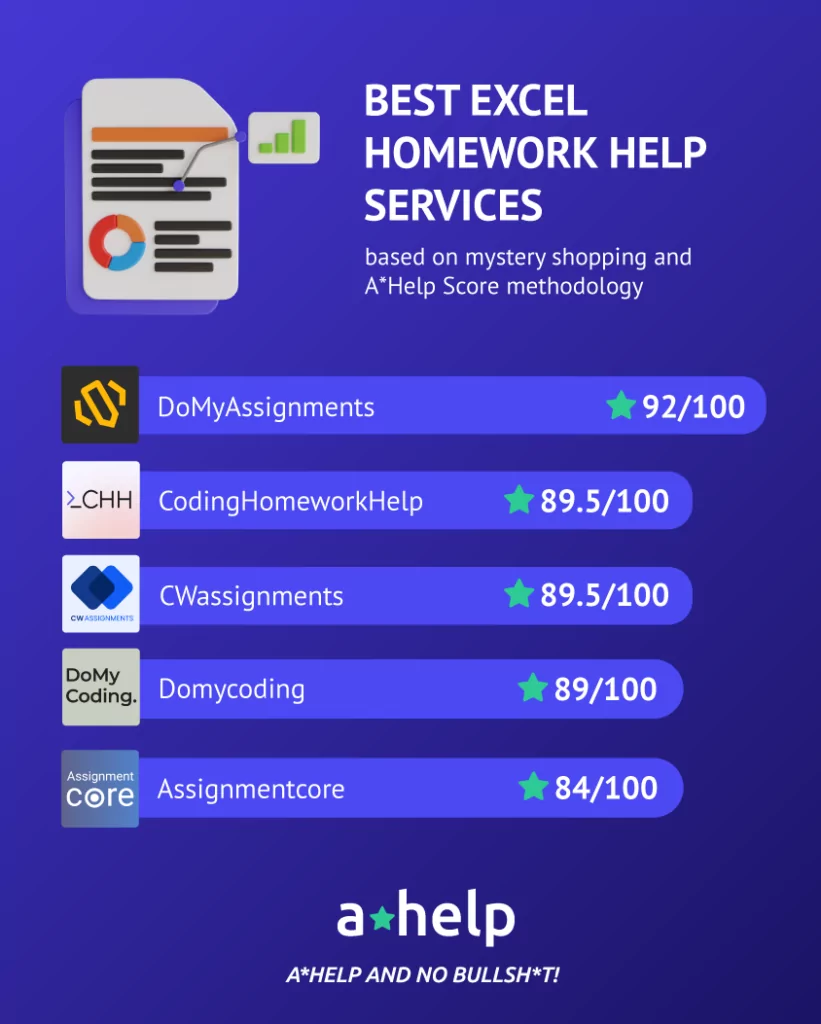 Taking into account our own experience and considering the final results of each platform, we confirm that the go-to platform that provides Excel homework help is Domyassignments.com. It scored the highest in the quality of completed assignments, was highly convenient, and provided great coverage of subjects and topics to assist with. No wonder it landed on the 1st place on our list.
Top List of Services to Get Help with Excel Homework
We took a close look at our evaluations, and this is the list of the best Microsoft Excel homework help platforms we came up with based on our research:
1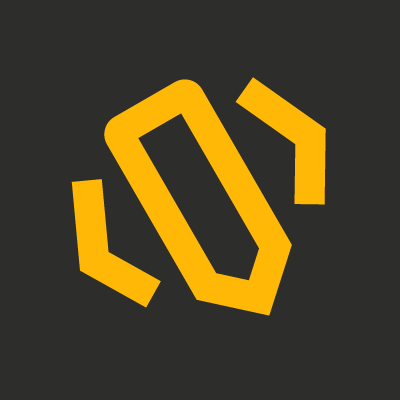 DoMyAssignments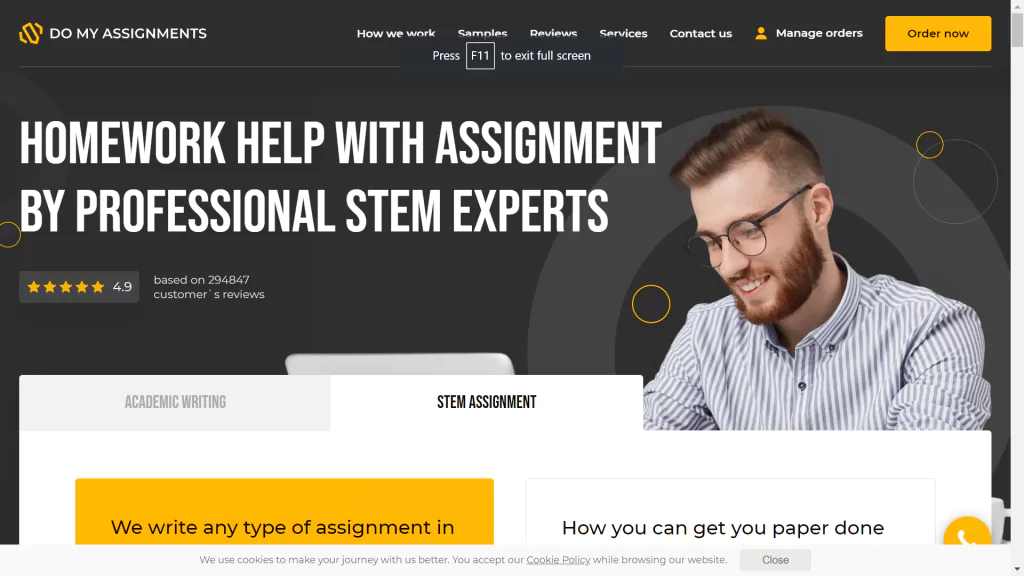 Domyassignments is a homework-help service that gathers STEM experts across all fields. It guarantees to assist struggling students with a variety of tasks and do it with quality and on time.
The first thing we liked about this Excel homework help platform is that it gave us a smooth user experience. It took us almost no time to create an account and order the needed assignment. We also had a great time communicating with customer support who were ready to assist us during all stages of the interaction with the website. Talking with the dedicated expert was also a pleasure, as they explained the solution to us and helped us understand the topic better.
We also noted DoMyassignment's extensive coverage of subjects, ranging from Calculus to Excel, Programming, and even Physics. There, yet, weren't many discounts, except for the -15% first order coupon we got. Still, the price was quite pleasant, putting the service in a more affordable range.
The task we ordered came back completed by 100%. We got it after 1.9 days and it didn't even need any revisions.
The flawless execution of the task, as well as the highly pleasant overall experience, ensured DoMyAssignment's top A*Help score and the 1st place on our list.
2
CodingHomeworkHelp
CodingHomeworkHelp sounds like a service that is wired to solely handle coding and IT tasks. However, as we started checking it turned out that it's more versatile than it seems.
CodingHomeworkHelp showed consistency in results scoring 21/25 pts both in overall experience and value for money. It was easy to use with only minor inconveniences regarding customer support and communication with our performers. The customer support was there but was just mildly helpful. And our expert handled our task pretty well but we just wish we got some kind of visual representation of how he executed our assignment.
The value for money was also great since the platform covered many different subjects, including Excel and gave us an opportunity to study our performer's knowledge in the field. The service was also affordable and we liked that we got a 20% discount on our first order. If there had been more special offers like this it would have been even better.
Here, our task was completed by 95%. It was done in 2.6 days and needed just one small revision. In general, we liked the outcome we got for this assignment.
CodingHomeworkHelp landed second on our list, as its helpfulness and quality of services were hard to deny based on the given results.
3
CWassignments
Launched in 2005, CWassignments has operated long enough to gain expertise in providing students with the assistance they need. We decided to test their years of experience with our Excel task.
CWassignments allowed us to place our order quickly without unnecessary fuss. Their support agents answered all our questions and helped us understand the order process better. Our dedicated expert was also a dime, as he not only helped us find the right solution to the task but also explained everything we felt was confusing.
The service also provided great value, as it offered a variety of subjects to choose from at an affordable price. We noticed there weren't many special offers, but we still got 20% off on our first order.
The task we ordered was completed in just 20 hours. We did ask for 2 more revisions to clear up all the assignment's details. After the evaluation, the task was marked with 95%.
CWAssignments did a great job in providing us with a knowledgeable expert to handle our Excel homework, and a seamless customer experience. That's why it became the third contestant on our list.
4
DoMyCoding
When looking for Excel assignment help you may pass Domycoding through. Don't make that mistake though, because, despite its name, it's not a purely IT-focused service. According to our mystery shopping, Domycoding can do your Excel as well.
The platform was very easy for us to use. There was nothing confusing, and the ordering process was as simple as it could be. Their support team also worked well with us and was ready to answer all our requests. The only two problems that occurred were that we couldn't track the progress of our order in the account and the search for an expert took too long. Still, it was worth the wait as they were highly assistive and guided us through our task without any trouble.
We also noticed that Domycoding had a lot to offer. Aside from covering a wide range of subjects, they also had an interesting feature of a video solution for your assignment. The prices there were in a relatively medium range. They had, however, pretty good discount offers and a referral program. We, for example, got 10% off on the first order.
Domycoding surprised us with the quality of the task, as after evaluation it was marked with 100% completion. Our assignment was ready just in 1 day and required no additional revisions. What more could we ask for?
With a greatly organized platform, helpful experts and support, and high quality of work, Domycoding lands 4th on our list.
5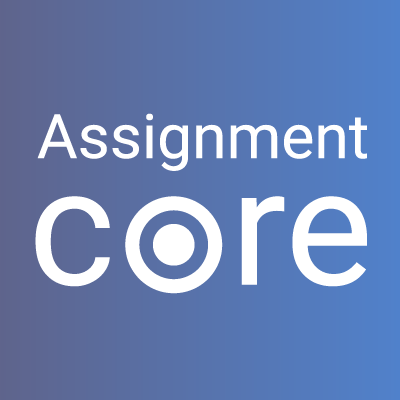 Assignmentcore
Assignmentcore is not a new name for a Pinterest aesthetic, but a helpful online service that will make your Excel struggles go away. So, if you were looking for a core solution, it can be a choice for you.
The platform was simple and manageable. The support system was a bit strange as there was no on-site messenger and we needed to open tickets to contact the agents. Communication with the expert was more efficient and organized. Thanks to that we got a clear explanation from our performer of the final task solution.
The value-for-money index showed to be pleasing as well. Assignmentcore provided us with the detailed information on the expert's experience so we could choose the one that fit our needs the most. What was a bit lacking was a discount system. The service prices didn't bite but it still would be nice to have at least a tiny discount.
Assignmentcore also succeeded in pleasing us with a prominent task result of 90%. Considering the assignment was done in a record time of 1.6 hours and didn't undergo any subsequent revisions, it was a sufficient outcome.
Taking into account the site's small inconsistencies, but also quick and quality work and convenience, we place this service 5th on the list.
6
Favtutor
If you were looking for something like a pocket-sized tutor, then Favtutor is a service for you. Here experts won't just solve your Excel task but explain the topic so that you can handle it better in the future.
We liked working with Favtutor. Ordering was pretty simple, and still, we received great support from the platform's agents who answered any of our questions. The expert was also highly helpful, as they kept us posted and explained our assignment simply and clearly. Unfortunately, we weren't able to ask them any additional questions though.
As for the value for money, it could have been much better. The prices on the platform were quite high, with no discounts or special offers to make them more pleasant. We also didn't see any details about our performer's expertise which was a bit confusing.
The task quality was satisfactory. The evaluation showed that our assignment was 95% complete. It was delivered exactly in 3 days as we required and we didn't ask for additional revisions.
Considering some aspects could be much better, we think 6th place on our list is the best fit for Favtutor.
7
Tutorbin
Want to find an Excel expert? Maybe look on Tutorbin, as it's a service that gathers performers ready to help students with all kinds of tasks.
We had a great overall experience working on Tutorbun's platform. Mainly thanks to its highly responsive customer support and simple order process. We weren't completely satisfied with the communication with our expert. They did the task, but as we asked them questions, but they couldn't properly explain anything to us.
On the value-for-money aspect, Tutorbin had its ups and downs. It had a versatile retention program, offering us not just a first-order discount of 10% but also loyalty reward points, and a referral program. The prices were more in the middle range though. On the other hand, there was no information on the performers' expertise and the pool of covered subjects was quite limited.
The task we ordered was done in 20 hours, didn't go through any extra revisions, and after the evaluation was marked with 80%. We appreciated such a speedy and satisfactory result.
Tutorbin came 7th in our rating, due to the quick task delivery, good customer support, and decent assignment completion.
8
ProgrammingHomeworkHelp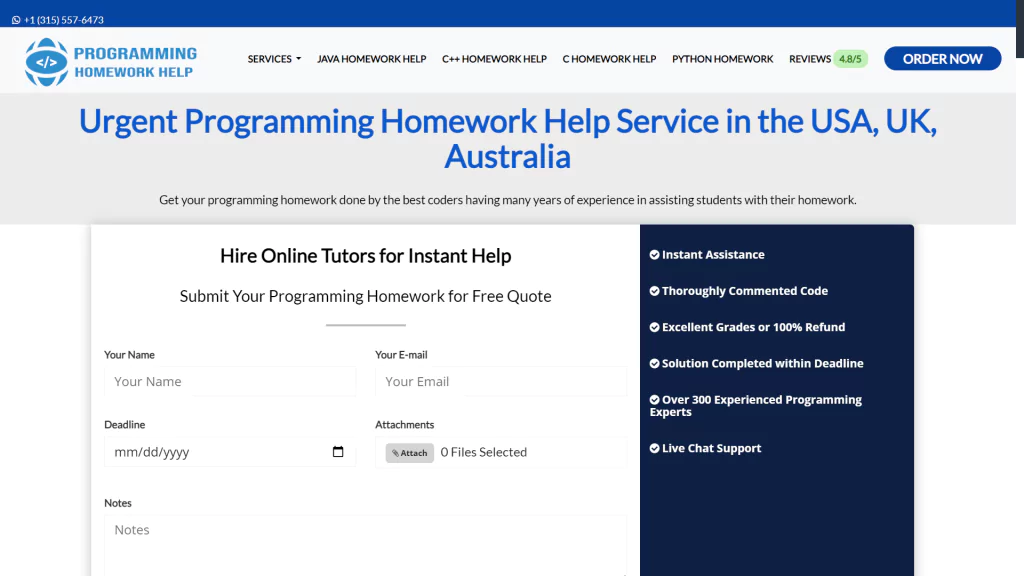 Based on its name, Programminghomeworkhelp only deals with programming assignments. Don't judge the book by its cover though. As our mystery shopping showed, it is absolutely capable of handling Excel as well.
Programinghomeworkhelp's platform was simple. It only included an order form where we could fill in the requirements for our homework. The only communication channel available to you is email. There you can talk to service support and experts. In our case, both were not much helpful. The performer, for example, didn't give us an explanation to the assignment. They did make a revision of the task, nonetheless.
The value for money, considering that the platform was just an order form, was also not highly sufficient. Yet, the price was pleasing and very budget-friendly. We would consider this platform the cheapest among Excel homework help services.
Our assignment was completed after 14 hours. It required one revision after which it was evaluated and received 85% result. As we see it, this was a good outcome.
Programminghomeworkhelp might not be the most convenient option, but it still deserves 8th place in our rating.
9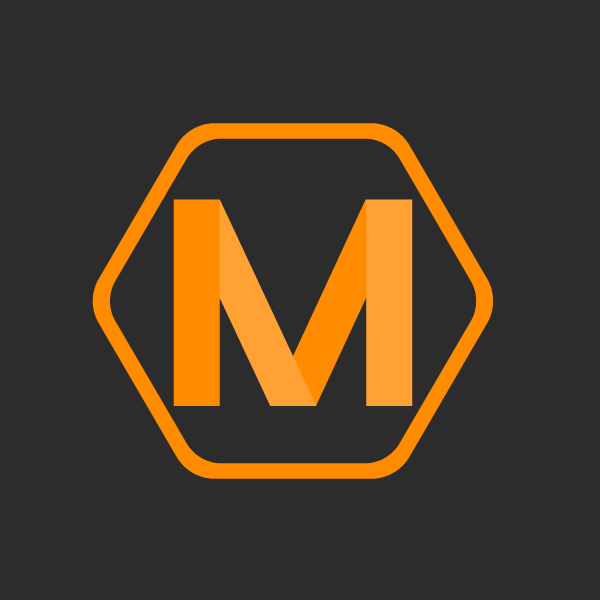 Myassignmenthelp
Myassignmenthelp has been in the academic help business since 2007. It's a big service that can handle anything from essay writing to Excel.
We appreciated the ease of the order process provided by Myassignmenthelp, but the downside for us was that we couldn't include additional files to clarify the task requirements. Our dedicated expert was also a bit distant, as he didn't give us any heads-up on the progress. At least he gave us the explanation as we asked. On the other note, the support team was rather helpful.
The value, provided by Myassignmenthelp, was a bit low. The price was on the higher end. The discounts were good, as we got -20% on our order. But they didn't make the service any less expensive. Myassignmenthelp also didn't cover as many subjects as we thought it would and had no information about its performer's expertise.
We received our task after 2.3 days. It went through 2 revisions, after which was marked as 80% complete.
Myassignmenthelp wasn't perfect, especially considering the problems in customer-expert communication. Still, it was helpful, and so it became the 9th contestant on our list.
10
AssignCode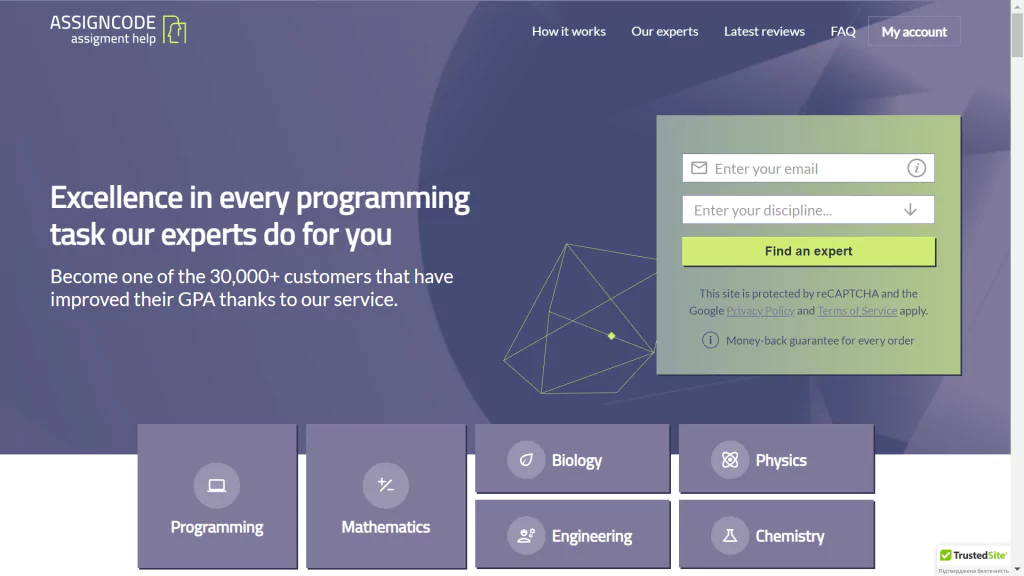 Assigncode is not just for coders. It's for those who generally need help with STEM-related tasks, such as Excel assignments.
Assigncode is a conveniently designed service. The order process was trouble-free, and the support system was organized even though just moderately assistive. The communication with the expert was greatly helpful. Our performer explained every little detail to us so we would finally get what our task was all about.
When reviewing value for money, we noticed that Assigncode was lacking mostly in the aspect of discounts. Other than that, there was a great variety of subjects to choose from and a clear description of each expert's knowledge base. The prices for services on the platform were affordable as well.
The task quality wasn't that great. The task only gained 60% after the evaluation. It was done earlier than the deadline, after 2.16 days which was fortunate as it required 2 more revisions to be properly completed.
In the end, Assigncode wasn't that bad, with a great overall experience and timely execution of assignments. Considering a bit of a mediocre task quality, we put it 10th on the list.
11
Acemyhomework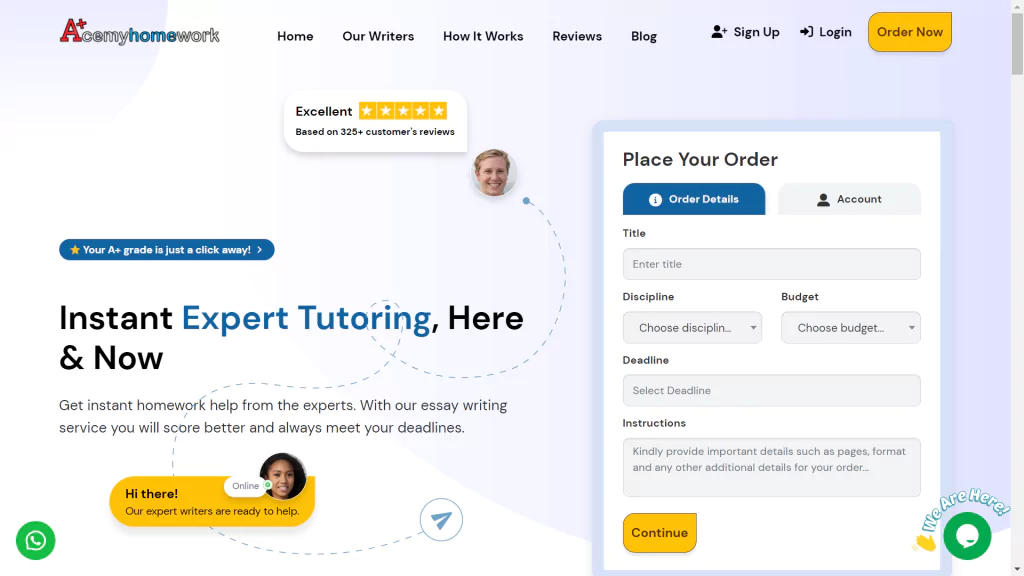 If you are looking for ways to get a good grade for your Excel homework task, Acemyhomework can help with that. At least they claim so. We checked how well their experts could deliver quality results so you didn't have to.
Unfortunately, the overall experience on the website wasn't all pleasing. The support system was barely helpful. The good thing was that we didn't need it as much thanks to an easy order process. The communication with our expert, on the other side, was open and allowed us to get answers to most of our questions.
The value for money wasn't much to talk about. There were no discounts, even though the services were pricey and we didn't have an option to specify the subject of our task. There were simply no categories to choose from. The only thing that gave us some hope was that we could see the experts credentials and so could choose one based on their knowledge.
Our task was completed rather quickly, just in 2 days. We asked for one small revision. After that, the evaluation showed that the task was 70% complete. Not a bad outcome, even though it could have been better.
Having weighed in all the advantages and disadvantages during our Ace My Homework reviews, we put it 11th in our ranking. After all, their expert did help us with the Excel task as promised.
12
AllAssignmentHelp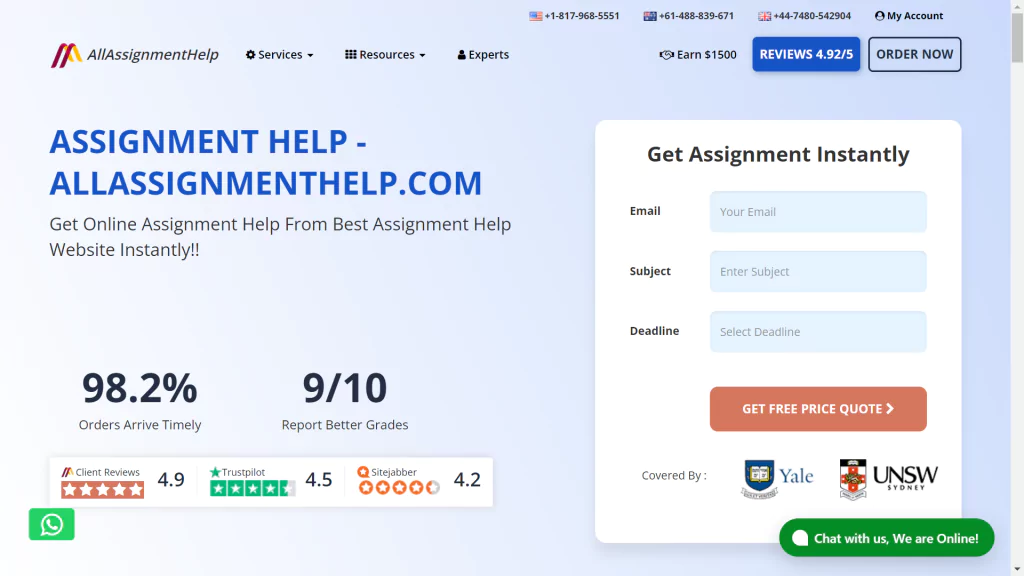 Allassignmenthelp has been operating in the academic help industry since 2015. This would be enough to gain expertise and ability to handle all kinds of tasks, including Excel. It turned out to be far from true.
We must say, the service had a convenient platform. Placing an order wasn't confusing, and their support agents were very helpful. The platform's expert, however, wasn't as good in communicating. Even though we asked them about our task to get further explanations, they didn't provide us with a decent answer.
In terms of value for money, Allassignmenthelp also had something to offer. They were a bit high-priced but did offer lucrative discounts. We stumbled upon a great 50% off coupon when ordering our assignment, for example. They also had an ample selection of subjects to choose from. We also noticed there was no information about the expert's knowledge base at all.
What surprised us most was the quality of our task. It was completed in 2.8 days, but it took us 5 revisions to get the task at least close to our requirements. And still after evaluation it only got 30%. The lowest grade we saw during our mystery shopping.
Allassignmenthelp wasn't at all perfect. Considering the poorly completed assignment and the expert who couldn't even explain anything to us, the only things that saved it were good support and discounts. As such it lands last on our top list.
Final Point
Excel homework can be fast and easy to complete just if you have the right assistance. This top list gathers a variety of services of different price ranges, subject coverage, and efficiency for you to choose from. Think about what you are looking for and what exactly you need help with in Excel. Then read our A*Help rating and you will find a solution that can guide you through hard assignments. You are bright enough to learn Excel, especially with a helping hand by your side.
Buyer's Guide to Finding the Best Way to Pay Someone to Do My Excel Homework
You may want to look for help with Excel assignments on your own. Just know that this is not the quickest process. To find a reliable service that will be worth your trust and time, you need to consider a lot of aspects. We respect your self-reliance and we won't take it away. All we will do is give you this short list of features that need to be under your attention when you decide to look for an Excel service by yourself.
Expertise of the Performers
Your dedicated expert is the one who will help you handle your assignment. It's important to make sure that you have at least some information about their knowledge of your topic. Probably, if they only handle regular math tasks or have a degree in literature they will not be the best fit for Excel homework. So check if the service gives you that kind of information as it's a good sign you will find the right assistance there.
Communication with the Expert
Talking about your task is important. How will you understand the solution or know how to handle this type of assignment in the future, if your expert doesn't explain it to you? Choose those platforms that allow you to communicate with your performer and ask them additional questions. After all, you are looking for an option to learn better, aren't you?
Progress Tracking
We know how stressful deadlines can be. And how anxious it is to wait for the explanation and solution to your task. The option for assignment progress tracking on the platform will allow you to relieve some part of stress and generally ensure a less confusing experience.
Price
Your budget matters. Don't go above and beyond spending your last pocket money on assistance. There are cost-effective solutions that provide the same quality as more costly ones. So don't forget to keep the question of pricing in mind when looking for an Excel homework service.
FAQ
Can I pay someone to do my Excel homework?
Yes, for example, you can find a tutor to help you with your assignments for extra pay. However, you can also search online for Excel assignment help. Generally, these services might be cheaper than hiring a tutor just to guide you through one task. Remember though, that you should also try to understand your tasks yourself to better grasp the topics you study.
How can I get help with Excel?
There are several ways you can find assistance with Excel. You can ask your peers or classmates to explain blurry moments or you can opt for hiring a tutor. The quickest and simplest way is, nonetheless, looking for the required help online. Look up Microsoft Excel homework help and you will certainly find services to provide you with guidance on your tasks.
How much is an Excel tutor?
The price for hiring a tutor may vary depending on each educator's hourly rate. It might also depend on the amount of lessons you need to properly understand a certain topic. If you want a more budget-friendly version of a tutor, you can choose online homework help services which will give you an expert to help with your assignments.
What is the hourly rate for Excel expert?
The hourly rate usually depends on the expert's education level, their experience in the field, and the platform they work on. Sometimes, an online homework help service might be an even more budget-friendly solution. We collected a wide range of services so that you will have options to choose from according to your budget.
What is the website to solve Excel problems?
Many different online platforms can help you find assistance with your Excel tasks. Finding the website most suitable for you will depend on your needs and requirements. In this top list, we collected the best and most popular services out there to solve Excel problems. Read it through and choose what you like most.
How can I learn Excel quickly?
For many Excel is not that easy to manage. However, there are tips that can make the learning process much faster. First, get comfortable with the interface and explore the existing tools. Learning shortcuts is also very important as it will help you navigate through your experience. And, of course, learn about the formulas, especially the ones you will use the most, as they are one of the most helpful features Excel has.
How can I master Excel skills for free?
All you need to master Excel is to study hard. Go online, search for guides, and look up video explanations on YouTube. There are a lot of materials that you can access absolutely for free that will help you manage Excel tables. With enough dedication, you will be able to handle studying for free and all by yourself.
Can you practice Excel online?
Yes, you can. If you google "practice Excel online" you will find a variety of websites offering you all kinds of exercises to practice your Excel skills even on your mobile phone.
Is there free Excel training?
Yes, a lot of online exercises dedicated to practicing Excel skills can be accessed free of charge. You can also search for free Excel courses if you need more comprehensible training in the matter.
How hard is learning Excel?
Undeniably, Excel is challenging to learn, especially for those who don't have any prior experience interacting with data and spreadsheets. Nonetheless, it's not impossible. If you dedicate enough time to studying, you will gain decent Excel skills.
Can I master Excel in 1 week?
Yes, it is possible to master Excel in just 1 week. All you have to do is dedicate your efforts to understanding the basics as well as learning about cleaning, analyzing, and visualizing large sets of data. You need to be ready to devote most of your time and effort to studying.
How long will it take to master Excel?
The basics can be grasped in a few hours. To fully study the spreadsheet application, you will have to spend around 18-20 hours. And, if you are interested in going beyond that and mastering Excel's full potential, you will need from 3 days up to 1 week period.
How do you use Excel for beginners step by step?
First, you need to open or create a workbook (also called a worksheet or a spreadsheet). Explore the created blank sheet which will consist of columns (vertical cells) and rows (horizontal cells). Try to do a few manipulations in the workbook like inserting text/data, deleting it, coloring cells, etc. Try to do the work that you need Excel for. Once you get to know simple manipulations, you can look up videos or simply google more complicated actions you need help with. The key is to do everything gradually and try to remember the algorithm for your actions.
Is it hard to become an Excel expert?
Becoming an Excel expert will be challenging. Learning the formulas and how they work, and even implementing the right shortcuts is not as simple as ABC. You will have to spend some time learning the layout and getting to know the functionality of the platform. But it's completely possible to master Excel, and all you need is the right training.
What is the most difficult in Excel?
There are three most difficult parts of Excel: VBA (Visual Basic for Applications), macros, and automation. Many have faced problems when learning these things as they require a lot of attention, as these are three more technical aspects of using Excel.
Is learning Excel a valuable skill to have?
Yes, it is a valued skill in many modern industries, specifically in marketing, finance, and data analysis. Aside from that, it's also quite beneficial as it allows you to work with data more efficiently and accurately, lowering the possibility of making mistakes.
Useful Excel homework articles
Follow us on Reddit for more insights and updates.