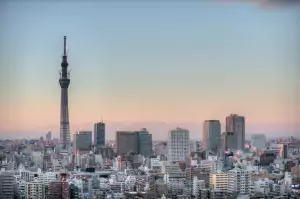 Japan is widely known as a country of wonders. Not to mention its magnificent contrasts on the edge of modernity and traditionalism, this country can boast of incredibly beautiful nature, rich culture, and technological progress that has outpaced the rest of the world for decades. One of the manifestations of this progress is the famous Tokyo Skytree: an enormous skyscraper built right in the city center, which has changed the city's appearance dramatically.
AcademicHelp Learning Hub
Use the most powerful academic tools to write better with AI, check for plagiarism and detect AI content!
The Tokyo Skytree belongs to the most prominent constructions ever raised by human beings. It is a communications and observation tower located in the Sumida district. It would not be an exaggeration to say it can be seen at almost any place in Tokyo, because it is so incredibly high.
To be precise, the Tokyo Skytree is 2,080 feet high, which makes it Japan's tallest structure, and the second highest building in the world, before the famous Burj Khalifa. In this building, broadcasting companies, restaurants, and observation grounds are located, so anyone can enjoy the panorama from the Skytree's heights.
The tower reminds of a gigantic tripod in its base, and at the half of its height (1,050 feet) its three "legs" conjoin and form a cylinder, which helps create possibilities for panoramic views all over its perimeter. The tower is painted in a color that is officially called Skytree White. It is said that this bluish white color is based on the so-called Aijiro color, which is traditional for Japanese visual arts. Besides, the tower is illuminated with LED lights, so the Tokyo Skytree's colors change daily, from pale purple to sky blue.
Due to the use of modern technologies, Tokyo Skytree can also withstand even powerful earthquakes, which occur in Japan rather often.
The Tokyo Skytree without a doubt is a wonder of technology and industrial design. It makes Tokyo, which has consistently been futuristic, look like a city from the distant future. And, considering Japan's constant growth and development, many other futuristic buildings will be raised.
Follow us on Reddit for more insights and updates.
Related Writing Guides
A descriptive essay is a form of academic writing that is built around a detailed description of a person, building, place, situation, notion, etc. The main purpose of a descriptive essay is to describe your point of focus in a vivid and particular manner...