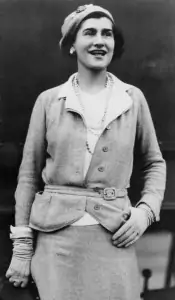 Coco Chanel was the only fashion designer to be named among the "100 most influential people of the 20th century" by Time magazine. She revolutionized the face of fashion in a way no one ever dared. Her little black dress aka LBD and Chanel No. 5 perfume are some of the iconic products she created. She was known to disguise her personal life with lies, which only made her more intriguing. There are more than a few biographies of her, with different set of facts, which is understandable. She loved being a mystery. She believed fabricated words are better than her stale past. Coco Chanel can be fairly called an outstanding woman and one of the most significant mysteries of the fashion industry.
JOIN OUR LEARNING HUB
One-stop solution for all your homework needs. Get the job done.

✅ AI Essay Writer ✅ AI Detector ✅ Plagiarism checker ✅ Paraphraser
Gabrielle Bonheur Chanel was born in 1883 in Saumur, France. Her mother, Eugénie Jeanne Devolle, passed away when Chanel was twelve years old. Her father, Albert Chanel, lived a nomadic life. He sent Chanel, along with her two sisters, to an orphanage. She lived there until she was eighteen years old and then shifted to a boarding school, where she learned the trade of a seamstress. She later joined a small tailoring store. When she was not sewing, she was singing at a café. She was one of the performers who would entertain the crowd before the stars' arrival. That is where she got the name Coco, because of the songs she sang. Her failed attempt at being a singer brought her back to the old tailoring job.
Socialite Étienne Balsan was Chanel's way into high society. She was his mistress for three years, where he treated her to the perks of rich life. Chanel started designing hats, out of boredom at first. They started attracting attention, which made it her first commercial enterprise. In 1910, she opened a hat store named Chanel Modes, which became a success. After this endeavor, she left Balsan for Captain Arthur Edward Capel. He took her to Paris. He helped her open a store in 1913 named Deauville. He is known to have had a great influence on her life. Their affair went on for nine years, even though he was not faithful to her. He was killed in an accident, which Chanel called the single most devastating event of her life.
Deauville's success ignited Chanel's confidence. She opened another store named Biarritz, which was so prosperous that Chanel was able to return her original investment from Capel within a year. In 1918, Chanel was able to rent a whole building in one of Paris' fashionable streets. By the end of 1919, Chanel established herself as a registered couturier. In 1932, Chanel reached California to fulfill an agreement she made with film producer Samuel Goldwyn to design for MGM stars. Chanel did not like the ways of Hollywood. She found them to be infantile and vulgar. She continued designing costumes for French films, though. Chanel attracted controversies with her unorthodox ways and her affairs with men of high stature. The biggest controversy was her working as a Nazi agent during World War II (Telegraph, 2011). All through the war, she resided at The Ritz. She was known to have an affair with a German officer. In 1971, Chanel passed away doing what she loved doing, preparing the spring catalog.
Chanel, with her quirky traits and impeccable fashion sense, became a brand herself. She liberated women from the stiff corseted look of the time. She rebelled against her poverty, her limited opportunities and the way French society looked at women. Not having a Chanel dress made you a fashion blunder. That is the level of her authenticity. The Chanel suit, the Chanel bag, her pearl jewelry are still all the rage. Her life is an inspiration to many. Chanel's life was depicted through all channels of art (Loco Over, n.d). People continue to try to unveil who she was and what she wanted to be.
References
Women's Perfume Reviews. Loco Over Coco. (n.d). Retrieved from http://www.precious-womens-perfumes.com/coco-chanel-books-movies-1.html
Samuel, Henry. Telegraph. (2011). Retrieved from http://www.telegraph.co.uk/history/world-war-two/8704910/Coco-Chanel-was-a-Nazi-agent-during-Second-World-War.html
Follow us on Reddit for more insights and updates.
Related Writing Guides
In a definition essay, you explain the meaning of a certain term by giving a detailed description of it, and support your definition with clear examples or facts. Such explanations are needed if a term is special, abstract, disputed, or does not have a co...