By Johannes Helmold
JOIN OUR LEARNING HUB
One-stop solution for all your homework needs. Get the job done.

✅ AI Essay Writer ✅ AI Detector ✅ Plagiarism checker ✅ Paraphraser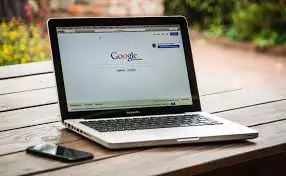 Google has become a premier technology company that now dominates the search engine market and is always on the cusp of technological innovation, such as with products like Google Glass. Though this giant of a company seems to have always been around, it has an intriguing history behind it. In the following paragraphs, let us explore Google's climb to prominence.
Having its origins as a research project called "BackRub" under the supervision of Larry Page and Sergey Brin, both PhD students at Stanford University, Google began as a search for a dissertation theme (Google). Page's dissertation supervisor, Terry Winograd, suggested that he focus on what webpages link to certain pages based on backlinks (Wired). Page was joined by Brin under a National Science Foundation Graduate Fellowship, but Page had known Brin for some time already while they were working on the Stanford Digital Library Project (Computer Networks and ISDN Systems).
As a beginning point, the team used the Stanford homepage for their web crawler to explore in March of 1996 (Wired). In the process of exploring the homepage, the two developed the PageRank algorithm, which converted backlink data on webpages based on importance. They discovered that this method of sifting through data was more efficient than the current one, which measured how many times a term appeared on a page (Wired). With this concept, they tested their thesis that the most relevant webpages were those that had the most links to them.
The search engine's domain was originally google.stanford.edu; however, by September 1997, they registered google.com. Another big step was in September of 1998, when Page and Brin incorporated the company "Google." Though they initially were against employing advertising on a search engine, they eventually inserted plain text advertisements in order to make the search engine profitable (Planet Google). Already by 1998, 60 million pages were indexed by Google (Rosenberg, Scott). Though at this time the homepage of Google was still in "beta," it was garnering praise from the technology community as the future of web development (Rosenberg, Scott).
With so much success, in March 1999, Google moved from its garage in Menlo Park, California, to Palo Alto, California alongside other popular startups in Silicon Valley (Fried, Ian). However, the company was a rising power, and soon needed to lease a complex of buildings in the same area in 2003.
Part of Google's fast growth was the search engine's simple design and how its text advertising catered to search keywords (Google). The simple text advertisements worked well, as pages could load faster than if complex advertisements were used, and the advertisements were directed at consumers intuitively. With its sharp rise to dominance in the search engine market, Google declared that their code of conduct was "Don't be evil" and stated that, "We believe strongly that in the long term, we will be better served—as shareholders and in all other ways—by a company that does good things for the world even if we forgo some short term gains" (Ovide, Shira).
Fast forward to 2014, and Google occupied over 70 offices in more than 41 countries (Google Company). However, by 2015, Google became a holding company called Alphabet Inc. with Google as only one of its products (Womack, Brian). Google has never looked back: it created Google + (a social media platform), its version of Wikipedia called Knol, smart glasses called Google Glass, comprehensive world maps, and much more. Google has had partnerships with NASA, AOL, Sun Microsystems, News Corporation, Sky UK, and other organizations. It understands it is still the future of the web, and its possibilities for growth seem unlimited.
Starting off as a research project of two PhD students to study the backlinks between webpages on the University of Stanford website, Google has become an international phenomenon that powers most internet searches and is a front runner in numerous technological advancements, whether they be for phones, going to space, driverless cars, and much more. The amount of Google products seem endless and there are only more being developed at an ever-increasing rate.
Works Cited
"Our History in Depth." Archived June 23, 2015, at the Wayback Machine. Google.
Battelle, John. "The Birth of Google Archived March 18, 2014, at the Wayback Machine." Wired. August 2005.
Brin, Sergey; Lawrence Page (1996). "The Anatomy of a Large-Scale Hypertextual Web Search Engine." Computer Networks and ISDN Systems. 35: 3. doi:10.1016/S0169-7552(98)00110-X.
Stross, Randall. Planet Google: One Company's Audacious Plan to Organize Everything We Know. Archived May 21, 2016, at the Wayback Machine., New York: Free Press, September 2008. ISBN 978-1-4165-4691-7 Cf. pp.3–4.
Rosenberg, Scott. Yes, there is a better search engine. While the portal sites fiddle, Google catches fire. Archived November 23, 2016, at the Wayback Machine. Salon.com, 21 December 1998.
Fried, Ian. "A building blessed with tech success. Archived March 10, 2016, at the Wayback Machine." CNET. October 4, 2002.
Ovide, Shira (June 23, 2011). "What Would 2004 Google Say About Antitrust Probe?" The Wall Street Journal.
"Google locations." Google Company. Google, Inc. November 2014.
Womack, Brian (August 10, 2015). "Google Rises After Creating Holding Company Called Alphabet". Bloomberg L.P.
Follow us on Reddit for more insights and updates.
Related Writing Guides
There are three main types of expository essays: scholarly writing used mainly for academic purposes, which describes or examines a process in a comprehensive way; analyzing a concept, which describes and explores a written work or an event; also, exposi...