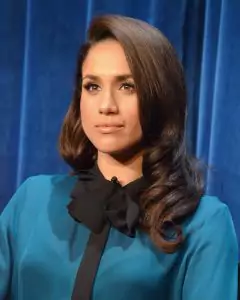 2018 was a big year for the royal family of the United Kingdom: Prince Harry married Meghan Markle, an American Actress. It caused a social media and news storm that caught the attention of almost every person in the world. But how much do we know about Meghan Markle? This essay will expound on the life of Markle and her rise to fame.
JOIN OUR LEARNING HUB
One-stop solution for all your homework needs. Get the job done.

✅ AI Essay Writer ✅ AI Detector ✅ Plagiarism checker ✅ Paraphraser
She was born as Rachel Meghan Markle on August 4, 1981, in Los Angeles, California. Her mother, Doria Ragland, is a social worker and yoga instructor, and her father, Thomas Markle Sr., is a television director of photography lighting director. However, the marriage did not last long after Meghan was born, as they divorced when she was six years old (John, Tara). Meghan has mixed heritage, as her mother is African-American and her father is Caucasian.
With her father working in television, she essentially grew up and is a product of Hollywood. Meghan often visited the set of Married… with Children. Besides being on television sets, she attended school in the area as well. Her first form of education started at the Hollywood Little Red Schoolhouse, which is a private school (Goulet, Matt). Around this time, at age 11, she made a successful campaign to make Procter & Gamble change one of their television commercials due to its sexist content. This was her first bit of fame, as Nick News picked up the story (Boedeker, Hal).
Despite being raised Protestant, she went to an all-girl Catholic school, Immaculate Heart High School, in Los Angeles. After graduating from high school, she attended Northwestern University, and became a part of the Kappa Kappa Gamma sorority, did community service, and worked on charity projects. During this time, she took up an internship at the American embassy in Buenos Aires, Argentina. In addition, she studied one semester in Madrid, Spain. Ultimately, she received a bachelor's degree with a double major in theater and international studies ("Meghan Markle Exclusive").
A year before she graduated, Meghan got her first on-screen appearance on television on the show General Hospital as a nurse. Subsequently, she had guest roles on the television shows Century City (2004), The War at Home (2006), and CSI: NY (2006). In between these opportunities, she did some contract acting and modeling—notably, as a "briefcase girl" on the gameshow Deal or No Deal. In 2008, she appeared in two episodes of the television series Fringe as a junior agent. But these early years were difficult for her in terms of her career, as she said, "Being 'ethnically ambiguous', as I was pegged in the industry, meant I could audition for virtually any role … Sadly, it didn't matter: I wasn't black enough for the black roles and I wasn't white enough for the white ones, leaving me somewhere in the middle as the ethnic chameleon who couldn't book a job" (France, Lisa Respers).
However, she started to get more work in 2010, making appearances in the film Get Him to the Greek, and Remember Me. In the following year, she was in the film Horrible Bosses. During this time, she also was in episodes of Cuts; Love, Inc.; 90210; Knight Rider; Without a Trace; The League; and Castle. She landed a pivotal role in the series Suits in 2011 as a paralegal that eventually became an attorney. She was a part of the show up until the seventh season in 2017. The portrayal of her character won her fame and a stable income. While on the show, she started her own lifestyle website called The Tig, writing about various feminine topics. This endeavor proved to be lucrative, as she was earning $80,000 annually from her sponsors and endorsements (Town & Country).
To backtrack a bit, she started a relationship with actor and producer Trevor Engleson in 2004, and they eventually married in 2011 in Jamaica. But in only two years, the couple divorced. After this first marriage, she had about a two-year relationship with chef Cory Vitiello. By June of 2016, Meghan had begun a relationship with Prince Harry. Meghan and Harry met through a blind date set up by a mutual friend. Though rumors about their relationship were swirling around the internet and on the news, in September of 2017, the couple made their first public appearance together at the Invictus Games in Toronto, Canada ("Meghan Markle Attends as Prince Harry Launches Invictus Games").
As a sidetrack, it is important to mention that Meghan has been involved in a vast array of charity work. At the 2014 summit One Young World, Meghan spoke about gender equality and modern-day slavery. In the same year, she went to Afghanistan and Spain with the United Service Organizations. Two years after, in 2016, she became a global ambassador for World Vision Canada. In this capacity, she travelled to Rwanda to participate in the Clean Water Campaign. In the same year, she went to India for raising awareness of women's issues, and later wrote an op-ed for Time magazine about the stigmatization of menstrual health. In addition, she worked as an advocate for the United Nations Entity for Gender Equality and the Empowerment of Women (Shepherd, Jack).
Back to her relationship with British royalty, by November, 2017, Prince Harry and Meghan announced their engagement by Clarence House and Kingston Palace. Overall, there was a positive reception to their engagement, and the black community in the UK and around the world were generally happy to have the possibility of someone of African descent be in the royal family. Shortly after the engagement, Meghan announced that she would retire from acting and she started the process of becoming a British citizen. She then got baptized into the Church of England in order to be in the upcoming wedding. To much excitement and press, the wedding between Prince Harry and Meghan happened on May 19th of 2018 at St. George's Chapel, Windsor Castle (NBCNews.com). With her marriage, she became a princess of the United Kingdom, the Duchess of Sussex, Countess of Dumbarton, and Baroness Kilkeel. She is formally called "Her Royal Highness The Duchess of Sussex."
After the wedding, the first engagement she participated in as a Duchess was on May 22, celebrating the charity of work of Prince Charles. In July, The British Government requested her to visit Dublin, Ireland. Meghan is now a youth ambassador to the Commonwealth alongside Harry. In this capacity, she visited Australia, Fiji, Tonga, and New Zealand in October of 2018. Though the royal family has a low level of support in these regions, Meghan was well-received in these areas. At present, Meghan and Harry live at Nottingham Cottage in London, where they are expecting their first child.
Meghan Markle was born into the lap of Hollywood, graduated from university with a degree in theater and international studies, to later become a famous actress after struggling for about 10 years to land a feature role on television. After a failed marriage and another unsuccessful relationship, she went on a blind date with Prince Harry, and they soon got engaged and married. The well-known American television actress is now the first person of the royal family of the United Kingdom of African heritage, being the Duchess of Sussex, the wife of the Duke of Sussex, Prince Harry.
Works Cited
John, Tara. "Who Is Meghan Markle? Meet Prince Harry's Fiancee." Time, Time, 27 Nov. 2017, time.com/5037786/meghan-markle-prince-harry-engagement/.
Boedeker, Hal. "Meghan Markle at 11: Fighting Sexism on TV." OrlandoSentinel.com, 1 Dec. 2017, www.orlandosentinel.com/entertainment/tv/tv-guy/os-et-meghan-markle-at-12-fighting-sexism-on-tv-20171130-story.html.
Goulet, Matt. "Meghan Markle Grew Up Around TV Decades Before She Starred on 'Suits'." Esquire, Esquire, 14 Feb. 2018, www.esquire.com/entertainment/tv/a23925/meghan-markle-interview/.
"Meghan Markle Exclusive: Diana's Biographer Andrew Morton on How the …" Archive.fo, 4 Apr. 2018, archive.fo/20180404122637/https://www.thetimes.co.uk/article/meghan-markle-exclusive-dianas-biographer-andrew-morton-on-how-the-suits-star-made-it-to-the-heart-of-the-establishment-cgp0fc86l.
France, Lisa Respers. "Meghan Markle Is Royal Family's Unconventional Bride-to-Be." CNN, Cable News Network, 25 Apr. 2018, edition.cnn.com/2017/11/27/europe/meghan-markle-profile/index.html.
"Is Meghan Markle Richer Than Her Soon-to-Be Husband, Prince Harry?" Town & Country, Town & Country, 18 May 2018, www.townandcountrymag.com/society/money-and-power/a13085480/meghan-markle-net-worth/.
"Meghan Markle Attends as Prince Harry Launches Invictus Games." BBC News, BBC, 24 Sept. 2017, www.bbc.com/news/uk-41376139.
"With Child Coming, It's off to the Country for Prince Harry and Meghan Markle." NBCNews.com, NBCUniversal News Group, www.nbcnews.com/news/world/child-coming-it-s-suburbs-prince-harry-meghan-markle-n939631.
Shepherd, Jack. "Who Is Meghan Markle? Profile of the Actress, Humanitarian and Campaigner Engaged to Prince Harry." The Independent, Independent Digital News and Media, 28 Nov. 2017, www.independent.co.uk/arts-entertainment/tv/news/meghan-markle-who-is-she-prince-harry-engaged-suits-actress-campaign-work-a8077706.html.
Follow us on Reddit for more insights and updates.
Related Writing Guides
There are three main types of expository essays: scholarly writing used mainly for academic purposes, which describes or examines a process in a comprehensive way; analyzing a concept, which describes and explores a written work or an event; also, exposi...