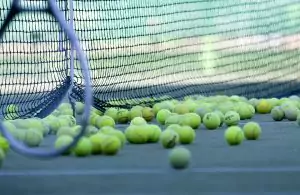 Tennis is one of the most popular racket sports, and tennis matches are avidly watched on TV by millions of viewers. It is an Olympic sport that is played in most countries in the world, by all ages and all sectors of society. Though the modern game of tennis originated in Birmingham, England, the game has developed throughout many centuries. In the following paragraphs, we will explore the precursors and development of this beloved sport.
JOIN OUR LEARNING HUB
One-stop solution for all your homework needs. Get the job done.

✅ AI Essay Writer ✅ AI Detector ✅ Plagiarism checker ✅ Paraphraser
The origin of tennis may be connected to the 12th century game called jeu de paume ("game of the palm") that came from northern France (Gillmeister, Heiner). It was popularized by Louis X of France, and he was the first person to build indoor tennis courts (Newman, Paul B.). His design for indoor courts gradually spread across Europe. In the first historical record of tennis, in June of 1316, Louis was playing a tennis game and drank a large quantity of cooled wine and later died. Because of this dramatic occurrence, tennis was first recorded (Gillmeister, Heiner). Following the death of Louis X, King Charles V of France was a noted enthusiast of the game, setting up a court in his Louvre Palace (J. Perris).
It is difficult to imagine, but tennis was being played with the palm of the hand until the 16th century, when rackets were introduced. When the game integrated rackets into its rules, the game changed its name to tennis from the French word tenez. This word was employed as an interjection to bring attention to the opponent by the server (Etymonline.com). In the 16th century, tennis was popular in England and France, but there was a rule at the time that you could hit the ball off the wall. It is said that Henry VIII of England was a huge fan of this game. The rules of keeping score, duration of the game, and more were different than modern tennis (Crego, Robert).
However, in the 18th and the 19th centuries, this type of tennis declined, and many other racket sports emerged, taking more prominence. But, the modern game of tennis was slowly taking shape. In 1830, the first patented lawn mower was invented in Britain, and this happening made it much easier to construct lawn courts that would later be ideal for modern tennis. In turn, by 1872, the first tennis club was founded by Harry Gem and Augurio Perera in England (Tyzack, Anna) and in 1873, and a British officer, Major Walter Clopton Wingfield, patented a new game called "sticky" (E. M. Halliday). Most historians agree that Wingfield was responsible for developing the modern game of tennis by making his own rules, providing box sets of tennis equipment people could purchase, and marketing the game all over the world (CNN).
By 1874, Wingfield had sent thousands of tennis box sets to customers, and from this burst in sales came the first tennis championship called the Wimbledon Championships in 1877. For the Championship, much debate happened about how to standardize the rules of the game (CNN). In fact, in each club, tennis was played slightly differently, with varying rules, ball size, and more. By the early 1900s, however, clubs and championships cropped up in France, the US, Australia, and of course in Britain. The major championships played today—Wimbledon, the US Open, the French Open, and the Australian Open—have been developed based on the centers where tennis first took hold most prominently (Tennis Server). Finally, in 1924, the standardized rules of tennis emerged from the efforts of the International Lawn Tennis Federation (later known as the International Tennis Federation).
Though there are many other details I could add, I would not want to bore the reader. This is essentially the flow of the history of this royal game. Favored by kings in England and France, it is now a global phenomenon. Many factors have contributed to its success: the invention of machines to create proper lawns for the game, royal backing, and several key people wanting to develop standardized rules for the game and to market it as a sport for all. From its beginnings as a form of backyard amusement, it is currently the most respected racket game in the world.
References
Gillmeister, Heiner (1998). Tennis: A Cultural History. Washington Square, N.Y.: New York University Press. p. 117. ISBN 0-8147-3121-X.
Newman, Paul B. (2001). Daily Life in the Middle Ages. Jefferson, N.C.: McFarland & Co. p. 163. ISBN 978-0-7864-0897-9.
J. Perris. Grass tennis courts: how to construct and maintain them. p.8. STRI, 2000.
"Online Etymology Dictionary." Etymonline.com. 10 June 1927.
Crego, Robert. Sports and Games of the 18th and 19th Centuries. Page 115 (2003).
Tyzack, Anna. The True Home of Tennis. Country Life, 22 June 2005.
E. M. Halliday. "Sphairistiké, Anyone?" American Heritage.
"125 years of Wimbledon: From birth of lawn tennis to modern marvels." CNN.
Tennis Server – Between The Lines – Suzanne Lenglen and the First Pro Tour, www.tennisserver.com/lines/lines_99_10_31.html.
Follow us on Reddit for more insights and updates.
Related Writing Guides
There are three main types of expository essays: scholarly writing used mainly for academic purposes, which describes or examines a process in a comprehensive way; analyzing a concept, which describes and explores a written work or an event; also, exposi...