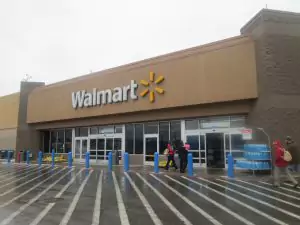 AcademicHelp Learning Hub
Use the most powerful academic tools to write better with AI, check for plagiarism and detect AI content!
By Johannes Helmold
Walmart is an ubiquitous sight is many countries. This American multinational retail corporation is loathed, loved, and everything in between for various reasons. It is the world's largest retail company based on revenue. However, what is important for this paper is exploring the origins and development of this corporation. The story of Walmart is not only a story about a company, but also about capitalism and the American Dream.
1950 was not just an important economic year for America in terms of growth, but also when Walmart opened up for business. Sam Walton did not create his own shop initially, but bought out a shop in Bentonville, Arkansas. He called the first shop "Walton's 5 & 10" or "Walton's Five and Dime" (Vance H. Trimble). According to Walmart's official website, "Inspired by the early success of his dime store, and driven to bring even greater opportunity and value to his customers, Sam opened the first Walmart in 1962 at the age of 44 in Rogers, Arkansas" (Walmart Corporate). This is when the Walmart chain began to develop. The founder's idea for success was to offer lower prices than competitors with quality service, and it seemed that it worked. It had led to success for other discount stores at the time, and Walton was inspired by them (Vance H. Trimble).
Bob Bogle, Walton's assistant, recommended the name "Wal-Mart" for the second store, and the chain itself. The name stuck and it has been used ever since (albeit without the hyphen in later years) (Vance H. Trimble). With the economic boom of the 1950s into the 1960s, Walmart continued its rapid growth. There were 24 Walmart stores by 1967 in the state of Arkansas. In the following year, Walmart finally moved out of Arkansas, and opened its first stores in Missouri and Oklahoma (Wayback Machine).
Another pivotal moment in Walmart's history was when the company went public. According to Walmart's official website, "The company went public in 1970, and the proceeds financed a steady expansion of the business. Sam credited the rapid growth of Walmart not just to the low costs that attracted his customers, but also to his associates. He relied on them to give customers the great shopping experience that would keep them coming back. Sam shared his vision for the company with associates in a way that was nearly unheard of in the industry. He made them partners in the success of the company, and firmly believed that this partnership was what made Walmart great" (Walmart Corporate). In light of this, the company's first stock split was in 1972, and it was the appropriate time for this, as Walmart was now working in five states: Arkansas, Kansas, Louisiana, Missouri and Oklahoma. The growth of Walmart exploded in the years following this event. Walmart opened in Tennessee in 1973, Kentucky and Mississippi in 1974, and in Texas in 1975. By this interval, there were 125 stores with over 7000 staff members. Sales had reached an astronomical $340.3 million, which was grand for a chain of discount stores at the time.
With the expansion of stories in Illinois in 1977, the company made its first corporate acquisition. Walmart bought out Mohr-Value Stores, which were placed in Missouri and Illinois. Walmart would continue this trend of acquisition to eliminate competition (Cape Girardeau Bulletin). The following year, Walmart also acquired the Hutcheson Store Company, and seemed to know no end of its ambition, as it branched out into different products, such as jewelry, auto service, and pharmaceutical goods. From this point, Walmart only expanded more and seemed to never look back. It also created Sam's Club, a warehouse membership-only store, and expanded Walmart across each state of the US, eventually entering the South American and Chinese markets as an international powerhouse. To date, the store is still acquiring more companies, expanding its business, and has a revenue of $500.3 billion and a value of around $250 billion.
Starting as a discount retail store in humble Arkansas, Walmart has taken the world by storm with its low prices and variety of services. The company has had exponential growth by acquiring many companies, not only limiting competition, but also making stores more profitable at a faster rate. Walmart has had a steady growth since its opening, and who knows what developments it will make as a company in the coming years.
References
Vance H. Trimble, Sam Walton: The Inside Story of America's Richest Man, pp.46-64 (Dutton, 1990).
"Our History." Walmart Corporate – We Save People Money so They Can Live Better., corporate.walmart.com/our-story/our-history.
"The Wal-Mart Timeline" on July 24, 2006. Archived July 19, 2006, at the Wayback Machine.
Cape Girardeau Bulletin. Oct 11, 1973. "Carp Store purchased." Walmart Stores near "prairie grove."
Follow us on Reddit for more insights and updates.
Related Writing Guides
There are three main types of expository essays: scholarly writing used mainly for academic purposes, which describes or examines a process in a comprehensive way; analyzing a concept, which describes and explores a written work or an event; also, exposi...