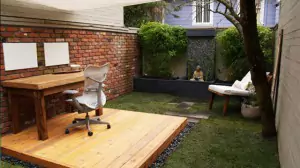 The first day of your termless vacation feels almost like the first day on a new unexplored planet; suddenly, you realize you have left a significant piece of your former life behind. When you are a colonist arriving to a new world, you leave behind your failed marriage, debts, and dark past; when you are an office worker, you leave behind a Xerox machine and a bunch of passwords. But it all does not matter anymore, because you are already not there, you are here, like a child in the first week of a wonderfully long summer holiday.
JOIN OUR LEARNING HUB
One-stop solution for all your homework needs. Get the job done.

✅ AI Essay Writer ✅ AI Detector ✅ Plagiarism checker ✅ Paraphraser
So, the first thing you do is throw off the shackles. People do it in many ways, but your method is to breath deeper than usual, and recall the sensation of sunshine—sunshine in the crowns of old sycamores. Also, you may remember the smells of childhood: peeled blue paint on the porch door, big fat woman with curlers, whom all the kids in town were afraid of, and who always threw dirty, wet rags at them.
Throwing off the shackles…. Dear God, you could not even imagine how much rubbish you've been carrying inside of you until this first day of your new life. From time to time, you look at all this trash, all these far-fetched mental constructions that have been running your existence all this time. Now you can easily throw them away as well.
And so, lying on a beach, staring in the turquoise and hot summer sky with just one perfectly-shaped cloud in it, and listening to the sweet rhythmic humming created by the wind and the sea, you understand that there are no thoughts in your head at all, and no inner voices demand your attention. Complete silence and calmness. Zen. Samadhi.
Samadhi of an office worker and Samadhi of some orange-garbed Nepalese Buddhist monk in a mountain temple. No difference. No sense. Nothing.
Nothing is everything. Everything any of us needs.
A little bit of Nothing for everybody.
Follow us on Reddit for more insights and updates.
Related Writing Guides
A narrative essay is a form of academic writing that is built around a narration of a certain event or situation. It is a short form of a narrative novel. Its main objective is to tell a story that it is both engaging and interesting to the reader...