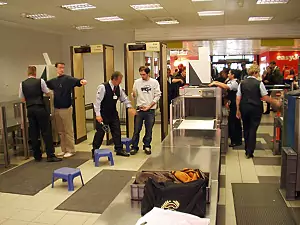 Due to intensive technological progress during the recent two centuries, humanity has achieved a lot of what has been considered impossible in earlier epochs; flight is one of them. Today, if you have enough money to afford an airplane ticket, you can travel far distances in almost no time. Although statistically being the safest type of public transport, airplanes are vulnerable to the threat of terrorism. Because of this, airline companies implement strict security rules and checks, and force passengers to submit to them, thus causing frustration and discontent; sometimes these checks may seem excessive and even humiliating, even though they are mandatory.
AcademicHelp Learning Hub
Use the most powerful academic tools to write better with AI, check for plagiarism and detect AI content!
One of the security measures that often causes misunderstanding and questions is having to take off shoes and to place them on an X-Ray belt. Before, bins were used to check if there were something hidden inside a shoe, but today, scanners are being used more and more often. The reason for this is that bins are usually cluttered with the articles passengers take out of their bags, or take off themselves, so scanners allow faster, more thorough, and stress-free checking for airport staff (Transportation Security Administration). Besides, X-Ray scanning can detect objects that might be hidden, for example, within a shoe's sole (IFR). Thus, checking one's shoes is a necessary measure directly connected to security.
Another strange requirement is the limited quantity of liquid a passenger can take on board. In fact, liquids can pose a great threat to aviation, because they can be used as ingredients for bombs; in 2006, the liquid bomb plot was revealed. Terrorists planned to create bombs that would look like liquids (water, soda), placed in regular plastic bottles (BBC News). Since 2006, numerous research studies and explosives testing were conducted in order to determine what liquid quantities are safe to bring aboard an aircraft (Transportation Security Administration). As it can be seen, liquids are not all that innocent, and this is why passengers can take only limited quantities of them.
Having to take electronics, such as laptops, cameras, and so on out of your luggage is also necessary. The reason for this is that would-be terrorists can tamper with the insides of a laptop or a cellphone to turn it into a device that could cause damage (for example, a detonator). Airport security services screen the insides of electronic devices to see if nothing was changed inside; airport security officers know how the insides of electronic devices should look like, so any discrepancies do not remain unnoticed. If something seems suspicious, officers take necessary measures to prevent possible acts of terrorism (Transportation Security Agency).
Security measures in airports—even the weirdest—have a strong rationale behind them. For example, the requirement to take off shoes and placing them in an X-Ray scanner is connected to the detection of hidden items, and for a more thorough and fast check. Quantities of liquids allowed on board are limited because it is possible to make a liquid bomb, or use liquids as components for bombs, and electronics are checked for discrepancies within their inner components. Therefore, measures that are often considered excessive or humiliating are necessary for preventing terror acts or violence on board.
References
"Why: The Reasons Behind TSA Security." Transportation Security Administration. N.p., n.d. Web. 16 Apr. 2015.
Casciani, Dominic. "Liquid Bomb Plot: What Happened." BBC News. BBC, 07 Sept. 2009. Web. 16 Apr. 2015.
"Why So Serious, or What Stands Behind Excessive Security Checks in Airports." IFR. N.p., 23 Apr. 2012. Web. 16 Apr. 2015.
Follow us on Reddit for more insights and updates.
Related Writing Guides
A persuasive essay is a form of academic writing that is built around a central argument. These essays are sometimes called argumentative essays because of this. In this category of composition, the writer aims to persuade the reader to accept his or her...