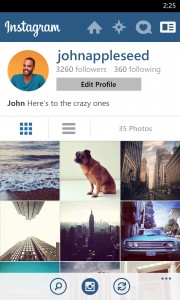 In a world where digital products have more and more effect on people's daily lives, certain software and media products inevitably become the center of the public's attention. Moreover, they become a part of an individual's lifestyle. Along with Facebook, Twitter, and YouTube, which already are daily companions for millions of people, there is one more application that causes debates and conflicting assessments: Instagram. Though it has many opponents, Instagram is in fact a useful program helping people develop their creativity and learn about culture.
As with any other digital product, Instagram can be used ineptly. Billions of boring and similar selfies, kittens, flowers, "Converse" sneakers, and food photos have become the subject for ridicule. However, what Instagram critics miss is its usage among a vast population of creative people.
For instance, many famous photographers, whose talent is undisputed, use Instagram to share their photos taken on their phones. Such photographers as Richard Koci Hernandez (@koci), Cory Richards (@coryrichards), Michael O'Neal (@moneal), and Jimmy Chin (@jimmy_chin) are real professionals. For instance, Jimmy Chin and Cory Richards are photographers for National Geographic. And there are many
Did you like this guide / sample?
Sign up and we'll send you ebook of 1254 samples like this for free!
80+ essay types
1000+ essay samples
Pro writing tips
Comment/Ask an Expert
Related Writing Guides
A persuasive essay is a form of academic writing that is built around a central argument. These essays are sometimes called argumentative essays because of this. In this category of composition, the writer aims to persuade the reader to accept his or her...