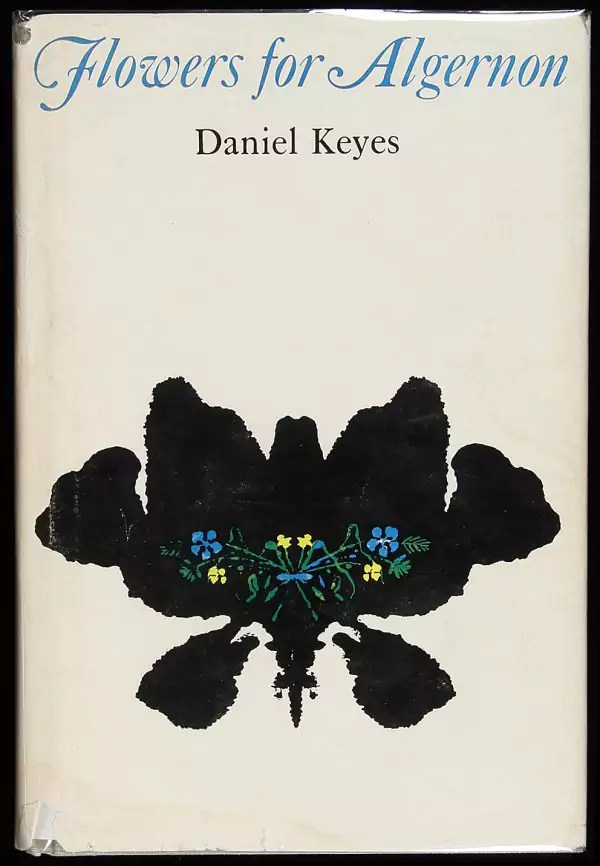 "Flowers for Algernon," written in 1966 by Daniel Keyes, has rightly become one of the most well-known fantasy novels in world literature. Originally written as a short story, the story of Charlie Gordon—the main character of the book—had later been rewritten in the form of a novel, which helped the author to fully disclose personalities of the main characters and make the plot complete. The novel is written in the form of laboratory reports, written by Charlie on his own behalf.
JOIN OUR LEARNING HUB
One-stop solution for all your homework needs. Get the job done.

✅ AI Essay Writer ✅ AI Detector ✅ Plagiarism checker ✅ Paraphraser
Charlie Gordon is a mentally-disabled 32 year-old cleaner in a bakery. His IQ rate is 68, and because of this, he had a difficult childhood (and as he later realized, his entire life). His mother, who desperately wanted him to be as smart as regular kids, regularly beat him whenever he did not meet her expectations, or when he displayed any interest in his younger sister. Finally, Charlie's father, in order to save him from ever increasing assaults, was forced to take the boy away from home, and left him in the care of Mr. Donner—a bakery owner.
Workers in the bakery laugh at Charlie and bully him because of his low intelligence, but he did not understand it, and thought that they were laughing at him because they like him. He attends the Beekman College Center for Retarded Adults—his dream is to become smarter, which, in his understanding, meant to be able to read and write. Once he got the chance, because of his exceptional will to study, his teacher Alice recommends Charlie to undergo an experimental brain surgery conducted by doctor Strauss and professor Nemur: two outstanding scientists who invented a way to make people smarter through surgery.
The operation is successful, and although for the first couple of days Charlie does not notice any differences, in fact he gets smarter day by day, at incredible rates. He regularly participates in laboratory tests involving Algernon—a smart mouse who had undergone the same surgery; whereas before the operation, Charlie was not able to even complete it, as the time goes on, he defeats Algernon, showing gradually increasing results.
Charlie's intelligence keeps growing even after it reached the level of a regular individual. He remembers a lot of painful details from his childhood; realizes that what he considered a friendly attitude was actually bullying and humiliation; discovering this, he realizes that people are not so smart as he believed they were. Charlie falls in love with Alice, but realizes that he cannot be with her. He reads a lot, attends university, and soon discoveres that he is smarter than professors, whom he admired and almost worshiped.
At the same time, he faces the feeling that professor Nemur and doctor Strauss do not recognize his humanity and self-sufficiency; Charlie sees that they treat him as their creation, refusing to admit that the previous, mentally-retarded Charlie Gordon was also a human individual. Nemur and Strauss take Charlie to New York to a conference for which they plan to introduce him and Algernon as proofs of their scientific theory. Charlie, however, escapes from the conference, taking Algernon with him, and hides in a rented apartment. There he meets a girl, Fay; after several dates, they have sex, and start a relationship. At the same time, Charlie continues his studies, and keeps remembering different horrible events from his past. However, in the end, he realizes that Fay is interrupting him from his research, so he decides to return to the lab.
There he learns that the results of the brain surgery he had undergone are reversible; moreover, the patients degrade at horrific rates, and end up in a mental condition even worse than before the operation. Fearing the regression, Charlie, however, accepts these facts, and aims all his intellectual power (by this time, he is undoubtedly the most intelligent person on Earth, with the IQ rate of 185) at studying this effect, which he has called "the effect of Gordon-Algernon," because Algernon has fully suffered this effect and died. Charlie buried him near the lab.
Gradually the negative changes become more and more obvious. Charlie forgets names and events, and understanding the meaning of books he enjoyed reading so recently has now become impossible for him. Desperate, he starts a relationship with Alice, but not for long—the degradation of his personality makes living with him complicated, and although for some time, he remains at the intellectual level of an average person, Alice is finally forced to leave.
Charlie ends up as a completely degraded person. At first, he returns to Donner's bakery, and then decides to go to a mental asylum. In his last report, in a P.S. he asked those who were going to read it to put flowers on Algernon's grave.
Follow us on Reddit for more insights and updates.
Related Writing Guides
There are two basic types of summaries: a reader summary, that you compose to develop a better understanding of what you have read, or a summary essay, which is written for others and is an overview of an original text. The point of writing a summary e...