Quick Overview
Languagetool, a platform that many users turn to as the best grammar checker free solution, is dedicated to proofreading your texts and identifying various types of mistakes, from grammatical to stylistic. When we tested the service, it impressed us by correcting most of the spelling, punctuation, and grammar errors, and also helping to set the word order right. Consequently, this solution earned a commendable 75/100 pts in our assessment.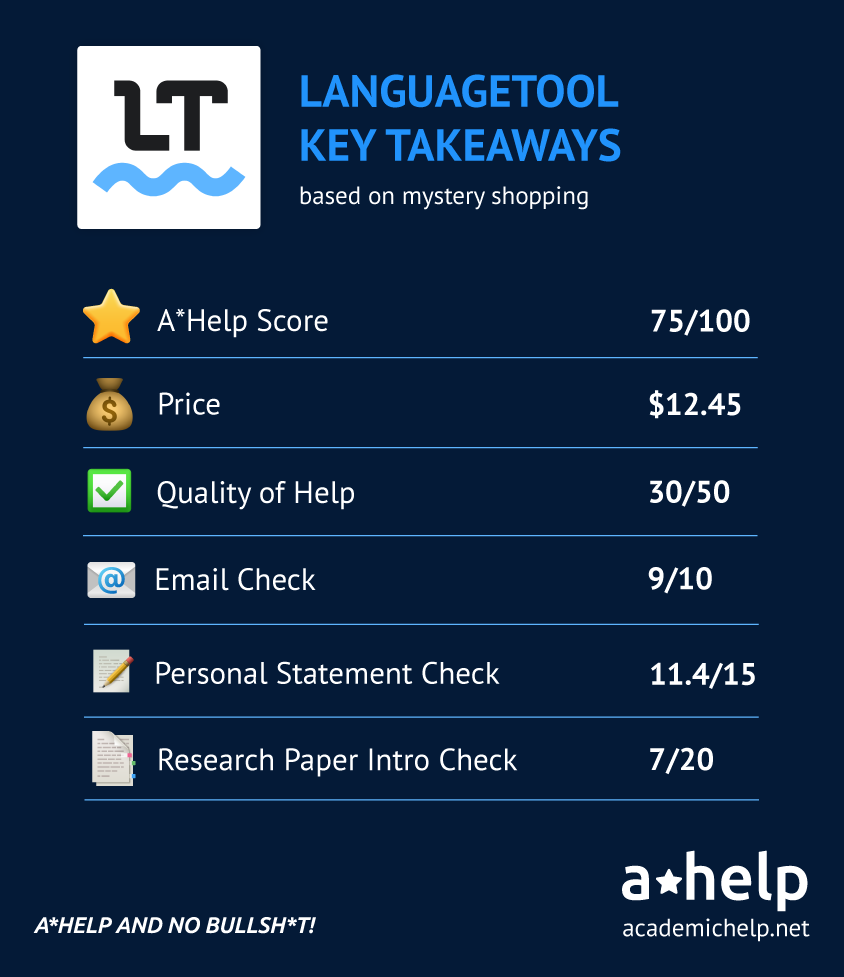 Languagetool Value For Money — 26/30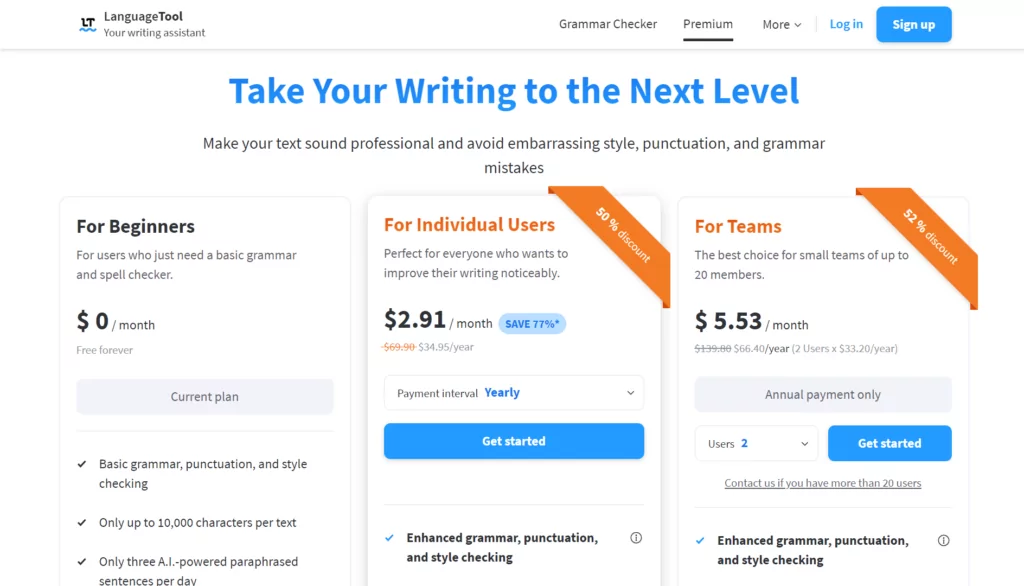 Languagetool Overall Experience — 19/20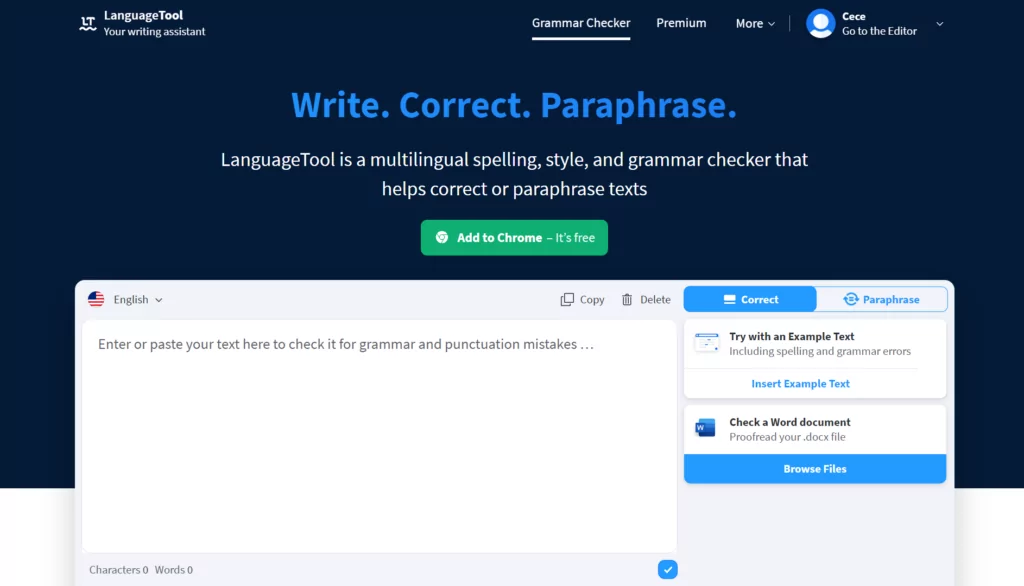 Languagetool's Quality of Help — 30/50
| | | | |
| --- | --- | --- | --- |
| | >Txt 1 – Email | >Txt 2 – Personal Statement | >Txt 3 – Research Paper Intro |
| >Grammar | 4/4 | 5/5 | 5/5 |
| >Punctuation | 5/5 | 3/3 | 3/5 |
| >Spelling | 5/6 | 4/5 | 2/5 |
| >Word Use | 2/4 | 3/6 | 0/15 |
| >Word Order | 1/1 | 1/2 | 1/2 |
| >General Mistake Correction Score | 17/20 | 16/21 | 11/32 |
Languagetool's Main Specs
>Supported languages
English, Spanish, German, French & others
>Features
Grammar
✅
Spelling
✅
Punctuation
✅
Words/Sentence suggestions
✅
+style & own dictionary
>Possible extra services
Translation
❌
Rephrasing
✅
Wordcount
✅
>Free use & Wordcount Limites
Free use
✅
with limits
Wordcount
10000 characters
>Subscription
Needed
❌
Plans
Individual – $12.45 / month
Teams – $ 5.53 / month/ 2 users
+Annual, Quarterly and Every-2-year subscription
>Registration
Need to create an account
❌
Email for registration
✅
Third-party registration (Google, Facebook, Apple)
✅
>Website Experience
Easy-to-use platform
✅
Aesthetic Interface
✅
Irritating ads
❌
>Support
Contact center
✅
Email, live chat, contact form, phone, WhatsApp
✅
Email
Guide
✅
>Document Upload
Docx/doc files
✅
Pdf files
❌
Word
✅
>Access
Apps
✅
Browser Extension
✅
>Checking process
Underlines each mistake
✅
Underlines incorrect sentences
✅
Option to correct all mistakes at once
❌
Shows the general grammar score
✅
Underlines mistakes that are not there
✅
FAQ
Languagetool Reviews
Our commitment remains to offer transparent and comprehensive information about diverse online platforms. With that intent, we thoroughly researched various platforms, such as Trustpilot, Reviews.io, Sitejabber, and Reddit, to analyze the users' perceptions of reviewed tools. Both positive and critical comments contribute to our overall understanding of the platform and its potential pitfalls.
Is Languagetool a Scam?
No, Languagetool isn't a scam. After a detailed review, we can confirm that its grammar and spell-checking features operate not only as promised but with a high quality as well.
Is Languagetool Legit?
Certainly. Languagetool has firmly established itself in the online space over time. Given its growing community trust and our own evaluations, we can vouch for its authenticity and efficiency.
Is Languagetool Safe?
During our assessment of Languagetool, it stood out that users don't need to share sensitive personal information or create an account to use its basic features, ensuring a user-friendly and safe experience. We believe it's a secure platform for grammar checks.
Is Languagetool Trustworthy?
We put Languagetool to the test and found it is a great platform for identification of grammar, punctuation, and spelling issues. It presented us with a high checking quality earning our trust, that's why we can call it a reliable solution.
Is Languagetool a Good Service?
Our A*Help team used Languagetool on 3 different texts and it showed more than satisfactory results correcting a fair share of presented errors. Taking into account its convenience as well as the opportunity for free use, we confirm that Languagetool is a good service. It deserves its 75/100 A*Help score.
Follow us on Reddit for more insights and updates.