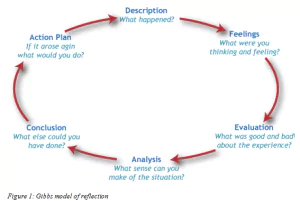 In a reflective essay, you need to express your thoughts and emotions about certain events or phenomena. Writing this type of essay provides solid training to sharpen your critical thinking skills, as well as your ability to develop and express opinions on a particular topic—either chosen by yourself or assigned by your instructor.

Feeling stuck with
how to write a reflective essay
? Check this
TOP-10 list
of websites where you can get professional help and guidance
AcademicHelp Learning Hub
Use the most powerful academic tools to write better with AI, check for plagiarism and detect AI content!
Reflective essays are a unique form of writing that invites you to traverse your personal growth and experiences, and imbibe lessons from them. The goal is not just to narrate, but to explore the reflective process that sparks self-discovery and emotional growth. With their diary entry-like structure, these essays are a powerful tool for introspective analysis and critical thinking. Let's delve into the art of reflective writing and its different facets.
What is a Reflective Essay?
A reflective essay is a personal piece of writing that allows you to express your thoughts, life experiences, and learning experiences through a personal journey. Unlike other forms of essays, it demands a reflective posture, an introspective stance that permits self-reflection and encourages the development of reflective skills like problem-solving, analytical, and critical thinking. As you undergo this reflective process, you may notice a reflective impact in your personal transformation and behavioral changes, underlining the significance of self-awareness in your journey.
The Writing Process of a Reflective Essay
The writing process of a reflective essay is akin to planning a journey of self-discovery. Before you embark, you need to understand your destination. What is the purpose of your essay? What personal experiences and emotions do you wish to explore? Once you have these in mind, you can start planning your essay writing.
When writing, maintain a reflective posture, allowing introspective analysis and critical thinking to guide your words. This reflective thinking, a blend of introspection, self-examination, and critical reflection, will ensure your reflective content remains coherent, systematic, and well-structured.
Personal Growth through Reflective Writing
Writing a reflective essay can lead to substantial personal growth. By analyzing your emotional growth, development, and self-discovery, you're forced to confront your feelings and thoughts, leading to potential changes and personal transformation. It's a journey of self-awareness, a reflective impact that shapes you as an individual.
Reflective Structure: Crafting Your Narrative
The reflective structure of your essay is paramount to creating a coherent and engaging narrative. Ensure that your essay has a clear introduction, body, and conclusion. The introduction should present the topic and provide an overview of what will be discussed. The body should be the heart of your reflective content, filled with personal reflection, self-analysis, and introspective writing. The conclusion should summarize the reflective experience, the learning outcomes, and the lessons learned.
Reflective Learning: The Takeaways
Reflective essays are not just about narrating an event; they're about reflective learning – knowledge acquisition from personal experiences. As you recount your personal journey, remember to highlight the learning outcomes and the lessons learned. Reflective skills like problem-solving and critical thinking can play a key role in this process.
The Impact of Reflective Writing
Reflective writing can have a profound reflective impact. It can lead to behavioral changes, self-awareness, and personal transformation. By delving into your reflective process – the self-reflection, analysis, and evaluation – you can discover how your experiences have shaped you and how you've grown from them.
Choosing a Topic for Your Reflective Essay
Choosing the right topic is the first step in the reflective process. Your reflective essay topic should be a personal experience that resonates with you and has had a significant reflective impact on your life. It could be a life-altering event, a learning experience, or a personal journey. Think about events that have led to emotional growth and development or those that sparked self-discovery. These are excellent starting points for your reflective content.
Reflective Posture: Maintaining an Introspective Stance
Having a reflective posture is crucial in writing an effective reflective essay. This means maintaining an introspective analysis and critical thinking approach throughout your writing. This posture encourages self-reflection and promotes a deeper understanding of your experiences. It also fosters the development of reflective skills such as problem-solving, critical thinking, and analytical abilities.
Reflective Structure: Organizing Your Thoughts
Next, you should focus on the reflective structure of your essay. A well-structured essay is coherent, systematic, and easy to follow. An effective reflective structure typically includes an introduction where you introduce your topic and set the tone for the rest of the essay, a body where you delve into your reflective experience and share your introspective writing, and a conclusion that summarizes your personal reflection, the lessons learned, and your overall reflective learning.
Writing the Reflective Content
The reflective content of your essay is where you share your personal reflections and self-analysis. This is the heart of your essay. Here, you recount your reflective experience, share your introspective writing, and discuss the lessons you've learned. It's crucial to remain honest and open in this section. Let your emotions, thoughts, and insights flow freely. Remember, the goal is not just to share an experience but to explore the reflective process that led to personal growth and self-discovery.
Reflective Learning: Extracting Lessons
One of the most important aspects of a reflective essay is reflective learning. This is where you highlight the knowledge you've gained, the learning outcomes from your experiences, and the lessons learned. Reflective learning involves a deep examination of your experiences, an analysis of your reactions, and an evaluation of the outcomes. It's about extracting lessons from your experiences and using them for future growth.
Reflective Skills: Applying Critical Thinking
Reflective skills play a vital role in writing an effective reflective essay. These skills include problem-solving, critical thinking, and analytical abilities. They enable you to delve deeper into your experiences, analyze them, and draw valuable insights. These skills are crucial for the reflective process and can significantly enhance the quality of your reflective content.
Reflective Impact: Understanding the Transformation
Finally, consider the reflective impact of your essay. Reflective writing can lead to personal transformation and behavioral changes, as well as a deeper level of self-awareness. Reflect on how your experiences have impacted you and how they've contributed to your growth and development. Highlight these changes and transformations in your essay to give your readers a complete picture of your reflective journey.
Steps for Writing a Reflective Essay
Think of an event which could become the topic of your essay. When you have chosen an event, ask yourself how you feel about it, how it affected (or did not affect) your life and why? This will help you create a thesis, which will serve as the focal point of your essay.
Make a mind-map. Write down your thesis and draw a circle around it. Now identify your main arguments and ideas which will support it and help readers follow the evolution of your thoughts and experiences, group them into paragraphs which you will write later, and connect them to your central circle. Creating this type of flow diagram will help you see the overall structure of your essay more clearly. Finally, decide on the logical sequence of these paragraphs and order them accordingly.
Write a strong opening paragraph. Your introduction must be eye-catching, so the readers become engaged immediately.
State your supporting arguments, ideas, and examples in the body paragraphs. Emphasize only one point or experience, as well as reflections on it, within each paragraph.
In the first sentence of the conclusion, briefly summarize your thoughts. Think about what you have learned and how your experience might be useful to others. Finish your essay with a rhetorical question to your readers about how they might act in a similar situation. Alternatively, ask them to think about a related topic on their own.
Reflective Essay Topics
Since writing a reflective essay supposes you will write about a personal experience, you can choose whatever event you like. It is almost like a diary, where you write down your thoughts about a significant happening in your life. It can be about reading a special book, a difficult situation you faced, a person you encountered—the main point is to state your opinion. For example, you can write about:
A conversation when you became very angry.
A time when you were disappointed or discouraged by something someone said.
Watching the ocean with your feet buried in the sand.
Looking at a sunset.
Your room growing up, or your bedroom now.
The town where you grew up.
Holidays like Christmas, Easter, Thanksgiving, Valentines, 4th of July, Chinese New Year, Cinco de Mayo, or St. Patrick's Day.
Visiting a museum or zoo.
Have I changed because of this? How? Is this good or bad?
In what way was this a turning point for me?
A trip to an exotic place.
A situation involving a human rights infringement in some distant country.
A book you have recently read.
The solving of a difficult problem.
A successfully completed research project.
These are not the only options. Many more other themes could be described in a reflective essay. If you refer to the essay writing service reviews, you will find platforms with examples of similar works. You can start gaining your inspiration on the topic from there.
Key Points to Consider
Your introductory paragraph could give a hint about the conclusions in your essay. For example, it could state: "When I first saw a desert with my own eyes, I thought it is was possibly the most lifeless place in the world. However, as I studied it in more detail, I found my surroundings were not quite so desolate as I had imagined."
Since a reflective essay is particularly based on personal experience, it is acceptable to use the personal pronoun "I."
Usage of one or more quotations in the introduction can make your writing more authoritative.
In most reflective essays, apart from describing what went right, you may also describe what went wrong, or how an experience could have been improved.
Do and Don't
Do

 

Do write your ideas in a descriptive manner. Your thoughts must be stated clearly, so your readers understand exactly what you wanted to say.
Do remember: despite your essay being of a reflective type, it is still an academic paper, so try to keep it as formal as possible.
Do follow the classical structure: an introduction, main body paragraphs, and a conclusion.
Do keep in mind: you should write your essay basing it not only on a personal experience, but also using some factual material.

Don't

 

Don't be too personal. Despite the fact a reflective essay is based on personal experience, remember you are writing an academic essay, not a letter to a friend.
Don't try to cram all your experiences into one essay; choose the most important and significant moments.
Don't try to write everything at once. Compose a mind-map and create an outline which gives a clear direction to your writing.
Don't make your essay a free-flowing analysis, including all your unstructured thoughts, insights, and ideas. Sort your ideas in a logical order.
Common Mistakes When Writing a Reflective Essay
– The inclusion of too much personal information in your essay. Remember: your main goal is to state your opinion and analyze a certain issue, referring to some of your past experiences and reflecting on them—not to write your autobiography.
– Ignoring the structure of an essay. This results in a disorganized, incoherent text which the reader will find difficult to comprehend.
– Being too informal. When writing a reflective essay, keep a formal tone in mind.
Since you have acquainted yourself with the basic analysis essay writing tips and rules, you can check out our reflective essay samples to link theory with practice.
To summarize, writing a reflective essay is a personal and introspective journey, one that requires reflective thinking, a suitable reflective structure, and deep reflective content. As you go through this process, remember to focus on your personal growth, the lessons you've learned, and the transformative reflective impact of your narrative. With practice and dedication, you can master the art of reflective writing and use it as a tool for self-discovery and personal development.
Follow us on Reddit for more insights and updates.
Samples for Reflectice Essay: One?
By Johannes Helmold On one hand, teamwork is glorified, and on the other hand, it is dismissed as insignificant. I think that each issue calls for original thought concerning the effectiveness of solutions. Teamwork is commonly used to solve a certa...