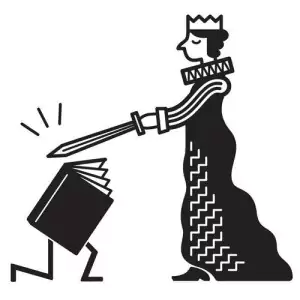 AcademicHelp Learning Hub
Use the most powerful academic tools to write better with AI, check for plagiarism and detect AI content!
A book review is a type of review that provides a short description of a book and includes the author's opinion about it. A book review can be formal or informal. Similar to other academic writing assignments, a scholarly book review should definitely use formal language.
Steps for Writing a Book Review
Choose a book to review if you were not assigned one by your instructor. Make sure the book is not too long and is interesting to you. Avoid being caught up in a conflict of interests by not choosing a book written by your current or recent instructor, friend or relative. There should be no subjective factors influencing your objectivity.
First read the book from cover-to-cover. Make notes of your impressions and expectations as you proceed.
Read the book for the second time, highlighting distinctive quotes or significant passages you can later use in your review as examples.
Get acquainted with the major critics' opinion on the book. It is not a sound idea to start from this stage, but it is crucial to be aware of what has already been said about the book you are reviewing. The best time to acquaint yourself with the general reception to the book is after you have formed your own opinion about it.
Write an introduction, noting down basic information about the book. Here you can mention some background about the author, what inspired them to write this book, and any interesting facts about when the book was written or published, etc. Ensure you identify the main theme of the book, give a brief outline of the plot of the story, and indicate what type of book it is and for what audience it is generally meant for.
Write the main body. Name the main characters, characterize their personalities, summarize the story in time-sequence, and include general comments about it.
Write a conclusion in which you include your recommendations about whether the book is worth reading or not, and who will most likely enjoy it the most. Make sure to provide the rationale to support your opinion.
Topic Selection
When choosing a book to review, mind that it is better to select books that are renowned or seen as useful; the best would be to pick a novel from American and foreign classical literature, a book on popular psychology, a biography of a famous personality, or a practical guide. Before making a final decision to write a review on the chosen book, make sure you can comprehend it, and that you have enough time to process the information from it. If you are short on time and the topic of your review is Tolstoy's War and Peace, most likely you will fail with your task.
If your teacher didn't assign you a specific book to review, you might also want to refer to your favorite books to see if some of them could be written about.
Key Points to Consider
Reviews are normally written in the present tense. But if you decide to write it in the past tense, be consistent in your use of tenses throughout the review. When you talk about events described in the book, use the past perfect tense and when you talk about your impressions about the book, use the past simple tense.
Structure the main body of your review properly. The best way is to first summarize the plot of the story in one or two paragraphs and then provide general comments about it. Make sure not to tell the story in full. Keep in mind that your readers are potentially interested in reading the book after they acquaint themselves with your review.
Examine the text of the book. Make sure to analyze the language that the writer uses, and give specific examples of certain stylistic tools. A successful book review goes beyond just mere analysis of the story, but should also include an assessment of its characteristics.
Do a little research about the author, their other works, the inspiration for this particular book, the story behind it, etc.
If you started working on your text already, but don't have much time left to finish, stay calm. No need to worry as you can use some help of a fast essay writing service and have your book review right on time.If you started working on your text already, but don't have much time left to finish, stay calm. No need to worry as you can use some help from a fast essay writer service and have your book review right on time.
Do and Don't
Do

Do use specific adjectives and adverbs to indicate your personal opinion about the book, or its plot. Words like informative, beautifully written, engaging, fascinating will tell the reader what your opinion about the book is without any additional preamble.
Do comment on the book, its plot, and characters throughout your review.
Do be objective in your reasoning and opinions. The best way to achieve this is by ensuring that you provide valid argumentation for any opinion you express.
Do paraphrase when summing up the plot of the book you are reviewing.
Do include other critics' opinions about the book, even if you do not support them.
Do proofread your writing once the review is completed.
Do be clear and precise when expressing your recommendations. You either recommend the book or you do not. Your conclusion must always be transparent.

Don't

Don't base your review on other reviews of this book. It is crucial that you actually read the book and form your own opinion about it.
Don't be afraid to express your opinion openly, even if it is a negative one or if it does not concur with the opinion of other critics. You have every right not to agree with their opinion, as long as you can support your point of view with appropriate reasoning.
Don't try to be neutral or use only general phrases. A book review is supposed to be critical, so the more unique your review is, the better.
Don't be flat and "point-blank" in your criticism. Every book has its strong and weak sides, so stating that everything is just black or white is not a appropriate approach to writing a book review.
Common Mistakes
Making points that are mere opinions. A sound scholarly book review is aimed at being objective and supported by thorough reasoning.
Using informal language, conversational phrases, and slang. Make sure your language is formal and academically correct.
Neglecting to identify basic information about the book: the author, the publisher, the date of publication, and the edition.
Not taking into consideration the audience that the author has targeted as the primary reader for his or her book. It might appear that the book seems boring or unrealistic or too general to you, but you have to consider the main audience for which this book is intended and analyze this audience's preferences.
Reading the book selectively: just some chapters or summary. Remember, you cannot write a book review unless you have read the book cover-to-cover!
Including long quotations from the book is also a bad idea. If you read the entire book, you should not have a problem summarizing it.
Now that you have acquainted yourself with the basic book review writing tips and rules, you can check out our book review samples to link theory with practice.
Follow us on Reddit for more insights and updates.
Samples for Writing a Book Review
I love science fiction. My first science-fiction novel was Ray Bradbury's "451 Fahrenheit," and it is still one of my favorites. I started with the classics: Isaac Asimov, Arthur Clarke, Philip K. Dick, Ursula Le Guin–and gradually moved to modern ...
Textbook Info: Andersen, Margaret L., and Howard, Francis T. ...