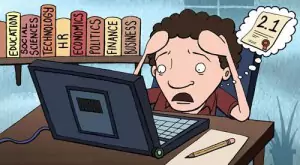 Academic coursework proves to examiners that students have understood what they have learned in a course or an entire school year. It is assigned to students when they enroll in a degree or diploma program, and it is usually calculated as part of the grade achieved in a course.
AcademicHelp Learning Hub
Use the most powerful academic tools to write better with AI, check for plagiarism and detect AI content!
There are elements of coursework that resemble or are constructed to run along the lines of laboratory work, other kinds of experimental work such as polls, surveys, and other observational studies, or can include scientific research in subjects such as the sciences, where it is difficult to prove the coverage of material through exams.
Steps to Carry out Successful Coursework
Carefully select a topic and decide on the goal of your coursework. Make sure you understand all the requirements of your coursework, as well as the topic itself. When choosing your topic, try adhering to the rule of the golden middle: choose a topic that is not too hackneyed (because writing coursework on the same topic everyone does is pointless), but which is also not too specialized and under-researched (because you will need sources, and it is better that you are able to find them easily). Narrow the topic down, if it is possible—make sure there is only one way to understand it, and that it articulates your subject in a clear way.
Consult with your teachers, especially with the teacher who is supervising your coursework. Ask his or her opinion on the topic you have chosen and for some possible advice on how to narrow or improve it. Teachers may give you a hint on whether your topic is promising and perspective, where to start your research from, what difficulties you may encounter, and so on.
After you have decided on the topic and your goal, create an approximate plan of your coursework's structure. Different colleges and universities may have different requirements for coursework structure and contents, so you should figure it out before you begin the process of planning. It is not final yet, and later you will correct it, but at this point you need this plan to have a point to start from.
Decide on research methods. Depending on your topic, methods may include experiments, observations, polls, comparisons, analysis, and so on, along with standard methods such as studying resources on the subject. Check these methods with your supervising teacher.
Figure out where you can find all the needed information, gather the equipment necessary for your research methods, and do the research. While researching, make sure to take notes. Also, check your coursework structure plan and make corrections, if needed. Your notes should be easy to read and navigate.
Based on your structure plan and your research materials, create an outline of your coursework. Basically, an outline is a more detailed version of a structure plan. After you create it, craft the first draft of your coursework.
Keep working on your draft unless you make it look like a final copy. Consult with your supervising teacher as often as possible.
Before submitting your coursework, make sure to proofread and edit it. Also, you should check all the data in it for accuracy, consistency, and credibility.
Topic Selection
Proper topic selection accounts for a large portion of your academic coursework—therefore it is important to make a reasonable and balanced choice. There are several ways to pick a suitable topic. Sometimes a consultation with a tutor may help you narrow down your subject to a certain topic. However, it might happen that you will need to decide on your own. To do so, move from universals to particulars. Brainstorming and mind-mapping techniques will help you.
Define the field for your future research; say it is American literature—then decide on a school: romanticism, realism, decadency, Beat, and so on. For example, you can choose Beat literature, and one of its brightest representatives, Jack Kerouac. Keep on narrowing the subject down: choose one of his novels—let it be "On the Road." Now, think over problems, characters, events, and relationships described in the novel. After you have finished with all the procedures as previously stated, your topic for the coursework on American literature might sound like, "The Personality of Dean Moriarty as Freedom Personified by Jack Kerouac."
And finally, remember, that successful academic coursework can be written only successfully if the topic is of interest to you.
Key Points to Consider
The research phase is crucial for any coursework. Anytime you feel like making a shortcut or try to skip this phase and get down to writing, do not do this. On the contrary, you should aim to gather as much data from different resources as you can; this includes books, journals, websites, results of experiments, and so on. Therefore, you should dedicate about 60% of your time to researching.
The content of your coursework should be based on accurate, relevant, and credible information. All the data you use in your coursework should be aimed at proving your research hypothesis, or thesis statement, and the paper itself should be a deep analysis of the topic.
Usually, students procrastinate as long as possible, and rush into writing coursework in the last week or two before the due date. Perhaps, this is one of the reasons why there are usually so many mistakes and typos in coursework. Sometimes, typos and inattentiveness can become reasons for you completely negating the whole argument of your paper. So, to be on the safe side, make sure to reread your paper before you submit it; also, use MS Word, Google Docs, or other similar text-processing software to be able to notice mistakes easier.
Make sure your coursework is easy to read and to comprehend. Use subheadings: they are a good way to mark semantic transitions within the text. They also break the text into smaller chunks, making it more reader-friendly. Use transition words to clearly show how the ideas, arguments, and evidence in your work are connected. Mind the length and structure of your sentences; long, complicated sentences are harder to understand, but short sentences do not let you fully convey your thought. Also, you should make sure the words you are using are precise and accurate, and that you fully understand their meaning.
Dos and Don'ts
Dos

Create a backup copy of your research materials, and all the work you have done. Writing coursework is a lengthy process, and during this period you can never be sure that your computer will not glitch, or something else might happen.
Make sure that all the resources you have used while writing your coursework are cited properly. It is crucial that your coursework is free from any (even unintentional) plagiarism.
Avoid generalizations, simplifications, and broad statements. You do not need to be excessively scientific, but make sure you do not try to simplify what is not needed to be simplified.
Try to finish your final copy of your coursework a little bit prior to the due date. This way, if your supervising teacher finds some serious drawbacks that needs to be corrected, you will have enough time to fix them.

Don'ts

Leave your topic the same way as it came to your head. Always check whether it is possible to narrow a topic down, because if it is ambiguous or unclear, writing coursework will be much more difficult for you.
Use slang words, jargon, and contractions such as "don't," ain't," "gonna," and so on. The language of your coursework must be scientific and official.
Introduce fresh ideas in the final summary. All ideas and concepts must be presented in a logical order in the body paragraphs within the dissertation, elaborating on and fully expanding on the research material from the coursework.
Make unqualified statements without the judicious support of referenced data and quotations. Although something may seem so obvious, still provide supporting evidence to the claims you make.
Common Mistakes
Not allocating enough time for research. Although this is the most crucial step of writing coursework, many students tend to try to shortcut it and get down directly to writing.
Not proofreading or editing enough. This is important, because sometimes the cost for making a mistake is too high. Overlook a simple "not" in the concluding and summarizing part of your coursework, and your entire argumentation may be denied or ruined.
Submitting your coursework exactly on the due date. This way, students often deprive themselves of time they could use to double-check the paper and correct the mistakes.
Missed citations, improper formatting, gullible statements, excessive simplification (or, on the contrary, complication) of the text.
Not making the text reader-friendly.
Now that you have acquainted yourself with the basic academic coursework writing tips and rules, you can check out our academic coursework samples to link theory with practice.
Follow us on Reddit for more insights and updates.
Samples for Coursework Writing Tips
By Johannes Helmold When we think about what the word "advertisement," we commonly associate it with logos, brand names, slogans, and persuasive messages. Traditional advertising is built around these notions since its main purpose is to send a direct...