Starting to write a new paper can be unexpectedly challenging, even though most students have been doing it for years. It's not just about placing words on paper or typing them into a document; it's about articulating thoughts clearly, structuring arguments, and finding your unique voice. Many students, grappled with writer's block, struggle to translate their buzzing thoughts into coherent sentences. Furthermore, with the vast amount of information available, determining credible sources and referencing them correctly adds another layer of complexity to the picture. And let's not forget the pressure of deadlines! Fortunately, in today's digital age, there are many services that can help streamline the writing process. Tools like ChatGPT and Jasper are becoming invaluable for many students in battling their assignments.
The main difference between Jasper AI and ChatGPT is that the first is a pricier platform, mostly tailored to business, but still can be used to create various texts. ChatGPT, on the other hand, is more affordable and is a better fit for students who need help with academic writing.
ChatGPT is a language model-based chatbot that became popular in the winter of 2023. It witnessed a few modifications over time, enhancing the quality of text generation and reaction to complex prompts. Many users praised its versatility and ability to handle diverse queries.
Jasper.ai, on the other hand, has been in the business as an AI tool since 2021. It was previously known as Jarvis and focused on catering to business needs and content creation in particular. It has also much transformed over the years, benefiting from the development of AI technologies such as ChatGPT itself.
We decided to put both services to the test and compare how well these platforms can handle writing a simple academic essay.
ChatGPT
Jasper
Best fit for
Students who need an affordable and multipurpose AI text generator
Students who need quality text and value a variety of text creation options
A*Help Score
⭐⭐⭐⭐
77.1/100
⭐⭐⭐⭐
75.7/100
Paper Quality
⭐⭐⭐⭐
The essay we got from ChatGPT was graded 88.9/100 pts and showed flawless spelling, good acuity and objectivity and only lacked in efficiency.
⭐⭐⭐⭐
Jasper's essay got graded 82.1/100 pts and had excellent grammar, but scored low in efficiency and objectivity
Overall Experience
⭐⭐⭐⭐
ChatGPT was simple in its use and offered quick text generation with no limits
⭐⭐⭐⭐
Jasper offered quick and limitless text generation, as well as ensured a simple website use
Value for Money
⭐⭐⭐
With ChatGPT we could rephrase, rewrite, and summarize our text, and find references, all just for $20/month
⭐⭐⭐
Jasper had a 7-day free trial and offered different text creation options, but still was rather expensive and with limited services
Visit website
Quick Overview
ChatGPT and Jasper.ai are platforms powered by AI-technologies that are mostly used as helping tools for writing purposes. During our mystery shopping, we found that ChatGPT is a more affordable option, that comes at $20/month and offers high text quality and a variety of options to work with your writing. Jasper.ai, on the other hand, is a bit pricier with a monthly plan of $49 but, aside from text creation, also offers plagiarism and grammar-checking opportunities. Still, at the end of the full comparison, ChatGPT beat Jasper by 1.4 points, proving to be a better pick for essay writing needs.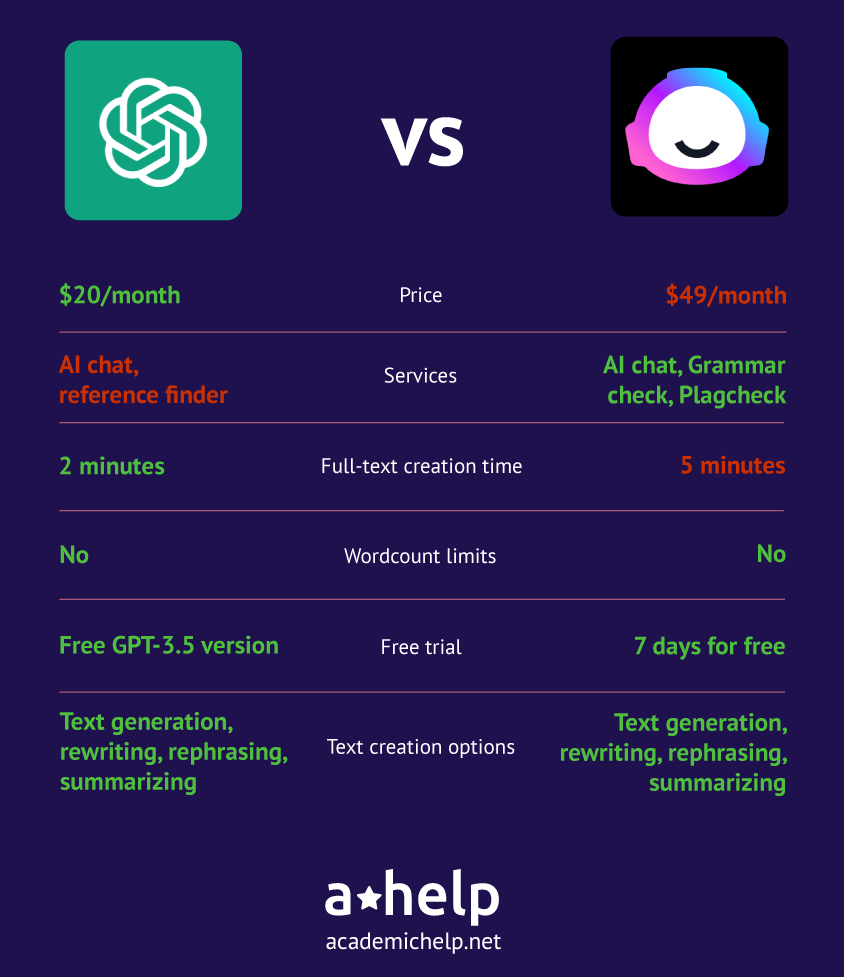 How We Tested ChatGPT and Jasper
The Academic Help team aims to do the best job for our readers. Wondering how do we evaluate the services?
We act on behalf of our readers when searching for some sort of writing help. First, we look at what other users have said online. We read these comments and take notes before diving head-first into the review. This helps our team know what to look out for when going through the mystery shopping to see if these complaints are valid. After that, we start our test.
Our team uses the platform and follows the steps a typical student would take. We then see how easy it is to use the service, how responsive customer support is, and how well can the experts help with our assignment. We know students want a service that's easy to use, meets their goals, and is affordable – it's that simple.
In order to understand a platform's efficacy, we review various criteria that lead to three core indicators of service quality: value for money, overall experience, and quality of help, evaluated by Dr. Sybil Low based on "American college standards." These components merge to form the A*Help score, a reflection of the platform's position in relation to its competitors. If you're wondering how exactly we measure the given information, check out our How We Test AI Writers guide.
Overall Experience on the Website: Jasper vs ChatGPT
When comparing two different services, most people would pay more attention to pricing plans and the quality of actual help. However, it's the user experience that plays a crucial part in whether the customer stays for long. So, let's dive in and explore how easy-to-use and convenient both Jasper and ChatGPT are.
The registration process is your first obstacle on the way to getting that essay written. Both ChatGPT and Jasper have an extremely simple signup process that doesn't require a phone number. The option to register using third-party websites such as Apple, Google, Facebook, etc. is available on both websites. Apart from that, both services have an aesthetic platform with a simple essay-creation process. However, you can't try either ChatGPT or Jasper before registering there.
It's truly difficult to draw a fine line between ChatGPT and Jasper since both platforms put a lot of effort into making themselves stand out among other competitors. The same goes for the support options available there because users can read a dedicated FAQ section or contact customer support through a chatbot (ChatGPT) and an email (Jasper). Both AI writers offer a variety of credit and debit cards as payment options, but neither has wallets like GooglePay or PayPal as available methods.
The thing the majority of users are intrigued to hear – text generation time. We have to give kudos to ChatGPT in this because it takes only a minute or less to create a 500-word personal essay, whereas Jasper might take a little longer and finish the task in 3-5 minutes. Yep, the difference is not that dramatic, but it still makes the workflow more noticeably efficient.
In general, user experience is quite high on both services. So high, in fact, that ChatGPT and Jarvis received 21/25 pts on the A*Help score and are going neck and neck in our quest to determine a better AI writer between the two.
Comparing Main Features: Chat GPT vs Jasper
Next on our checklist is the cost-efficiency of each platform. This aspect is crucial because most learners are on the lookout for the best deal without compromising on quality. The A*Help team understands this concern, and that's why we invest our efforts in evaluating the cost-benefit ratio of every platform. So, let's make sure you don't break the bank and choose the service that can fit your needs better. Below you will find a table comparing the subscriptions.
Price
Subscriptions
ChatGPT
Jasper
Daily plan
❌
❌
Monthly Plan
$20/month
Creator – $49/month, Teams – $125/month,
Business – Custom pricing
Annual Billing
❌
Creator – $39/month,
Teams – $99/month, Business – custom
Free Trial
✅
free GPT-3.5 version
✅
7-day free trial
As we can see, neither of the sites offers daily or weekly options. However, Jasper does provide its users with monthly and yearly subscriptions that vary based on your particular preferences. You can pick a slightly different plan whether you're using it yourself or in collaboration with your co-workers. Nevertheless, we have to stress the fact that Jasper is much tighter on the budget. ChatGPT does offer fewer options (one, in fact) and just for $20, but you can't customize it much.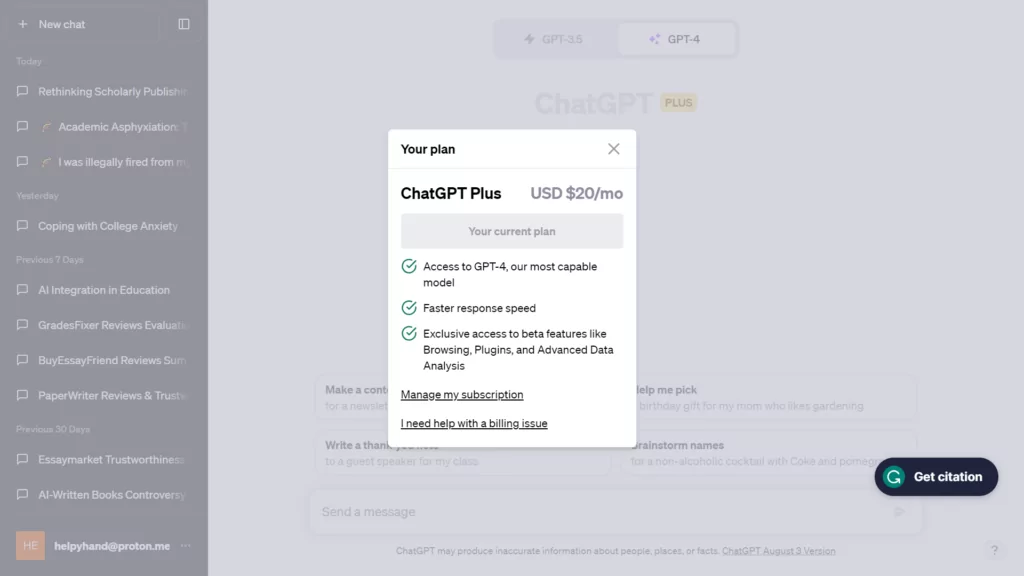 Jasper offers a free trial for those users who want to test the platforms out before submitting to it fully. ChatGPT has a version that you can use with no time limits, but Jasper only provides a trial for 7 days. Moreover, Jasper has a browser extension which makes it much easier to utilize its features.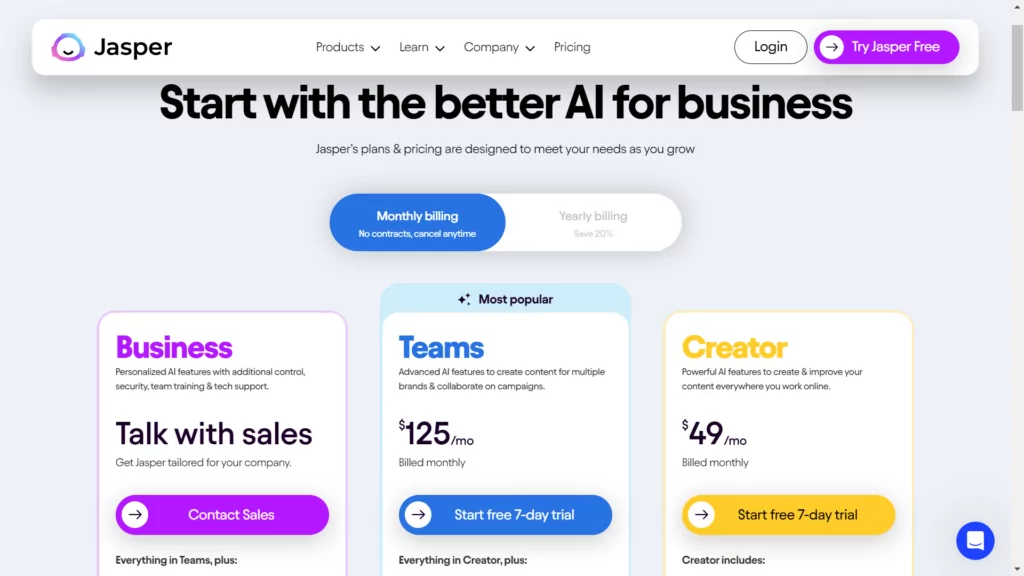 And now, the actual services coming up! In the end, this is what people come here for. Both platforms tick off every box on our list and provide students with generation, rewriting, rephrasing, and summarizing options. This is essential for users to have an improved text creation flow and be able to swiftly work with AI output. However, when talking about more academia-aimed content, the services are a bit lacking. As you can see below, both ChatGPT and Jasper provide an AI chat. Jasper also has grammar check and plagcheck options, but that's about it.
| | | |
| --- | --- | --- |
| | ChatGPT | Jasper |
| AI chat | ✅ | ✅ |
| Research assistant | ❌ | ❌ |
| In-text citations | ❌ | ❌ |
| Reference finder | ✅ | ❌ |
| MLA and APA Citations | ❌ | ❌ |
| Grammar check | ❌ | ✅ |
| Plagcheck | ❌ | ✅ |
When talking about citations and research assistance, Jasper and ChatGPT can't really help students. Although ChatGPT does have a reference finder, it doesn't even nearly cover the main academic needs. But don't get discouraged, if you figure out how to navigate through the prompts on both services, you will be able to get some fitting responses.
All in all, after comparing value for money on both Jasper and ChatGPT, we can confidently say that the first service got 17/25 pts and the second 16/25 pts, meaning ChatGPT was a little lacking. However, both services are still fighting for the winning title. The question still stands: is ChatGPT or Jarvis better?
Jasper vs Chatgpt: Which is Best for Essay Writing?
Here comes the most exciting part – the essay itself. When evaluating services for our reviews, the A*Help team always conducts a mystery shopping experience based on a real-life scenario. Here the deal was the same – we asked both services to write a 500-word personal narrative essay. What did we get?
For the assignment, we tasked both services with composing a personal narrative essay that depicts an instance or event that demonstrates gratitude. The narrative should be a minimum of 550 words and have MLA formatting, with the descriptive thesis statement underlined and no secondary sources required.
| | | |
| --- | --- | --- |
| | ChatGPT | Jasper |
| Paper Grade | 88.9/100 pts | 82.1/100 pts |
| Spelling | 100% | 97% |
| Grammar | 86% | 100% |
| Word Choice | 82% | 96% |
| Punctuation | 96% | 92% |
| Clarity | 89% | 96% |
| Objectivity | 94% | 51% |
| Efficiency | 51% | 51% |
| Acuity | 82% | 51% |
| Word count | 646 words | 544 words |
If you want to delve deeper into the precise scores given to us after Dr. Sybil Low's evaluation, you can find a dedicated table above.
ChatGPT got to work immediately (well, it's an AI writer for a reason), and after about a minute delivered an essay slightly over the limit. Although there is no option to get the perfect written piece from the get-go, you can ask the AI to add references and create an outline. Slightly inconvenient, but it does the job. When it comes to the quality of writing itself, ChatGPT scored an impressive 88.9/100 pts with most points being 80% or higher. For example, spelling is rated at a whopping 100%, objectivity at 94%, and punctuation at 96%. The only department that needs proper improvement is the "efficiency" metric (51%), which is quite common for AI writing assistants.
Jesper, on the other hand, took more time to jump-start. We waited approximately 3 minutes before we got the complete essay. The creation process was relatively simple, boosted by the fact that Jasper already has a grammar check built-in. So if you want to correct any mistakes on the go, it's a very convenient option. As far as the overall score goes, Jasper did receive 82.1/100 pts which is quite high, but (spoiler alert!) not enough to beat ChatGPT. Spelling, grammar, word choice, punctuation, and clarity all got above 90%, but success quickly faded after objectivity, efficiency, and equity all got 51%. And although Jasper crossed the limit of 500 words, it's worth mentioning that ChatGPT did indeed write more. So, in comparison, Jasper was left behind, whereas ChatGPT took the lead with the difference in the quality of help being only 3 points.
No matter the results, we have to stress the fact that you shouldn't use AI writing assistants as the sole creator of your work, since the text they produce is oftentimes raw and requires proofreading, as well as a dash of personalization. They are extremely helpful tools for when you need to ease the workload a little bit, however, can't be used at all times.
Who is the Overall Winner: ChatGPT vs Jasper
What should you choose for your academic writing assistance: ChatGPT or Jasper? As we reviewed all the intricacies of working with Jasper.ai vs Chatgpt, we can say that ChatGPT presented itself as a better option. It's an affordable solution that can you provide with quality texts and help you with outline creation and finding references. So, if you are looking for a service to do all that, ChatGPT would definitely cater most to your needs.
FAQ
Is ChatGPT the same as Jasper?
No, ChatGPT is not the same as Jasper. ChatGPT is developed by OpenAI, while Jasper is a separate AI platform. They serve different functionalities, although are similar at first glance.
Is Jasper AI better than ChatGPT?
Comparing Jasper AI and ChatGPT is subjective. However, according to our mystery shopping experience, ChatGPT proved to be a slightly better option when it comes to quality essay creation.
Why is Jasper better than ChatGPT?
Jasper is better than ChatGPT only because it has grammar and plagiarism-checking tools on its platform. Other than that, our experience showed that ChatGPT is better for academic text creation.
Will ChatGPT replace Jasper AI?
It's unlikely that ChatGPT will 'replace Jasper AI, as they cater to varied user bases and have different strengths. Especially in terms of content creation, since Jasper was tailored specifically for those purposes.
Is Jasper using GPT-4?
Jasper's AI platform immediately provides users with the latest and top-performing models, including GPT-4 and many more upon their release. The system intuitively chooses the appropriate model for the task, complementing it with data from Google, SEO tools, and additional features.
Is Jasper using OpenAI?
Yes, Jasper is using OpenAI to power its text creation tools. OpenAI's language models GPT 3.5 and GPT 4 are both available for use on Jasper's platform.
Why academichelp.net is a credible source of information:
Stay curious with us. Academichelp.net has been a reliable educational resource since 2011, providing students with the latest news, assignment samples, and other valuable materials. Even with the extensive information we process, our quality remains consistent. Each team member has experience in education, allowing us to evaluate new sector offerings critically. Our reviews are up-to-date and relevant, with impartiality ensured by the A*Help score methodology from mystery shopping. We aren't affiliated with any listed service providers. Our focus remains on providing our audience with reliable and unbiased data.
Chatgpt vs Jasper: Main specs
ChatGPT
Jasper
A*Help Score
77.1/100
75.7/100
> Website experience
Aesthetic Interface
✅
✅
Easy-to-use platform
✅
✅
Simple Essay creation flow
✅
✅
Trying before registration
❌
❌
Full time to generate essay
2 minutes
5 minutes
Wordcount limits
❌
❌
> Support System
Guides
✅
✅
Support chat/phone
✅
✅
> SERVICES
AI chat
✅
✅
Research assistant
❌
❌
In-text citations
❌
❌
Reference finder
✅
❌
MLA and APA Citations
❌
❌
Grammar check
❌
✅
Plagcheck
❌
✅
> FREE TRIAL
Free trial/plan
✅
✅
Limits
GPT 3.5 is free of charge
7 days
> TEXT CREATION OPTIONS
Generate
✅
✅
Rewrite
✅
✅
Rephrase
✅
✅
Summarize
✅
✅
> TEXT SUBMISSION
Format
❌
❌
Outline
✅
can be done
✅
can be done
Structure
✅
paragraph structure
✅
paragraph structure
Formatting
❌
✅
References
✅
can be done
❌
Visit website
Follow us on Reddit for more insights and updates.