Phoenix Suns are in a bit of a bind as their season opener against Golden State Warriors approaches. The team's head coach, Frank Vogel, expressed hope that star guards, Devin Booker and Bradley Beal, would make it to the court on Tuesday. Both players took part in Monday's practice session, despite limitations in the prior practice, AZcentral reports.
JOIN OUR LEARNING HUB
One-stop solution for all your homework needs. Get the job done.

✅ AI Essay Writer ✅ AI Detector ✅ Plagiarism checker ✅ Paraphraser
Devin Booker, grappling with left big toe soreness, and Bradley Beal, dealing with low back tightness, have both been labeled as questionable for the impending game. "The situation is improving," remarked Beal during the post-practice interaction in Phoenix. He also revealed having a minor setback the previous week but is optimistic, having participated in the past couple of practice sessions.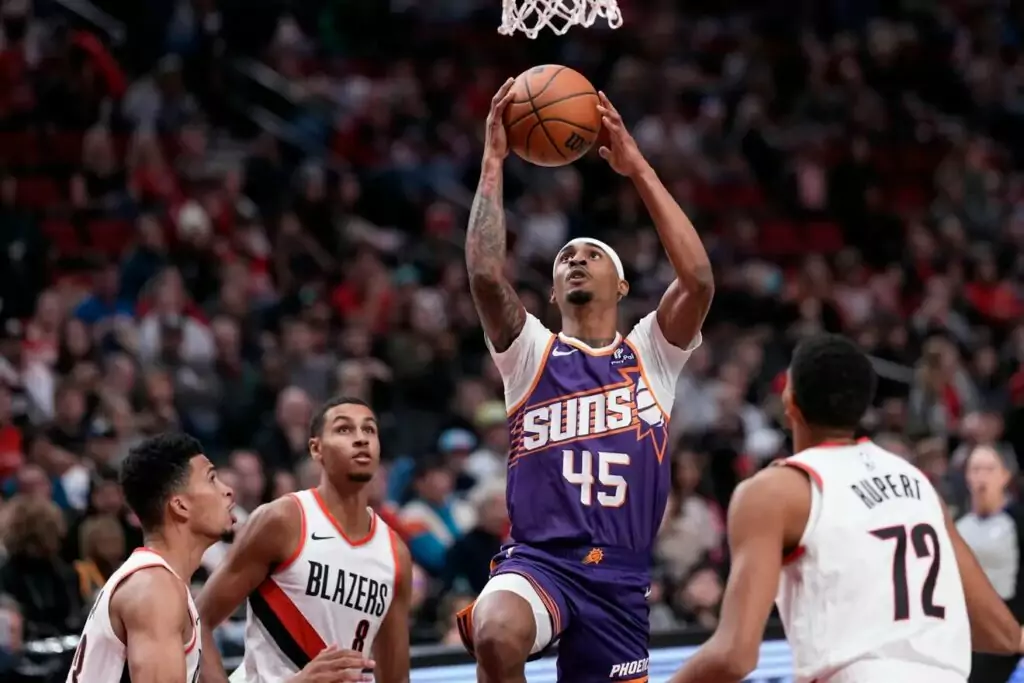 During the preseason, Booker played in three out of five games, whereas Beal appeared in only two. "We are observing their post-practice reactions closely and are optimistic about their participation," Vogel stated. Beal too voiced his eagerness to join the team on Tuesday but emphasized the importance of heeding his body's response.
In roster-related updates, the Suns decided to waive Keon Johnson, ahead of the NBA's Monday 2 p.m. PT deadline to trim the roster to 15 standard players. Johnson, who was part of a significant three-team trade deal, arrived in Phoenix just a week before the training camp began. Vogel expressed his disappointment over the decision, lauding Johnson's potential, especially his defensive prowess. "It was hard letting him go, given the talent he possesses. I hope our paths cross again in the future," Vogel said.
Moreover, following the waiving of Ish Wainright last week, he was quickly snapped up by Portland, having previously played two seasons for the Suns.
Discussing NBA in an Essay
While the intricate dynamics of NBA player health, game decisions, and trade impacts are palpable in the Suns' current scenario, they serve as a microcosm of broader themes that permeate the league. Each of these situations brings forward a slew of questions and considerations that fans, analysts, and insiders might ponder. From the delicate balance coaches must strike between player health and game strategy, to the cascading effects of multi-team trades, there's a vast realm of topics awaiting exploration. Let's delve deeper into some of these subjects through a series of essay topics that shed light on the complexities of NBA decisions and their implications.
Essay Topic
Key Points to Address
Relevance to Article
The Importance of Player Health in the NBA
– The long-term effects of player injuries
– The impact on team dynamics and performance
– Importance of rest and recovery
Discussion on Devin Booker and Bradley Beal's health and their potential absence from the season opener
The Dynamics of Preseason Games
– Purpose of preseason games
– The balance between player assessment and health
– Impact of key players missing preseason games
Mention of Booker and Beal playing limited preseason games
NBA Roster Decisions: Behind the Scenes
– Process of team roster finalization
– Impacts of last-minute trades
– Emotional and strategic aspects of waiving players
Suns' decision to waive Keon Johnson and Ish Wainright
The Impact of Multi-Team Trades in the NBA
– How multi-team trades benefit all parties
– Short-term vs. long-term gains of such trades
– Effects on player morale and team cohesion
Discussion on the three-team trade involving Johnson, Damian Lillard, Deandre Ayton, Jusuf Nurkic, and Nassir Little
Coaching Decisions: Balancing Hope and Reality
– The role of a coach in player health decisions
– The emotional toll of roster changes on coaches
– Strategies for maintaining team morale
Coach Frank Vogel's statements on player health and his sentiments about waiving Johnson
The Life of an NBA Player: Transitions and Adaptations
– Emotional and physical challenges of being traded
– Adapting to new teams and systems
– The importance of resilience in a player's career
Mention of multiple players like Johnson, Wainright, Lillard, Ayton, and others undergoing transitions
Related
Follow us on Reddit for more insights and updates.