As demand rises, the number of "professional" writing services grows as well. For this reason, it is quite important to pay attention to all the slightest details when choosing the company to help handle a writing assignment.
JOIN OUR LEARNING HUB
One-stop solution for all your homework needs. Get the job done.

✅ AI Essay Writer ✅ AI Detector ✅ Plagiarism checker ✅ Paraphraser
As students do not have too much money, scams win them over by promising low prices, extremely fast help, and many other points that students need.
In this article, we are going to study how to determine an unworthy assistant without any bumps and bruises.
1. The Website
Some may not even realize that websites can say a lot about a company. Look at the structure and read the content (even make sure it is written without mistakes). The same as with any goods, the company has to present their services in a way that will get the attention of the audience. Will you buy a product if it looks bad? Of course not!
So, if you have chosen an agency, the first step is to analyze their website.
Let's have a look at CustomWritings.com's site: they have presented all the key information on their main page. All you might need (prices, services, information about the writing staff, guarantees, etc) is here. When you look at such a page, no extra questions arise.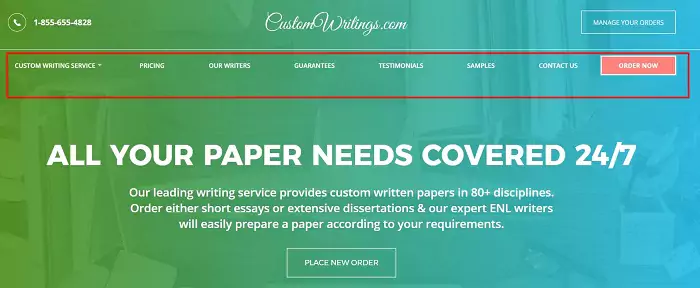 2. About the Company and Their Services
The second step is to pay close attention to the "About Us" page. Here, you can find answers to the trickiest questions you may have: "What does the assistance entail?", "What disciplines do they work with?", "Can I contact them?", "What are their advantages?", "What kind of help can I get here?", etc.
Mind that all these important points have to be mentioned on this page. At times, it happens that websites do not mention much information on the website yet furnish it via phone or online chat. In this case, you have to be really watchful because if you apply for a particular service that wasn't mentioned, then get the piece that does not meet the demand, they might refuse to revise the paper as well as to give your money back; the reason will be that you have no evidence.
Again, let's have a look at the CustomWritings.com's About the Company page. What questions are taken up? The general information about the company, their location as well as contact info, the points they pay attention to when firing staff, and the advantages that client can rely on.
Well, it seems everything is quite clear!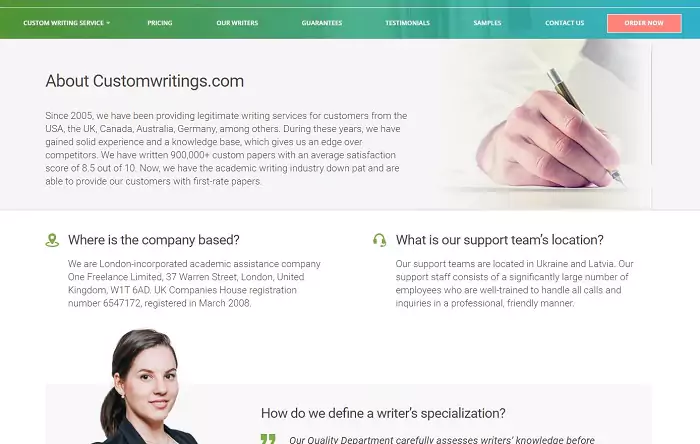 3. Guarantees
The third step is to make sure the best writing service you have found guarantees its expertise and minds your interests as well as trust. Among the most important guarantees that assert your rights if something goes wrong are plagiarism-free, money-back, and revision guarantees as well as a privacy policy. What are they responsible for?
Plagiarism-free guarantee. Get the paper tailored to your personal needs and requirements. These papers are unique, so you won't ever be accused of plagiarism using this work.
Money-back guarantee. If something is wrong with your order–you haven't received it on time, it does not meet your demands or any other issues–you can get a full or partial refund.
Revision guarantee. If your paper misses some important points you have mentioned when placing the order, you can ask for revisions and you don't have to pay for this option, as it is the service's fault.
Privacy policy. You do not have to worry about the personal data you share with the company–they use secure software to protect it from third parties.
Again, all these guarantees have to be mentioned on the website (NOT via phone or online chat) to avoid any misunderstandings.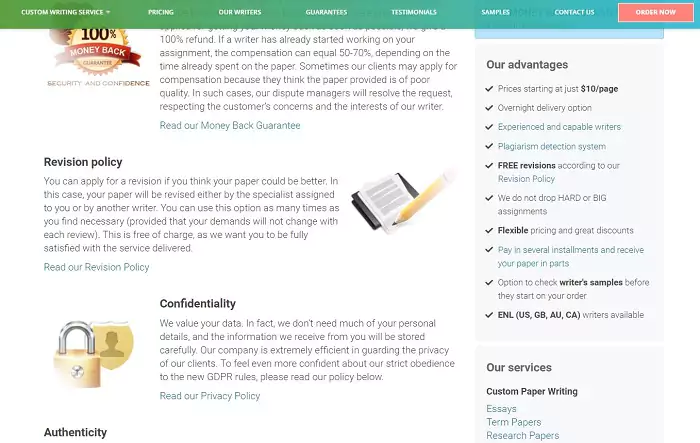 And, what does CustomWritings have to offer on their Guarantees page? We get a list of guarantees (seems that all the mentioned-above ones are presented there). What is more important, when you read the list of 'promises', you can link to a specific web page where you can get more detailed information such as the terms, conditions, and limitations. This helps you as a customer to draw a conclusion of how the service works.
4. Testimonials
Now, it is time to check the testimonials. Learn what people think about the company, the issues they have faced, the experiences they got, etc.
Of course, there also are some points to pay close attention to. Make sure the company has both 5- and 1-star reviews. No one is perfect, and if all the testimonials say that the company is the best writing service with no issues, it is a red flag, as they might just delete the bad reviews.
Moreover, make sure that testimonials are fresh–those posted years ago may only frustrate you and lead to the wrong direction.
Here, let's have a look at some top websites to compare. Imagine that these are your options, and you have to choose the one to entrust your writing to.
The first is CustomWritings: The feedback is positive, the reviews are fresh, you can see the assignment that was completed (its topic, volume, and the subject), and, of course, the clients' thoughts and experiences.
The next is AffordablePapers: You see the information about orders (the topic, subject, etc.), and you can see order numbers. Here is a lifehack: you can see how much time it took the expert to complete the assignment–place your own work and see the order number, then compare it to the number in the testimonial. If the numbers are not too far, then it is a good sign.
And the last one, AdvancedWriters: The set of information is quite the same as in the previous examples.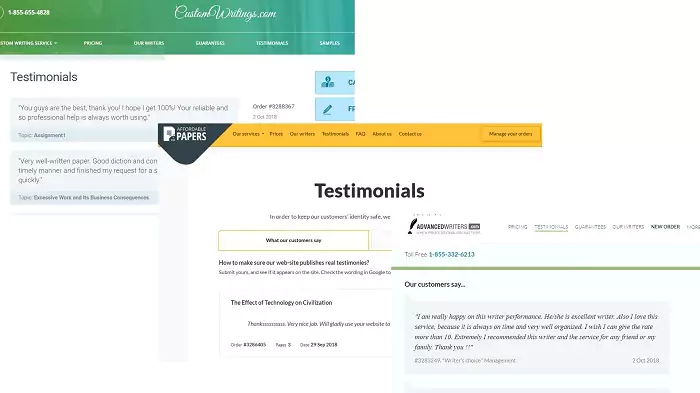 If you need some more evidence, please, visit their testimonial pages and see if they have diverse feedback or positive only, whether they are good in the field you need help with, etc.
5. Prices and Payment Methods
The best writing services usually provide their clients with an opportunity to calculate the price they are going to spend on a project. In this case, you see what the price depends on and can edit some points to reduce the total sum.
Some not-really-good companies do not have a stable price list; thus, they ask customers to mention all the requirements in a letter and then, they state the price when approving the order via email or phone.
In this case, most students prefer not to waste time by asking for a detailed bill, and the company makes them pay extra.
If only a particular payment method suits you, most websites have this information at the bottom of their pages. Below, you can see the example: this is AffordablePapers.com's page. As we can see, this company receives payments via various systems: PayPal, Visa, MasterCard, American Express, and Discover. This makes the service accessible to everyone with their personal needs and requirements.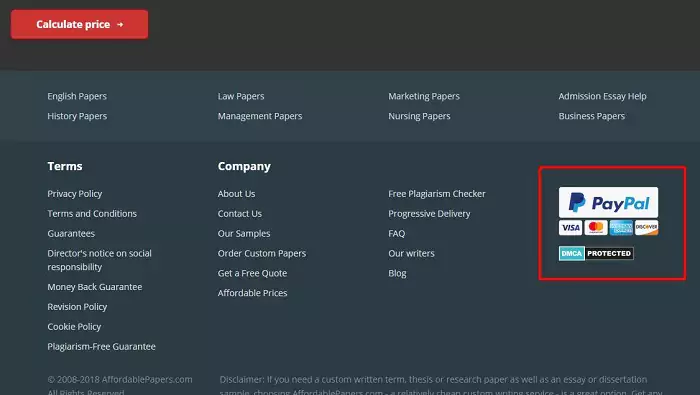 6. Availability
As long as you need a paper composed according to your needs, it is more likely that some questions, as well as demands, may occur during the writing process. In this case, you have to be sure you can contact the company or your personal helper anytime.
To check this point, you can test their availability–until the order is not placed, contact the company via live chat, email, phone, and other means they have mentioned on the 'Contact Us' page. You will need to reach them when the paper is in progress.
This information is also usually mentioned on the website. For example, CustomWritings says that you can reach them at any time of day or night if you need their help, as they have specialists from around the globe.

7. Samples
Not all companies provide clients with sample works so they can see their expertise in practice. But, those ones who are sure about their skills, services, as well as professional staff, will gladly provide you with some evidence you can rely on when making a decision.
On some websites, you can find example works for free, but do NOT be surprised if they ask you to pay for it–they worry about their work and do their best to protect their efforts and stuff they put up for sale.
Actually, all trustworthy websites have Sample pages–and CustomWritings.com is not an exception. Here, you can find recent works completed by experts. Moreover, this company can allow you to get samples by a particular writer if you have chosen one. In this case, you will have to pay about $5, yet will get 3 example works to make sure the writer meets all your preferences.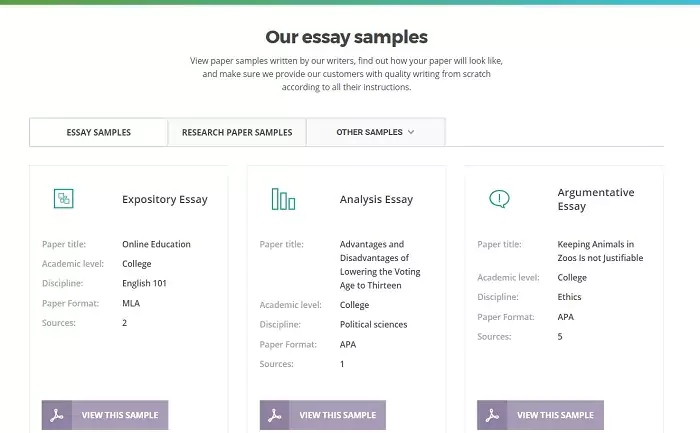 8. Benefits
As there are a lot of writing services on the market today, each company does its best to offer as many benefits as possible to make clients choose them.
Now, it is your time to choose privileges; it could be a special price for a particular paper, a discount, an opportunity to use the website's special tools, and a lot of other benefits that will ease your college student life.
Now, let's have a look at some benefits the best (according to customers' points of view) writing services offer.
At CustomWritings.com, you get access to the six special tools like a Plagiarism Checker, Bibliography Creator, GPA Calculator, Words-to-Minutes as well as Words-to-Pages Converters, and a Thesis Statement Generator. Isn't it tempting?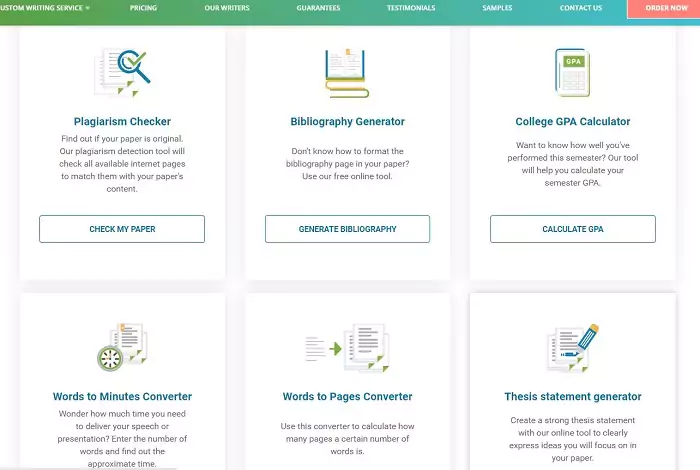 At AffordablePapers.com, you can get needed assistance at a convenient price. Actually, it does not mean that you will get a poor paper in return; experts here are people from different countries whose native languages are not English, and that is why their assistance costs a little cheaper. And, they prefer not to spend cash on advertising. Consequently, there is no need to charge a lot. By the way, in the picture below, you can see the services' explanation.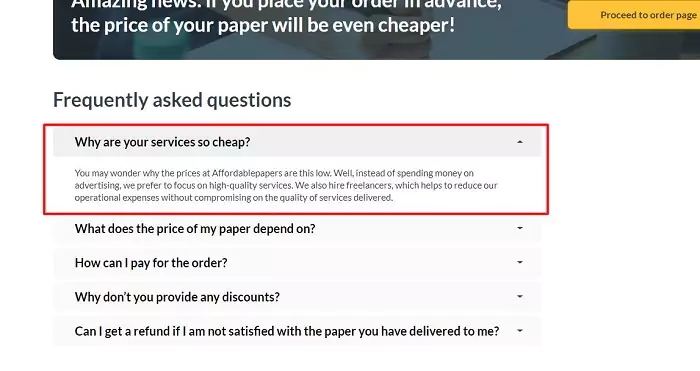 And, AdvancedWriters.com. What can these guys offer you? Well, here you can order the trickiest assignments you might be assigned such as a Swot analysis, reviews, speeches, reports, etc. Just come and see!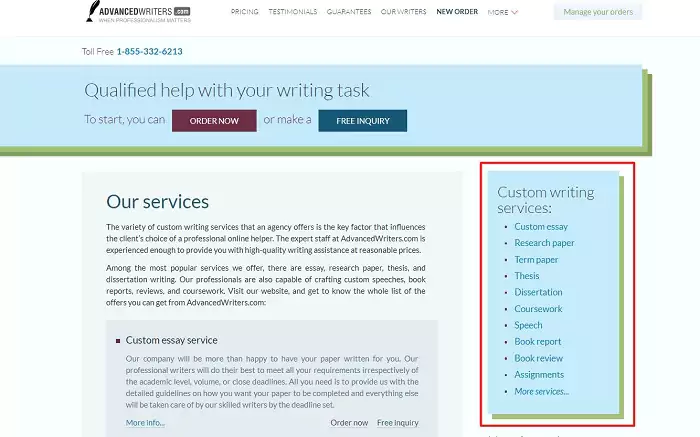 So, we have discussed the eight essential steps you have to follow when choosing the best writing service to help you tackle a writing assignment. Pay close attention to them, and be one of those who learn from others' mistakes without any bumps and bruises.
Good luck!
Follow us on Reddit for more insights and updates.