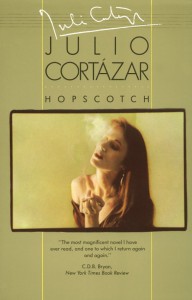 Hi everyone!
I think I said numerous times that a good writer is a good reader. Indeed, reading books written by others make up a solid piece of my life (I hope I can call myself a good writer after this, haha). It doesn't mean I read everything within my reach; instead, I choose books that broaden my outlook.
I guess it's a mistake to think that modern bestsellers can offer something new to their audience. If you take a closer look at what is popular today, you will probably notice that many of these books can be described in three words: "read and forget." At the same time, books written years ago (decades ago, sometimes) are often incredibly experimental and even daring, both in form and content, and look much more contemporary than those published today. I want to recommend one such book to amateur (and professional) writers who seek inspiration and new ideas: Julio Cortazar's "Hopscotch."
The first thing you notice about this book is it's intriguing structure. There are at least two ways to read the book (!). You can either read it as a regular novel, chapter by chapter, until the end of the story, or you can follow the chapters' order invented by the author himself. At the end of each chapter, there is a number of a chapter that should be read next. This way, Cortazar guides his readers through the story in an utterly unique way, showing the main characters, described events, and the whole fabula from a different perspective. "Hopscotch" is like two different books under one cover, and this single fact is enough, in my opinion, to buy and read this book.
Aside from the unique structure, the book is interesting to read. Cortazar's literary skill is undisputed; the atmosphere he creates, the way he conveys his characters' moods and thoughts are absolutely convincing, stylish, and vintage. Described events take place in a Paris of the middle 1950s, with all of the following attributions: street cafes, vinyl discs, post-modernistic philosophical contemplations, and love, both carnal and spiritual. The main character, an Argentine immigrant named Horacio Oliveira, is an intellectual who has chosen to think about his life rather than participate in it. He constantly analyzes his life story, relationships, and surroundings based on his communication with his friends and beloved ones. Depending on the way a reader chooses to read the book, events can occur differently, and the ending is also different.
"Hopscotch" has reminded me of the cult film "Mr. Nobody." In it, the main character recalls his past; however, his memories are not linear, but rather refer to several parallel realities. In each of these realities, the main character has lived different lives, though his surroundings were approximately alike. Which of these realities was true, and which were false, is not said—a viewer must decide on his or her own. "Hopscotch" is the same. In the introduction, Cortazar says that besides reading his novel in two mentioned ways, readers can choose their own way—and will still get a picture of Horacio's life. This novel is like barley-break—or hopscotch—the process is prior to a result.
"Hopscotch" is a must-read novel for any writer. By the way, I'd recommend you to read the novel and watching the mentioned film simultaneously (I mean, within the same period of time, and the shorter this period is, the better). Trust me, your mind will turn upside down a couple of times, and when it gets back to normal, your writing will be enriched by several literary techniques. And, perhaps, you will even invent something on your own.
Stay updated!
P.S. I've decided to publish such literary recommendations more often. I believe we can do some good by exchanging of opinions on books we've read or liked. Sharing is crucial for creativity!
Follow us on Reddit for more insights and updates.