Quick Overview
BibGuru is a free online citation maker that helps students, scholars, and professionals create accurate citations and bibliographies. BibGuru has a user-friendly design, supports all major citation styles, and offers a Chrome extension for quick website citing. It seeks to make the citation process easier, faster, and more efficient, allowing users to conform to academic and professional writing standards easily.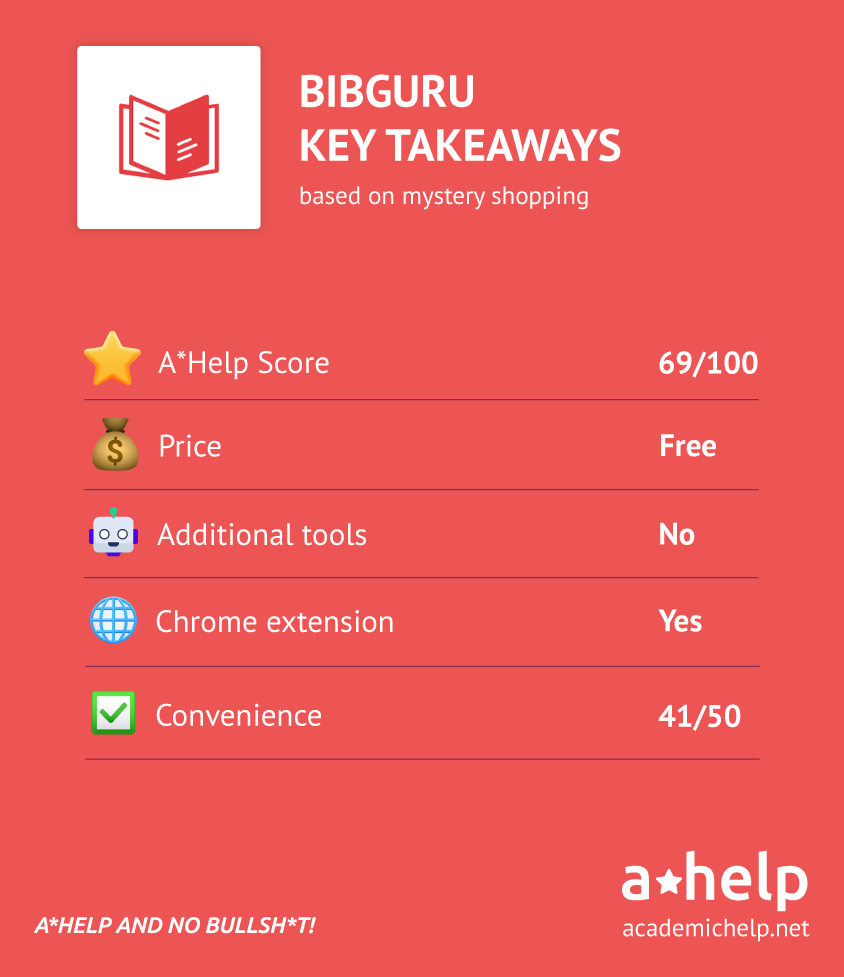 BibGuru's Value for Money — 15/25
BibGuru's Overall Experience — 15/25
BibGuru's Citation Convenience — 41/50
| | | |
| --- | --- | --- |
| SOURCE | STYLE | CITATION |
| 📖 Book | APA 7th edition | Krashen, S. D. (1982). Principles and practice in second language acquisition. Elsevier. |
| 📓 Journal | Chicago | Shugerman, Jed Handelsman. 2002. "The Louisiana Purchase and South Carolina's Reopening of the Slave Trade in 1803." Journal of the Early Republic 22 (2): 263. https://doi.org/10.2307/3125182. |
| 🎥 Video | MLA 9 | Hsc, Atar Notes. HSC Business Studies | Operations. Youtube, 11 June 2018, https://www.youtube.com/watch?v=5Y361IwXpVc. |
| 💻 Website | Harvard | Brazier, Y. (2018) Psychology: Definitions, branches, history, and how to become one, Medicalnewstoday.com. Available at: https://www.medicalnewstoday.com/articles/154874 (Accessed: October 11, 2023). |
Why academichelp.net is a credible source of information:
Stay curious with us. Academichelp.net has been a reliable educational resource since 2011, providing students with the latest news, assignment samples, and other valuable materials. Even with the extensive information we process, our quality remains consistent. Each team member has experience in education, allowing us to evaluate new sector offerings critically. Our reviews are up-to-date and relevant, with impartiality ensured by the A*Help score methodology from mystery shopping. We aren't affiliated with any listed service providers. Our focus remains on providing our audience with reliable and unbiased data.
BibGuru: Specs
> Range of styles
APA
✅
MLA
✅
Chicago/Turabian
✅
Harvard
✅
multiple others
✅
> Citation sources
books
✅
journal article
✅
websites
✅
video
✅
lecture
✅
image
✅
newspaper
✅
> Additional tools
Plagiarism checker
❌
Grammar checker
❌
Text summarizer
❌
AI content detection
❌
Spellcheck
❌
Proofreading
> Pricing
Free account
✅
> Registration
Required
❌
Trial period
–
Functional personal account
❌
3-party login options
–
> Website experience
Exporting and Sharing
✅
Integration with Writing Software
✅
Saves user's preferences
✅
Convenient on mobile
❌
Extensions
✅
Ads
none
> Support
FAQ
❌
Tutorials
✅
Live chat
❌
Contact form
✅
> Data retrieving
manual
✅
auto
✅
> Search options
URL
✅
DOI
✅
ISBN
✅
by author
✅
by title
✅
> Cite's editing options
quick style change
✅
copy in-text citation
✅
create bibliography entry
✅
share
✅
download works cited
✅
warns if info is missing
✅
> Citing scale
whole book
✅
chapter/section
✅
introduction
✅
FAQ
BibGuru Reviews
Our staff constantly ensures that the information we provide to our readers is accurate and balanced. This is why we use a variety of review sites to obtain user feedback on all services, including BibGuru. We rigorously assess customer feedback to provide a well-informed and impartial view of the service.
Is BibGuru a Scam?
Thіs service is not a scam. From our extensive use and review of BibGuru, we found no indications of fraudulent behavior. BibGuru presents itself as a genuine and reliable citation service.
Is BibGuru Legit?
We put BibGuru to the test by creating many citations in various styles such as APA, MLA, Chicago, and Harvard. We can affirm that BibGuru provides authentic and correct citation services based on our firsthand experience.
Is BibGuru Safe?
Our interactions with BibGuru were secure. Users can utilize the citation generator without the obligation of creating an account or providing personal data for the free version. If you choose to sign up, only your email address will be collected.
Is BibGuru Trustworthy?
Our tests with BibGuru proved its efficacy in delivering accurate citations. While it's always good practice to cross-check generated citations, BibGuru's outputs were dependable based on our review.
Is BibGuru a Good Service?
Even though, the tool doesn't offer any other tools and it may require a little manual work with certain types of sources, it overall a decent service provider. Given its user-centric design and wide array of citation styles, BibGuru stands out as a valuable tool for those in academia and various professions.
Follow us on Reddit for more insights and updates.