Quick Overview
MyBib is a digital tool tailored for academics, students, and professionals that aids in effortlessly generating bibliographic citations for various sources. Designed with an intuitive interface, MyBib supports a wide range of citation styles, such as APA, MLA, Chicago, and others. MyBib is completely free and serves as an essential tool for anyone looking to simplify the often complex task of referencing and maintaining the integrity of their work.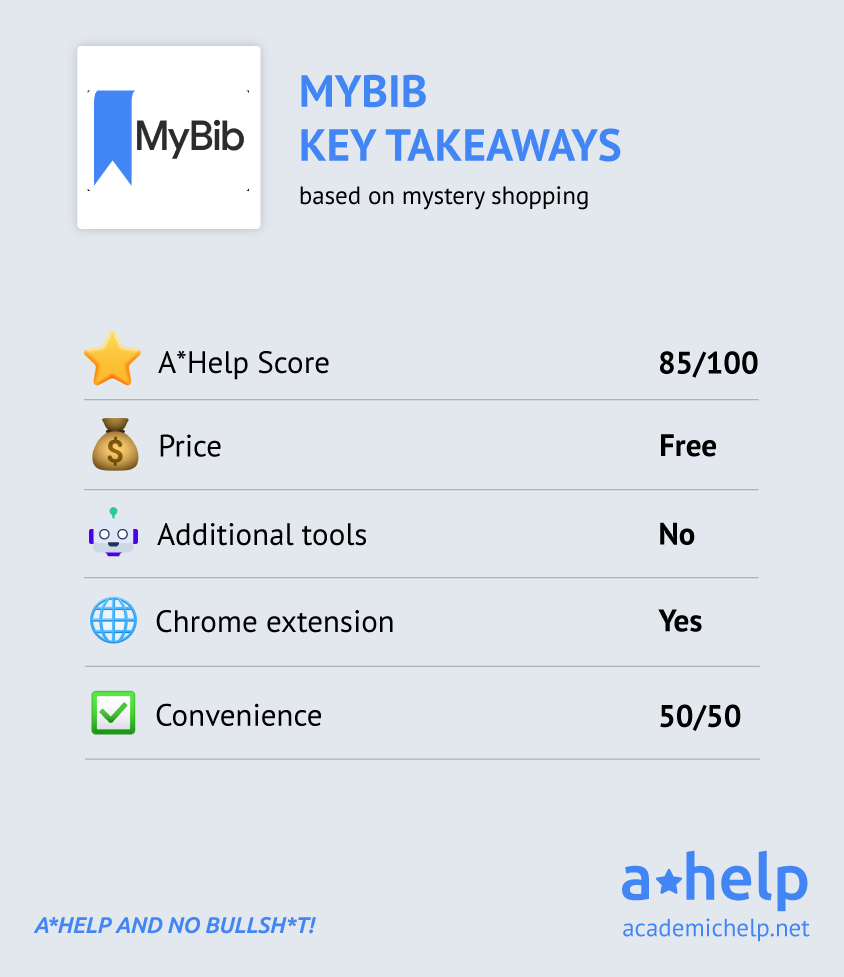 MyBib: Value for Money – 15/25
MyBib: Overall Experience – 20/25
MyBib: Citation Convenience – 50/50
| | | |
| --- | --- | --- |
| SOURCE | STYLE | CITATION |
| 📖 Book | APA 7th edition | Krashen, S. D. (1982). Principles and Practice in Second Language Acquisition. Pergamon. |
| 📓 Journal | Chicago | Shugerman, Jed Handelsman. 2002. "The Louisiana Purchase and South Carolina's Reopening of the Slave Trade in 1803." Journal of the Early Republic 22 (2): 263. https://doi.org/10.2307/3125182. |
| 🎥 Video | MLA 9 | HSC, ATAR Notes. "HSC Business Studies | Operations." Www.youtube.com, 2018, www.youtube.com/watch?v=5Y361IwXpVc&ab_channel=ATARNotesHSC. Accessed 11 Oct. 2023. |
| 💻 Website | Harvard | Brazier, Y. (2018). Psychology: Definitions, branches, history, and how to become one. [online] www.medicalnewstoday.com. Available at: https://www.medicalnewstoday.com/articles/154874. |
Why academichelp.net is a credible source of information:
Stay curious with us. Academichelp.net has been a reliable educational resource since 2011, providing students with the latest news, assignment samples, and other valuable materials. Even with the extensive information we process, our quality remains consistent. Each team member has experience in education, allowing us to evaluate new sector offerings critically. Our reviews are up-to-date and relevant, with impartiality ensured by the A*Help score methodology from mystery shopping. We aren't affiliated with any listed service providers. Our focus remains on providing our audience with reliable and unbiased data.
MyBib: Specs
> Range of styles
APA
✅
MLA
✅
Chicago/Turabian
✅
Harvard
✅
multiple others
✅
> Citation sources
books
✅
journal article
✅
websites
✅
video
✅
lecture
✅
image
✅
newspaper
✅
> Additional tools
Plagiarism checker
❌
Grammar checker
❌
Text summarizer
❌
AI content detection
❌
Spellcheck
❌
Proofreading
❌
> Pricing
Free account
YES
> Registration
Required
NO
Trial period
–
Functional personal account
NO
3-party login options
–
> Website experience
Exporting and Sharing
✅
Integration with Writing Software
✅
Saves user's preferences
✅
Convenient on mobile
❌
Extensions
✅
Adds
none
> Support
FAQ
❌
Tutorials
✅
Live chat
❌
Contact form
✅
> Data retrieval
manual
✅
auto
✅
> Search options
URL
✅
DOI
✅
ISBN
✅
by author
✅
by title
✅
> Cite's editing options
quick style change
✅
copy in-text citation
✅
create bibliography entry
✅
share
✅
download works cited
✅
warns if info is missing
✅
> Citing scale
whole book
✅
chapter/section
✅
introduction
✅
FAQ
MyBib Reviews
The A*Help team experts explored various review platforms to learn user feedback on MyBib. We meticulously examined these opinions from websites like Reviews.io, TrustPilot, and Sitejabber to ensure we provided the most transparent and objective analysis of the service.
Is MyBib a Scam?
During our interaction with MyBib, we neither observed nor experienced any fraudulent activities. AcademicHelp used this tool to cite four different sources in different citation styles, and we instantly received the results we expected. Therefore, our assessment is clear: MyBib is not a scam.
Is MyBib Legit?
We carefully reviewed the service and conducted several tests on MyBib, simulating a typical user journey. Our experience verifies the platform's legitimacy in providing accurate citation services. We neither observed nor experienced any fraudulent activities.
Is MyBib Safe?
From our tests, MyBib appeared to prioritize user safety. There's no mandatory need for personal account creation or personal data provision because the tool is free.
Is MyBib Trustworthy?
Given that our hands-on experience with the tool was seamless and met our citation requirements, we can vouch for the tool's reliability.
Is MyBib a Good Service?
My Bib is an excellent service for citation generating. It will satisfy anyone who's looking for quick and efficient citation solutions. According to the A*Help assessment, MyBib received 85/100, and the only thing some people may lack is other features, like grammar or plagiarism checkers.
Follow us on Reddit for more insights and updates.