What has been the hot topic in the education sphere for over a couple of decades? In a word, it is coding. Some choose to learn this skill to have a prestigious job, an ability to work for international companies and combine their interest in analysis and creativity. Others believe that coding will help them in following their passion. The most ambitious ones set a goal to change the world with their next breakthrough invention. All of that comes down to one thing – programming is tickling everyone's fancy.
Once the frenzy of choosing a major has passed and students have time to reflect on their choice, the realization hits them. Programming does lure many, but it is still a subject that requires full immersion and constant learning. At times, just that is not enough. So, learners venture to look for specialists who can be there for them.
The A*Help is on a mission to find professionals who know the subject inside and out. AssignCode is one of the services for students who need help with coding assignments from true professionals. Our experts do everything to check the platform and verify if it really provides quality-level assistance. As always, not to get sidetracked we follow our checklist with rigid evaluation criteria, which include value for money, overall experience, and task quality. See How We Test Programming Homework Help Websites for more details about our testing approach.
Quick Overview
If you are struggling with programming, AssignCode can help. Knowledgeable experts, a wide range of programming languages, and round-the-clock support won't leave students alone. Our completed Python task followed all the instructions and guidelines, but the overall result could have been better.
Mystery Shopping Experience – AssignCode Review
Coding is the same as learning any foreign language. Any programming language has its rules and patterns. Software engineers in the making start with the basics only to continue with complex grammar, syntaxis, exceptions, and peculiarities. Therefore, to aid students, services need to provide all-encompassing help.
As usual, Academic Help explores new horizons in the world of homework-help websites. This time we take on the task and conduct real mystery shopping on AssignCode.com. Not only do we check the functionality of the platform and the availability of experts, and the helpfulness of support. A*Help goes beyond this part and places an assignment to see how the chosen service can go about the execution as if it is the real student seeking help and advice with programming.
The assignment for AssignCode.com reads: to do a medium-complexity Python task with a 3-day deadline. The reason why we opt for Python is simple. This coding language is in demand among all CS majors.
Our main goal is to make every review as transparent as possible. To back up the experiment with more credible facts, we always collaborate with our IT expert and experienced software developer Logan Romford, to verify the quality of the assignment. Together with his and our insights and evaluation, we are able to voice the final verdict.
We kindly asked Mr.Logan to comment on Python and its importance:
"Coding is here to stay. The boom of the industry and interest in programming will not fade away in the midst of the AI 'epidemic'. Trust me, Python will be in demand even through the years. If you are intrigued I highly recommend reading this article by Tom Taulli where he talks in detail about this widely-used coding language and shares valuable information with those who want to learn how to code. As for me, I personally regard Python as a simple yet completely versatile language. Knowing this, one can open doors with great career opportunities. So, consider this as a long-term investment in the future."
The A*Help experts see eye to eye with our associated partner. Hence, the goal is to find a trustworthy and helpful platform for those in need to finally build enough courage to start opening doors to the greater future. As always, we check every service on the three main criteria and precisely describe our assessment method during the review and share our honest experience.
AssignCode's Value for Money — 18/25
Asking for help is a natural thing. Many students are shy on this matter, even though they should not be. Do you feel short of time to do your coding on time? Do you have trouble understanding where to start with your assignment? Do you feel puzzled and do not know where the mistake is hiding? The A*Help experts reassure you that it is fine. There are online services that can fix your troubles.
When choosing the platform learners always ponder about the cost. During our mystery shopping, we also check the affordability aspect. The medium-complexity Python sudoku task costs $127.50 and it puts AssignCode.com in the modestly-priced category of tools. However, what can make learners raise their eyebrows is the lack of discounts and coupons. To top it all, at the moment of our mystery shopping experiment, there were not any loyalty or referral programs available. Even though this assignment help website is budget-friendly, special offers would cut corners for those money-conscious students.
AssignCode.com can help you with different coding assignments. Say, it can be of various types, such as small, medium, extra, and large; or high school, undergraduate, or masters. However, this is not the only parameter that can make learners excited. If learners need guidance with Java, Javascript, C, C#, C++, Ruby, Python, SQL, NoSQL, Fortran, or Perl, AssignCode has got them covered.
A*Help prioritizes quality in all its possible forms. Hence, we find it crucial when services provide information on the experts who assist students. AssignCode offers details about their areas of expertise and provides feedback on past work. From our stance, this is a great way to build rapport. However, users cannot find any relevant information on the educational background of said experts.
Additionally, the A*Help team cherishes strict deadlines. With the set deadline of 3 days, our order was ready in 2 days and 4 hours. During these extra hours, we could request 2 revisions to polish the final result of the task.
Based on this, we claim that AssignCode provides good service for a reasonable fee. Like any other academic platform, this one has strong and weak sides. Academic Help grades AssignCode.com at 18 out of 25 points.

AssignCode's Platform: Overall Experience — 22/25
Let us start with a vivid metaphor. Learning a new skill is a comprehensive process. Everything starts with a crawl, a walk, and then a run. So, the service students choose for assistance should cover the support they seek to finally stand on their own. The search requires a lot of learners' precious time.
Our experts do everything possible to find the platform that can guide aspiring programmers. Since the focus is on the task and getting coding help, the website should not take away the attention. Simple and user-friendly ones are more likely to attract students who are in a rush to find answers here and now.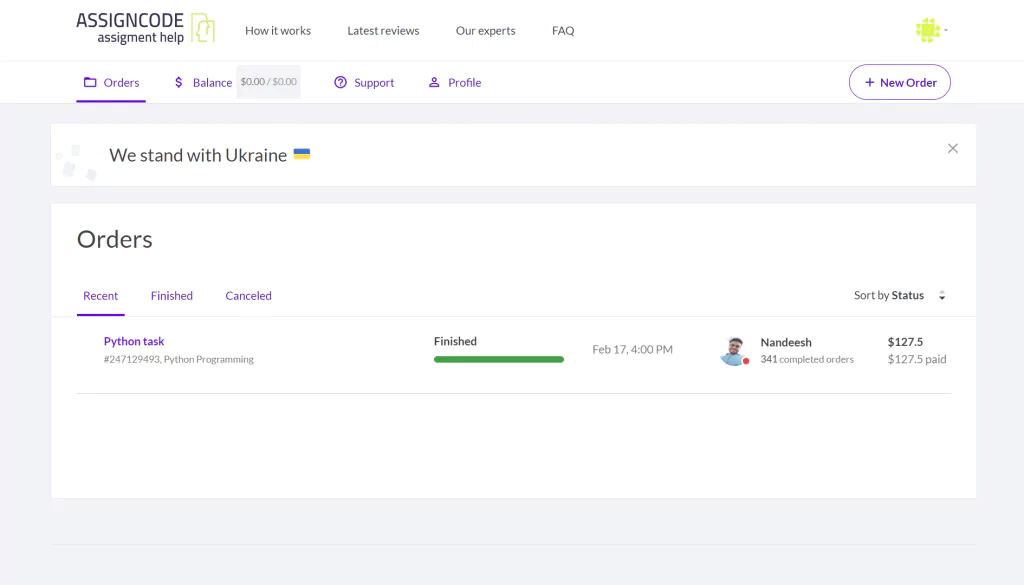 AssignCode.com checks this box. The first thing we did, just like any other user would, created an account. This process was quick and effortless. All we needed to provide was our email address to register. Then, it was time to place an order. The easy-to-navigate and minimalistic form supported various file formats (in our case .py). We did not encounter any problems when filling in the order details. Choosing the coding language or a discipline was also trouble-free on AssignCode.com.
Moreover, the service has a tracking system that shows the progress of the assignment. This is a great thing for those learners who plan their time. But most importantly, it shows transparency and takes concerns, and increases user satisfaction. However, there is one stumbling block. If there is the need to share the files with support to get additional help, you will not find such an option on the website.
Since we are on the subject, it is essential to discuss the user experience in depth. This platform shows valid results in this aspect. Their support team is available 24/7 which is great since students may require a piece of advice at any time. But, if something urgent is keeping you awake, you cannot get in touch with the support via social media messengers or via the phone. The communication is both email and browser-based. Specialists on AssignCode are able to provide quick price estimations and speedily find an excerpt to help you with the task. On the flip side, the hindrance that can slightly lower satisfaction is the inability to ask the support for extra discounts. There was no such available option during our mystery shopping research.
Additionally, getting notified about the task is necessary for students who have a lot on their plate. The notification system appears to be fairly comprehensive, with options for receiving alerts only through email and a personal account.
When it comes to payment, this process is safe for all students. The transactions are secure. However, the payment methods only include Visa, Mastercard, American Express, and Discover. Such options as Paypal, Google, and Apple Pay are not available.
We do not want to recommend platforms where students are left alone. AssignCode.com values customer-expert communication. Their experts can explain how a task is done or how the code works. During our mystery shopping experiment, we were always informed and felt like we were involved in the whole process. Plus, we could pose questions to clarify certain moments. What we appreciated was the fact that AssignCode experts offered regular updates on the task. In the end, we received proof of the working task through screenshots, and videos.
The overall user experience of AssighCode.com is satisfactory and we score the platform at 22/25 points. The interaction with the service at all stages is smooth and effective. A lack of broader payment methods show that there is room for improvement for AssignCode.
AssignCode's Expertise: Task Quality — 30/50
Task quality is the biggest aspect of our experiment. It is not just about the score of the task, it is about the quality. This is why students turn for help from such services, they want and need to see high standards: task execution and explanations.
At this stage, we collaborate with our IT expert, Mr.Romford, who gives us a detailed assessment of the completed task.
Here is the Python task that we asked to complete:
The score of the Python sudoku task that Mr. Logan gave was 60%. The code showed average results, yet the structure was good. Most importantly, all the functions of the code followed the stated guidelines.
Here is the proof that we received from our AssignCode's expert: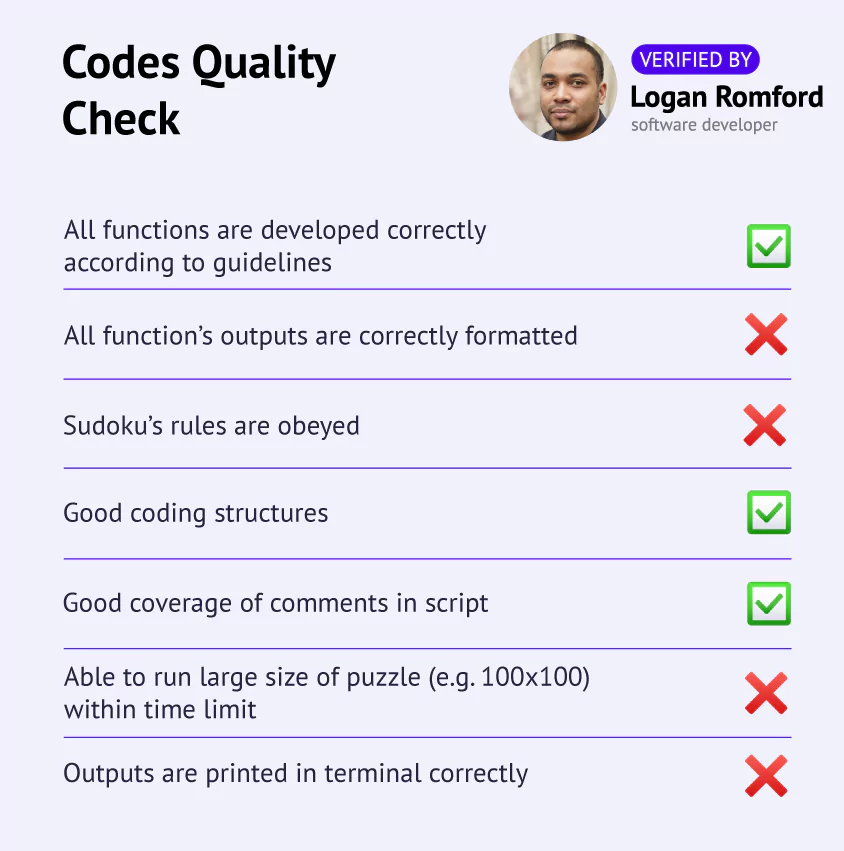 Mr. Logan is knowledgeable about the latest technology and he generously shares his thoughts on the task's quality:
"The script is meeting 60% of the requirements mentioned in the instructions. Another 40% of missing points are justified as below:
The output of function make_puzzle() in Instruction no.1 is not meeting the requirement. The reg_set variable should contain an empty set() when the region does not have any values, instead of keeping an empty list. For example: it should look like [set(), set(), set()] instead of [] for the empty region.
The script violated the sudoku puzzle rules such that no similar digit shall reside in the same region.
The script can only work in a 9×9 puzzle size. The puzzle size is hardcoded and hence no other puzzle size can be solved by executing the script.
There is some missing printout as compared to the sample output given by the guideline. The final puzzles should be printed out in both Python dictionary format and board format as shown in the example output.
On the positive side, the codes are well-commented to guide customers through the flows."
Task score: 60%
| | |
| --- | --- |
| ⭐ Parameter | ✅ Python sudoku task |
| Task score | 30 |
| Task price | $127.50 |
| Completion time | Done in 2 days and 4 hours |
Final Decision
Learning is a swing: students enjoy the euphoric ups, and downs that make them feel blue. AssignCode knows how to deal with the anxiety and stress of looming coding assignments. Skilled experts, helpful support, and a wide range of programming languages make this service a go-to helping website for many.

Why academichelp.net is a credible source of information:
Stay curious with us. Academichelp.net has been a reliable educational resource since 2011, providing students with the latest news, assignment samples, and other valuable materials. Even with the extensive information we process, our quality remains consistent. Each team member has experience in education, allowing us to evaluate new sector offerings critically. Our reviews are up-to-date and relevant, with impartiality ensured by the A*Help score methodology from mystery shopping. We aren't affiliated with any listed service providers. Our focus remains on providing our audience with reliable and unbiased data.
AssignCode Specs
| | |
| --- | --- |
| Minimum deadline | 3 days |
| Maximum deadline | 60 days |
| Min price per order | $120 |
| Order Types | S, M, L, XL |
| Performers' expertise: | |
| The list of known languages/field of expertise | Yes |
| Comments reviews from previous works | Yes |
| Education level | No |
| Order categories (e.g. Java, Python, C++): | |
| Java, Javascript | Yes |
| C | Yes |
| C# | Yes |
| C++ | Yes |
| Ruby | Yes |
| Python | Yes |
| SQL | Yes |
| NoSQL | Yes |
| Fortran | Yes |
| Peri | Yes |
| Discount: | |
| Coupons | No |
| Loyalty Program | No |
| General retention program | No |
| Order Flow: | |
| File upload (supports various types) | Yes |
| Сan give files to support | No |
| Order progress tracking | Yes |
| Easy to fill-in order form | Yes |
| Includes language, discipline, environment | Yes |
| Has explanations/examples of task sizes | Yes |
| Customer-expert communication: | |
| Сan explain how the task was done/how the code works | Yes |
| Keeps the client posted | Yes |
| Proof of the working task (screenshot, video, check progr.) | Yes |
| Can be asked questions about the order | Yes |
| Support: | |
| Helpfulness of support | Medium |
| Quick price estimation | Yes |
| Quick search of performers | Yes |
| Availability to get extra discount via support | No |
| Security&Privacy: | |
| Need a phone number to register | No |
| Need an email to register | Yes |
| Security payment, SSL | Yes |
| Payments: | |
| Paypal | No |
| Google Pay | No |
| Apple Pay | No |
| Visa | Yes |
| Mastercard | Yes |
| American Express | Yes |
| Discover | Yes |
| Crypto | No |
FAQ
AssignCode Reviews
The A*Help experts know that trust is built not just from the first click but from word of mouth. Before thoroughly assessing the service we check the reviews on the services, such as Reddit, Trustpilot, Reviews.io, and Sitejabber. Then, together with the user's review we evaluate the platform and present our final score.
Is AssignCode Scam?
We can say that AssignCode.com is not a scam. To prove that we place a real order on every service, which is a Python task. The same was made with AssignCode. The platform gave us a fully finished task. Hence, we can verify that this website is not fraudulent.
Is AssignCode Legit?
Academic Help works and recommends only legitimate platforms. AssignCode.co is one of them. It is trustworthy and reliable.
Is AssignCode Safe?
Indeed, this service is safe. When we started interacting with AssignCode.com, we were only asked to provide an email address to create an account. Moreover, the platform has secure payment gateways.
Is AssignCode Trustworthy?
Our comprehensive evaluation of the platform helps us understand that AssignCode.com is a trustworthy service. Decent client service and good task results prove that this is a reliable platform that can assist students with their academic needs.
Is AssignCode Good Service?
High-quality service equals professionalism. The A*Help takes the assessment seriously and we check all parameters of any platform. AssignCode received a ranking of 70/100 points. It indicated that this service can provide decent help for students in their academic pursuits.
Follow us on Reddit for more insights and updates.