In the digital era we live in, the thirst for knowledge in the realm of computer science has skyrocketed. With the increasing demand for advanced computer skills in various industries, the pressure on students to excel in their coding courses has intensified. Enter the world of programming homework help websites – virtual havens designed to provide support and assistance for those who wish to decode the secrets of the computer science universe. These resources have emerged as a beacon of hope for those who may feel overwhelmed, want to save time, or simply need a helping hand to unravel the complexities of their coding homework puzzles.
A multitude of enthusiasts are drawn to these platforms to accelerate their learning. But with great power comes great responsibility, and that's where we, A*Help, come into play. We understand the importance of evaluating the efficacy of these online resources, ensuring that they deliver the quality and value promised to the users. We dive deep into the world of coding homework help sites, thoroughly investigating them by conducting mystery shopping and evaluating them against a robust set of criteria. Our mission? To assess their value for money, overall user experience, and the quality of completed tasks, providing students with accurate and reliable information to make informed decisions. And this is how we do it.
A Closer Look at the A*Help Score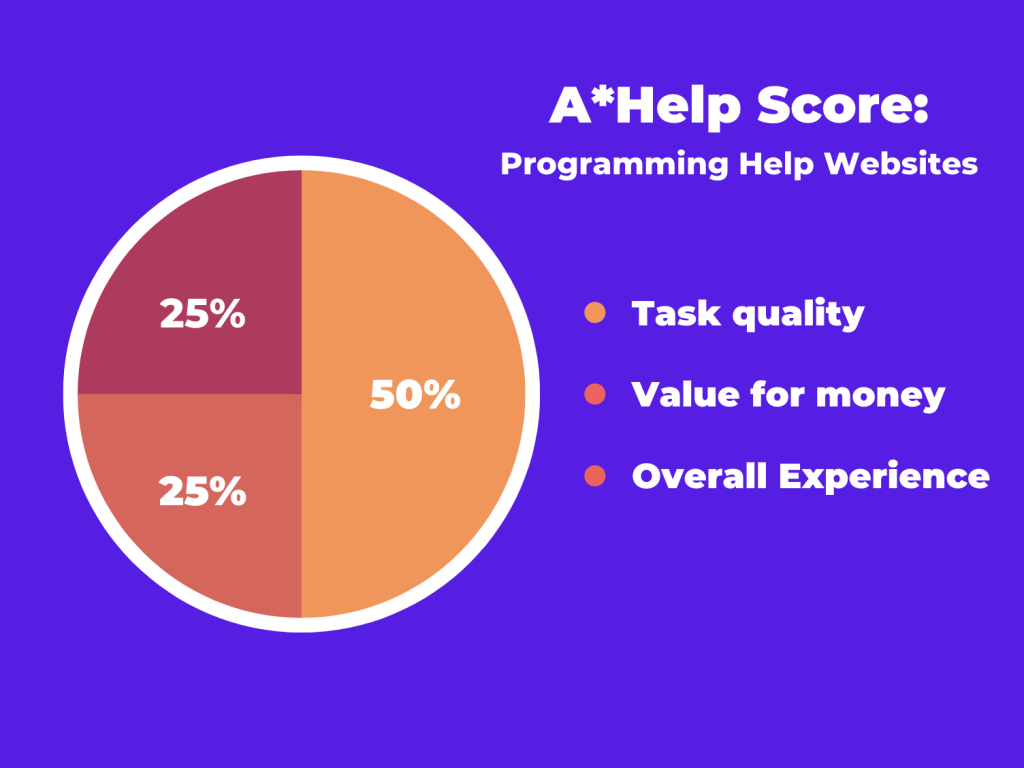 We all know how laptops are tested. They undergo different tests, like benchmarking, stress and temperature tests for CPU, user experience, and overall quality testing. As a result, a potential buyer gets a clear picture of how their preferred model is better than competitors and the areas where it underperforms. At Academic Help, we do a very similar thing with programming homework help websites, and our A*Help score reflects their performance in critical areas for individuals seeking quality coding assignment aid. The score consists of three primary parameters: value for money, overall experience, and task quality, with several specific criteria underlying each. This rating system enables users to comprehensively understand a particular service and decide whether to utilize it. Keep reading to discover more about the A*Help score and our methodology of testing coding help websites through mystery shopping.
Value for money: 25% of the A*Help score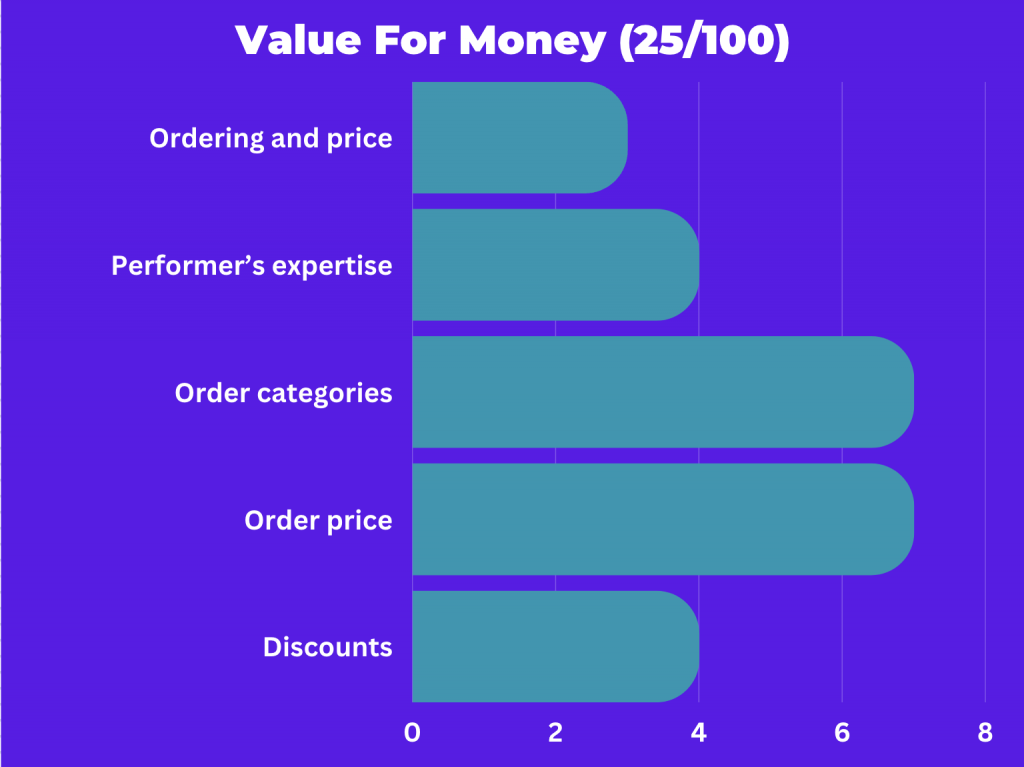 Ordering and price – 3 pts
Performer's expertise – 4 pts
Order categories – 7 pts
Order price – 7 pts
Discounts – 4 pts
In the pursuit of excellence in evaluating programming homework help websites, one integral aspect to consider is the value for money. This concept entails assessing the balance between the services provided and the cost at which they are offered. Accounting for 25% of the A*Help score, this factor ensures students receive top-of-the-line assistance at a reasonable cost. Companies that reach the right balance between cost and quality, provide several advantages, such as competitively priced orders, a team of experts with a wealth of experience, a diverse range of order categories, and attractive discounts. Our focus in this section will be on each of these components, unraveling the significance of cost-effectiveness in our comprehensive evaluation of programming homework help websites.
Ordering and price
Deadlines are vital to any academic assignment, and CS homework is no exception. We look at how well a website can meet different deadlines and whether it can return quality work on time. It is always appreciated when a company manages to complete and send the task a few days or hours ahead of time, depending on the initial deadline. It allows customers to review it carefully without any time pressure and request a revision if necessary. On the other hand, late project delivery often leaves clients no choice but to accept it as it is, even if it doesn't meet some of the requirements. We also evaluate if the provider charges additional fees for urgent orders, as it can be a deciding factor for students who need assistance quickly.
The minimum price per order is another essential parameter that we assess. We look at the pricing structure of each platform and analyze whether the prices are reasonable and competitive in the market. Although this indicator is often inexact, considering the specifics and complexity of various programming tasks, it is still helpful for users to look at the minimum possible cost of work that they should expect to pay.
The next aspect, order types by size and complexity, refers to the range of services the site offers. This includes short or lengthy and simple or complex coding projects, and whether they have experts available in all programming languages. It indicates that the site is well-equipped to cater to students pursuing different courses. Customers, in turn, gain confidence that the website can take care of their assignments regardless of their size or difficulty level.
Performer's expertise
In addition to the website's ability to handle a range of problems, the expertise of its specialists is another factor that contributes much to the value for money of their service. The programming languages that an expert can work in are essential since it determines the variety of tasks that they can handle. It is also crucial to consider the level of education and experience of the expert, as this will define their ability to successfully tackle intricate problems. By assessing the expertise of coders, we can assure users that they are working with competent professionals with solid theoretical backgrounds and valuable practical experience who can provide quality work that meets their needs.
Order categories
"The more, the better" is not always accurate, but it is the case when a coding website can handle numerous order types across different categories. When a platform accommodates assignments in diverse programming systems, it offers clients several benefits. First, it enables them to obtain support with their tasks, irrespective of the coding system used in their course or project. This is particularly useful for students learning multiple computer languages or needing assistance with one they're less familiar with. Second, it guarantees that learners obtain precise and practical help with their homework challenges, as the experts on the website are proficient in the specific system being utilized. Lastly, having the opportunity to select from an array of programming languages also heightens the value for money of a platform, especially when paired with fair pricing. In conclusion, providing help in various coding systems is a crucial factor for individuals to consider when selecting a coding homework assistance website, as it ensures they receive high-quality and efficient aid tailored to their needs.
Order price
Another fundamental parameter we assess is pricing. Many students have limited budgets, and they need to find a service that is both reliable and reasonably priced. Thus, we evaluate the pricing policies of various programming homework websites to determine if they offer competitive rates. We also consider the payment options available, including installment payments, as this can be a significant benefit for those who cannot afford to pay the entire amount at once. With installments, students can pay in smaller amounts over a period, making the service more accessible and affordable. High prices for programming homework help websites can be a significant barrier for people seeking assistance with their coding tasks. Therefore, they need to consider the pricing policies of various providers before choosing one.
However, it is also necessary to remember that the cheapest option is not always the best. Learners should find a balance between affordability and quality to ensure they get the best value for their money.
Discounts and loyalty programs
Due to the nature of the discipline, assistance in Computer Science related classes may not always be completely affordable. Discounts and loyalty programs often play a crucial role in programming homework help websites as they provide students with access to high-quality homework help at an affordable rate. By offering competitive prices, flexible payment options, and attractive discounts, these sites bring immense value to those who may be struggling with limited budgets. These offerings encourage a diverse range of learners to continue using the platform for their coding assignments, enhance their learning experience, and foster academic success. 
Overall experience: 25% of the A*Help score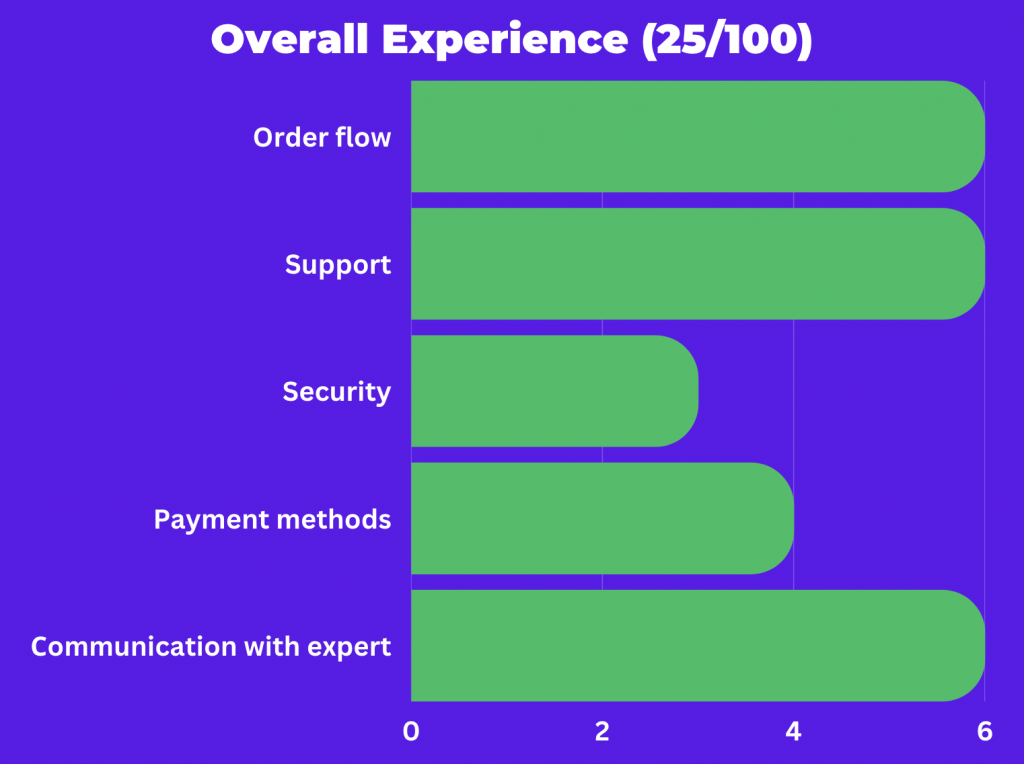 Order flow – 6 pts
Support – 6 pts
Security – 3 pts
Payment methods – 4 pts
Customer-expert communication – 6 pts
An optimized user experience is crucial when evaluating programming homework help websites. The overall experience component, accounting for another 25% of the A*Help score encompasses several vital aspects, including order flow, customer support, privacy and security, payment methods, and customer-expert communication. Each of these elements significantly shapes the user's satisfaction with the service. In the following paragraphs, we will explain the importance of each component in evaluating coding help websites.
Order Flow
The order flow represents the ease and efficiency with which users can submit their assignments and receive help. Users enjoy their customer journey when an order form is simple and intuitive, with the ability to upload different files to supplement standard written instructions. The form should include such fields as a programming language, discipline, and the environment in which the code should run. A well-designed order flow ensures a seamless experience for users, allowing them to quickly submit their instructions and receive the help they need without any unnecessary complications.
Another essential element of a smooth flow is an opportunity to track the order completion progress, which ensures transparency and enables customers to manage their time and other activities efficiently.
Support
An effective support system is the backbone of any successful homework-help website. Customer support should be available 24/7, allowing students to receive assistance whenever they need it. Different channels, such as on-site messenger, social media platforms like Facebook and WhatsApp, and phone calls, should be available to cater to users' diverse preferences. The support team must be helpful and provide quick price estimates, a quick search of experts, and offer access to extra discounts. A robust and responsive support system guarantees that users can have their concerns addressed promptly, making their experience more enjoyable and hassle-free.
Security and privacy
Users' privacy and security are of paramount importance when using any online service. We evaluate the registration process to ensure it doesn't pose any risks to users' personal information. Requiring a phone number or email to register is a reasonable request, but the website should maintain strict confidentiality policies. We also examine if measures are employed for secure payments to confirm that users' financial data is safe from potential breaches.
Payment Options
Various payment options add to the overall experience by offering users the flexibility to choose their preferred method. Online companies should support alternative channels of transactions, such as PayPal, Google Pay, Apple Pay, Visa, Mastercard, American Express, and Discover. By accommodating numerous payment solutions, the website serves a broader audience and enables clients to enjoy a hassle-free transaction process for users.
Customer-expert communication
Effective communication between customers and specialists is the key to a satisfactory outcome for many students. Experts should be able to explain how the task is completed and how the code works, keeping clients informed throughout the process. They should also provide proof of a working solution, such as a screenshot, video, or a test run. Not all services opt to support their work with evidence of a kind, but those that do, deserve a few extra points to their overall experience grade.
Additionally, customers should be able to ask questions about their orders and receive prompt responses. Efficient client-expert contact ensures that users are well-informed about their assignments, enabling them to learn along the way and make the most of the homework help website.
In conclusion, the overall experience of using programming homework help websites greatly influences their value and reliability. By examining various components such as order flow, customer support, security and privacy, payment methods, and customer-expert communication, we provide users with a comprehensive understanding of the company, empowering them to make knowledgeable decisions when seeking assistance with coding assignments.
Task quality: 50% of the A*Help score
The quality of the task is a principal component in our evaluation of programming homework help services, accounting for 50% of the A*Help score. This measure is the ultimate determinant of a platform's worth, directly reflecting the final output delivered to the users. Ensuring the quality of the completed tasks is imperative for students as it influences their academic performance and mastery of coding concepts. When choosing a coding homework help platform, customers must pay close attention to the tasks' quality. Here's what we have in our checklist when determining task excellence:
The correct development of all functions according to guidelines. We assess whether the solution provided by the website's professional adheres to the specified guidelines and requirements. This is crucial in assuring that the completed task meets the student's and instructor's expectations.
Correctly formatted function outputs. Proper formatting of function outputs demonstrates that the solution is accurate, visually understandable, and well-structured. This aspect contributes to the overall quality of the completed assignment.
Good coding structures. Coding structures are essential for developing high-quality, professional engineering solutions. We check the structures used in the completed tasks for their best practices, efficiency, and maintainability.
Good coverage of comments in the script. Comments within the code are important for explaining and clarifying the implemented logic. They serve as a guide for the student and any other person reviewing the code. We assess the presence and quality of comments within the code to make sure that they adequately explain the implemented functions and structures.
Correctly printed outputs in the terminal. The final output displayed in the terminal is the ultimate result of a coding task. We verify that the outputs are correctly printed and formatted.
The quality of the task is a vital factor that students must consider when choosing a programming homework help platform. Our thorough assessment gives customers a comprehensive understanding of websites' professional capabilities, empowering them to make wise decisions when seeking assistance with their assignments.
Wrapping up
As you can see, the A*Help team has designed a comprehensive and unbiased evaluation system for programming homework help websites. By examining areas such as value for money, overall experience, and task quality through a particular set of criteria, the A*Help score provides students with an all-encompassing understanding of these platforms. This empowers them to make informed decisions when seeking assistance with their coding assignments, ensuring they receive the highest quality help at a fair cost. With the A*Help score, students can navigate the world of helpful coding resources, feeling confident they are accessing the most trustworthy and efficient resources available.
Read more:
How We Test Essay Writing Services
How We Test Custom Dissertation Writing Services