Time is a fundamental component of the universe and is often regarded as one of the most enigmatic aspects of existence. People measure it in different units, such as minutes, hours and days, but time is generally accepted as relative. It's so ruthlessly fast when we're hurrying and so painfully slow when we're waiting. It is especially true in college with complicated programming or computer science disciplines. Time literally flies when the due date is approaching, but the task is just too difficult to manage. Luckily, A*Help wants to see our audience measure time in traditional units rather than missed opportunities, so we know for sure who can help you with even the most complex and time-sensitive programming assignments.
One of the places where you can get competent help with coding assignment is FavTutor – the platform that offers expert assistance in Computer science education. The service provides all benefits of personal mentoring that can improve your academic standing and bring you a step closer to your CS degree. We opted to verify whether they could deliver on their commitment to providing superior coding aid, and the results of our experiment are here in this review. See How We Test Programming Homework Help Websites for more details about our testing approach.
Quick Overview
FavTutor's experts do their job well and can prove it by providing photo or video evidence. However, steep prices and a lack of discounts work against this service.
Experience review: FavTutor Mystery Shopping
A*Help values the time of our readers, which is why we devote much of ours to conducting the most thorough research of the services we discuss. The analysis that can be the most versatile, exhaustive, and objective is mystery shopping. It dots the i's and crosses the t's, leaving no questions unanswered.
From every coding help website, be it Tutorbin, do my coding assignment, and now Fav Tutor, we order a medium-complexity Python task with a three-day deadline. In addition, our team members simulate various scenarios of events that users may encounter. The effectiveness of the customer support, the range of available services, the willingness of experts to engage in dialogue, and other essential working aspects are all tested during our shopping experience. Finally, we invite our associate and experienced software developer, Logan Romford, to analyze the assignments from his professional standpoint and pinpoint errors.
Our interaction with the service and Logan's expert opinion provide sufficient data for the A*Help score – our unique indicator of a website's excellence.
Python's popularity has surged to remarkable heights, making our choice of the programming language for our assignment obvious. Logan Romford explains the overwhelming recognition of Python:
"David Robinson defines a number of reasons in his article"Why is Python Growing So Quickly?" To put it briefly, it's the most beginner-friendly but, at the same time, multipurpose programming language. Its clean and uncluttered syntax simplifies its understanding. This opens the door to programming not only to software engineers but also to mathematicians, data analysts, network architects, and even children. No kidding. There's a ton of fun exercises and games that kids can do with Python. I'm sure that's one of the things that inspire many youngsters to pursue this career path."
It's hard to argue with Logan, but there is still a journey to be taken before they can try on a Google employee ID badge. Let's find out how valuable FavTutor can be for these dream chasers on their way to a college degree.
FavTutor's Value Review: Value for Money — 11/25
The company sets clear boundaries between the services and their costs. A customer can choose between a written assignment help and a live tutoring with a professional.
The price depends on the complexity of a given assignment and the time a performer needs to complete it. For example, short and simple problems can be solved in just an hour for $35, while complex projects may require four hours and will cost $120 and more.
The company's expertise in programming languages is adequate but not impressive. They work with commonly used languages such as Java, Python, DSL, and SQL,like many similar companies do. However, if your academic or professional pursuits require C++, C#, or PHP, we recommend seeking an alternative platform. It's also important to note that the website does not provide information about its experts' educational levels or qualifications. Hence, users need to rely solely on the company's reputation.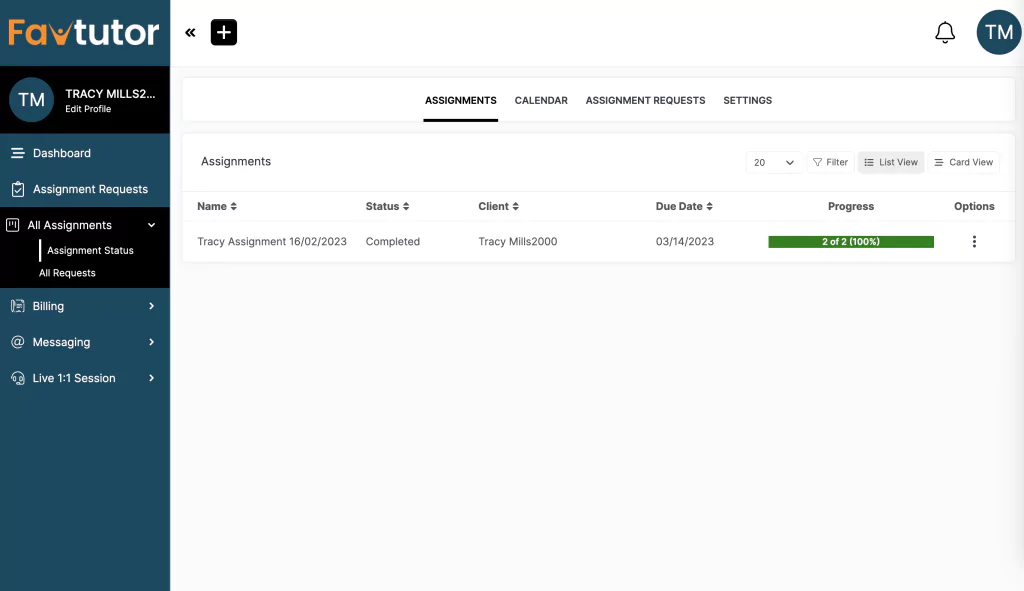 The value-for-money review would be incomplete without closely inspecting the company's pricing preferences. As mentioned above, the price largely depends on each individual case. The python assignment help cost us $180, which is above the market pricing range. A discount would probably sweeten the deal, but there is a huge overlook on this as well – neither discounts nor loyalty or referral program is offered by FavTutor.
Generally speaking, FavTutor's cost-effectiveness is tolerable (11/25). Even though we didn't find any extras we'd have preferred having, we still managed to locate the category for our assignment, place the order, and get an expert.

FavTutor's Value Review: Overall Experience — 19/25
This section of our review determines the level of user satisfaction that FavTutor provides to its customers. The experience of using an online service is impacted by numerous factors contingent on the website and its domain. We have selected and evaluated the critical aspects that greatly influence a user's overall impression from dealing with this company.
The moment when a website visitor becomes its customer happens as soon as a person hits the button "Place your order." A smooth and user-friendly order placement process can enhance customer satisfaction and promote further purchases, positive reviews, and referrals to others. FavTutor's order flow is simple but lacks a few elements. The form is plain, easy to fill, and it enables uploading files of various formats. On the other hand, it may take a few moments to navigate around the interface to ensure you're clicking in the right places. The website doesn't offer hints on task scales or disciplines, and you won't find any samples to help with decision-making. From this point, a user is left in the dark. Once the order is submitted, there is no opportunity to find out anything about its progress.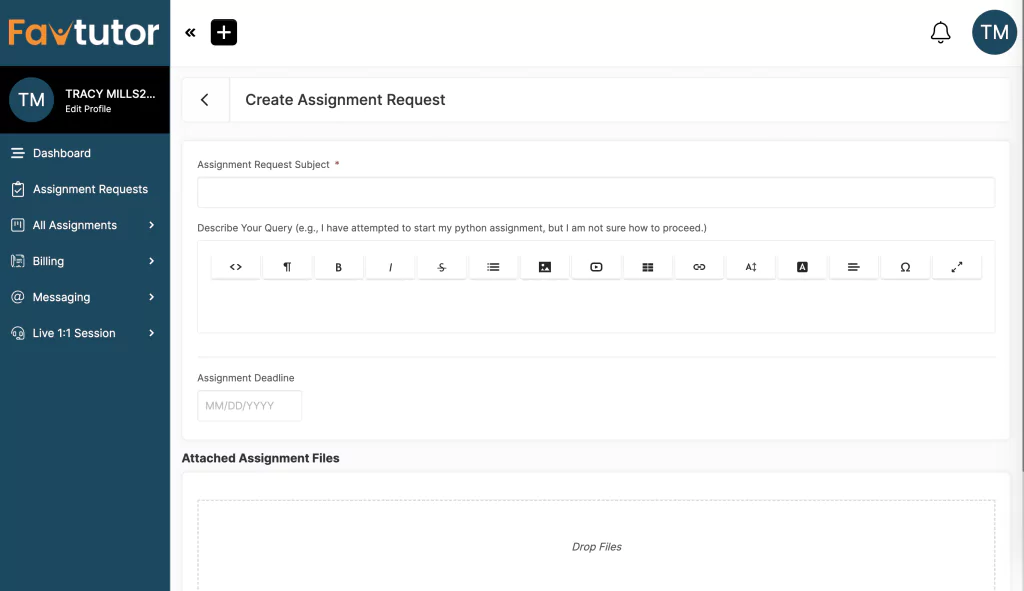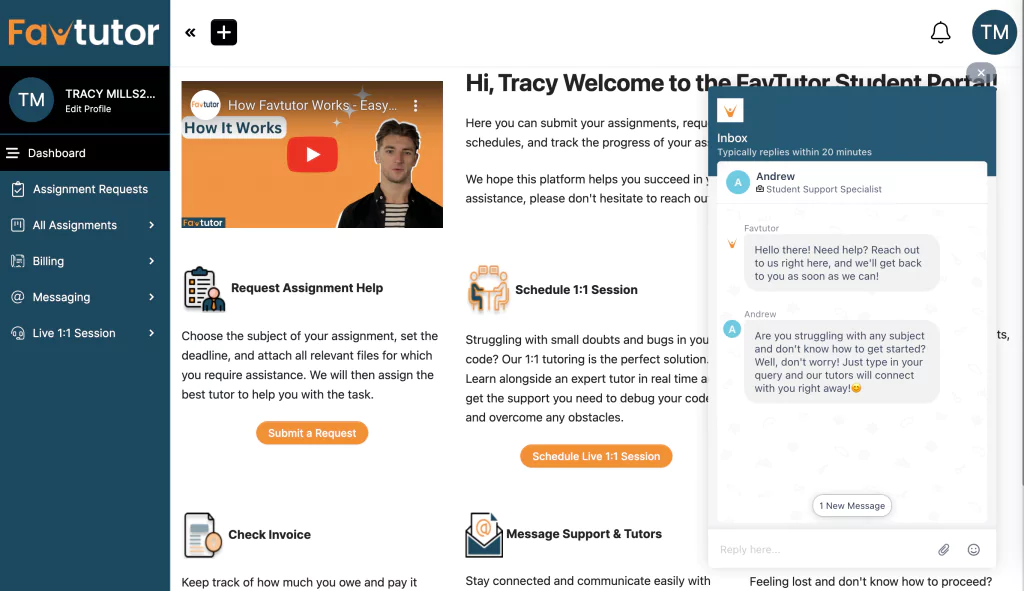 Customer support service is excellent at FavTutor. It's available round the clock with a few ways to reach it, including on-site live chat and through Facebook and WhatsApp messengers. Our assistance was prompt and helpful. The price estimation process was quick, and the website representative linked us with a qualified performer shortly after the order placement. We asked the support agent if it was possible to receive a discount coupon, but such an option was not available.Therefore, if you're wondering about the status of your assignment, feel free to inquire with a help-desk representative.
Apart from the lack of direct communication with our specialist, we were content with the level of engagement we received from him. He supplied us with a 7-minute video displaying the finished project and supplemented it with a verbal description of all essential components. Thus we could verify that the code functioned properly by not only looking at the screenshot or video but also by listening to the performer's comments. Thus, we had no doubts about the quality of the work, and it did not need any revisions.
Safety regulations and payment processing are other things always worth mentioning. In addition to email addresses, the website also requires users' phone numbers for registration purposes. This may become a barrier for users unwilling to share their contact information, fearing an invasion of their privacy or spam and marketing calls.
The range of supported payment options is yet another area where FavTutors' standing is satisfactory but not remarkable. Accepting all major credit cards can hardly become a competitive advantage, unlike the popular payment methods such as PayPal, GooglePay, and ApplePay, which are unfortunately not supported.
In conclusion, our overall user experience with the service didn't become a disappointment (19/25). The customer support team was responsive and effective, and the specialist provided a video verification of the assignment, ensuring no issues with the quality of the work. However, the limited payment options, restricted to only credit cards, may pose a challenge for some users. Additionally, while the engagement with the expert was satisfactory, there is room for improvement in communication.
FavTutor's Task Quality — 47.5/50
Getting high-quality assistance with your programming assignment is crucial for various reasons. Apart from the apparent benefits, well-crafted code aids the student in tracking patterns in the expert's work and comparing it to their own final project. This approach allows the student to detect their errors easier and comprehend more efficient or shorter ways to solve a particular programming problem. That's why Logan Romford always provides a detailed assessment of the completed tasks, highlighting the shortcomings alongside the work's strong points.
Here is the Python task that we asked to complete:
Our evaluation determined that the solution fulfilled most of the requirements on the code quality, demonstrating the high level of the performer's expertise. Our Python sudoku task assigned to the expert from FavTutor was completed with 95% accuracy, showcasing the company's dedication to maintaining high standards and professionalism in delivering exceptional work for its customers.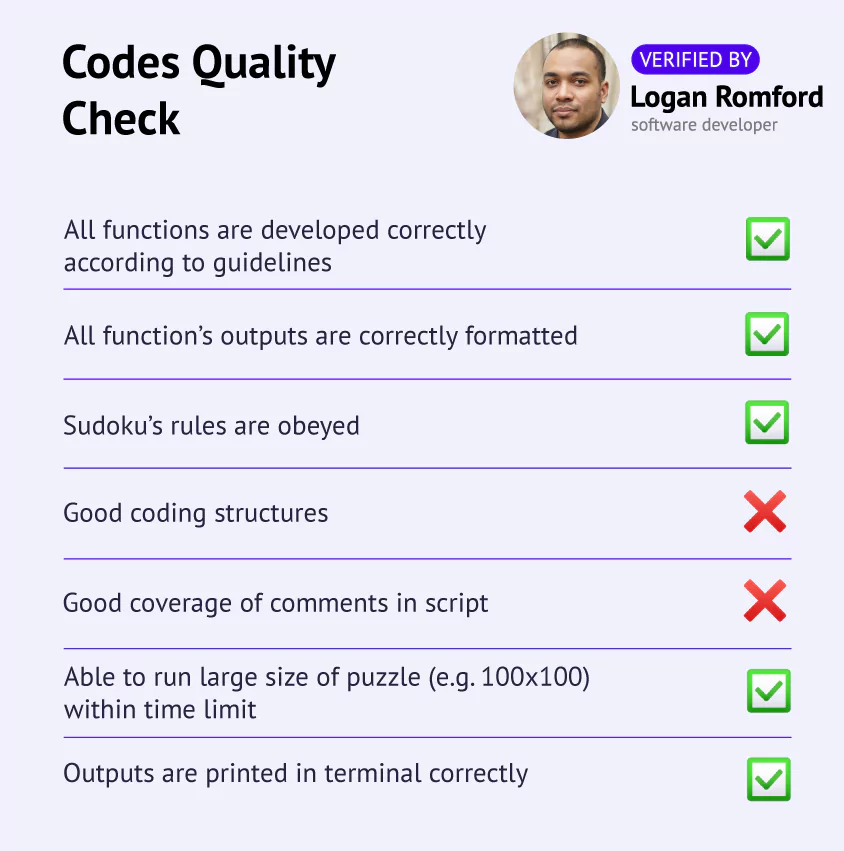 Logan Romford studies all parts of the assignment, breaking down its strengths and weaknesses:
"The sudoku works fine, so the mission is accomplished. But let's dive a little deeper into the structure of the assignment. All functions are developed according to the

the outputs are correctly formatted. The program can execute large pieces of the puzzle within the time limit, so no issues with performance. However, certain programming structures could have been built better. For example, using "N**4" instead of "N*N*N*N." White space before and after mathematical operations, e.g. +, <= and !=, or symbols ":", would enhance readability. These are the things that might have been missed by the performer. But like I said earlier, the result does what it's supposed to do, and that's what matters the most."
Task score: 95%
| | |
| --- | --- |
| ⭐ Parameter | ✅ Python sudoku task |
| Task score | 95% |
| Task price | $180 |
| Completion time | 3 days |
The bottom line
Difficulties are inevitable in any endeavor, especially in a specialized field like programming. Obstacles on the way should not deter us or alter our plans. Instead, they should strengthen and better prepare us for future career challenges. Favtutor demonstrates its capacity to be a trustworthy partner and mentor for individuals struggling to grasp various computer science concepts. While the company still has areas for improvement, our experience confirms that the service meets its commitments and is a dependable assistant. Who knows, maybe this "tutor" will become your "FAVorite" one?

Why academichelp.net is a credible source of information:
Stay curious with us. Academichelp.net has been a reliable educational resource since 2011, providing students with the latest news, assignment samples, and other valuable materials. Even with the extensive information we process, our quality remains consistent. Each team member has experience in education, allowing us to evaluate new sector offerings critically. Our reviews are up-to-date and relevant, with impartiality ensured by the A*Help score methodology from mystery shopping. We aren't affiliated with any listed service providers. Our focus remains on providing our audience with reliable and unbiased data.
FavTutor Specs
| | |
| --- | --- |
| Minimum deadline | 1 hour |
| Maximum deadline | Any |
| Min price per order | $35 |
| Order Types | 1-hour, 2-hour, 3-hour, and 4-hour pricing plans |
| Performers' expertise: | |
| The list of known languages/field of expertise | No |
| Comments reviews from previous works | No |
| Education level | No |
| Order categories (e.g. Java, Python, C++): | |
| SQL | Yes |
| DSL | Yes |
| Python | Yes |
| Java | Yes |
| Discount: | |
| Coupons | No |
| Loyalty Program | No |
| General retention program | No |
| Order Flow: | |
| File upload (supports various types) | Yes |
| Сan give files to support | Yes |
| Order progress tracking | No |
| Easy to fill-in order form | Yes |
| Includes language, discipline, environment | No |
| Has explanations/examples of task sizes | No |
| Customer-expert communication: | |
| Сan explain how the task was done/how the code works | Yes |
| Keeps the client posted | Yes |
| Proof of the working task (screenshot, video, check progr.) | Yes |
| Can be asked questions about the order | No |
| Support: | |
| Helpfulness of support | High |
| Quick price estimation | Yes |
| Quick search of performers | Yes |
| Availability to get extra discount via support | No |
| Security&Privacy: | |
| Need a phone number to register | Yes |
| Need an email to register | Yes |
| Security payment, SSL | Yes |
| Payments: | |
| Paypal | No |
| Google Pay | No |
| Apple Pay | No |
| Visa | Yes |
| Mastercard | Yes |
| American Express | Yes |
| Discover | Yes |
| Crypto | No |
FAQ

FavTutor Reviews
We perform a thorough and accurate evaluation of every company. This involves examining reliable data obtained through conducting secret shopping activities with FavTutor and gathering further comments and reviews from customers posted on multiple platforms like Reddit, Sitejabber, Reviews.io, and Trustpilot. All this combined serves as a credible source of information about FavTutor.
Is FavTutor a Scam?
FavTutor has effectively finished a Python programming task of moderate difficulty level within the given timeframe and as per our directions. The service fulfilled all its commitments and didn't involve us in any activities beyond the scope of the website's terms and conditions. Therefore, there is no evidence of any deceitful behavior on the part of this service provider. FavTutor is not a scam.
Is FavTutor Legit?
The A*Help team exclusively assesses and collaborates with genuine service providers, thereby affirming that FavTutor is a reputable, dependable, and totally legit organization.
Is FavTutor Safe?
Our interactions with the company verify the security of its services and the procedures it employs to manage financial transactions for its customers. The website's privacy policies are accessible to all users and are distinctly specified in the relevant section of the website.
Is FavTutor Trustworthy?
The comprehensive evaluation represented in this review clearly states that customers can rely on FavTutor as a dedicated and customer-centric online platform. The company prioritizes providing quality professional services.
Is FavTutor a Good Service?
The A*Help score is a measure of a service provider's professionalism. It is determined by assessing cost-effectiveness, user experience, and assignment quality. FavTutor has obtained a rating of 77.5/100, indicating that it is a decent choice for individuals who require professional help with codding assignments.
Follow us on Reddit for more insights and updates.