The growth of the Internet and giant leaps of upscaling computing power from PCs to smartphones sparked an interest in the tech industry. The birth and overnight success of social media, blockchain, streaming services, big data applications and edge technologies – to name a few – kindled the interest of young people in IT.
COVID-19, recent layoffs at such big names as Google and Facebook, and yet another looming financial crisis took a toll on the IT world. These were inevitable challenges in the tech field. Despite all the odds, IT specialists are still in demand and cutting-edge technologies are rapidly developing – we all witnessed the hype around AI and ChatGPT.
Becoming an expert at something requires a lot of time. Not many students have this luxury since they have to combine their studies with work or other duties. The tech industry is no exception. Hence, many aspiring learners are left disheartened. There is a solution – Tutorbin, a digital learning platform that seeks to reduce stress and help students get better at their subject.
In this review, A*Help will check if Tutorbin is really worth it and whether this platform can narrow students' gap between knowledge and grades by providing online help with coding homework. See How We Test Programming Homework Help Websites for more details about our testing approach.
Quick Overview
TutorBin delivers high-quality customer support and generous discounts, but the narrow choice of programming languages and the lack of communication with the expert are serious shortcomings of the company.
Mystery Shopping Experience – Tutorbin Review
A*Help knows that choosing a tool that will assist you with academic work is hard. In this regard, we conduct mystery shopping to test and gain firsthand experience of using programming assignment help websites. We believe that practical results and actual experience serve as blazing beacons for guiding students to make informed decisions to improve their academic performance.
Our approach includes requesting to complete a standard coding assignment. Throughout the process, we evaluate three main aspects contributing to the A*Help's rating system: value for money, overall experience, and task quality. These criteria prioritize convenience, credibility, problem-solving expertise, customer-expert communication, client support quality, and time management provided by coding help platforms. A*Help is here to serve as your vigilant auditor and unbiased reviewer during the experiment.
We requested Tutorbin to do a medium-complexity Python task with a 3-day deadline. This always-developing, simple, and versatile coding language was our primary choice. For credibility, A*Help turned to Logan Romford, our IT expert with profound experience with one of the biggest IT powerhouses. He verified the quality of the work and graded the assignment.
Here are Mr. Romford's thoughts on Python and its prospects for aspiring developers:
"Philip Guo, an associate professor of Cognitive Science at US San Diego wrote in his article "Python Is Now the Most Popular Introductory Teaching Language at Top ­U.S. ­Universities" that Python is gradually turning into the most popular language to teach novices. His article was published almost a decade ago and his words still remain true. Even MIT and UC Berkeley CS departments started to teach more introductory courses on this coding language. I am sure Gen-Z will definitely be interested in learning it since almost all their favorite apps, like Instagram, Spotify, YouTube, and Netflix rely on Python through their full content lifecycle."
Mr. Romford will share a broader comment on the assignment later. Let's dive deeper into our review of Tutorbin and shed some light on its services and processes behind their homework help portfolio.
Tutorbin's Value for Money — 14/25
The main reason you might be needing programming assistance is that you lack the information or knowledge to get better on your own. Alternatively, you might be short of time because you are snowed under with many tasks. In any case, you need a real go-to platform that you do not fritter your money away on and that can relieve your academic pain.
Tutorbin allows you to escape the routine of academic chores and assists you with coding tasks. The platform covers popular coding languages, such as Python, Java, and C/C++. If you need guidance with C#, Rust, PHP, and other advanced programming languages, Tutorbin cannot meet your expectations.
A*Help values quality and we are interested in knowing more about experts who will aid students. Alas, Tutorbin.com does not provide any information regarding the expert's field of expertise, or education level, and states no feedback on previous works. Meaning you pay as you trust.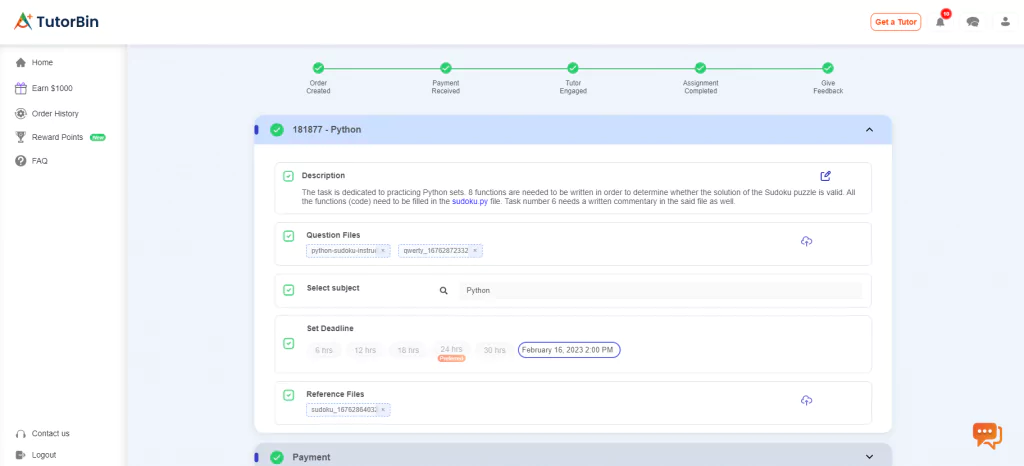 Our medium-complexity Python sudoku assignment cost us $164 after applying our 10% discount that we earned for filling in our profile. We can put Tutorbin in the medium price segment for coding assignments.
In addition to a 10% signup discount, students can enjoy the benefits of getting rewards points and cashback within Tutorbin's loyalty program. Earn reward points by updating information in your profile. Note that you cannot use reward points alongside discounts.
Our order was ready rather quickly in 20 hours, even though we had requested a 3-day deadline. With such task completion speed, we had enough time to spare for additional clarifications or extra revision. However, the expert did the assignment the right way, and no corrections were required.
Based on this, we would say that Tutorbin provides good service and gives an adequate value-for-money proposition. This academic platform has strong and weak sides. Tutorbin's value for money score is 14 out of 25.

Tutorbin's Platform: Overall Experience — 18/25
In this section we will outline the experience of working with Tutorbin.com in general. When turning for help to a platform a student should feel at ease and be sure that their assignment will be completed. We assessed the most crucial aspects that can impact client's opinion and satisfaction with the online service.
Generally speaking, Tutorbin can satisfy the primary needs of those who are new to programming or continue to polish their knowledge and need guidance. Our research team pays attention to the order flow for coding assignments since there are many intricacies. The order placement is clear. A student fills in an easy task form and publishes an order. There, they can upload various file formats (in our case .py), as well as give them to support (help desk) in case some misunderstanding arises.
You can track your order on the dashboard. On Tutorbin.com it is called "order history". In this section, a student sees task filters, like Ongoing, Delivered, Refunded, and Cancelled. This is an essential part because some students have strict requirements from professors which could need extra time to comply with.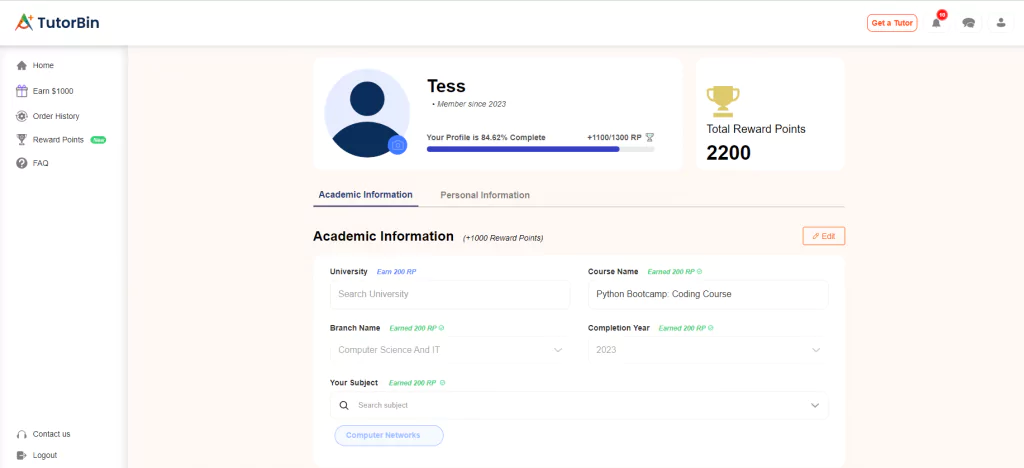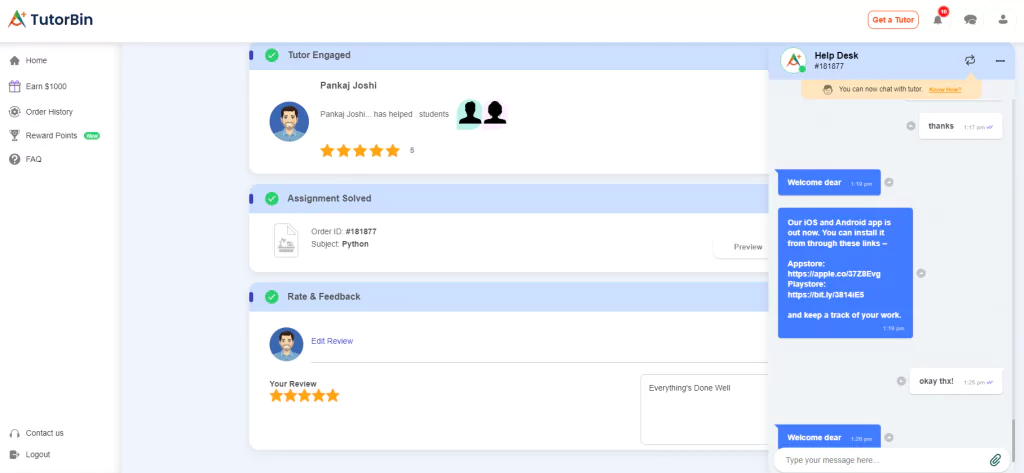 The A*Help team is always on the lookout for the best-in-class service user experience. We dare to say that Tutorbin has a valid support team. They have round-the-clock availability and their chat is always accessible. During our experience of working with Tutorbin, we always felt comfortable because we could pose a question and instantly receive an answer. Not only did we stay in touch with the support on the platform but also could contact them via any convenient messenger be it Facebook or Whatsapp. Plus, we could keep in touch with our expert via chat on Tutorbin.
We could not help but check out a quick assignment price estimation. All essential details regarding the order were also confirmed and noted through the support team. Having gathered all the vital information, they helped us to find an expert in a couple of hours who could complete our Python assignment. Tutorbin has quick and professional customer service.
Throughout the whole process of working on the order, we received notifications on assignment updates on the platform, application, and via email. A*Help would certainly rate Tutorbin's customer experience on a high level.
Moving on to customer-expert communication when a student and an expert are working together. Experts at Tutorbin do not provide any explanations regarding the code. However, having completed the task, the performer attached the proof of the task in a document. A good thing is, as mentioned earlier, every student has a chat with an expert and they can pose any questions on the assignment.
Tutorbin is a safe academic service for students. When working with this platform we had a good element of privacy. A registration form only requires a student's email address. This way of creating an account creates a sense of trust in an online service. And payment transactions are secure.
Payment methods in Tutorbin are not broad, they include Visa, Mastercard, American Express, and Discover. It is worth stating that additional payment options, namely Paypal, Google and Apple pay would be a plus.
All in all, Tutorbin.com guarantees good service and support to its clients. A*Help awarded 18 points out of 25 to this platform for the overall experience we had with this academic online platform.
Tutorbin's Expertise: Task Quality — 40/50
We want to draw your attention to another criteria in A*Help rating which is – task quality. The reason why students turn for help to academic platforms is a chance to learn from previous mistakes when they receive a well-done code with explanations. Our IT expert Logan Romford assisted us with the practical task and gave his comments.
Here is the Python task that we asked to complete:
Having evaluated Tutorbin's performance, Logan gave a score of 80% to the Python sudoku task. The expert pointed out a good coding structure and proper development. The score is higher than average, despite minor mistakes.
Here is the proof that we received from our TutorBin's expert: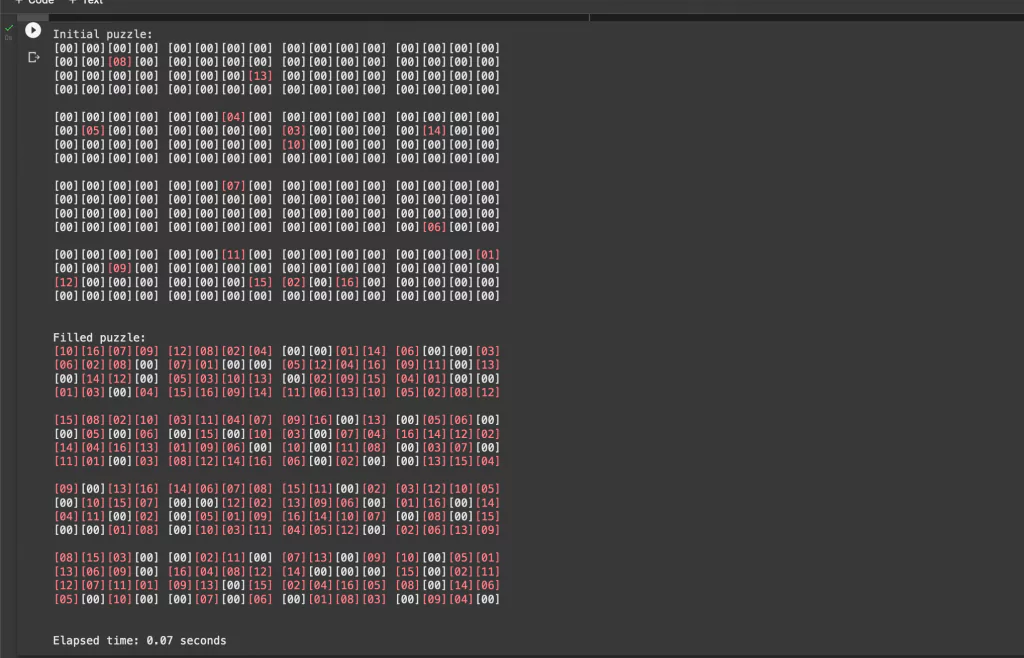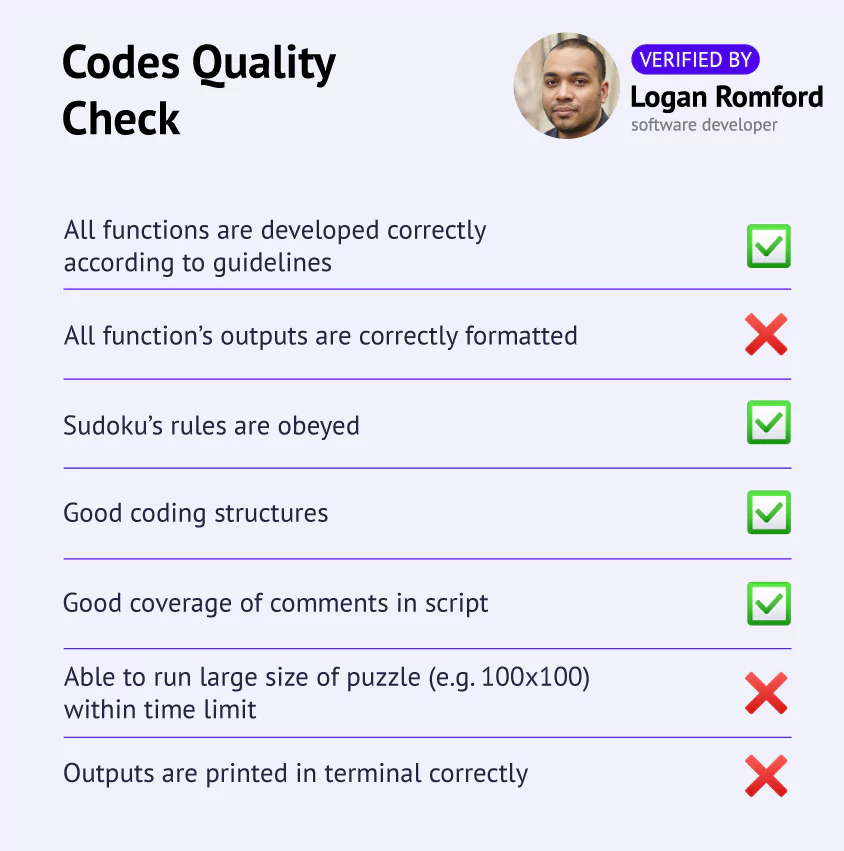 Mr. Romford always stays in the loop tech-wise. He kindly provided his personal comment concerning the quality of the assignment:
"The script is meeting 80% of the requirements mentioned in the instructions. It doesn't meet the requirements stated in instruction no.1: "represents the reg_sets as a Nested List (List of List) of sets", instead, it represents the reg_sets as a List of sets.

Secondly, there is some missing printout as compare to the sample output given by the guideline. The initial puzzle in Python dictionary format is not shown, only the board layout is displayed. Here is the part that is missing from the printout:
Nevertheless, when trying to solve a 100×100 size of puzzle, the script runs forever with no results being returned. This contradicts with the no.5 instructions, stating that "According to faculty test, it took 0.81 seconds to fill 75% of a 100×100 board.
On the positive side, the codes are well-commented and well-structured for good readability."
Task score: 80%
| | |
| --- | --- |
| ⭐ Parameter | ✅ Python sudoku task |
| Task score | 80% |
| Task price | $164 |
| Completion time | 20 hours |
Final Decision
Time is luxury. Even though Tutorbin cannot buy it for you, its experts can help you overcome educational hurdles along the way. Tutorbin.com can indeed become your trusted platform in your academic pursuits. Having combined scores from all 3 criteria we can state that this coding help provider offers great assignment quality, ensures a smooth customer experience, and affordable order fees.

Exclusive Tutorbin discount code
Tutorbin provided a special promo code for A*Help's readers.
You will get a 30% discount with the promo coupon + a 10% joining discount on your 1st order. Total of 40% Discount on 1st order.
Use Navy106 to get a discount for your first order. Promocode should be inserted here: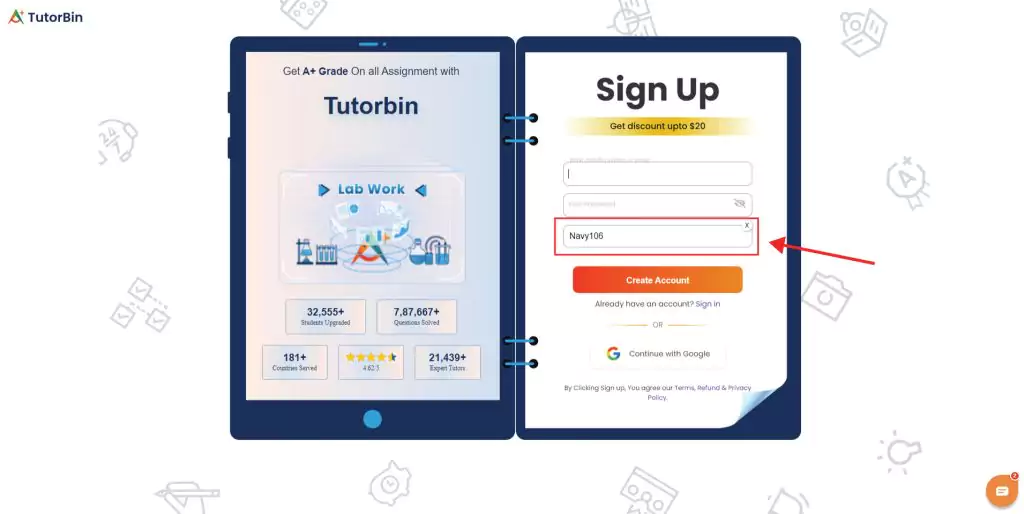 Tutorbin Specs
| | |
| --- | --- |
| Minimum deadline | Any |
| Maximum deadline | Any |
| Min price per order | n.a. |
| Order Types | n.a. |
| >Performers' expertise: | |
| The list of known languages/field of expertise | No |
| Comments reviews from previous works | No |
| Education level | No |
| >Order categories (e.g. Java, Python, C++): | |
| Python | Yes |
| Java | Yes |
| C++ | Yes |
| >Discount: | |
| Coupons | 10% |
| Loyalty Program | Reward points |
| General retention program | Cash points and referral program |
| >Order Flow: | |
| File upload (supports various types) | Yes |
| Сan give files to support | Yes |
| Order progress tracking | No |
| Easy to fill-in order form | Yes |
| Includes language, discipline, environment | No |
| Has explanations/examples of task sizes | No |
| >Customer-expert communication: | |
| Сan explain how the task was done/how the code works | No |
| Keeps the client posted | No |
| Proof of the working task (screenshot, video, check progr.) | Yes |
| Can be asked questions about the order | No |
| >Support: | |
| Helpfulness of support | High |
| Quick price estimation | Yes |
| Quick search of performers | Yes |
| Availability to get extra discount via support | No |
| >Security&Privacy: | |
| Need a phone number to register | No |
| Need an email to register | Yes |
| Security payment, SSL | Yes |
| >Payments: | |
| Paypal | No |
| Google Pay | No |
| Apple Pay | No |
| Visa | Yes |
| Mastercard | Yes |
| American Express | Yes |
| Discover | Yes |
| Crypto | No |
Tutorbin Review of Essay Writing Websites
Tutorbin is a familiar name to A*Help's audience. This is a versatile player in the field of academic help.
Quick Overview
Tutorbin is a popular service that offers 24/7 homework help to struggling students. Our A*Help team reviewed the platform and rated it with a decent 68.5/100 A*Help score. Tutorbin.com had a convenient online website but didn't have that many features. Nonetheless, it provided us with a prompt completion of 2 of our assignments which were graded 72.5/100 and 65.4/100 pts.
Tutorbin Experience review: Essay Writing Service Mystery Shopping
Take a look at the details of our testing scenario below:
✍ Paper
⭐ Personal Essay (2 pages)
💼 Business Memo (4 pages)
🎓 Academic level
Undergrad. (yrs. 1-2)
Undergrad. (yrs. 3-4)
✅ Paper format
MLA
Chicago / Turabian
⏰ Deadline
6 hours
7 days
👉 Paper instructions
For this assignment, you will be writing a personal narrative–a story–illustrating an event or experience exemplifying gratitude. In other words, share a colorful story about an experience or event for which–either during or after the event– you feel or felt thankful. An example might be writing about your experience as a senior in high school and the teacher who helped you to achieve your goal of graduating and attending college. Another example might be writing a story about your experience growing up in a rural community, acknowledging that it was this small, but mighty, community that made you who you are today, and for this, you are thankful. This assignment should be at least 550 words. Underline your descriptive thesis statement or the point of your story. No outside/secondary sources are needed. See Appendix C – Formatting and Submitting Your Work See Formatting your Essay: MLA 8th Edition
You are the Government Relations Director at a Canadian business. You have been asked to write a memo to your CEO about COVID-related government impacts on your business, comparing two provinces in which you operate. Your assignment is to write & submit this memo Your Task:
1. Choose a specific business you work in (Air Canada, Loblaws, 3M Canada, etc).
2. Choose two provinces to compare for your memo.
3. Research both provinces – what restrictions were in place in both provinces that affect your business? What supports are in place?
4. Write a memo in three parts: (1) how COVID is impacting our business, (2) a comparison of two provinces, (3)reflections on Canadian federalism and any recommendations for the CEO on how to work with governments to lead your business through the crisis
Looking for more essay topics and ideas for inspiration? Check our Best essay writing topics digest. The most popular categories for custom writing assignments according to the weekly market data released by A*Help.
Tutorbin Essay Writing Services. Value for Money — 14/25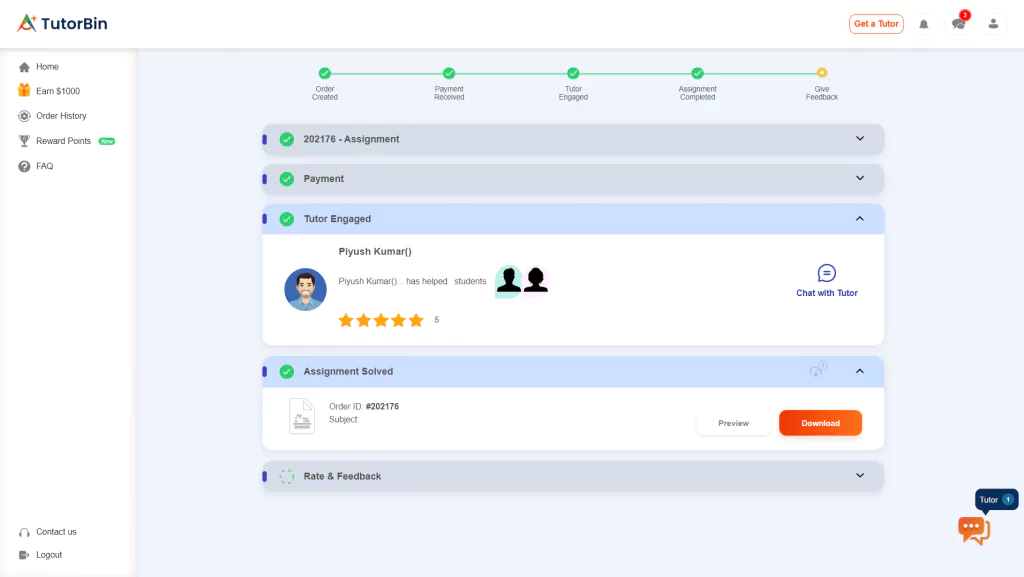 Tutorbin Essay Writing Services. Overall Experience — 20/25
Tutorbin Essay Writing Services. Paper Quality – 34.5/50
| | | |
| --- | --- | --- |
| Parameter | Paper 1. Personal Essay (2 pages) | Paper 2. Business Memo (4 pages) |
| Paper score | 72.5/100 | 65.4/100 |
| Paper price | $50.09 | $61.50 |
| Completion time | 5.5 hours | 5.3 days |
Why academichelp.net is a credible source of information:
Stay curious with us. Academichelp.net has been a reliable educational resource since 2011, providing students with the latest news, assignment samples, and other valuable materials. Even with the extensive information we process, our quality remains consistent. Each team member has experience in education, allowing us to evaluate new sector offerings critically. Our reviews are up-to-date and relevant, with impartiality ensured by the A*Help score methodology from mystery shopping. We aren't affiliated with any listed service providers. Our focus remains on providing our audience with reliable and unbiased data.
Tutorbin Essay Writing Services. Main Specs
| | |
| --- | --- |
| Minimum deadline | 3 hours |
| Maximum deadline | Any |
| Min price per page | $29 |
| Standard Page | 275 words |
| Average paper price (according to our mystery shopping) | $55.80 |
| Pay in installments | ❌ |
| Free services | Revisions |
| Additional services | EditingProofreadingAdvanced writers |
| > Payment Methods | |
| Paypal | ❌ |
| Google Pay | ❌ |
| Apple Pay | ❌ |
| Visa | ✅ |
| MasterCard | ✅ |
| American Express | ✅ |
| Discover | ✅ |
| Crypto | ❌ |
| > Discounts | |
| Coupons | ✅ |
| Loyalty Program | ✅ |
| Referral Program | ❌ |
| > Security & Privacy | |
| Need a phone number to register | ❌ |
| Need an email to register | ✅ |
| Security payment SSL | ✅ |
| > Customer Support | |
| Support availability 24/7 | ✅ |
| Support on-site messenger | ✅ |
| Support on Facebook/Whatsapp/etc | ✅ |
| Support via phone calls | ❌ |
| Helpfulness of support | High |
FAQ

Tutorbin Reviews
Trusting a service on the Internet is getting harder and harder. A*Help does its best to check the websites for you and evaluate their strong and weak points by placing orders and describing our experience. We also recommend checking the platform yourself. Additionally, A*Help got acquainted with reviews on the following services Reddit, Trustpilot, Review.io, and Sitejabber.
Is Tutorbin a Scam?
To check the credibility of the service we create mystery shopping when we place a real order on this service. We conducted the same experiment with Tutorbin and can assure you that this online service is not a scam.
Is Tutorbin Legit?
A*Help evaluates only legitimate academic services. We can assure you that Tutorbin.com is a reputable and legit company. Moreover, this online service has a great number of trusted clients.
Is Tutorbin Safe?
According to our research, Tutorbin.com proved to be a safe platform. It only asks its clients to leave an email address to create an account. Additionally, Tutorbin has secure payment gateways.
Is Tutorbin Trustworthy?
Fast delivery, good client service, and great results make Tutorbin a trustworthy service. After mystery shopping, A*Help can confirm that Tutrobin.com is a platform that is worth your trust.
Is Tutorbin a Good Service?
A*Help evaluates online academic services on a plethora of parameters. Altogether, Tutorbin obtained a ranking of 72/100. We believe that Tutorbin is a decent company that can help students in their programming endeavors.
Follow us on Reddit for more insights and updates.