Quick Overview
EssayBot app is an assignment tool that offers to help students find writers to help with homework tasks. According to our mystery shopping, it can only be rated with a 58.9/100 AHelp score. The Ahelp team reported the application, along with some other essay writing apps, as having a simple but buggy interface, the writer's inability to follow the deadline and poor essay quality.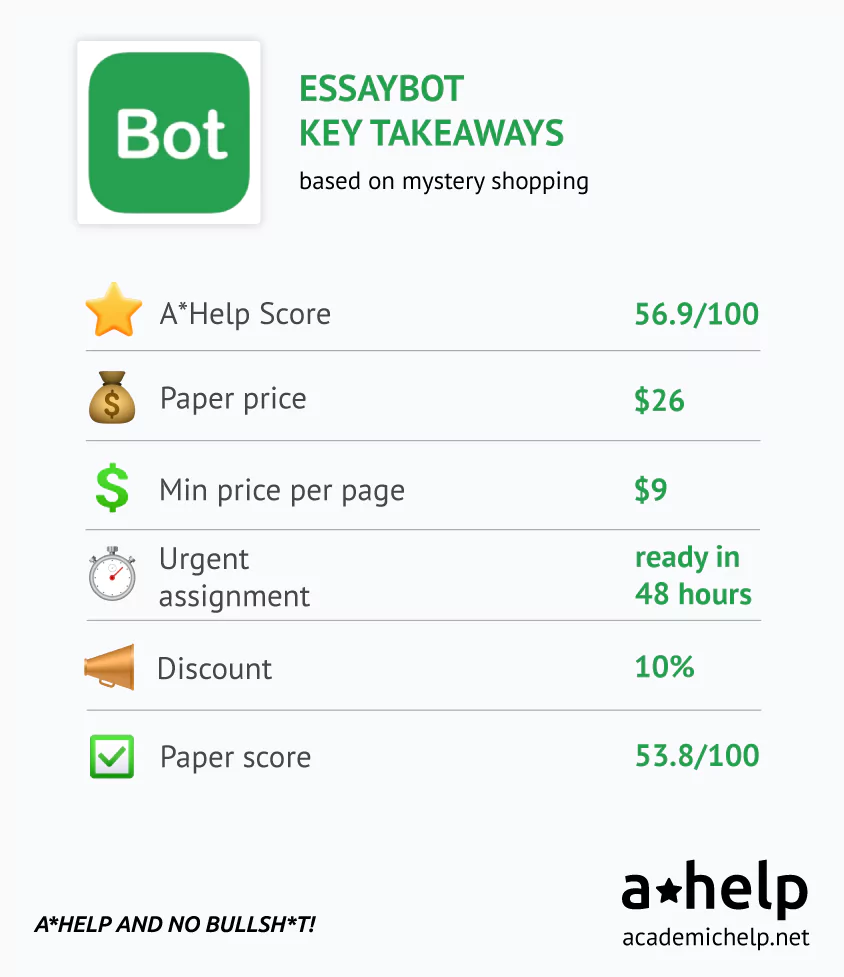 | | |
| --- | --- |
| ✍ Paper | ⭐ Response paper to the story of "Young Goodman Brown" |
| 🎓 Academic level | Undergrad. (yrs. 1-2) |
| ✅ Paper format | MLA |
| ⏰ Deadline | 24 hours |
| 👉 Paper instructions | Write a response paper to the story of "Young Goodman Brown" by Nathaniel Hawthorne. Dive into the religious aspect of the story. Take a look into the main character's self-scrutiny and explain why it has led to his loss of belief |
Looking for more essay topics and ideas for inspiration? Check our Best essay writing topics digest. The most popular categories for custom writing assignments according to the weekly market data released by A*Help.
Overall Experience — 21/30
Value for Money — 9/20
Paper Quality — 26.9/50
Paper score: 53.8/100
| | |
| --- | --- |
| ⭐ Parameter | ✅ Personal Essay |
| Paper score | 53.8/100 |
| Paper price | $26 |
| Completion time | 48 hours |
Why academichelp.net is a credible source of information:
Stay curious with us. Academichelp.net has been a reliable educational resource since 2011, providing students with the latest news, assignment samples, and other valuable materials. Even with the extensive information we process, our quality remains consistent. Each team member has experience in education, allowing us to evaluate new sector offerings critically. Our reviews are up-to-date and relevant, with impartiality ensured by the A*Help score methodology from mystery shopping. We aren't affiliated with any listed service providers. Our focus remains on providing our audience with reliable and unbiased data.
EssayBot Specs
> Deadline
Minimum deadline
1 hour
Maximum deadline
Any
Min price per page
$9
Standard Page
275 words
AVG paper price (details)
$26
Pay in installments
❌
Free Services
❌
Additional services
❌
> Payment methods
Apple Pay (clear & easy to use)
✅
Paypal
✅
Google pay
✅
Visa
✅
Mastercard
✅
American Express
✅
Discover
✅
> Discounts & Loyalty Program
Coupons
✅
10% off first order
Loyalty Program
✅
Blue, Silver, Gold and VIP programs
Referall Program
✅
Give your friends 10% off their first order and get 20% of its price (up to $200)
Sign-in before making an order
✅
uses third-party/social login+ Apple sign-in
✅
need a phone number to register
❌
need an email to register
✅
Security payment SSL
✅
> Support
Support availablity 24/7
✅
Helpfulness of support
Low
Availability to get extra discount via support
❌
Notification system (adjustable & versatile)
✅
FAQ
EssayBot: Write Essay For You Reviews
The A*Help team is dedicated to bringing you a full report on the reviewed application. We go on App Store, Google Play, Sitejabber, Trustpilot, and Reddit collecting trustworthy negative feedback from previous users to find possible pitfalls. We present these findings in our Negativity Rank section, so be sure to read it through.
Is EssayBot: Write Essay For You a Scam?
Our team downloaded the EssayBot app and used it to connect with the writer who would complete our essay for us. Despite the performer missing the deadline and the essay being poorly written, we still received the service. This software is not a scam but you need to pay attention to the writers you want to work with here.
Is EssayBot: Write Essay For You Legit?
EssayBot has been in the App Store and Google Play for some time. It also has an established customer base and an open description of its services. That's why we can call it a legitimate provider.
Is EssayBot: Write Essay For You Safe?
When we downloaded EssayBot we did notice some bugs in the program, but they didn't mess with our phone's general usage and productivity. It also asked for all the important permissions regarding the use of the data on our device. We consider EssayBot to be safe to use.
Is EssayBot: Write Essay For You Trustworthy?
Our A*Help team ordered an essay from one of the writers on the EssayBot app. We received it past the deadline and poorly written but nonetheless completed per our request. If you choose the writers carefully on this app, you can trust them with your assignments.
Is EssayBot: Write Essay For You a Good Service?
EssayBot only received a 56.9/100 A*Help score which is not a sufficient result. We have reviewed much better options for essay writing apps which can be found on our website.
Follow us on Reddit for more insights and updates.