Today we strive for productivity more than ever. We make grand plans by writing down 10-15 tasks that we need to complete by the day's end. Yet, we mostly can't handle all of them as we intended and they keep piling up on our to-do list. This is especially true for academic assignments, which seem the hardest to find the time for.
What if there was a chance to get those writing assignments solved on the go? What if it could be as easy as ordering an Uber through your phone or ordering pizza just in a few clicks? Fortunately, digitalization ensured that this was possible. Now, there are homework help services that can guide you right through your phone. All you have to do is find the right application. To make it easier for you to make your choice, our A*Help team created a top list of best essay writer app solutions to become your pocket academic assistant. You can also use our buying guides to know which aspects need more attention during the search process. See How We Test Essay Apps for more details about our testing approach.
How We Review the Best Apps for Essay Writing
For us, it's crucial that you receive all the necessary and true details about the reviewed apps. Hence, we fact-check the information by testing these programs out during our mystery shopping projects.
We download each application from the App Store and analyze the experience from the beginning till the very end, including convenience and educational value. We examine whether you can expect to get a clear app store experience, convenient and secure usage, helpful customer support, quick purchases, and communicative writers ready to give you the help you look for. Besides that, we take into account the versatility of available features (free and those that come at an extra cost), the selection of discounts, and price. Our team places orders for a 2-page response paper for the English & Literature class with a 24-hour deadline. The written assignments are then sent to A*Help's partner US college professor, Sybil Low, who checks them according to the generally accepted university standards. The works that receive grades lower than 60/100 pts are perceived as unsatisfactory.
Professor Sybil shared her opinion about the type of essay we chose to order from the apps:
"Response papers to the literary works (prose, poems, book critique, or analysis) are extremely popular types of assignments in English Literature classes. For these tasks to be successful, students need to carefully read through the chosen piece, highlight the main idea of the text, and find answers to posed questions. In the essay, they will also need to outline their own attitude and key takeaways from that literature. Some learners find it hard to keep track of what they are reading and that's why they may further face difficulties when composing their paper."
All of the reviewed aspects are then combined to form an A*Help score. We use it to rank the apps and create a rating of the best solutions for your essay writing purposes.
Number 1 Option – Essay Writing App
After organizing and carrying out our complex research, we compared 9 different providers of mobile software for homework assistance and came to the conclusion that the go-to choice should be SpeedyPaper: Essay Writer pros essay writer app. It's highly convenient to use, offers a great selection of both discounts and services, and provides assistive customer support. According to our experience, there's no reason for this application to land any lower than the 1st place.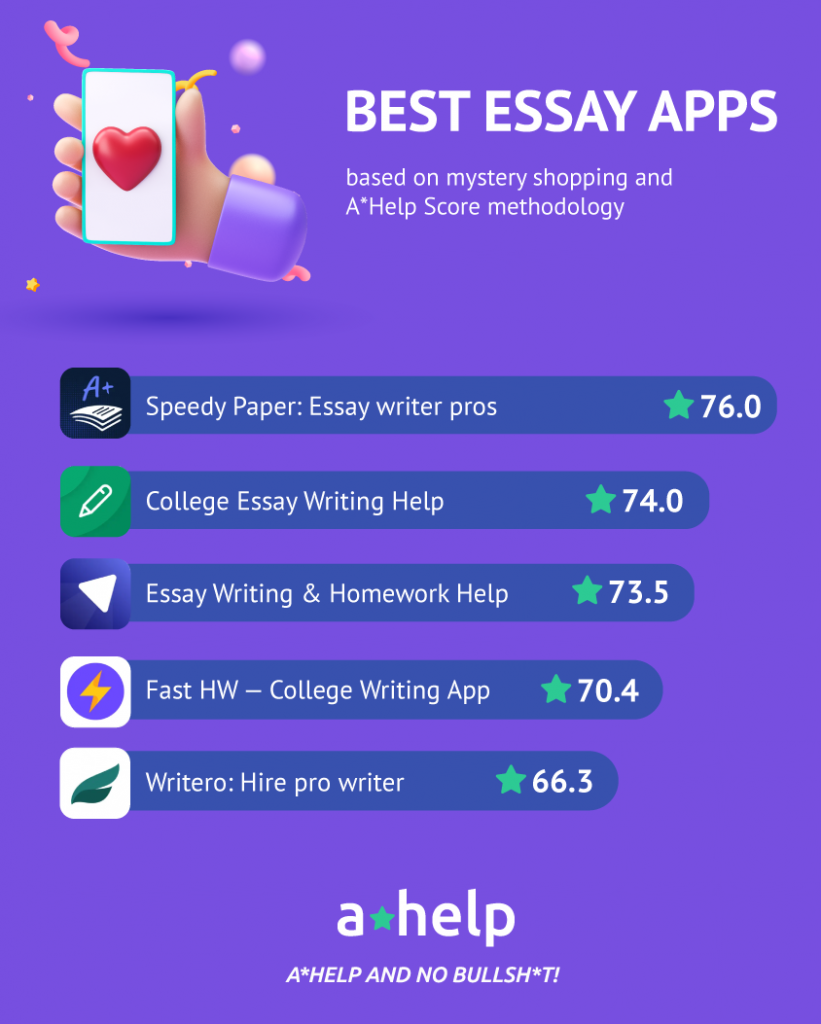 TOP Essay Help App Reviews
Based on our mystery shopping, the following is the list of best apps that write your essay for you:
1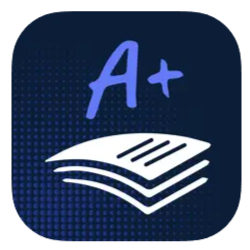 SpeedyPaper: Essay writer pros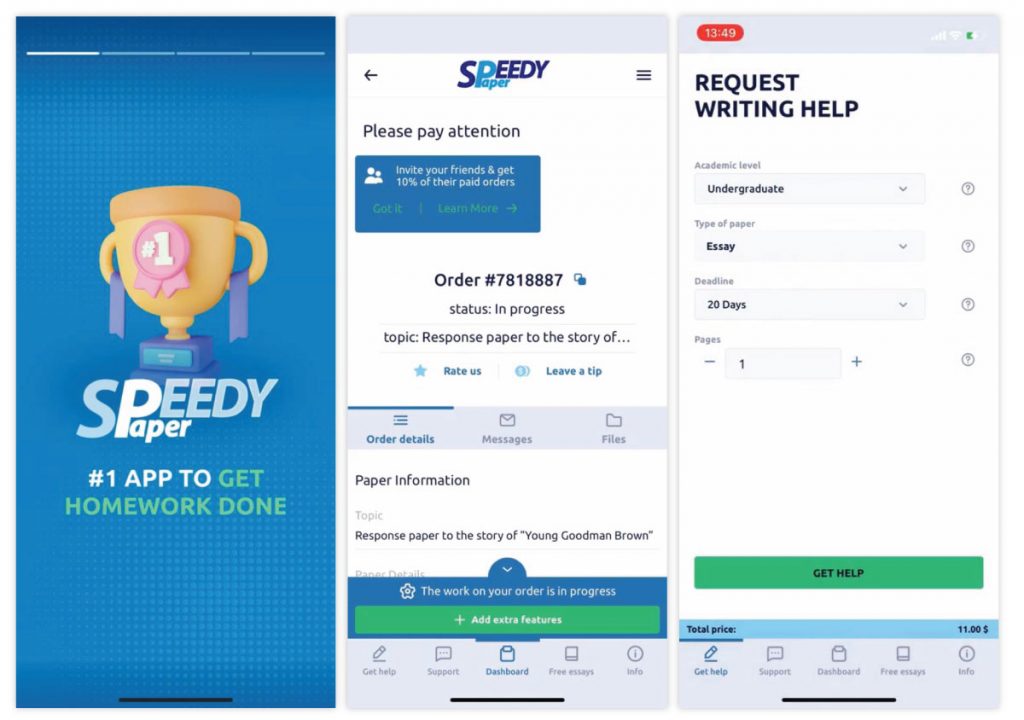 You can't miss SpeedyPaper on the App Store, as it's the only mobile software with such a promising name. It assures you to turn your homework into an easy and fun activity with instant help from professional writers.
The application was pleasant to use. Quick loading time, easy-to-understand interface, and convenient order forms much contributed to our satisfaction. The platform also had a responsive customer support system which made the overall experience even more simple. What was a bit lacking was communication with the writer, as we didn't get a chance to talk through the task at all.
In terms of the value-for-money index, on the other hand, the platform could benefit from an upgrade. It doesn't provide any free features with your order, except for revisions. However, there is quite a selection of extra services that include but are not limited to speaker notes, soft copies of sources, plagiarism report, paper drafts, and summaries. As for the prices here, our 2-page essay cost $45.5. SpeedyPaper provided us with a pleasant surprise, giving us a 9% discount on the first order and adding a free PRO writer along the way.
Having reviewed our paper, Dr. Sybil graded it 62.5/100 pts, which was just a small bit higher than the accepted minimum. Here, good results were noticed for punctuation (95%), word choice (87%), and spelling (82%). Aside from that the essay had seriously deficient reference and in-text citation formatting and got the lowest mark for efficiency – only 28%.
With SpeedyPaper: Essay writer pros app we didn't get the paper quality we expected, but it did give us a great overall user experience and some interesting as well as helpful options for additional services. Thus it lands first on the list.
AppStore – Yes, Google Play – Yes
2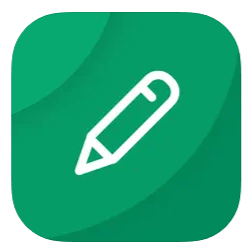 College Essay Writing Help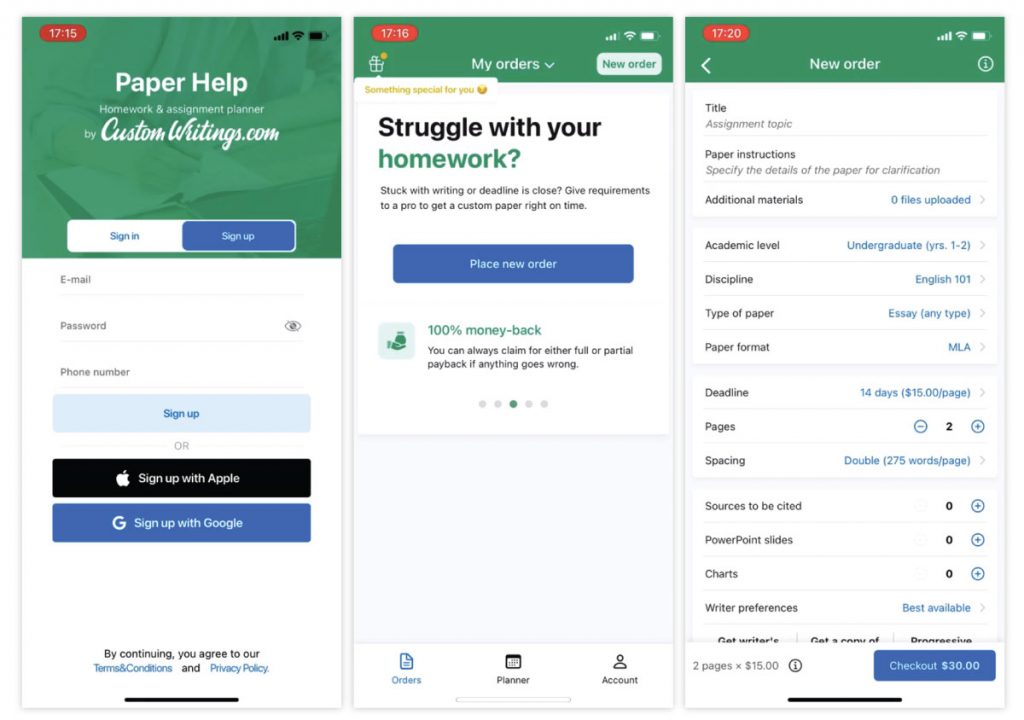 College Essay Writing Help, an app developed by Writera Ltd., positions itself as a multitool. It can help you plan your assignments, schedule the working process, and find assistance from professional writers so that your homework won't take more time than it should.
The essay ordering tool was easy to find, instant to install, and adaptable in its usage. The loading times were quick and the order form was quite straightforward. And if we had any questions, we could definitely get them answered by the app's support team as it proved to be responsive. The only inconveniences were that we couldn't get to test the platform without registering first and that we didn't get to talk out our task with the writer.
The platform also offered a few free and additional features. For example, revisions, plagiarism checks, and formatting were already included in the paper price. In our case, the response paper rounded up to $48. And if you want to get a writer's sample, copy of used sources, or opt for progressive delivery, you would need to pay a little extra for that. College Essay Writing Help also included some discounts. For example, we could get 1 page written for free in case of the 3-page order.
Our essay ended up receiving 70.0/100 pts. It had great document formatting, good grammar (97%), and punctuation (91%). It even got 100% for objectivity. Still, the word choice was lacking (52%) and there was a huge problem with in-text citations, as they were completely missing.
In general, as an app, College Essay Writing Help did a good job ensuring smooth use and decent value for money. So, we put it 2nd on our list.
AppStore – Yes, Google Play – No
3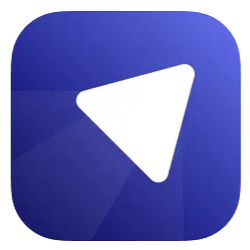 Essay Writing & Homework Help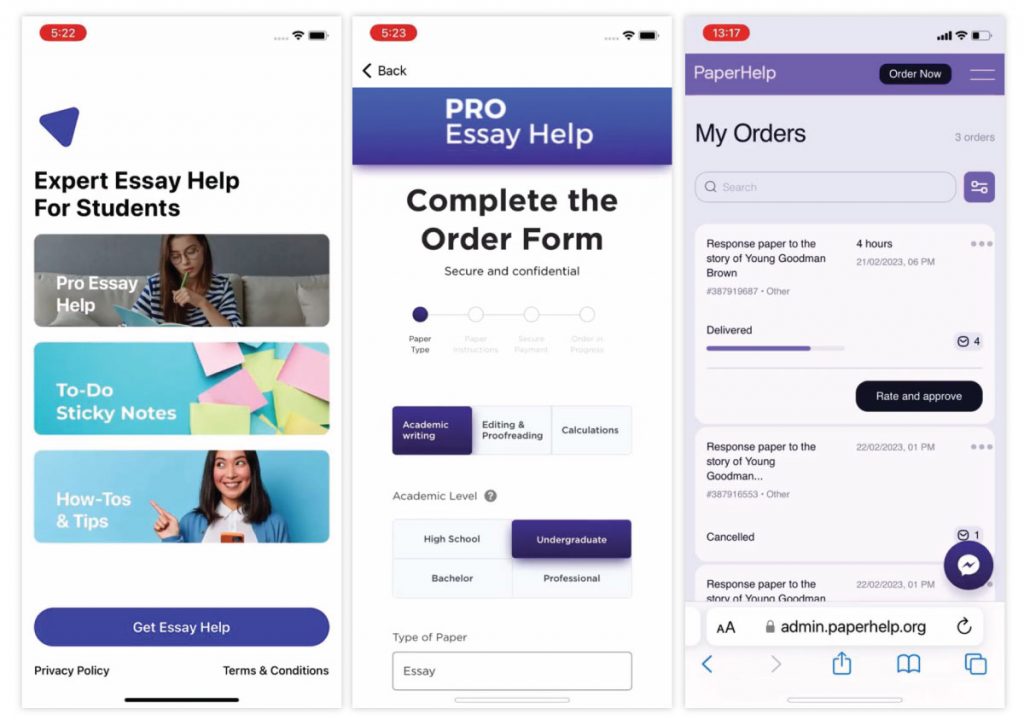 Essay Writing & Homework Help is an educational application developed by, as stated, A. David Limited. It was designed to provide assignment help to those who needed it wherever they are.
The application was quick and easy to install and use. However, it only included a form that specified all the necessary details about the assignment. It could be filled in without registration. After the payment, which was extremely convenient since it allowed us to use both card and wallet payments, the essay ordering tool directed us to the website. Only there we could receive help from customer support agents and keep track of our orders. The communication with the writers was also supposed to be done through the website, even though we didn't get a chance to test it out.
We need to stress here that, despite its simplicity and a satisfactory overall experience, a few points were taken down because the only thing you can do using this application is create a request for the completion of your assignment. All other manipulations like talking with support and experts, and receiving tasks and notifications are carried out through their website.
It also provided great value for money. When ordering our essay, we were given an opportunity to choose from a wide pool of additional services, which started with creating a table of contents and ended with the possibility of including an editor's check. There also were a number of features, that were included for free, like revisions, formatting, title page, and quality check of used sources. All of that we received for the price of $66.96 for our essay. We also got a 7% discount on our first order.
The paper quality also proved to be on point. After the evaluation, the response essay we ordered was marked with 82.8/100 pts. It received the highest scores (100%) for spelling, clarity, and objectivity. Other notably good results were for grammar (98%), punctuation (95%), and acuity (97%). The paper gained the lowest score in efficiency (54%) and also had some issues with formatting.
Seeing the results across all parameters, we can say that Essay Writing & Homework Help app can be proud of getting its 3d place in our rating.
AppStore – Yes, Google Play – No
4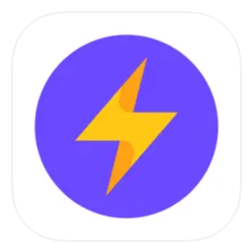 Fast HW — College Writing App
According to the App Store description, Fast HW is a mobile platform designed to help students keep all their homework in one place. Here, you can set deadlines and reminders to stay organized with your assignments or search for some assistance on the side.
The app turned out to be visually appealing and intuitive. We couldn't use the platform without registration, though. As for the order process, it was quick and easy to follow. And our profile also allowed us to keep track of our assignment's progress. We also received great support from the tool's agents and the writer as they were ready to discuss every task's details with us.
Fast HW allows you to benefit from its great variety of free features when turning here with your homework. For example, you can expect to get a plagiarism checker, unlimited revisions, and title and reference pages created for your work, all at no cost. Still, that's everything that the app has to offer, There are no extra services to make the completion of your assignment even easier. There is also no discount or loyalty points system in this essay writing software. The average price you can expect to see here can be around $53.40. That's how much we paid for our response paper.
After the evaluation, the essay received 70.8/100 pts. A 100% mark was given for punctuation. Spelling gained 98%, objectivity 85%, and clarity 83%. The document formatting was also noted as good with the only issue in vertical spacing. The lowest results were for efficiency (43%) and acuity (48%). The work was also missing all in-text citations.
Given the good overall experience and an acceptable paper grade, we placed Fast HW — College Writing App 4th on our list.
AppStore – Yes, Google Play – No
5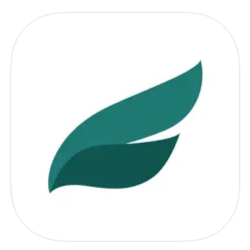 Writero: Hire pro writer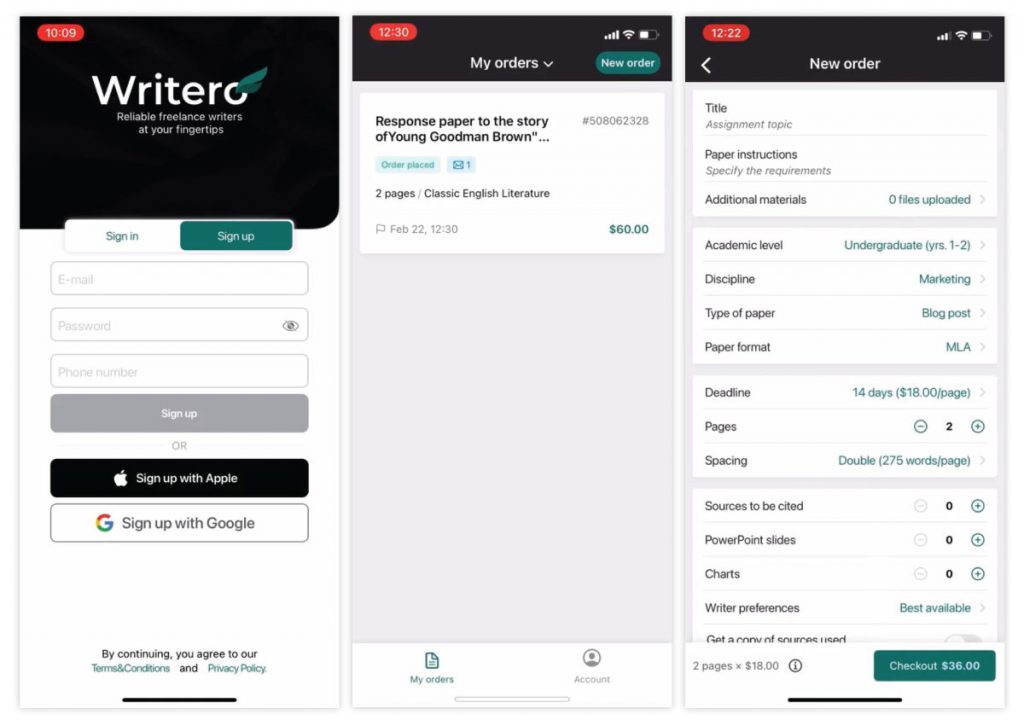 Writero is another application dedicated to providing writing assistance. It offers its users timely 24/7 help from various freelance authors. That's something that every student would wish to have especially at the time of an upcoming deadline.
We quickly downloaded the app on our phone and went straight to check out its features. Writero had a sleek design, with quick loading times, and bug-free use. The registration process was an essential step, as we couldn't work with the service or request help without creating an account first. By the way, the order form was simple and quick to complete. We didn't communicate with the chosen writer about our order, unfortunately. We got a chance to talk with customer support, though, which was quite assistive. That's why we could say that the overall experience was good with this essay writing app.
Writero didn't offer us much in terms of value for money. The only available free feature was requesting revisions. There were a few extra services as well, like adding a copy of used sources or opting for a progressive delivery, but those were it. There also weren't any discounts, except for the first-order offer. It was a coupon to get 1 free page with your 3-page order. Considering we paid $60 for our response paper, we didn't get much for that price.
The paper quality came out to be decent. After the assessment by our partner professor, the work got 70.6/100 pts. Spelling and punctuation received 97%. Objectivity was also marked as good as it obtained 91%. The highest result was for clarity (100%). The lowest points in the essay were for efficiency and word choice, as they both were graded with only 51%. There also was an issue with reference formatting.
In general, Writero ensured the assistance we looked for. Even though the service wasn't on the highest level, this app still deserved its 5th place because of adequate results.
AppStore – Yes, Google Play – No
6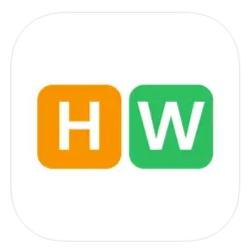 HW Helper — Essay writing help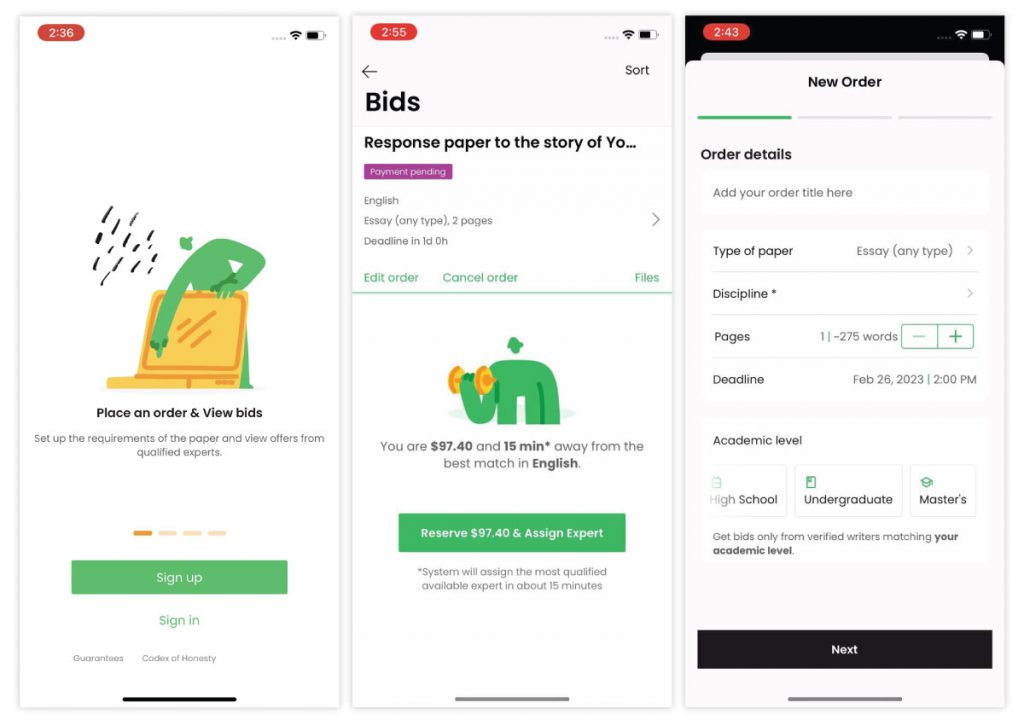 If you were worried about forgetting and not fulfilling your deadlines, HW Helper is here to help. It's a mobile platform that can keep all your homework in one place and provide you with the assistance of professional writers so that it will always be done on time.
The application could easily be found in the App Store in the Education section. After the swift installation and required registration, we could see the platform's interactive and bug-free interface. The form for the homework order was brief and therefore simple to complete. While filling out the instruction for our assignment we talked to one of the customer support agents who were ready to help right away. Our experience connecting with the writer was also good as he kept us posted about the task's progress. Thus, we couldn't complain about our experience using this app.
With value for money, however, there was a different story. We only saw two free features included in the service, which were a writer finder and a 100-word preview of the performer's work. As for the extra features, there were no options at all. There also weren't any discounts or coupons, as well as no loyalty programs. Considering the price at the platform averages $63 for a two-page essay, that's not such a great collection of services.
The results of the completed paper were adequate. The evaluation showed that our task was graded 74.1/100 pts. 100% was given for spelling, clarity, and objectivity. Grammar and punctuation were also great receiving 97% and 96% respectively. Efficiency was the lowest only getting 51%. There were also issues with citation formatting (56%) and referencing. In-text citations were all missing.
HW Helper was a good app to use, even despite some shortcomings. Hence we placed this mobile software at the 6th position on the list.
App Store – Yes, Google Play – No
7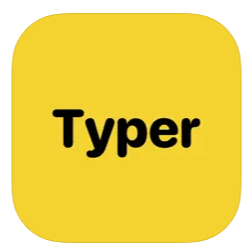 Essay Typer App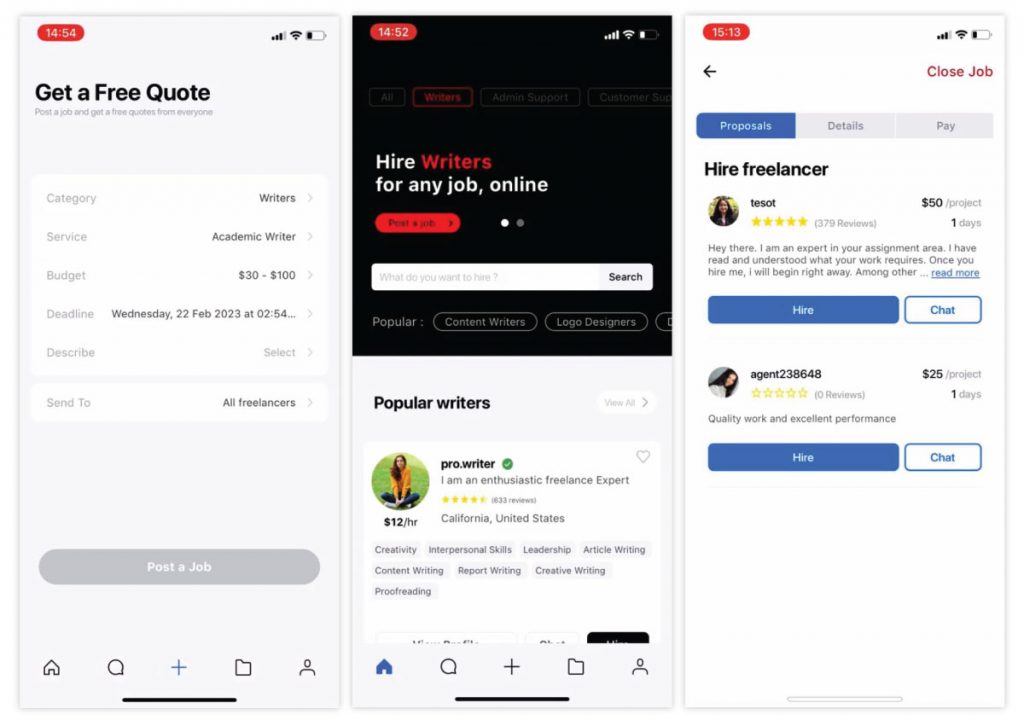 Essay Typer is a product of 24Task LLC and a global freelancing platform, where you can search for any type of professional to help with your assignments, including writing papers. So we decided to check whether you could really find good writers there.
We quickly downloaded the app and had to register right away as it didn't allow users without an account. The interface was smart but nothing special. It was hard to manage the service because of the bugs in the software and the long loading times. We contacted customer support with that problem alongside other questions and got an assistive representative to help us out. Still, we managed to place our order, as the form was short and straightforward. What was great as well, was our communication with the writer as they discussed all the task's details with us directly. As such, the overall experience was good enough.
Essay Typer is a bidding platform that allows you to choose your specialist on your own depending not only on the task but also on your preferable budget. You can talk over any additional services with your dedicated expert but you can't choose any options in the order form. On the other hand, this app provides its customers with a versatile retention system, that includes loyalty and referral programs. There's also a first-order discount coupon for 10%. The prices here can get low. For example, we paid $36 for the 2 pages of our response paper.
The quality of the final work wasn't as great though. It came into our mailbox marked with only 61.3/100 pts, which wasn't high above the grading minimum. Objectivity and spelling received 100%, and clarity got 91% which were the only high results here. Most other indexes, like efficiency, grammar, and word choice, received 51%. There were also issues with references and in-text citations.
As a bidding-based service, Essay Typer allows you to choose your own writer and an acceptable price which makes this app a perfect option for those on a budget. That's why we include it as the 7th option on the list.
App Store – Yes, Google Play – No
8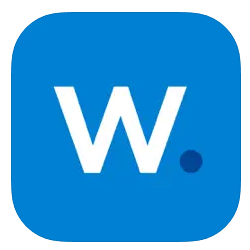 MyWriter — Freelance Writers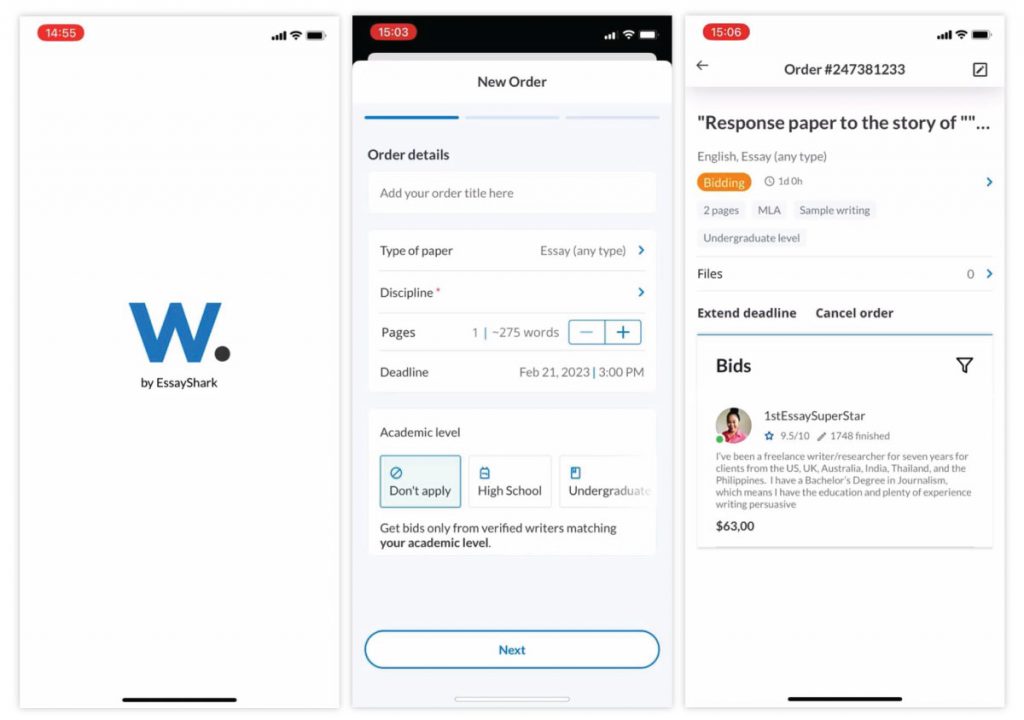 MyWriter is another freelance bidding platform focused only on writing services. So, if you are looking for a way to complete your paper without spending much time, you might find the right expert here.
This app can be a bit harder to find as it's located in the Productivity category in the App Store. We still found and quickly installed it without any problems. Having registered right away and started using the program, we experienced some bugs. Especially when talking with support which provided us with some advice. The order process was also easy, as the form was rather straightforward. We got a rather communicative writer who was ready to discuss all the details of our assignment. There also was a chance to track the process of our expert's work through the profile. Overall, we had a satisfactory experience using MyWriter
The value for money is an aspect that largely needs to be worked on. The app only provided two free features, such as revision and plagiarism check, and there were no extra services. There weren't any coupons, loyalty, or referral points at all as well. We were a bit disappointed not to get any offers from the platform considering we paid $63 for our paper.
As for the quality of work, it was rather middling. The response paper received a grade just slightly above the accepted minimum – 62.5/100 pts. The highest result was for punctuation – 95%. The word choice and spelling were also adequate, getting 87% and 82%. The lowest points were for efficiency, as it only got 28%. There also were a lot of problems with citations and referencing.
As such, MyWriter landed 8th place, considering good usability, but lower value for money and paper quality.
App Store – Yes, Google Play – No
9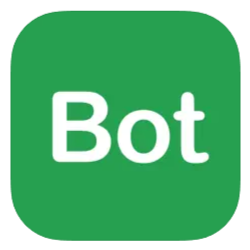 EssayBot: Write Essay For You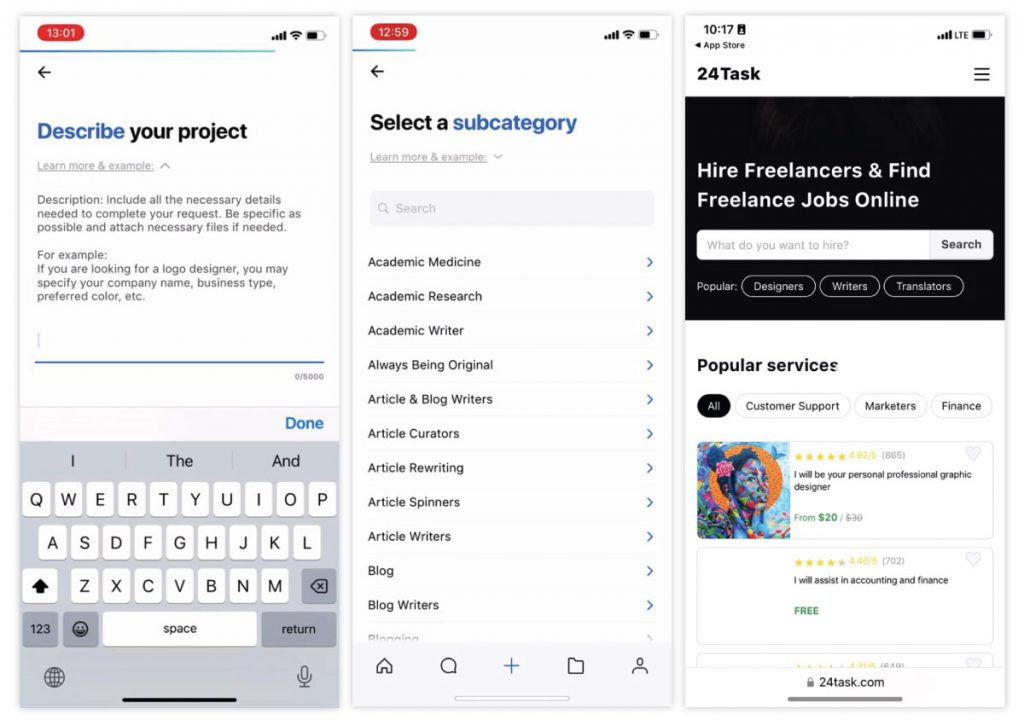 EssayBot is another app from 24TASK LLC and so utilizes the identical platform as its sister program Essay Typer.
It has the same easy-to-understand bidding system and an order form. It also faces the same problem with bugs that appear during usage. However, EssayBot had a more clear app store experience with included screenshots and clear functionality descriptions. On the other hand, when using this app for our essay writing we didn't get as smooth customer support guidance as we had hoped for. Although our writer was communicative enough.
This app, sadly, didn't have much to offer in terms of value for money as well. There were no free or additional services, however, there was the same amount of discounts and carbon-copy loyalty and referral programs. The price was even lower as this time we paid only $26 for the task.
Yet, the paper quality came out different. The work received only 53.8/100 pts, which was lower than the grading minimum. So, this paper could rightfully be called disappointing. There were some good indexes, for example, spelling (80%), punctuation (86%), and objectivity (75%). The poorest results were in efficiency and acuity as they both were marked with 38%. There were no in-text citations and big problems with reference formatting.
All in all, EssayBot lands 9th and last on this list, but the results of the app's paper evaluation should speak bigger than its rating.
App Store – Yes, Google Play – No
Choosing an App that Helps with Essay: The Bottom Line
Sometimes, it is hard to decide which writing support software you should install to get the assistance you are looking for. Our reviews are designed to make the process of choosing an app for essay help simpler and easier. We always gather full information on the platforms we review by conducting our own mystery shopping projects. You can use the described details to find the service most suitable for your specific needs. According to our experience, SpeedyPaper: Essay writer pros is the best app to make a quick order of your assignment and get back quality and timely assistance. However, the final word is always up to you.
Our Testing Methodology
Here is what we asked to write:
| | |
| --- | --- |
| ⭐ Paper | Response paper to the story of "Young Goodman Brown" (2 pages) |
| 🎓 Grade Level | Undergraduate 1-2 |
| 👉 Instructions | Write a response paper to the story of "Young Goodman Brown" by Nathaniel Hawthorne. Dive into the religious aspect of the story. Take a look into the main character's self-scrutiny and explain why it has led to his loss of belief |
| ✅ Paper format | MLA |
| ⏰ Deadline | 24 hours |
Buyer's Guide to Help Find the Best App for Essay Writing
Reading through reviews is a great way to find out whether the app is suitable for your needs. Still, it can get quite confusing as to which services you need to look for in the first place. The app store has numerous mobile software options even within the same category, so how do you know which ones are worth your attention? We've created this list of features that you should pay attention to when looking for an application to write your essays.
Convenience & Usability
Apps are all about comfort. They should be user-friendly, meaning they need to be simple to manage. A pleasant interface is essential, as it makes half of the ease of use. The loading time shouldn't take more than a few seconds. Also, look for apps that offer a smooth ordering process: forms should be straightforward and quick to fill in. If the option to track your task's progress is on the table that's a great plus. This way you can know that your work will be ready on time.
Support System
Customer support is an important aspect of any service, and application in particular. You need to be able to report issues (bugs for example) or ask questions when something is unclear. So, always make your choice in favor of those programs that have a chat (better if 24/7 available) or at least provide a way to contact a manager (via their system or email). This will ensure that you get any of your problems resolved quickly.
Discount Programs
Special offers are always a plus as they can make the service more affordable for you. They also show that the platform cares about its users and wants them to be able to stay. First-order discounts are good indicators, however, also notice if there are any opportunities to get some % off if you are a loyal customer. This will help you save some money in the long run.
Service Quality
Lastly, you need to find out whether the app you decide to use for your essay writing has skillful performers. It's hard to learn that just from the first glance at the app store. To find out this information you will need to dig deeper and turn to reviews from previous clients. However, if you don't want to go far, you can check out our A*Help reviews which are based on real-use experience.
FAQ
What apps help you write essays?
There are special essay writing applications that can help you handle this type of homework assignment. A lot of them are available for iOS users and can be easily downloaded through the App Store. Most can be found in the "Education" category, however, some programs can be found in the "Business" section. If you can't choose the app that works best for you, you can use our top list to guide you in this process. You can take into account advice from our buyer's guide as well.
What is the best essay writing tool?
The choice of the best essay writing tool depends on what exactly you are looking for. If you are searching for an app that could handle your narratives and literary analysis, then, according to our mystery shopping experience, the best choice for that is SpeedyPaper: Essay writer pros app. For those looking for an AI writing tool, that could help with creating, rewriting, or rephrasing texts, there will be another solution for that. Our A*Help team reviews many services that might become useful for completing your written assignments. You can use them to find the most powerful option for your needs.
Is there an app that writes an essay for you for free?
No, there are no apps that can write essays for free. All of them are just platforms that help find professionals to do the tasks for you. Those authors require payment for their job. Nonetheless, if you are looking for a way to get your essay ready for free, you can turn to AI text generation tools. There are options that don't require any payments. To find these solutions you may refer to our A*Help reviews.
What app do most writers use?
We did thorough research and collected the most popular essay writing apps in this top list. These solutions proved to be the most useful for students in need of academic assistance. Just browse through the presented descriptions to find your own pocket writer.
Follow us on Reddit for more insights and updates.