Quick Overview
Writero: Hire pro writer – an app designed to match freelance writers with those who need help with academic essays, articles or any kind of writing for that matter. The A*Help review showed that the app deserved a rating of 66.3/100 A*Help score. The app was simple and pleasant to work with, provided quick assistance with homework, and a satisfactory paper result of 70.6/100 pts for an essay.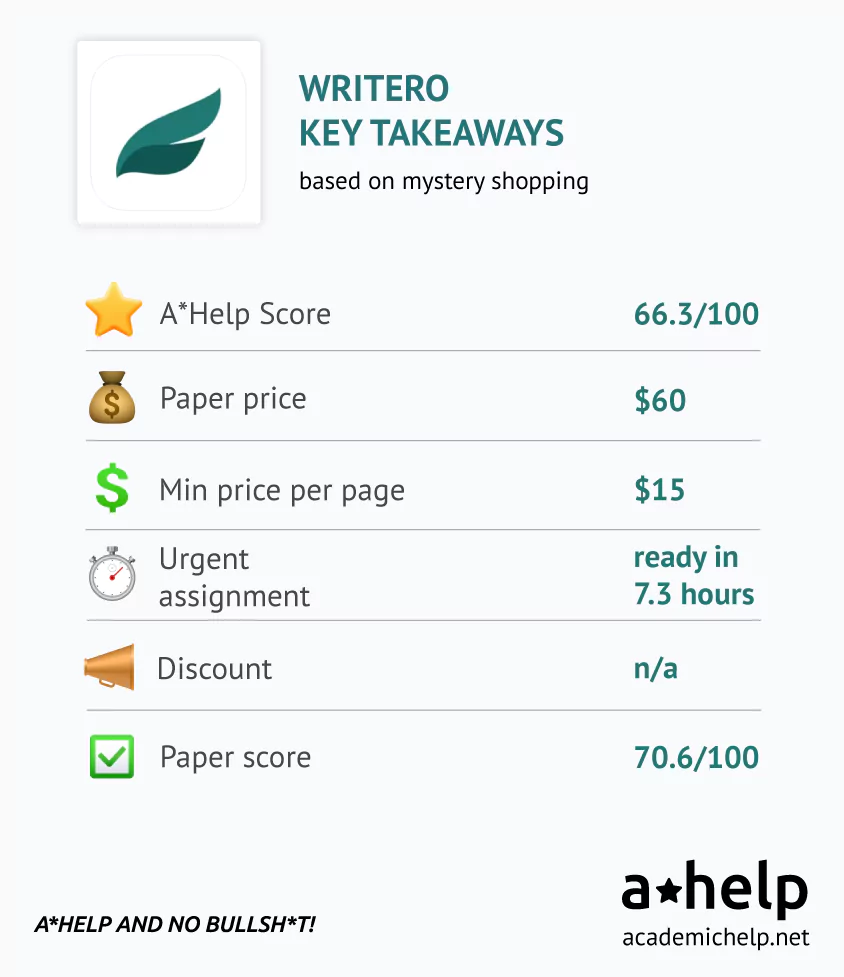 | | |
| --- | --- |
| ✍ Paper | ⭐ Response paper to the story of "Young Goodman Brown" |
| 🎓 Academic level | Undergrad. (yrs. 1-2) |
| ✅ Paper format | MLA |
| ⏰ Deadline | 24 hours |
| 👉 Paper instructions | Write a response paper to the story of "Young Goodman Brown" by Nathaniel Hawthorne. Dive into the religious aspect of the story. Take a look into the main character's self-scrutiny and explain why it has led to his loss of belief |
Looking for more essay topics and ideas for inspiration? Check our Best essay writing topics digest. The most popular categories for custom writing assignments according to the weekly market data released by A*Help.
Mystery Shopping Review
Overall Experience — 21/30
Value for Money — 10/20
Writero Paper Quality — 35.3/50
Paper score: 70.6/100
| | |
| --- | --- |
| ⭐ Parameter | ✅ Personal Essay |
| Paper score | 70.6/100 |
| Paper price | $60 |
| Completion time | 7.3 hours |
Why academichelp.net is a credible source of information:
Stay curious with us. Academichelp.net has been a reliable educational resource since 2011, providing students with the latest news, assignment samples, and other valuable materials. Even with the extensive information we process, our quality remains consistent. Each team member has experience in education, allowing us to evaluate new sector offerings critically. Our reviews are up-to-date and relevant, with impartiality ensured by the A*Help score methodology from mystery shopping. We aren't affiliated with any listed service providers. Our focus remains on providing our audience with reliable and unbiased data.
Writero Specs
> Deadline
Minimum deadline
4 hours
Maximum deadline
14 days
Min price per page
$15
Standard Page
275 words
AVG paper price (details)
$60
Pay in installments
❌
Free Services
Revisions
Additional services
Copy of used sources $14.95Progressive delivery +10%
> Payment methods
Apple Pay
✅
Paypal
❌
Google pay
❌
Visa
✅
Mastercard
✅
American Express
✅
Discover
✅
> Discounts & Loyalty Program
Coupons
✅
1 page free if 3-page paper
Loyalty Program
❌
Referall Program
❌
Sign-in before making an order
✅
uses third-party/social login+ Apple sign-in
✅
need a phone number to register
❌
need an email to register
✅
Security payment SSL
✅
> Support
Support availablity 24/7
✅
Helpfulness of support
Medium
Availability to get extra discount via support
❌
Notification system (adjustable & versatile)
✅
FAQ
Writero: Hire pro writer Reviews
When reviewing Writero, we didn't limit ourselves just to our own experience. We read comments in the App Store, on Trustpilot, Sitejabber, and on Reddit to find out if there are any possible issues with the app. Our findings are presented in the Negativity Rank section of our review.
Is Writero: Hire pro writer a Scam?
Writero: Hire pro writer app promises to connect you with writers that will complete your task for you. When we placed a request for writing an essay, we quickly found a performer who did our assignment for us. Based on this we can assure you that Writero is not a scam and provides the service it promises.
Is Writero: Hire pro writer Legit?
The A*Help score is designed to rate only legitimate apps, that have clear service policies, provide the assistance they promise, and have a customer base on their record. As we used the A*Help score to evaluate Writero, it is by definition a legitimate software.
Is Writero: Hire pro writer Safe?
When we created our profile on Writero app, we didn't have to provide any personal details except for our email address. When installing the app on our phone and using it, we also didn't notice any issues like bugs or sensitive data usage. Thus, there's no need to worry about safety with Writero: Hire pro writer application.
Is Writero: Hire pro writer Trustworthy?
Our A*Help team placed an order of our own on the app and got connected with a respectful writer to complete it. We received what we asked for and that's why we confirm that this software can be trusted.
Is Writero: Hire pro writer a Good Service?
After putting Writero through the assessment by our unique criteria, we rated this software with a 66.3/100 A*Help score. This is not the best result, but it still shows that the application can be used for your academic writing needs.
Follow us on Reddit for more insights and updates.