Quick Overview
Founded back in 2015, Myperfectwords has established a reputation as a seasoned professional in the academic help field. According to our review, it is worth 75/100 A*Help score and can provide students with some decent essays done ahead of the deadline. However, it proved to be a bit pricey and inconsistent as one of the websites that do your homework since one paper got marked with 89.1/100 pts, while the other only got 50.8/100 pts.
Experience review: MyPerfectWords Mystery Shopping
Take a look at the details of our testing scenario below:
✍ Paper
⭐ Personal Essay (2 pages)
💼 Business Memo (4 pages)
🎓 Academic level
Undergrad. (yrs. 1-2)
Undergrad. (yrs. 3-4)
✅ Paper format
MLA
Chicago / Turabian
⏰ Deadline
6 hours
7 days
👉 Paper instructions
For this assignment, you will be writing a personal narrative–a story–illustrating an event or experience exemplifying gratitude. In other words, share a colorful story about an experience or event for which–either during or after the event– you feel or felt thankful. An example might be writing about your experience as a senior in high school and the teacher who helped you to achieve your goal of graduating and attending college. Another example might be writing a story about your experience growing up in a rural community, acknowledging that it was this small, but mighty, community that made you who you are today, and for this, you are thankful. This assignment should be at least 550 words. Underline your descriptive thesis statement or the point of your story. No outside/secondary sources are needed. See Appendix C – Formatting and Submitting Your Work See Formatting your Essay: MLA 8th Edition
You are the Government Relations Director at a Canadian business. You have been asked to write a memo to your CEO about COVID-related government impacts on your business, comparing two provinces in which you operate. Your assignment is to write & submit this memo Your Task:
1. Choose a specific business you work in (Air Canada, Loblaws, 3M Canada, etc).
2. Choose two provinces to compare for your memo.
3. Research both provinces – what restrictions were in place in both provinces that affect your business? What supports are in place?
4. Write a memo in three parts: (1) how COVID is impacting our business, (2) a comparison of two provinces, (3)reflections on Canadian federalism and any recommendations for the CEO on how to work with governments to lead your business through the crisis
Looking for more essay topics and ideas for inspiration? Check our Best essay writing topics digest. The most popular categories for custom writing assignments according to the weekly market data released by A*Help.
MyPerfectWords Value for Money — 23/25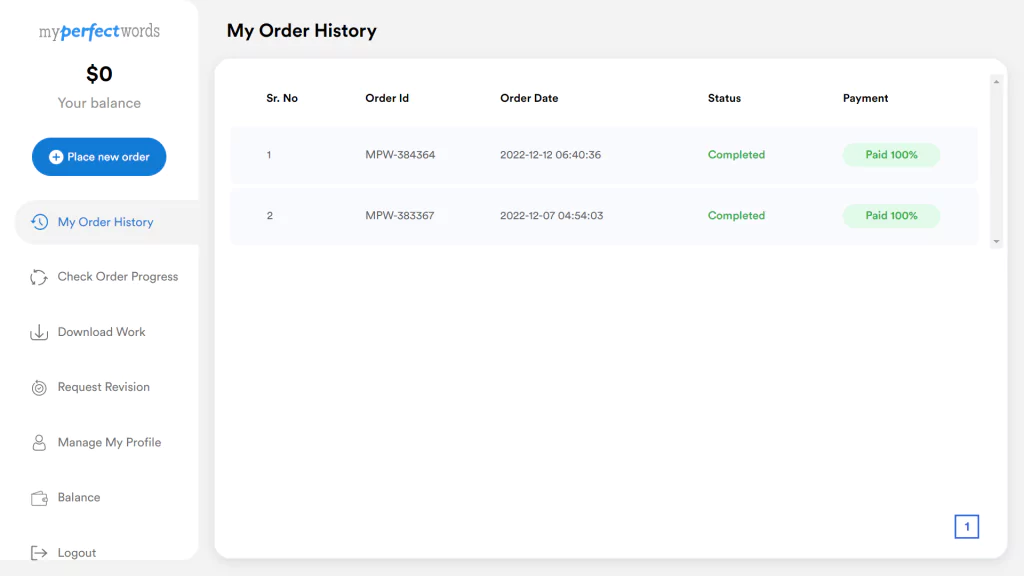 MyPerfectWords Overall experience – 17/25
Paper Quality — 35/50
| | | |
| --- | --- | --- |
| Parameter | Paper 1. Personal Essay (2 pages) | Paper 2. Business Memo (4 pages) |
| Paper score | 89.3 | 50.8 |
| Paper price | $100 | $48.60 |
| Completion time | 40 minutes | 7 days |
Why academichelp.net is a credible source of information:
Stay curious with us. Academichelp.net has been a reliable educational resource since 2011, providing students with the latest news, assignment samples, and other valuable materials. Even with the extensive information we process, our quality remains consistent. Each team member has experience in education, allowing us to evaluate new sector offerings critically. Our reviews are up-to-date and relevant, with impartiality ensured by the A*Help score methodology from mystery shopping. We aren't affiliated with any listed service providers. Our focus remains on providing our audience with reliable and unbiased data.
MyPerfectWords Specs
| | |
| --- | --- |
| Minimum deadline | 6 hours |
| Maximum deadline | Any |
| Min price per page | n/a |
| Standard Page | 300 words |
| Average paper price (according to our mystery shopping) | $74 |
| Pay in installments | ✅, 50% prepay |
| | |
| Free services | Free title pageFree Turnitin originality reportRevisions and editsBibliography/Citation pagesFull text of sourcesSimple Language |
| Additional services | Originality Report (Tutnithin) $9.99High Priority Status $9.99Proofread by an editor $14.991-page Summary $14.99Priority Support via Text $2.99 |
| | |
| > Payment Methods | |
| Paypal | ❌ |
| Google Pay | ❌ |
| Apple Pay | ❌ |
| Visa | ✅ |
| MasterCard | ✅ |
| American Express | ✅ |
| Discover | ✅ |
| Crypto | ❌ |
| > Discounts | |
| Coupons | ✅individual via chat + seasonal offers |
| Loyalty Program | ❌ |
| Referral Program | ✅ |
| > Security & Privacy | |
| Need a phone number to register | ✅ |
| Need an email to register | ✅ |
| Security payment SSL | ✅ |
| > Customer Support | |
| Support availability 24/7 | ✅ |
| Support on-site messenger | ✅ |
| Support on Facebook/Whatsapp/etc | ❌ |
| Support via phone calls | ❌ |
| Helpfulness of support | High |
FAQ
Myperfectwords Reviews
We always check if there were users who had issues working with our reviewed services. We go on sites like Reddit, Reviews.io, Trustpilot, and Sitejabber looking for negative comments, and collect and analyze them to get to the truth. We did the same for Myperfectwords and presented our findings in the Negativity Rank section of this review.
Is Myperfectwords a Scam?
We put Myperfectwords to the test and ordered two separate assignments to be completed within a specific deadline. We received both papers completed and just in time. That's why you can expect your tasks to be fully done here as well and not be afraid of getting scammed.
Is Myperfectwords Legit?
Myperfectwords operated for many years now, had established its customer base, and a record of completed orders and satisfied students. That's why this platform can be called a legitimate one.
Is Myperfectwords Safe?
When working with Myperfectwords, we didn't notice any leakage of sensitive data or virus outbursts on our laptops. Despite needing to provide our phone number for registration, we didn't receive any unsolicited messages or calls. Thus, we can say this website is safe to use.
Is Myperfectwords Trustworthy?
We entrusted Myperfectwords with two assignments. The platform completed our tasks and delivered them on time as required. We don't see why you would expect to get any different treatment from ours, that's why we say you can trust them as well.
Is Myperfectwords a Good Service?
After a thorough evaluation, we graded Myperfectwords with a 75/100 A*Help score. It had a lot to offer in terms of features and offered great punctuality when delivering our urgent assignment. Overall, it's a good service, but since one of our papers wasn't graded as expected, we would recommend looking closely into revision opportunities when working with Myperfectwords.
Follow us on Reddit for more insights and updates.