The shadow of homework looms behind every class students take, starting from high school to college and university. It seems like this extra work just never ends, and all you do is study day through night. But the most daunting part is when you find yourself stuck for hours on just one homework assignment. You are mentally exhausted, want to sleep, and you still have a whole line of tasks ahead of you. It may feel like you hit a dead end.
However, there's no need to torture yourself trying to get that work done on your own. Thanks to the Internet, students can now find services that help effectively handle homework. To save you time on the search, we compiled a list of the most helpful websites that offer you assistance with learning. You can also have a look at our buying guide. We believe objectivity to be the key in this matter. So, we based our ranking on personal experience of interacting with the services. We used our unique A*Help methodology to rate the websites accordingly. See How We Test Essay Writing Services for more details about our testing approach.
How We Select the Most Effective Homework Help Sites for College Students
We perceive the responsibility to provide you with clear-cut details about the reviewed services very seriously. Our experts conduct online mystery shopping investigations by placing orders with every academic help platform we mention in the article. Our experience is then thoroughly analyzed and evaluated according to our own rating strategy.
We take into account every step of the order process, from communication with the support team about making a homework request to choosing writers and giving them directions. To make proper judgments, we place two different orders: a quick 2-page essay with a 6-8 hour deadline and a lengthier 4-page memo to the CEO due in 7 days. The assessment of the final results is an important part of our research. In this review, we will concentrate and base our ranking on the analysis of the quality of the first paper, the general A*Help score of the website in our system, and the consideration of the established deadlines.
Here is what we asked to write:
⭐ Personal Essay (2 pages)
🎓 Academic level: Undergrad. (yrs. 1-2)
✅ Paper format: MLA
⏰ Deadline: 6 hours
👉 Paper instructions:

For this assignment, you will be writing a personal narrative–a story–illustrating an event or experience exemplifying gratitude. In other words, share a colorful story about an experience or event for which–either during or after the event– you feel or felt thankful. An example might be writing about your experience as a senior in high school and the teacher who helped you to achieve your goal of graduating and attending college. Another example might be writing a story about your experience growing up in a rural community, acknowledging that it was this small, but mighty, community that made you who you are today, and for this, you are thankful. This assignment should be at least 550 words. Underline your descriptive thesis statement or the point of your story. No outside/secondary sources are needed. See Appendix C – Formatting and Submitting Your Work See Formatting your Essay: MLA 8th Edition
Best Homework Help Websites – Dedicated Number 1 Solution (2023)
Having scanned through the list of our best homework help sites, we established that the greatest representative in this field would be CustomWritings.com. This platform stands out with its highest essay paper quality, top A*Help score, and undeniable dedication to time limits. All these factors make it the most productive service to assist with your academic home tasks.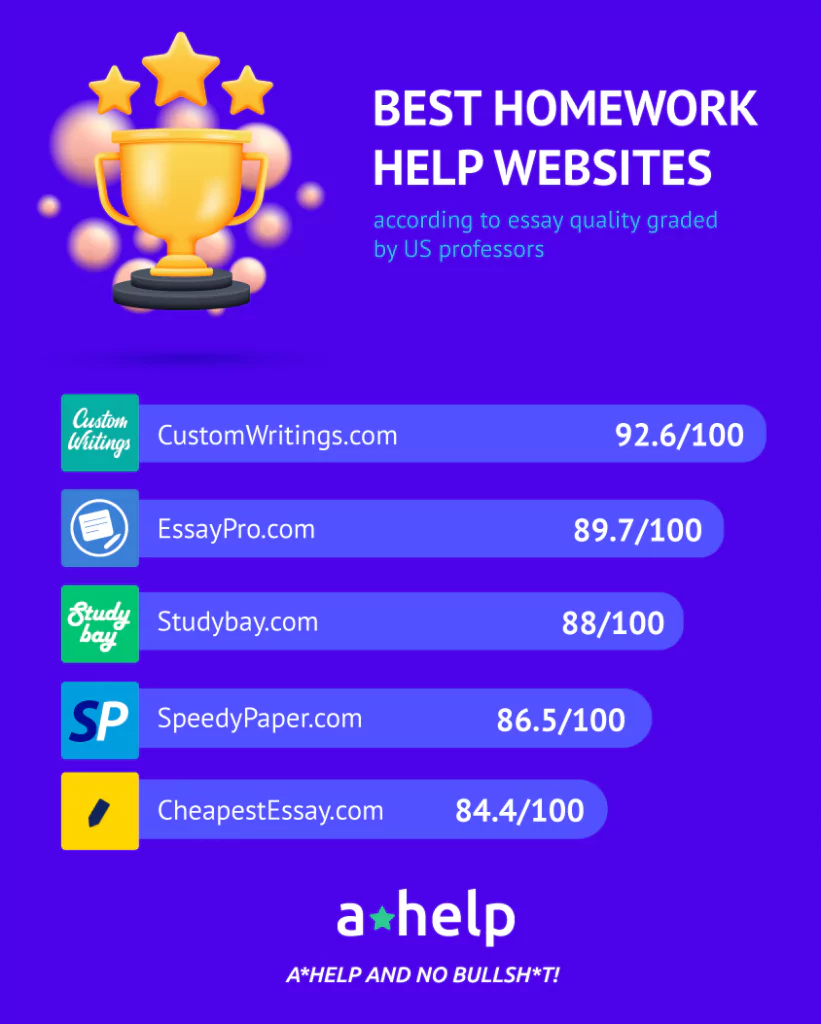 Top List of College Homework Help Sites
Following our mystery shopping experience and with the consideration for our reviews, we can form the rating of the top 10 platforms for homework help:
1
CustomWritings
CustomWritings is a golden ager among popular services. With more than 15 years of industry experience, this platform helps students gain control over their studies. They cover various tasks in numerous disciplines starting with English and ending with Chemistry and Finance. These features make this service a universal solution for any student in need of homework help.
So, we ordered our urgent assignment with a 6-hour deadline. After receiving the task, we sent it out to the US college professors for grading. The paper was marked with 92.6/100 pts and stood out with its exemplary integrity (100%), clarity (100%), and grammar (100%). To say that CustomWritings blew our minds with provided quality is to say the least, as it was the leading essay result in our general rating.
The deadlines were also carefully observed by the writers. Our task came 2 hours earlier giving us enough time to review the work and request a free revision. All we can add here is that if you have problems with urgent home task, you can be sure that this service will do tasks on time.
CustomWritings also showed high results on value-for-money ratio and overall experience as well. A versatile collection of additional services, from writer samples to smart papers, and a helpful support team as well as communicative writers is what drew us to the platform even closer. The evaluation of all the aspects resulted in the highest A*Help score on our record – 86.75/100 pts.
Considering all the above-said, we can't disagree with the fact that CustomWriting proved to be an excellent choice for those in need of academic support. It offers quick and quality assistance, which every student dreams of when they feel troubled by homework.
2

EssayPro
Service with a first-rate reputation and low-rate prices, EssayPro seems to be a dream for every student. This platform delivers top-tier quality assignments for a price of 8 Venti Starbucks lattes. Considering the number of sleep hours the service will save you, you won't need that much coffee anyway.
As we are fond of exploring everything ourselves, we decided to proof-check this fact as well. We sent a request to EssayPro's writers to help with our 2-page essay paper due in 6 hours. We received a completed task 4 hours in advance, ready to be reviewed and revisioned.
We gave the task out for grading. It came back with the mark of 89.7/100 pts, and distinguishable results in length (100%), integrity (100%), spelling (100%), punctuation (99%), and grammar (97%). The only issues touched upon were formatting (vertical and horizontal spacing) and efficiency.
Besides great paper quality results, the service also gifted us with almost the highest overall experience (24/25). Mainly, EssayPro offers 24/7 support chats with considerate assistants, a bunch of payment methods, including Google Pay and Apple Pay, and communicative writers. On the other note, it wouldn't hurt to add some additional services. All things considered, the platform ended up scoring 77.1/100 pts according to the A*Help score.
That being said, is EssayPro reliable? Even more than that – it is one of the websites that do homework for you both quickly and efficiently. And with such affordable pricing, who wouldn't use it as a go-to choice for academic aid?
3
StudyBay
StudyBay, as well as its previously mentioned peer services, is an affordable online platform that ensures to offer a-plus homework help for students. In need of an argumentative essay? Or did your professor give you research to do in a day? This service might be just what you were looking for.
Following our plan, we ordered 2 pages of a personal essay to be written in 8 hours. 4 hours later we received a completed task leaving us with half of the estimated time to read through the content and ask for some corrections.
After receiving the final revised version, we moved on to sending the paper to our fellow professors. The essay received 88/100 pts. It scored especially high in integrity (100%), spelling (100%), grammar (97%), and punctuation (94%). However, the work also excelled in acuity (90%), clarity (92%), and objectivity (100%). The only problems worth considering were formatting issues and word choice.
StudyBay became one of the services to score the highest in overall experience (25/25), with every aspect, from the multiplicity of payment options to the writer-customer cooperation, being as great as it gets. Besides, the platform also showed a great value-for-money ratio, with questions drawn mostly to the availability of special offers. That explains how StudyBay ended up with the A*Help score of 82.43/100 pts.
Overall, this service was not only advantageous in terms of homework help but also pleasant to work with. It's only fair that with these results it takes its honorable 3d place in our rating.
4

SpeedyPaper
An on-demand company, SpeedyPaper aims to help students make their study process a success. Even though the service doesn't position itself as number 1 in the industry just yet, it tries hard to grow into that status.
As planned, we placed an order for a 2-page personal essay with a 6-hour deadline. SpeedyPaper came up with our task 2 hours before the established time.
After the paper was checked, it turned out to receive 86.5/100 pts. Yet again, formatting seemed to be the main issue, with the need for improvement of vertical spacing and body headers. Still, it showed to be remarkable in terms of integrity (100%), length (100%), and spelling (100%). Other aspects worth mentioning are grammar, punctuation, and acuity, which all received 89%.
SpeedyPaper gained the general rate of 81.95/100 pts. A steep result was acquired mainly owing to the high value-for-money ratio (23/25), with a great pool of choice of free and additional services. The overall experience turned out to be not as pleasant as we hoped. A low writer-customer communication and lack of payment methods (with Visa and Mastercard being the only available) did not add points to this website.
After all this, is Speedy Paper legit? Taking into account all of the features and aspects of SpeedyPaper, we consider this legitimate platform to best fit in the 4th position of our homework website rating.
5
CheapestEssay
Having been in the industry for quite some time, CheapestEssay managed to establish itself as one of the top-rated yet inexpensive homework-help websites. After our experience, we can confirm this service to be not at the lowest but still at a reasonable price rate. And as for the level of quality, you can judge further by yourself.
After placing an order for a personal essay of 2 pages and with a 6-hour time limit, we waited to receive the work on time. The paper came 3 hours before the deadline. With such a rapid delivery students can expect to have a chance for a quick read, correction, and all the needed adjustments.
Then, we sent the papers to be reviewed and graded by the US college professors. Our essay was marked with 84.4/100 pts. The parts that received 100% of points were integrity, length, and spelling. Punctuation and clarity were also highly distinguished. What seemed to lower the grading a bit was efficiency, formatting (body and page headers), and objectivity.
As for the place in the general ranking, CheapestEssay made it close to the top part with 77.73/100 pts. What brought it this high, besides paper quality, were the money-for-value results (23/25). The possibility of a quick minimum deadline (3 hours), an average price of $44.07, and a range of free services (revisions, source quality, title page) sealed the deal for us. The overall experience could have been better, with low communication from the writers as well as from the support team.
As such, CheapestEssay marked halfway in our ranking of the best websites to help with homework. We don't see the reason why someone wouldn't consider this platform as a quick and affordable solution for their schoolwork hardships.
6

EduBirdie
EduBirdie is certainly a blue bird of happiness for students who find themselves in need of professional help with their homework. This platform seems to combine all the best features: a medium price range, a diversified selection of assignment types (from essays to term papers), and quality work.
To check the reality, we placed an order for 2 pages of a personal essay. We set the time limit for 6 hours. Our writer spent only 2 hours completing our assignment. This gave us 4 hours to look through the paper and ask for a revision. In our edubirdie.com review we mention that the platform also allows changing the writer completely, if unsatisfied with the result.
We ended up receiving the following marks: 83.9/100 pts in general, with 100% points for integrity and spelling. Grammar, clarity, punctuation, and objectivity, received 87%-89%. The issues mainly regarded formatting (vertical spacing body header), word choice (63%), and acuity (51%).
EduBirdie showed to have some stability in scores for value-for-money (20/25) and overall experience (20/25). On the one hand, there's this quick delivery of tasks, a great choice of free options, and high-quality supportive customer service. On the other side, there's this scarcity of up-to-date payment options. The variety of discounts is also a bit deficient. The customer-writer connection could use improvement. All of this resulted in 77.15/100 pts for EduBirdie on the A*Help scale.
In the general run of things, you shouldn't exclude this service from your list of potential homework helpers. Stability in quality performance is a great sign that your work will be done as planned.
7
MyAssignmentHelp
One of the industry's old-timers, MyAssignmentHelp is still one of the biggest names in the assignment-help market. A relatively outdated UI design doesn't stop the service from acquiring new customers, as it still provides its clients with the quality assistance they look for.
The 2-page essay we ordered to complete with a 6-hour established time limit, came into our inbox 3 hours earlier than expected. An especially opportune prompt performance, as we also decided to ask for a free revision on this work.
After the corrections, we sent the paper for grading. It received 80.9/100 pts. The best features were marked to be length, integrity, and objectivity (all received 100%). The next batch of aspects worth mentioning is punctuation (98%), clarity (96%), grammar (91%), and spelling (90%). The indexes that needed improvement included formatting, word choice, efficiency, and acuity.
On the A*Help scale, MyAssignmentHelp acquired 80.88/100 pts, with the highest result of value-for-money ratio. Indeed, it would be hard to rate this area any lower. Especially considering its quick minimum deadlines (2 hours), a whole list of free (from revisions to alphabetizer tool), and additional (Turnitin report, prebook order, and courses) services, as well as affordable pricing ($40 on average). The platform also did great with providing a quality overall experience (21/25), backed up by the proactive support team.
It is only natural that My Assignment Help review would be included in our list of the top-rated homework-help platforms. However, in comparison with other competitors, the service has some more room for improvement, thus gaining its 7th place in our rating.
8
EssayShark
Established back in 2011, EssayShark is another long-distance runner in the homework assistance marathon. With the bidding model as the heart of the service, this site ensures its customers get the most relevant and efficient help during their studying journey.
To check how EssayShark's system works, we placed an order for our 2-page personal essay with 6 hours for its completion. 4 hours after selecting the writer, we received our ready-to-read assignment. This gave us 2 extra hours for all necessary revisions and corrections.
After analyzing the paper according to the grading system, it came back with a mark of 88.2/100 pts. The highest points (90-100%) were assigned to integrity, length, mechanics (grammar, spelling, and punctuation), and also acuity, clarity, and objectivity. The only spotted formatting issues were vertical spacing, body, and section headers.
On the A*Help scale, the platform lands last, but still with a good mark of 70.8/100 pts. Essay Shark reviews show that, with a satisfying overall experience score (21/25), the thing that brought the mark down was the value-for-money index. Unfortunately, the company didn't have any additional services or special offers to get customers interested in their services even more.
Nevertheless, EssayShark succeeded in completing our assignment quickly and with top-level quality. We believe that its 8th place in this rating is more than rightfully earned.
9
PaperHelp
The platform with the highest prices in our selection, PaperHelp is still a popular choice among students as its writers can assist you with any assigned home task. Whether it does a good job we check on our own experience.
After placing an order for a 2-page personal essay due in 6 hours, we received the final paper 2 hours in advance. This is enough time to ask for all 3 free revisions that paperhelp.org provides to its customers.
After the proof check from the college professors, the essay was marked 79.8/100 pts. Integrity, length, and spelling received 100%. Other objectively satisfactory areas were punctuation (98%), word choice (79%), acuity (77%), and clarity (79%). The problems were noticed to be with formatting, efficiency, and objectivity.
As for the general score, PaperHelp received 78.93/100 pts according to our A*Help score. The best parts of our experience resulted in a high value-for-money index (22/25). This includes a versatility of free services (formatting styles to a title page) and additional options (adding a table of contents, VIP service, plagiarism report, and many more). The service's robust referral program also caught our eye. The overall experience was also pleasant (19/25). The only questionable aspect was the lack of diversity in payment options with solely Visa and MasterCard being at our disposal.
To sum up, we would recommend PaperHelp as an option for a homework help solution. Still, considering the results, this site looks quite in place being in 9th position.
10
Nerdify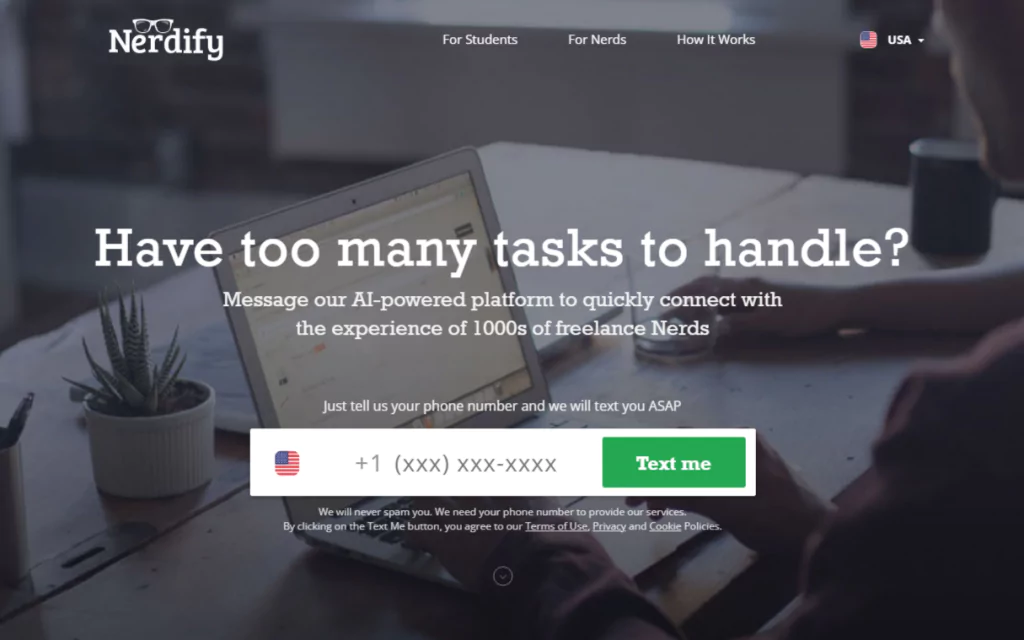 GoNerdify is a special platform that is centered around an individual selection of freelance writers for students searching for help. The service brings its efforts on a more personal level, taking communication directly to phone messengers, rather than using usual on-site chats. Is it helpful? Well, we took our look.
To put the service to the test, we ordered a 2-page personal essay with a time limit of 6 hours. Only 2 hours later we got our paper back, ready to be worked with. With 4 more hours at our disposal, we used the chance for a free revision. Even though, from the looks of it, it wasn't even needed.
Afterward, we sent the paper for grading. It received 79.2/100 pts. The main mistakes were made regarding formatting, especially with vertical and horizontal spacing, body header, and font control. Efficiency, acuity, and word choice also needed to be worked on. However, other parts, such as objectivity, clarity, punctuation, and spelling, were marked 84%-100%.
On the A*Help score scale, GoNerdify sits at its place with 76.83/100 pts. It has a high value-for-money ratio (22/25) with an array of resources provided to students for free, as well as for an additional cost. The overall experience was acceptable too (19/25). The support team was extremely considerate. The platform also gathered a vast selection of payment methods, including easy digital options like Google Pay and ApplePay. What could be improved is a writer-customer connection, as it would also increase the paper quality as well.
At last, GoNerdify established itself as a useful online platform for those seeking assistance with homework assignments. However, as there are some better options available, this service lands in 10th and final place on our list.
Final Thoughts
Some may say that if you want something done well, do it yourself. We, on the contrary, believe that some professional help never hurt anyone. Especially if you are a student, who gets loaded with homeworк in Math, English, and every other course and for whom 24 hours is not enough. That's why we took the responsibility of investigating and evaluating the most popular platforms that lend a hand in these situations. With this list of the best websites to help you with home assignments, we hope that you will find the one option that best suits your needs.
Quick Buying Advice: Three Clues of a Good Decision
When choosing a homework service, the abundance of options can be overwhelming. With so many companies offering similar services and features, it can't be easy to differentiate between them and determine the best fit for you. While there may be numerous features to consider, not all are necessarily mandatory. That's where the A*Help team comes in. We take responsibility for identifying the most crucial criteria that all users should keep an eye on when selecting a homework service. With these tips, we hope to simplify decision-making and help you find the best service for your needs.
Quality
A*Help takes the evaluation of assignment quality very seriously. We employ a mystery shopping approach and to ensure the best results, we send all received papers to a US-based professor for grading according to the standards used in higher education institutions. The evaluation covers various language aspects such as grammar, spelling, and word choice, as well as more intricate components like reasoning, logic, and integrity. The grading scale ranges from 0% to 100%, with a passing score of 60%. If a company delivers papers below this threshold, customers should consider other homework help services.
Our reviews have a dedicated section for assessing quality, and the rating directly depends on the quality of work provided by each company. The paper is satisfactory or good if the A*Help score falls between 30 and 40. At the same time, anything above 40 is deemed close to excellent.
Urgency of work
It's great when a company does a good job. It's what users should expect from a decent website. But when a company keeps up the excellent work and delivers results well ahead of the deadline, it significantly boosts user satisfaction and trust in the service.
So, if you're facing a challenging circumstance when you haven't started with your homework and the clock is ticking, here's what you need to pay attention to when choosing an urgent homework help provider.
To begin with, you should check the minimum deadline offered on the company's website. Keep in mind that certain services state it as just one hour, although it's important to note that not all types of papers can be written that quickly. We suggest discussing your specific case with the support team before placing an order. On average, the minimum deadline is between three to six hours, which is typically enough for producing high-quality writing for many types of assignments.
Based on our experience, it usually takes around three hours to complete a two-page personal essay. We have also observed that the quickest completion time was two hours, whereas the longest was four hours. As you see, all of the companies we examined were able to finish our assignment at least two hours prior to the deadline.
Pricing and discounts
When selecting the best homework service, the cost of services is another factor that shouldn't be overlooked. Each company has its pricing system. Typically, you can gauge the cost by looking at the minimum price per page advertised on their website and multiplying it by the number of pages you need. However, this is just an approximate estimate. The final cost may vary depending on factors such as discounts and additional services.
To provide a clearer understanding of pricing, let's take the example of a two-page personal essay that includes a title page, formatting, and bibliography. The cost of such work can range from $30 to $100, which can be classified into three categories: $30-$50 for affordable, $55-$80 for average, and over $80 for above-average pricing.
Everything regarding financial matters is found in the value-for-money paragraphs of our reviews.
Payment options
A diverse selection of payment systems available to users can be a significant competitive advantage for the best homework help services. Companies that keep up with modern financial trends can attract younger users who prefer payment systems that have gained widespread popularity in recent years.
All companies offer traditional payment methods, such as credit cards, with support for major providers like Visa, MasterCard, and American Express being the norm. However, due to their convenience and speed, electronic wallets such as GooglePay and ApplePay have become increasingly popular among a broad user base. Some companies take into account user preferences and add trending payment systems to their supported list.
If the payment process matters to you, check the available methods offered by the company you are interested in by referring to our reviews overall experience part for detailed advice.
Why academichelp.net is a credible source of information:
Stay curious with us. Academichelp.net has been a reliable educational resource since 2011, providing students with the latest news, assignment samples, and other valuable materials. Even with the extensive information we process, our quality remains consistent. Each team member has experience in education, allowing us to evaluate new sector offerings critically. Our reviews are up-to-date and relevant, with impartiality ensured by the A*Help score methodology from mystery shopping. We aren't affiliated with any listed service providers. Our focus remains on providing our audience with reliable and unbiased data.
FAQ
What websites give you answers to homework?
As far as we know, there are no sources that can provide you with precise information on your home tasks. If only you are not assigned to do some kind of test, then searching for direct answers is out of the question. You may find discussions with students answering similar questions or writing on related topics. Nevertheless, some websites can do your homework for you. They can write essays and theses, do math equations and create presentations. Some of the most efficient of these services were mentioned in this article. So, if you are looking for something of that kind, don't hesitate to check it out.
Where can I find answers to my homework?
You can ask questions on various subjects on student forums on the Internet. In addition, you can seek assistance via social media. Some students go to libraries and do their research on the topic of their assignments there. Hiring tutors may also be a good option. If you don't have much time for independent preparations, you can search for platforms that provide academic help. They don't just give you answers to the tasks, but rather do the whole work, from the beginning to the end, for you. If you need a provider of particular services, you can refer to our reviews for the best choice.
Can you do homework for money?
You can do anything you want if you put your mind to it. Of course, you can organize your own small business by doing schoolwork for your peers. Some of the websites we review also offer opportunities for collaboration to those who want to put their academic knowledge to good use. Can you earn money working like that? Probably yes, if you have enough customers and a reputation as a reliable and efficient writer.
Is there a website that answers any question?
If you look hard enough, you can find answers anywhere you look. However, there's no universal site that has a database with an answer to every inquiry on every topic. If you look for an option to submit different kinds of tasks and get them all done in one place, you probably need to look for academic help services. Some of them may have limited types of work they do, but others offer to fulfill a whole bunch of assignments. To know which platforms are better, scroll through our reviews. We give objective insights on most of the popular websites in the market.
Is there a website where I can pay someone to do my homework?
We would be surprised if there wasn't! There are many services out there that offer essay-writing help and general assistance with homework tasks of various kinds. We review the best, most popular ones and give you our thorough feedback. We put them through a special ranking system called the A*Help score that ensures our objectivity and professionalism. The best options in this category are presented in the article above. You can read about each platform individually as well, to make a more informed decision.
Is it illegal to do someone else's homework?
There's no way one can go to jail or be asked to court for finishing someone else's assignments for them. Many can say that the question of fairness is also debatable. Is it considered to be cheating? Most probably yes. If you ask us, it's not too big of a problem to ask for some help with your homework when feeling lost or stuck. However, we recommend using such works as inspiration and incorporating your own ideas into them. Everybody has something to say, some just need that little push in the right direction.
Students also ask
What is the best website for homework answers?
The Internet has a whole bunch of varying websites with homework answers. It depends on the type of homework you're doing. However, if you're generally looking for a hood homework help website, you can refer to our top lists and check out the options!
How do I get Google homework answers?
Google can be a useful tool for finding homework answers. You can do it by entering specific questions or using keywords to locate relevant information (for example, the textbook's title or the problem itself). However, relying solely on Google for answers may isn't always a good thing, since you got to put the effort in too.
Should I sleep or finish my homework?
If you want to be woozy all day tomorrow, you can opt for your homework. However, balancing sleep and academic assignments is essential for good performance. Next time try prioritizing your homework and concentrate while doing it, so that after you can get a well-deserved rest.
Is it illegal to do homework for money?
It is not typically illegal to do homework for money, but it may violate academic integrity policies. Such ethical guidelines are often set by schools or colleges to maintain some level of responsibility. Still, there is nothing wrong with asking for assistance with your homework.
Is it cheating if you do someone else's homework?
Doing someone else's homework can be considered cheating since it undermines academic integrity. Even though in most cases it's not that serious, you should be careful when asking somebody else to do your homework for you. You can find out more about confidentiality when using assignment helper websites by reading some of our reviews here at A*Help.
What is web homework?
The term "web homework" is quite simple to explain. It literally refers to online homework, meaning everything you do on dedicated websites or using online learning. It allows students to submit work digitally and in some cases provides immediate feedback (for example, on a multiple-choice test).
How do you tell a teacher they are giving too much work?
If you feel overwhelmed by the amount of work given by a teacher or a professor, it's best to approach them respectfully and express your concerns. You can also seek support from your peers since the teacher is more likely to lower the number of requirements when faced with a crowd.
Why is homework so draining?
Homework can feel draining due to factors like excessive workload. Sometimes we just don't have it in ourselves to continue finishing one assignment after the other and as a result, we now lack interest to continue. It's important to find strategies to manage stress, prioritize self-care, and seek support from teachers or counselors when it's absolutely necessary.
What are 3 reasons homework should be banned?
Some of the most popular reasons why homework should be banned include its potential negative impact on children, teens, and young adults; limited family time after classes; little to no time to engage in extracurricular activities. Managing your homework is an important part of any school experience, as it teaches you time management, but in some cases, it can be too much.
How many students dislike homework?
Don't we all? But seriously speaking, there isn't a definite number of students who don't like doing homework, although it seems to be high. The good news is, you don't have to force yourself to write your assignment since you can use a variety of services for assistance!
How many students are depressed because of homework?
Homework-related stress can contribute to mental health issues, as it just keeps daunting you. Failing to keep up with academic pressure might lead to serious mental health consequences. However, the majority of cases surrounding depression involve many different aspects that contributed to it.
Why does school make me mentally drained?
Feeling mentally drained from school is quite common, although not a good sign. Such feelings can result from excessive workload, academic pressure, lack of support from professors or parents, and especially inadequate balance between school and personal life. You can shift the weight by trying to systemize your current school projects or hire an expert to help you with finishing assignments.
Useful essay writing articles
Follow us on Reddit for more insights and updates.