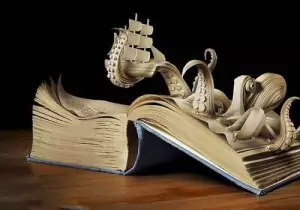 AcademicHelp Learning Hub
Use the most powerful academic tools to write better with AI, check for plagiarism and detect AI content!
Be specific
If you want your readers to fully understand you and to be engaged in your writing, be detailed. There is rarely a time in writing that using general terms is helpful to your readers.
Example
Incorrect:
White men love going outdoors."
Correct:
"There has been an increase in middle-income Caucasian men in Seattle, particularly in the area of Greenlake, that take their work vacations at Rainer Mountain during the summer months to engage in fishing expeditions."
Aim for communication
Writing is primarily an expression that communicates to an audience. If you are not clear in how you convey meaning, you will not get your message across. There is no reason to sound overly smart—your readers will be much more impressed by a simple, yet precise style.
Example
Incorrect:
"Construing the parameters of fossilized debris birthed from contemplative irrigation under the reign of millipedes, our jocular team met their end in the most propitious passage."
Correct:
"During our excavations, the team found that millipede fossils are fragile."
Be varied
Use both small, medium, and long sentences. Instead of repeating the same words, use synonyms. Change your pace of writing: a slow pace has more commas, while a faster pace uses less commas.
Example
Incorrect:
"I left school. It was great. It was too cool. Leaving school was great and cool."
Correct:
"I jumped into my Ford Pivot station wagon and drove like a madman, away from Merose High School. Drum and bass music was blasting from my green Sony double-woofers. Pumping my favorite music, I also gorged on cherry cream-filled donuts to wash away the taste of boring classroom air—if only I had some orange juice."
Take away the unnecessary
Write in a vigorous way. Don't let your compositions be tarnished by unnecessary words and phrases. Your writing should be precise enough that each word is used for an exact reason. Adding fluff doesn't make you sound smart: it only shows you don't know how to write to the point.
Example
Incorrect:
"I moved my computer mouse with a jolting movement, scared of what I saw in front of my eyes from the computer."
Correct:
"I jolted the computer mouse back in fright of what the screen displayed."
Be smooth
Your writing should flow like water. If it jars readers, they will feel inclined to put your work aside.
Example
Incorrect:
"Fantastic it can be, to lead horses, back from around trees, or foliage, otherwise known as sharp conifers."
Correct:
"Leading horses around conifers can be fantastic."
Express originality
Readers do not want to hear the same phrases over and over again, such as cliches, motifs, and idioms. To be engaging in your writing by creating unique content.
Example
Incorrect:
"Benny lost his senses by jumping the gun again, as at the end of the day, he just wanted to say something good."
Correct:
"Benny conjured mental images of his torture. But after the exercise of this remembrance, he felt that it was more pleasing to recount those that had offered their compassion to him."
Use transitions
Connect ideas. A piece of writing should be presented as a coherent whole, not as a rant or ramble. By employing transitional words and phrases, your paragraphs and sentences can work together as a team.
Example
Incorrect:
Sentence one:
"I love to eat blackberries in the winter, as they always remind me of summer vacations at Grovena Lake."
Sentence two:
"Taking naps are super relaxing in my beach house next to Miami's ocean shore."
Correct:
Sentence one:
"I love to eat blackberries in the winter, as they remind me of my summer vacations at Grovena Lake and taking naps in my beach house next to Miami's ocean shore."
Sentence two:
"I can't judge which is more relaxing to me out of the two activities, but if I had to choose one right now to do during my exams, I would have to go with taking a snooze at my beach house."
Show, don't tell
Instead of stating without elaboration, usually high-level writing involves showing what you are talking about through images and detailed descriptions.
Example
Incorrect:
"I went to the grocery store."
Correct:
"I saddled up on my gray, 1956 Cordlion bicycle and pedaled down cobbled Harrengton Street to Benjamin's Produce to pick up a batch of bananas."
Be passionate
Write like you mean it. You don't want to sound like a dreaded textbook that will put readers to sleep. You can inspire and enliven others through your writing. Create your compositions with your whole being.
The legendary author Ray Bradbury had this to say:
"You can't try to do things; you must simply do them."
Summary
Though these are the main essentials to writing, there are many other lessons to learn in order to refine one's composition skills. One key in learning to write well is to do it as much as you can. The more content you produce, the more you will get acquainted with what works and what does not work. Without daily practice, one cannot hope to become a successful writer.
Follow us on Reddit for more insights and updates.
Samples for Advice on Writing
Supporting evidence is one of the most crucial components of academic writing. Evidence is what makes your claims credible; it is important to support each of your key ideas with facts, scientific research, and other data from external sources. It is impor...