Picture this: you need to build a connection with creatures from outer space to save the planet Earth as Amy Adams did in "Arrival". Or perhaps you have itchy feet to travel to the far corners of the world and completely immerse yourself in a yet unknown culture as Bill Murray and Scarlett Johanson did in "Lost in Translation". Might you have a spark to become a United Nations interpreter and follow in the footsteps of Nicole Kidman's character in "The Interpreter"?
iTalki is one of the best language learning websites that can help you achieve all of that. Established back in 2006 this pioneer in the education field has more than 10,000 tutors teaching over 130 languages.The A*Help experts decided to check if this tech-fueled online service could change the traditional teaching approach. Our editors – Johannes and Nayeli, agreed to help us and became real students on iTalki and mystery shoppers for Academic Help. In this review, they will share whether this platform is worth giving a shot.
A few words behind our experts' motivation. Nayeli never backs down from a challenge. She is keen to discover and learn something new. So, the idea of learning Spanish only excited her. Currently, she is traveling across the states and daily she's meeting people from different backgrounds. More often than not, she comes across immigrants from Latin America and feels like knowing the basics in their mother tongue can help in building a stronger bond and making new friends.
Johannes loves exploring his urban area and connecting with the people who live there. Right now, Johan is surrounded by English speakers, and while he comes across as the local he once felt, may readers forgive the pun "as an alien, an Englishman in New York". Hence, he eagerly met our request to take TOEFL exam preparation lessons to try to see the hurdles international students need to overcome before getting accepted to American colleges and universities.
Our mystery shopping experience serves as a true indicator of what you, our readers, might experience when seeking a tutor on this platform who can introduce you to a new language, or get prepared for an upcoming exam. In this following review, you will follow the authentic narration of Johannes and Naeyli about iTalki. Traditionally, at Academic Help, everything is backed by rigorous evaluation criteria.
Quick Overview
iTalki is an online language learning website that connects students and professional teachers. Our experts were satisfied to see a great number of lesson types, a community for learners, and many available teachers ready to help with mastering languages. Discounts and affordable classes were highly appreciated by our mystery shoppers. However, tutor browsing, interaction with support, and other individual teaching aspects leave much to be desired.
iTalki Tutoring Service: The Basis of Mystery Shopping Review
For most language enthusiasts, the journey to find a mentor is long and filled with doubts. The A*Help experts dedicate themselves to evaluating if iTalki is a platform that can open a door to an entirely new language universe.
As we previously mentioned, Johannes chose to follow in the footsteps of foreign students and took lessons to prepare for the TOEFL exam. Johan focused on speaking and writing as he thinks these are the most tricky exam blocks for non-native speakers. As for Nayeli, she went with Spanish lessons and wanted to learn the basics so that in the near future she could maintain a conversation with all her Hispanic friends that she had made during her trips.
The actual experiment lasted for 3 and a half weeks (10 lessons in total). During this period, Nayeli and Johannes did everything that a general student would do. They had online sessions with their tutors and did homework and additional tasks when it was needed to better their knowledge and understanding of certain topics. In short, our editors were our eyes and ears during the experiment. They paid attention to all aspects of the detailed checklist, including usability and accessibility, payment and pricing policies, teacher browsing options, the responsiveness of support, and many more. You can find more information in our detailed description of the criteria Value for Money, Overall Experience, and Tutor Quality. See How We Test Language Learning Websites for more details about our testing approach.
Both experts will talk you through all stages of working with iTalki. Based on their impressions, we will present the final score that this platform has been awarded. Shall we proceed?
Studying with iTalki: Value for Money — 25/25
We will start with the criteria Value for Money because quite often students themselves begin to ponder if the chosen platform or service is worth investing their money in. Provided that our editors Johannes and Nayeli wanted to echo the true student experience, they paid attention to everything iTalki could offer them, like types of classes, prices, special offers and discounts, and more.
Johannes:The first thing I noticed when starting my search for the tutor was that I could choose the specification of my future classes. For me, the teacher must be aware of what exactly I need the lessons for. After all, it allowed me to narrow down the choice as it only highlighted the teachers who could help me with TOEFL preparation. I also liked that I could choose group lessons as well, and not only 1-on-1 sessions. Yet, I opted for personal studying and I appreciated that even by picking that option I didn't have to purchase lessons one by one. The service offers bulk classes, where I could buy 5 or even 10 lessons at once. A pretty simple and convenient system that keeps you hooked up on that learning journey. And I don't know if Nayeli noticed, but they also provide corporate classes. And they had all these packages for different business needs. Talk about a versatile platform, huh? I suppose that business lessons require more skilled professionals to teach the specifics. That certainly tells us something about iTalki's broad expertise.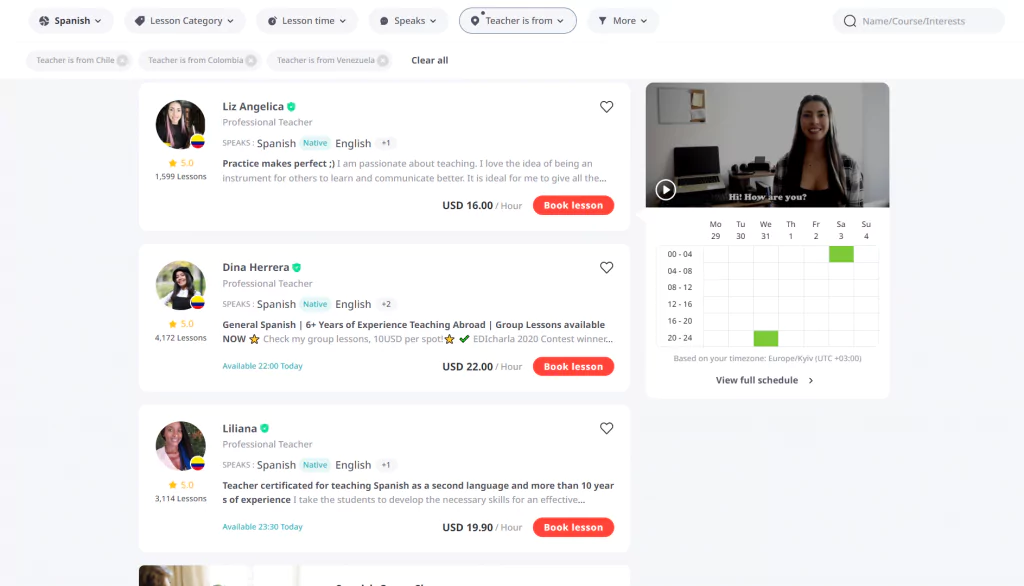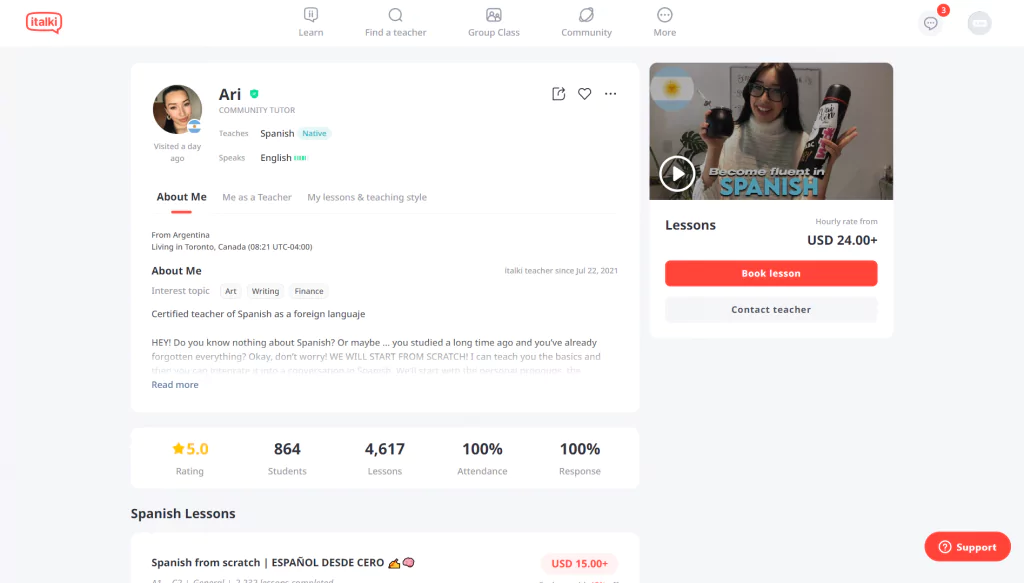 Nayeli:"This is so nice that iTalki covers all different types of classes. I felt more comfortable with one-on-one lessons, especially at the early stages of the learning process. I know, when I'm confident about my gramática y pronunciación I'd be keen to join a Spanish-speaking class. It sounds like a lot of fun. But I digress, I wanted to point out that the pricing policy is just great. So, let me start with a trial lesson. Sure we both appreciated the fact that it comes with a discount. My Spanish class was $10 and you told me that the TOEFL try-out session was $16. Frankly, it is superb."
Johannes: "Just do not forget to mention that trial lessons on iTalki last for 30 minutes."
Nayeli: "Thanks Johan, it was right on the tip of my tongue. Yes, all trial lessons are short. Here's the catch, I simultaneously liked and disliked such an approach. Yes, the try-out lesson seemed to be dynamic and fast but I lacked extra time to ask some additional questions. And I got the impression that my tutor felt the same. As if she was trying to speed up to leave a lasting impression about our first virtual meetup. She did a good job in a short time. Given that the first session was great I did not hesitate when purchasing the next lessons. I was happy to see that on iTalki every student can purchase either just one lesson with the chosen teacher, or if they are aiming to shoot stars, they can go all in and buy lesson packages (5 sessions). So, first, you would need to choose how long you want your real lessons to last, either 30, 45, 60, or even 90 minutes. The price changes for both single and bulk lessons depending on which duration you pick. iTalki says that if students purchase the subscription model of 60 and 90-minute lessons, they can save up to 9% and 14%. Nice initiative indeed. But Johannes and I decided to buy a subscription plan for 45-minute lessons. In our case, both Spanish classes and TOEFL preparation cost $100."
Johannes: "We could save up to 14%?? What a delicious offer. I didn't pay much attention to it I guess and now I am ready to kick myself because I missed such a deal! Well, of course, if I was really in need to get a juicy discount, I could just make use of their referral program. I could earn $10 to use for my lessons if I just sent you the referral link. And you would also receive $5 from this deal. It's good that at least I didn't miss the opportunity to check out their learning community with all the different topic clubs. I especially liked the tongue twisters section – they messed with my pronunciation skills a bit."
Nayeli: "Yes, the community for learners is a great initiative. During my interaction with iTalki, I always had a feeling that there were like-minded people at the click of a button. There I could read interesting articles about Spanish nuances in vocabulary or pronunciation, or take additional tests to get the most out of grammar and verb conjugations. Highly appreciated."
The Value for Money aspect on iTalki showed stellar results and the A*Help track scored it at 25/25 points. Great variety of classes, a community for learners, discounts, and affordable classes – all of this and more you can get when having lessons on iTalki.
iTalki's Convenience & Overall Experience — 22/25
A smooth interaction with the service is important. These platforms were initially designed to streamline the search for teachers and make it easier. And our editors paid attention to the main aspects that contribute to that: seamless usability, helpful support, easy tutor browsing, convenient payments, and registration.
Nayeli: "When I use any service no matter what it is I have this mental note that 'it needs to be accessible'. Perhaps I should provide some context. I am a very active creature and I never stay put in one place. One day I might be strolling through the bustling streets of an urban city and the next thing you know I am in a desert or on the golden beaches of Bali. So, the thought that I could access iTalki both through my laptop and an application on the phone just instantly marked that checkbox. This way the process of having an online lesson is as easy as a walk in the park. All you have to do is join the built-in classroom on iTalki and enjoy their lesson. But if by any chance you do not feel comfortable working this way, there are alternatives, such as Zoom and Skype. As I said earlier, I always adjust to new places and life scenarios. So does iTalki. There I could easily choose the tutor who was available in my current time zone. In general, I could simply build the learning schedule around my preferences. Another mental tick was granted to iTalki for the chance to reschedule lessons. Johan, I am getting fancier with words in your company, but force majeure is a normal thing in life, and I did not want to sweat and worry that the lesson would go to waste. With iTalki, you practically need to become a fortune teller because you can only cancel late up to 24 hours before the start of the lesson. But predicting my availability in advance can be challenging."
Johannes: Yeah, the fact that I could conveniently choose lesson time & even reschedule sealed the deal. I mean, time management is the most important thing when you need to stay productive. However, quick and effective tutor searches should also be in priority. I wouldn't say that I saw all the information I needed when looking for the teacher. There weren't any credentials included in their profiles. I appreciated that I could choose whether I want to learn with a professional or a community tutor. It narrowed down the wide choice that allowed me to distinguish the best candidates. And, another important thing, at least for me, was that, when I found my tutor, I could book and pay for my lesson right away. There was a convenient calendar that showed available time slots, and, after I picked the most suitable one, the system allowed me to make the payment. By the way, I was pleasantly surprised to see that they have PayPal – after all, it's much more convenient than debit cards. No need to enter all your details (which I don't remember anyways) or contact support asking why the card wouldn't be accepted (that happened a few times). Huh, Nayeli, did you speak to the support at all? Because I do not remember needing that during my learning journey.
Nayeli: "Yes, when browsing for my Spanish tutor, I had mixed feelings. Some teachers showed all their credentials and backed up their professional experience with certificates. However, others did not seem to include any information. Still, the process of choosing the right tutor didn't take long. Overall, I must admit that the whole interaction with the platform was smooth and easy. A minor issue was with support. Sure, anyone can access them on the platform at any time of the day. However, you will not be able to get a straightforward answer to your individual question. iTalki has many pre-prepared articles that highlight common issues. Frankly, I am not a fan of such an approach. So, the lack of human communication was a real downside for me."
Our experts, Johannes and Nayeli followed all the possible scenarios any student would. And based on their experience, Academic Help awarded the platform 22/25 pts. The editors spotted that there was room for improvement with support and tutor browsing.
Tutor Quality on iTalki — 31.25/50
Tutoring is not just about the gained knowledge. It's a process of connection between two people, communication, exchange of materials, and an effective approach to the learning process. And that's exactly what Nayeli and Johannes checked when interacting with their educators.
Tutor-student communication
Tutor-student communication helps to build a bond between two parties. Now we will hear from our mystery shoppers on this matter.
Nayeli: "I chose to place my trust in a native speaker from Argentina. Ari did her best to make me feel comfortable and secure during our trial lesson. As I mentioned earlier, the only drawback was the short duration of the trial lesson. It was too short to build a sense of camaraderie. Despite that, Ari introduced me to basic Spanish phrases and gave me a framework for our future lessons. All further communication was only through the platform. While I am okay with it, it would have been better to get in touch with Ari through messaging apps. I appreciated the close rapport with my teacher. Whenever either of us had to reschedule our lesson due to personal situations, we could easily arrange it"
Johannes: "I liked how my tutor Marina was open and ready to share some details about herself. We always kicked off our lessons with a lively conversation which set me in a good mood. Moreover, she even told me all the intricacies of TOEFL that involved cultural differences, which I believe would be of much help to take an exam like that. That was the most fun about our interactions, because, other than that, I didn't notice any engaging activities (aside from occasional debates, of course). She was also open to questions and shared her Zoom profile so we could schedule our lessons and so I could ask her anything regarding the tasks. She wasn't available all the time but still addressed my queries. I didn't get much feedback from her though. Marina corrected my answers and helped me with speaking a lot, but didn't keep track of the progress we made."
Available materials
Getting better at languages is also possible with updated and authentic materials. Let's take a look at Johannes and Nayeli's experience.
Johannes: "To be honest, I didn't get anything either from my tutor or the platform. There weren't any notes built into the classroom or even storage for files. We did all the exchanges through Zoom and it was by screen sharing mostly. Marina also didn't organize any mock TOEFL exam for me, which I feel would be useful in my case. I was disappointed with this aspect — I left iTalki with no materials or books for preparation that I could refer to later, only a single link to a website with speaking topics."
Nayeli: "Yes, I did not get anything from the platform either. But from the trial lesson, Ari made it clear that we would work with her materials. All the essential information was in our shared document which I could access at any moment. I found it extremely valuable since I was and still am a novice in Spanish. We worked extremely productively on the document with pictures, dialogues, common phrases, and other things."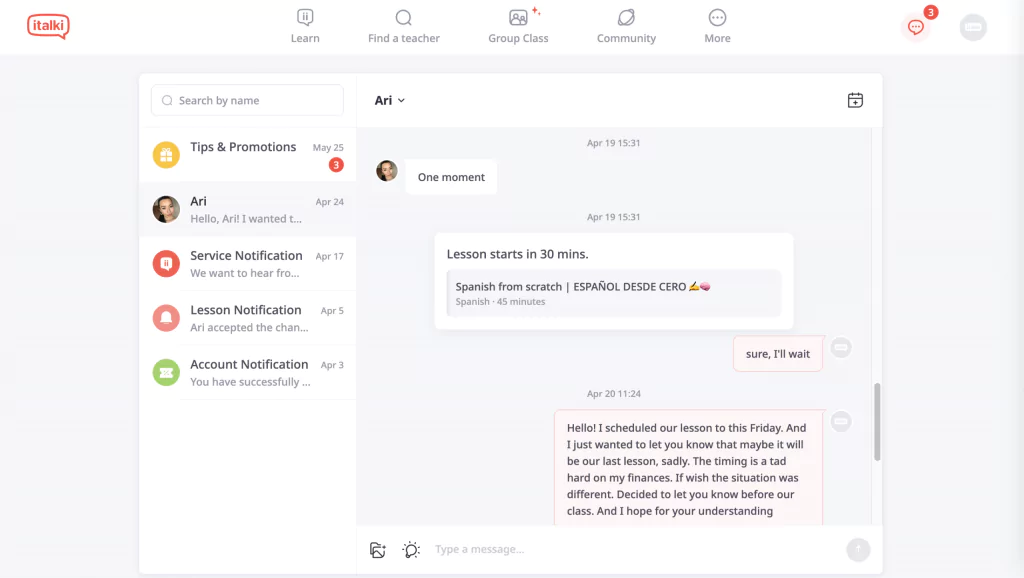 Teaching methodology
Proper teaching methodology can help get higher results in general language learning and exam preparation. Nayeli and Johannes will describe their personal experience in this regard.
Johannes: "I believe that choosing the right teaching path is half of the success of the learning process. Unfortunately, even though I tried to pick a professional tutor, she didn't use an expert approach. Marina was flexible and paid attention to what I wanted to do more as she gave me writing homework when I asked for it. And of course, I noticed her using a more personal approach, rather than just going by a standardized lesson plan. But our lessons didn't incorporate diverse activities. The only thing we did was the speaking activity. And even though I know that it's one of the most intricate parts of the TOEFL examination, it's still not the only one. I wish we had more writing and maybe at least one reading task as well, just to try my knowledge out there too. I also noticed that she didn't have any planned lesson plans and just went with the flow, so to say. We just picked the topics from previous lessons and that's all. My point is, I would expect much more from a tutor than free conversational practice and improvisation."
Nayeli: "For a beginner like me there was only one way to go. To start with the basics. And we did so. By the end of our first lessons, I had already known how to introduce myself and at least I could maintain small talk. Yet again, I appreciated the fact that all the necessary information was in my document. My tutor Ari had an excellent command of English and she did this cool trick on me. At times she tried practicing English-Spanish translation with me and it helped. We did not do any listening, which was a bummer. But, Ari always spoke in Spanish with me regardless of the topic. When I failed to follow I asked her to repeat it slower and with time I could get the hang of some complex phrases. Nearly forgot, my tutor suggested the exercise when we had to create a dialogue on the spot. That was awesome practice. Besides, Ari always shared interesting cultural nuances when we discussed vocabulary."
The Verdict
Language learning is a long road and you don't have to take it alone. Based on the experience of both our editors, Nayeli and Johannes, iTalki can help you find the right companion to guide you through this path. It's a simple platform that gives you an opportunity for an organized tutor search. Of course, as you can see in Johannes's example, it doesn't always guarantee to connect you with a professional. Still, it can surely speed up the search process, thanks to its options to specify lesson purposes and convenient tutor browsing. Nayeli and Johannes both agree that, even though iTalki doesn't always provide you with tutoring gurus, it's a perfect budget and beginner-friendly option to start your language learning journey.
What Pitfalls to Expect? iTalki's Negativity Rank — 27.4%
Even though we checked iTalki out ourselves, we also decided to weigh in on what other customers had to say about their experience of working with the platform. After all, if we didn't have any particular difficulties, it doesn't necessarily mean that there are none.
As such, we launched an investigation and dug into the client feedback on TrustPilot and Sitejabber platforms. Having looked through the comments, we noticed that many users were dissatisfied with iTalki's no-refund policy regarding the purchased lessons. Another common problem seemed to be with tutors canceling classes very soon or right before the scheduled time which left many students confused as to what they should do next. And, when they contacted support, it wasn't of much help with mechanical or late responses. The general frustration seemed to be with the platform not being smart enough for usage, buggy at times, and ineffective in terms of lesson credits.
We checked all the mentioned comments on the premise of their possibility and severity, and that's how we counted out iTalki's 27.4% Negativity Rank. This is not a severe result, which means, that, even though there are some issues that the platform's administration can look into, you are still more likely to get a pleasant experience working with this service.
Why academichelp.net is a credible source of information:
Stay curious with us. Academichelp.net has been a reliable educational resource since 2011, providing students with the latest news, assignment samples, and other valuable materials. Even with the extensive information we process, our quality remains consistent. Each team member has experience in education, allowing us to evaluate new sector offerings critically. Our reviews are up-to-date and relevant, with impartiality ensured by the A*Help score methodology from mystery shopping. We aren't affiliated with any listed service providers. Our focus remains on providing our audience with reliable and unbiased data.
Main Specs
| | |
| --- | --- |
| Variety of subjects | |
| Language classes | Yes |
| Arts (music, theater) | No |
| Literature | No |
| Science (mathematics, IT, biology, chemistry) | No |
| Types of classes | |
| Single lessons | Yes |
| Group lessons | Yes |
| Bulk classes | Yes |
| Speaking clubs | Yes, thematic clubs |
| Corporate classes | Yes |
| Price | |
| Can choose the price per lesson | Yes |
| Pay in installments/per class | Yes |
| Price per lesson (e.g. 30/45/60 minute lesson) | Yes |
| Subscription plans | Yes |
| Special offers | |
| Discounts | Yes |
| Free lesson/trial | Yes |
| Community for learners (articles, podcasts, tests) | Yes |
| Referral program | Yes |
| Registration | |
| Need a phone number to register | Optional |
| Need an email to register | Yes |
| Uses third-party registration methods (Apple, Facebook, Google, Microsoft account) | Yes |
| Accessibility&Use | |
| Built-in classroom | Yes |
| Third-party video call tools | Yes: Zoom, Skype |
| Easy to navigate | Yes |
| Lesson time | |
| General time of the day (time period) | Yes |
| Specific time | Yes |
| Any time | Yes |
| Time zone | Yes |
| Class duration | 30, 45, 60 min |
| Re-scheduling of classes | Yes |
| Late cancelation | Yes |
| Tutor browsing | |
| Origin (country) | Yes |
| Language | Both native & non-native |
| Additional languages (if the teacher speaks more than 1 language) | Yes |
| Skill level/teacher type | Professional Tutor & Community Tutor |
| Certificates/ Credentials | No |
| Availability | Yes |
| Change of a tutor | Yes |
| Course switch | No |
| Payments | |
| Paypal | Yes |
| Google pay | No |
| Apple pay | No |
| Visa | Yes |
| Mastercard | Yes |
| American Express | Yes |
| Discover | Yes |
| WebMoney | Yes |
FAQ
iTalki Reviews
We cherish our devoted users and we only want to share with them trusted tools and platforms. So, our A*Help team always works by the same pattern – we verify all possible information regarding the chosen service we can find. Such services as Trustpilot, Reddit, and Sitejabber are our go-to places to get true feedback from previous users. All unbiased and honest comments we present in our Negativity rank section (take a look at the details above). Combined with user feedback and our mystery shopping, we can impartially evaluate every service.
Is iTalki a Scam?
Our editors checked iTalki's services ourselves. They paid for a 5-lesson package each and both studied with the tutors for these 5 classes. They also communicated with the teachers face to face so they were sure to be studying with people they specifically hired. Hence we can say that iTalki is not a scam but a platform that provides real tutoring assistance.
Is iTalki Legit?
The A*Help team only reviews legitimate websites that have a proven experience in the market. We also check whether the platforms have a distinguished customer base with a record of satisfied clients. As far as we checked, iTalki matches all the above criteria and so can be rightfully called a legitimate service provider.
Is iTalki Safe?
Indeed it is. The A*Help team took real classes from this learning platform and everything in our interaction with iTalki was safe. Starting with signing in to paying for lessons, and joining a tutor in the virtual classroom was secure.
Is iTalki Trustworthy?
iTalki utilizes a safe registration and payment process. You are not asked to provide any sensitive data or details when interacting with their platform. When we had our lessons, we didn't notice any suspicious activity or data breaches. Besides, iTalki provided us with the services we paid for throughout the whole experience. This service can be called worthy of your trust.
Is iTalki a Good Service?
We've evaluated iTalki on all the main criteria running it through our specially curated checklist. After a close look at all the scores, the service received 78.25/100 pts of the A*Help score. This result confirms that the website is a good option for those looking forward to learning a new language or developing already existing skills.
Can I Learn a Language with iTalki?
Of course, you can! This platform was specifically designed to provide language learning opportunities to people around the globe. It gathers numerous tutors from different countries ready to share their native language with you. So, if you are diligent enough and have a clear goal of language acquisition, you will be able to learn something new here.
Can I Prepare for my Exams with iTalki?
As far as our experience goes, iTalki tutors provide a range of services and exam preparation is one of them. Keep in mind though that you will need to look for teachers who specialize in test preparations. You will also need to specify which exam exactly you need to be ready for. In general, we don't doubt that you will be able to find the right iTalki tutor to prepare you for future knowledge assessments.
Follow us on Reddit for more insights and updates.